Blog




July 17, 2017
What do you have in common with former Second Lady Tipper Gore and with the late actress Patricia Neal?  You all have been treasured guests at the Buckhorn Inn!
Tipper Gore was a Buckhorn Guest
Tipper Gore served as the Second Lady of the United States from 1993 to 2001.  She was encouraged to visit the Buckhorn by our regular guest Lucia Gilliland, a member of her staff.  Longtime friends of the Gores, Lucia served as an official advisor to them in the White House.  Her husband, Jim, served as Chief Legal Counsel for the Department of Agriculture.   As related in the book The Buckhorn Experience, Tipper came during her husband's time in office.  Therefore she brought with her a round-the-clock coterie of secret service officers as well as several staff members and every level of law enforcement.  At the time the only internet connection at the Buckhorn was in the kitchen.  So every morning Tipper's chief of staff came down in his pajamas, set up his computer on an ironing board, and got to work.  No word on whether the breakfast chef slipped him any special treats!
Tipper is an author, photographer, and social issues advocate.  You will see the lovely letter she wrote to us framed in the Buckhorn Inn office.  For more on Tipper Gore's current work, please visit http://www.tippergore.com.
Patricia Neal also Enjoyed the Buckhorn Inn
Born in Kentucky coal country, Patricia Neal grew up in Knoxville and attended Knoxville High School.  She was known as Patsy Louise Neal back then.  She began to go by "Patricia" when she began her long and successful acting career in New York City.  She never forgot her Tennessee roots, once saying "We Tennessee hillbillies don't conk out that easy"!  She won a "Best Actress" Oscar in 1964 for Hud in which she played opposite Paul Newman.  In 1978 the Patricia Neal Rehabilitation Center opened at the Fort Sanders Regional Medical Center.  The center cares for patients suffering from disabilities and such traumas as stroke and spinal cord injuries.  Patricia visited the center in Knoxville every year until her death in 2010.  The Buckhorn Inn served as a wonderful escape for Patricia.  The Inn was a place where she could relax, drink in the calmness, and revisit the natural beauty she so loved about Tennessee.
July 11, 2017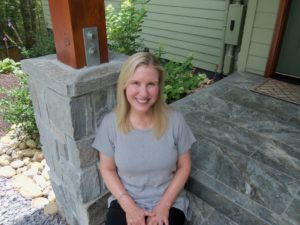 The Mellor Family got lucky 30 years ago when the second Mellor son Jack married Indiana native Sharon Galbreath. We are are so happy that Jack and Sharon have left ttheir corporate careers in Chicago to take  up permanent residence at Buckhorn. Sharon has been making herself very useful around the Inn already and many of you have met her at breakfast, dinner or on check-out. She styles herself as "the daugther-in-law" and loves to talk about food, one of her passions.
Sharon and Jack lived for the past 36 years in greater Chicago area. A Certified Association Executive, most of Sharon's career has been focused on national, nonprofit dental and medical organizations.  Her work history includes: Associate Executive Director of Oral and Maxillofacial Surgery Foundation, Executive Director of American Academy of Periodontology Foundation, and most recently CEO of the Orthopaedic Research and Education Foundation (OREF). At OREF we funded more than $2 million of research each year, providing medical researchers with the data and mentoring they needed to go on to large-scale funding. Sharon says that she " took a great deal of satisfaction in working with donors and other stakeholders to grow the pool of researchers whose work ultimately will provide breakthroughs in patient care."
Sharon earned a BA from Purdue University, MBA from Loyola University and a PhdD from Union Institute and University.
Sharon currently serves on the Board of Directors of a nonprofit called CreatiVets which helps veterans with PTSD develop coping tools by helping them express themselves through music, the visual arts and creative writing. She is a member of MENSA and has served on their national public relations advisory board. Sharon is also a member of the John Purdue Society and cheer on my beloved Boilermakers!
Many guests ask us when is the best time to see rhododdendron and mountain laurel in bloom. Well, it depends–mostly on the elevation. Here at Buckhorn where our elevation is about 1600 feet, May is a great viewing tiime. But up in the mountains, July is the best time. There are many other summer wildflo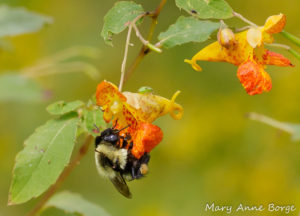 wers besides these two perennial favorites in bloom right now, including the beautiful jewelweed shown left. The Great Smoky Mountains Association recommends several good viewing spots. 
         Low Gap (from Cosby to Low Gap) – Crimson Bee Balm, Rosebay Rhododendron, Wood Nettle, Pale Jewelweed, Canadian Violet, Pipsissewa, Common Elderberry, Loosestrife, Galax, Basil Bee Balm, White Clover, Wild Hydrangea and Blackberry.
         Appalachian Trail (From Low Gap to Mt. Cammerer Trail) – Blackberry, White Clover, Mountain St. John's Wort, Loosestrife, Galax, Wood Nettle, Wild Hydrangea, Flame Azalea, and Partridge Berry.
         Mount Cammerer – Galax, Rosebay Rhododendron , Wild Hydrangea and Blackberry.
July 3, 2017
Where will you be when the sun goes out?  The Great Smoky Mountains National Park reports that the guided trip to Clingmans Dome for the August 21 solar eclipse already is sold out.  The park can provide information on other viewing areas http://www.nps.gov/grsm/planyourvisit/2017-solar-eclipse.htm
Some Fun Facts About The Solar Eclipse:
Prussian astronomer, Friedrich Bessel, developed the complex mathematical formula for predicting solar eclipses in 1824.
The speed of the moon as it moves in front of the sun is approximately 1,398 miles per hour.
Total eclipses cannot be seen from either the North Pole or the South Pole.
The Citizen Cate (Continental-America-Telescope-Eclipse) Experiment has enlisted scientists from 60 sites across the country to film the eclipse.   When edited together, the film will be the longest video of an eclipse ever recorded.  It is expected to help investigators research the corona which normally is invisible.
In Mark Twain's 1889 book "A Connecticut Yankee in King Arthur's Court" the protagonist saves himself from being burned at the stake by predicting a solar eclipse in the year 528.
One of the most memorable eclipses in filmdom is the crucifixion scene in "Barabbas" which was filmed during an actual eclipse in February 1961.
The Science Fiction Writers of America named Isaac Asimov's "Nightfall" the best story written prior to 1965.  The plot revolves around pending darkness in a world perpetually in sunlight.
The sun is about 400,000 times brighter than the full moon.  Be sure to invest in special filtered glasses to preserve your eyesight.
Venus should be visible to the upper right of the eclipsed sun.  
The sun's diameter is about 400 times larger than that of the moon.  But because of the distance between the sun and the moon, both appear approximately the same size when viewed from Earth.
Total solar eclipses are rare.  One can be viewed from somewhere on Earth about every 18 months.
Happy viewing!
July 2, 2017
In 1984 President Reagan declared July the official National Ice Cream Month.  At the Buckhorn Inn we are going further by celebrating this delicious treat all summer long!  
The International Dairy Foods Association reports that ice cream was enjoyed as far back as the 2nd century B.C.  The "ice cream" of the time was snow and ice flavored with honey and nectar.  Marco Polo brought a recipe for a frozen treat from the Far East back to Italy about a thousand years later.  In the 16th century, Charles I of England was a fan of "cream ice".  Lore has it that he provided the royal maker with a life pension in return for keeping the recipe a secret.  In fact, royals around the world kept this delicacy to themselves.  However in 1660 a café in Paris made a frozen blend of cream, milk, butter and eggs available to the general public for the first time.  
The Oxford English Dictionary reports that one of the first recipes for a frozen cream and sugar dessert in North America appeared in Hannah Glasse's The Art of Cookery Made Plain and Easy in the late 1700s.  http://www.archive.org/details/artcookerymade02glasgood  Later records show that George Washington spent roughly $200 on ice cream during the summer of 1790.  That was a large sum at the time–and most of us would agree that was a good expenditure!  The invention of insulated ice houses around 1800 enabled the industrial production of ice cream.  Today the United States produces more than 1.6 billion gallons of frozen dairy desserts a year!
Special Ice Cream Desserts at the Buckhorn Inn
July 4 dinner guests at the Buckhorn will enjoy Chef Bob's special creation, Strawberry Smoothie Cake!  Upcoming menus will feature more delicious and decadent ice cream desserts like Mud Pie, Grasshopper Pie, and Peach Melba Pie.  Keep an eye on our ever-changing menus to see the special desserts we are featuring all summer long!  http://www.buckhorninn.com/dining  We look forward to welcoming you to celebrate with us!