Blog




January 8, 2016
Frank is never too busy that he can't think of new ideas.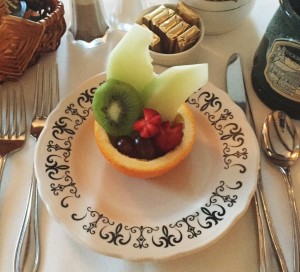 This week he produced a pretty fruit cup to serve at breakfast, taking the time to hollow out an orange and filling it with sliced honeydew, kiwi fruit, strawberries and blueberries.  The thinly sliced honeydew gives the fruit cup the benefit of added height and drama.
Frank also wanted to produce a breakfast dish which would accommodate guests who are vegetarians who eat fish.  He came up with Buckhorn's Bayou Breakfast, the layered dish you see below:  hash browns followed by crunchy fried shrimp, spinach, creamy scrambled eggs and a garnish of chopped tomatoes and green onions.  He finished it off with a great aioli sauce.  Our guests, whether vegetarians or not, really went for it.  We think the secret of the dish was the crunchy shrimp!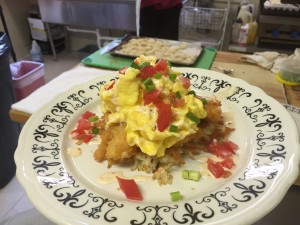 December 14, 2015
Nothing beats the winter chill  like a steaming bowl of soup.  Try these three tried-and-tested  recipes from the Buckhorn Inn  Kitchen.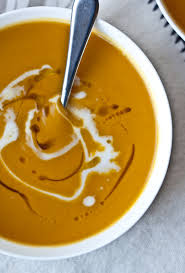 Sweet Potato-Leek Soup with Buttered Pecans
Soup
1½ Tbl Butter
¼ Cup Onions, chopped
½ Cup Leeks, washed, drained and
finely chopped
1 Lge Garlic clove, minced
2 Lge Carrots, peeled and thinly
sliced
1 Bay leaf
1 Lb Sweet potatoes, peeled and thinly sliced
¼ Lb Russet potatoes, peeled and thinly sliced
¼ Cup Dry wine
2½ Cups Chicken stock
¾ Cup Water
½ Tsp Salt
½ Tsp Pepper
In a medium saucepan, melt butter and saute the onions, leeks, garlic and carrots over medium heat until vegetables are tender. Add bay leaf, sweet potatoes, Russet potatoes, wine, chicken stock and water. Simmer, covered, for 20 minutes, or until potatoes are tender. Discard bay leaf. In a blender, puree the cooked ingredients in batches until smooth. Transfer pureed portions to a medium saucepan. Season with salt and pepper. If the soup needs thinning, add more chicken stock. To serve, ladle into soup bowls and top with a dollop of sour cream and the buttered pecans.
Garnish
1 Tbl Butter
¼ Cup Pecans, chopped
Pinch Salt
Sour Cream
Slowly melt butter in a skillet. Add pecans and salt. Cook over moderate heat. Stir occasionally for 10 minutes or until golden brown. Transfer nuts to a paper towel and drain.
Yield: 8 servings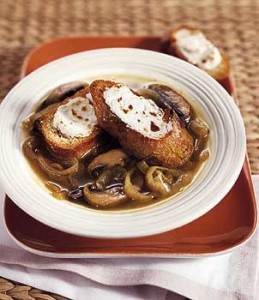 Caramelized Onion and Portobello Mushroom Soup with Goat Cheese Croutons
Soup
3 Tbl Unsalted butter
5 Cups Onions, halved, thinly sliced
4 Fresh Thyme sprigs
1½ Lbs Portobello mushrooms caps,
halved and cut into ¼ inch
thick strips
3 Tbl Cognac or brandy
3 Garlic cloves, minced
8 Cups Vegetable or chicken stock and 1 Cup Dry white wine
                                                                
Melt 1 tablespoon butter in heavy large pot over high heat. Add onions and thyme. Sauté until onions begin to soften, about 8 minutes. Reduce heat to low and cook until onions are caramelized, stirring occasionally, about 20 minutes. Transfer onion mixture to medium bowl.
Melt remaining 2 tablespoons butter in same pot over medium-high heat. Add mush-rooms. Sauté until soft, about 12 minutes. Add cognac and garlic and stir 20 seconds. Stir in onion mixture, then broth and wine. Bring to boil. Reduce heat to low and simmer until onions are very tender. Salt and pepper to taste.
Croutons
18 1-inch thick slices French bread, toasted
8 Oz Soft fresh goat cheese, room temperature
Preheat broiler. Place bread slices on large baking sheet. Spread goat cheese on bread slices, dividing equally. Broil goat cheese croutons until cheese begins to brown in spots, about 30 seconds.
Divide soup among 6 bowls. Top with croutons and serve.
Yield: 6 servings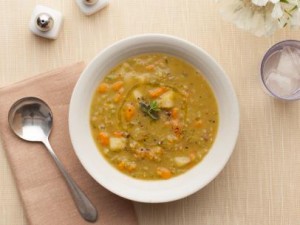 Split Pea Soup with Smoked Ham Hocks
Ingredients
o 1 large leek
o 3 to 4 tablespoons butter
o 1 large carrot, peeled and fine chopped
o 3 medium onions, peeled and chopped into 1/4-inch dice
o Meat cut from 2 large smoked ham hocks (2 to 2-1/2 pounds)
o Salt and fresh-ground black pepper
o 3 medium red skin potatoes, peeled and cut into 1/4-inch dice
o 1-1/2 cups dried split peas 
o 3 whole cloves
o 1 teaspoon ground allspice
o 1 teaspoon ground ginger
o 3/4 teaspoon dried thyme
o 1 large garlic clove, minced
o 2 14-ounce cans vegetable or chicken broth
o 3 to 4 cups water
Finish
o 2 tablespoons butter
o 1/4 teaspoon allspice
Instructions
1. Prepare the leek by cutting away the green top and the root. You'll use only the white portion. Slice the white stalk down its length and rinse it under cold running water to wash away any sand. Pat the leek dry with paper towels and slice it thin.
2. In a 6-quart pot, melt the 4 tablespoons of butter over medium-high heat. Stir in the leeks, carrots, onions, and meat, and salt and pepper. Sauté until the onions begin to brown. Then stir in the potatoes, split peas, cloves, 1 teaspoon allspice, the ginger, thyme, garlic, broth, and water. There should be enough liquid to cover the peas and vegetables by an inch. Add more water if necessary.
3. Simmer the soup, partially covered, 30 minutes, or until the split peas are almost dissolved and the potatoes are tender. Taste the soup for seasoning, and just before serving it, swirl in the 2 tablespoons of butter. Finish the soup by stirring in the last 1/4 teaspoon of allspice.
October 19, 2015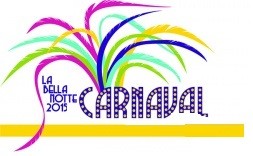 Join us  in an early celebration of the Italian Carnevale to bring in the 2016 year.  Carnevale in Italy is a huge winter festival celebrated with parades, masquerade balls, entertainment, music, and parties. Children throw confetti at each other but our adult guests may enjoy doing the same!  Mischief and pranks are also common during Carnevale, hence the saying A Carnevale Ogni Scherzo Vale, anything goes at carnival.
Carnevale has roots in pagan festivals and traditions and as is often the case with traditional festivals which have been adapted to fit into the Catholic ritual of Lent. Masks, maschere, are an important part of the carnevale festival.  People also wear elaborate costumes for the festival and there are costume or masquerade balls.
Food, always central in Italian life, is of major importance at Carnevale and so in our celebration at New Year's Eve.  Our six course table d'hôte  offering will delight the palate.
Aperitivo
This course will be served to guests as they gather in the dining room before the official start of dinner. Olives, nuts, cheese, sauce dips, and little fritters will be accompanied by complimentary champagne.
Insalata
Antipasto Salad with Bocconcini and Green-Olive Tapenade
Zuppa
Tomato Acqua Cotta
Primo
Home-made Ravioli with a
Delicate Cream Sauce and Giant Shrimp
Secundo
Herb Crusted Beef Tenderloin Roma with Red Onion Marmalade, Potato Flan and Asparagus
Dolce
 Pear and Pistachio Pastries with Creme Anglaise
Music  Pea Picking Hearts will provide music for listening and dancing throughout the evening. 
Dress  Fancy dress on New Year's Eve gives the evening a special sparkle.  Costumes are not required but are welcome.  Masks are provided.
Package  Our three night package includes accommodation, breakfast each morning, and dinner each night.  Premier Rooms and Cottages:  $795    Traditional Rooms $695
October 2, 2015
OktOBERfest returns to its Gatlinburg-style roots with 38 days of merrymaking from September 25 through Nov.1, 2015 as the resort commemorates the 205th anniversary of the popular festival held in Munich, Germany.
The Bavarian Fun Makers Band, in authentic costumes, will perform traditional Bavarian folk dances, schuhplattling, oompah music, sing-a-longs, yodels and more with daily shows and multiple performances every day during Oktoberfest. Special Oktoberfest Biers will be served along with traditional German wurst, schnitzel, sauerkraut, strudel, pretzels and more.
The first Oktoberfest was not really a festival at all, but the public celebration of the wedding of Crown Prince Ludwig I and Princess Therese of Bavaria on October 17, 1810. Held on a large meadow named the Theresienwiese in Munich, the party featured a horse race, beer, food, music and dancing. Anniversary celebrations continues each year, usually starting in late September and ending in the first week of October, with some six million people attending annually.
For more information on OktOBERfest call 865-436-5423 or visit www.obergatlinburg.com
September 26, 2015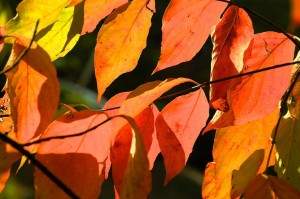 Fall is a beautiful, fascinating period in the Smokies and at Buckhorn Inn.  This photo of the leaves of one of our dogwoods was taken by Bertram Henry, a Buckhorn Regular, when he was here this week.  The main fall leaf season is still several weeks away (mid to late October), but color has begun to develop over the past week in high elevation areas. Many birch trees are showing muted yellows, and species such as witch hobble, sumac, and blueberries are sporting red leaves at higher elevation. It's still early in the season though, so colors should continue to develop over the next week or two along the crests of the mountains.
At low to middle elevations, dogwood trees have a reddish cast that will develop into brilliant reds later in October. Species such as sourwood and red maple are also turning red. And the brilliant reds of Virginia creeper vine can be seen climbing the trunks of many trees. Overall however, the forests are still very green at these elevations. There's not a lot fall color to see yet — just scattered trees here and there.
Fall flowers displays are glorious now. Flowers such as purple asters, white asters, black-eyed Susans, pale jewelweed, ironweed, great blue lobelia, closed gentian, and goldenrod are blooming profusely along roadsides and trails. In the forests, look for the vibrant pink, purple, and red fruits of hearts-a-bustin' bushes and the brilliant reds of dogwood berries.
September 23, 2015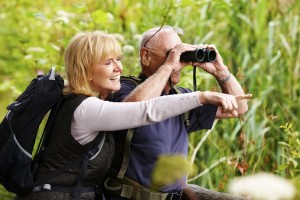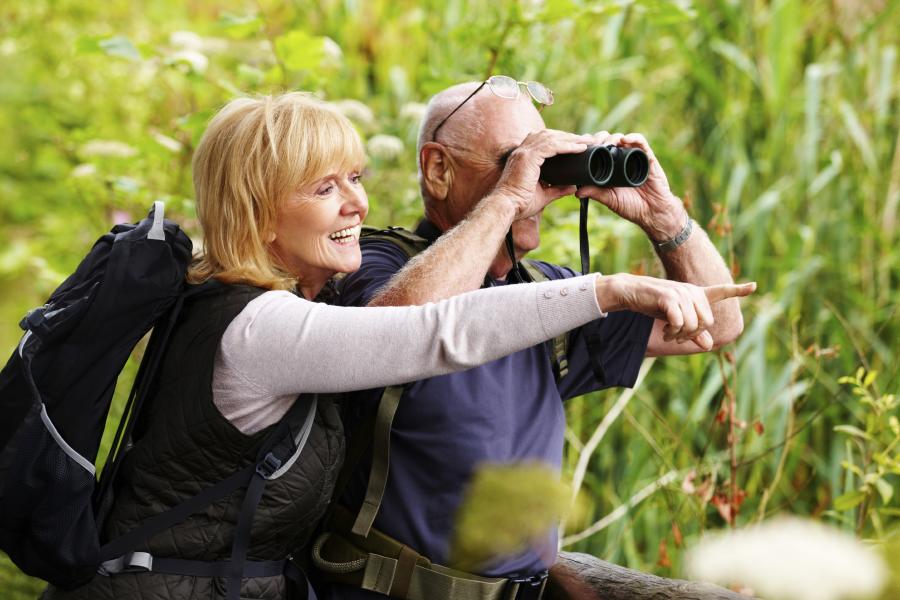 Become a birdwatcher at Buckhorn Inn!   Each Thursday and Saturday morning from now until the end of October, Birder Extraordinaire Keith Watson will lead a morning bird walk here at the Inn.  
Great Smoky Mountains National Park is a premier place for birds. The crest of the Smokies towers nearly a mile above the foothills, creating a range in elevations and a variety of topographies that provide a diversity of habitats and microclimates for birds.  The number of birds and diversity of species change with the seasons.  Fall is a time of change when warblers and others wear a confusing molted fall plumage. Restless to migrate, many species will leave at night and head south. In mid-September the Broad-winged Hawks begin to kettle-up over the ridges and glide to the next thermal, with a few Sharp-shinned, Cooper's, Northern Harriers, and others joining. Even as the migrants leave, the winter visitors begin to arrive – Purple Finch, Evening Grosbeak, Swamp Sparrow, and others. 
Bird walks begin at 7:30 a.m. on Thursdays and Saturdays.  Call 865 436 4668 to reserve or email info@buckhorninn.com.  Binoculars supplied.
September 8, 2015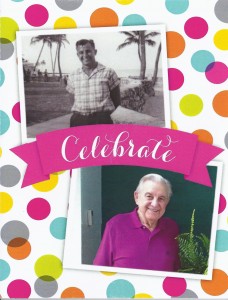 Beloved and respected guest Ken Owens is celebrating his 90th birthday this month with family and friends and his beautiful wife Barbara.  Happy Birthday, Ken!
August 14, 2015
Pittman Center Heritage Day
Saturday, September 19, 2015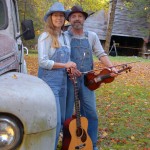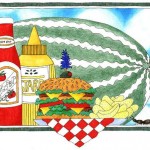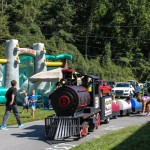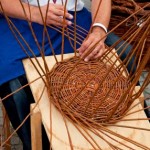 Free Admission
Food and Refreshments Available 
Since 1992, town residents have celebrated their mountain heritage, highlighting the region's food, music, entertainment and crafts of the past.  The event is actually hosted in remembrance of a community fall festival that first took place in the early 1920's. It is a day full of fun that is celebrated with great food, live music, games, crafts vendors, prettiest dog contest, and more! 
About Pittman Center  Just minutes away from downtown Gatlinburg nestled in the mountains of Great Smoky Mountains National Park is the quaint community of Pittman Center. Pittman Center provides a unique blend of history, culture and natural scenic beauty that captures the imagination.
 Proud of their mountain heritage, residents work hard to preserve the historic landscape and mountain culture that beckons visitors to come and stay awhile. Time seems to stand still as one ventures forth to rediscover the beauty of the natural surroundings and rich history that defines the Pittman Center experience.
Directions from Gatlinburg  From Buckhorn, take Highway 321North and turn left (north) to Scenic Route 416. Turn left and go to mile marker #2.   Turn right to 2839 Webb Creek Road.
July 8, 2015
4 Oz Smoked Country Bacon, julienned
½ Cup Unsalted butter
1 LB Vidalia onions, thinly sliced
8 Clvs Garlic, peeled and left whole
2 Cups Dry White Wine
1 QT Chicken stock
1 Bay Leaf
1 TBL Fresh thyme
1 Cup Crème Fraiche, heavy cream or sour cream
Salt, Freshly ground white pepper, Tabasco, and nutmeg go taste
Zest of 2 lemons
Dash lemon juice
2 Cups Herb Croutons
3 Tbl Chives, snipped
Cook bacon until crisp. Drain on paper towels and set aside. Add butter, onions and garlic to bacon renderings, cover and cook over low heat, stirring often, until the onions are translucent and lightly caramelized. Add wine, stock, bay leaf, and thyme; brig to a boil and simmer 30 minutes.
Remove the bay leaf and puree the soup in a food processor or blender. Chill.
Whisk in the cream, crème fraiche or sour cream. Season with salt, white pepper, Tabasco, and nutmeg. Add lemon zest and juice to taste. Serve in chilled bowls.
We serve this soup hot. If you choose this option, use cream or crème fraiche, not sour cream, so the soup won't curdle.
July 7, 2015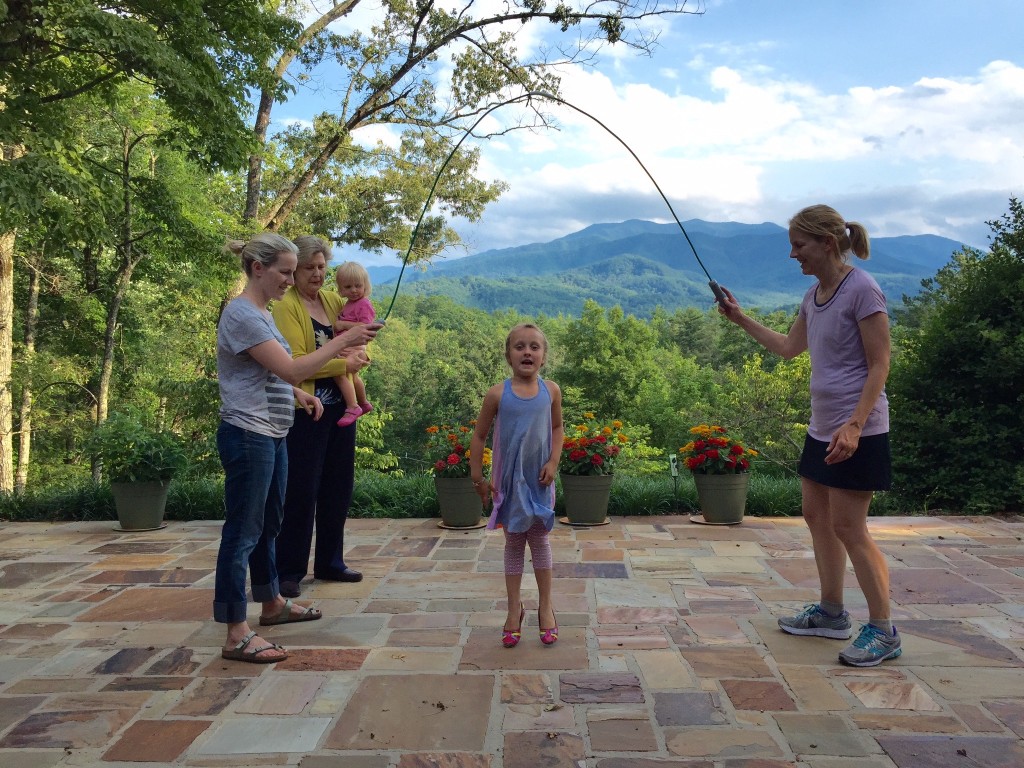 Husband and Fellow Innkeeper John and I have a stayvacation each year when the Alaskan branch of the family arrives.  Our family's experience reminded me of what a great venue Buckhorn and the Smokies are for summer fun. This year we gave 5 year old great granddaughter Jane skip roping lessons on the veranda of Buckhorn House with her mom, granddaughter Jessica, me and Alice and our daugther counting out cadence.   We hiked the Inn's nature trail, did morning runs, played games on the terrace, enjoyed hearty breakfasts and an elegant dinner served in our private dining room so the four under 10 great-grandchildren could make as much noise as possible and not disturb other guests.  We did two hikes, played golf and mini-golf, rode Gatlinburg's new Mountain Coaster (TWICE), played Pickle Ball at the Gatlinburg Recreation Center, attended a riotous show at Dixie Stampede, and had lunch at the Mountain Lodge, a family tradition.