Blog




June 14, 2017
Just 1.5 miles from the Buckhorn Inn is the Greenbrier entrance to the Great Smoky Mountains National Park.  Often referred to as "the locals entrance to the park", the Greenbrier largely is undiscovered by tourists.  The Greenbrier area of the park boasts the Ramsey Cascades–the tallest cascades in the Smokies.  In the Greenbrier, named for the thorny vines common in this area, one can find beautiful hiking trails, fishing, and picnic areas tucked among the towering hemlock and maple trees.
History of the Greenbrier Area
During the Ice Age, the high mountain slopes fractured, creating boulder fields.  The natural forces of erosion carried smaller boulders to lower elevations.  The early settlers in this area used these stones to build long rock walls, many of which are still standing today.  In fact, the Old Settlers Trail has dozens of these picturesque rock walls.  You will notice that the streambeds in this area are lined with sandstone and slate rocks of all sizes.
The first inhabitants of the area were the Cherokee, who had a seasonal community at Porters Flat.  The first recorded residents of European descent in the area were brothers William and Middleton Whaley who settled here around 1800.  In 1818 John Ownby and his family joined the area.  They were subsistence farmers, who supplemented their income by hunting and trapping.  By the early 1900's, the population of the Greenbrier area was near 500.  The Greenbrier area has many streams which have cut deeply into the terrain.  Because of this natural feature, residents lived in many small communities along the streams, rather than being part of one large community.  General stores in the area provided a venue for residents to trade chickens, eggs, and animal furs for such necessities as clothing, medicine, and coal oil.  They farmed corn and potatoes, and dug ginseng.
Hiking along the trails in the Greenbrier, one can easily imagine the lives of the previous residents of this beautiful area.  This is a special place to spend one, or many, days exploring.  Guests at the Buckhorn Inn can keep up their exploring stamina by pre-ordering hearty, delicious sack lunches to take with them.  
http://www.buckhorninn.com/dining  We will see you on the trail!  
June 6, 2017
We are thrilled that Knoxville's Cityview magazine included the Buckhorn Inn in their May-June Best of the Smokies roundup.  The article references one of our many famous guests, Walt Disney.  Mr. Disney stayed in Cottage 2 at the Buckhorn while filming the television series Davy Crockett.  Some scenes from the five-part series were filmed in color at the Great Smoky Mountains National Park in the Mountain Farm Museum.  Mr. Disney enjoyed his stays at the inn so much that every year until his death in 1966 he sent Christmas presents to the innkeepers' children.  Watch this blog for future articles detailing other famous guests at the Buckhorn Inn!  We are especially pleased that "Hidden in Plain Sight:  Treasures of Sevier County" by Hannah Overton describes us as "keeping the art of slowing down and enjoying the beauty of the mountains alive since 1938".   To read the entire article, please visit http://www.cityviewmag.com/hidden-in-plain-sight/.  
Other Sevier County Treasures in Addition to Buckhorn Inn
We are in good company, the article highlights many other "hidden-in-plain-sight" treasures in Sevier County, including Gatlinburg, Pigeon Forge, and Sevierville, and the Great Smoky Mountains.  The author points out that in Sevier County "you are not limited to the boundaries of one theme park or resort destination–you are in the driver's seat for a
day or weeks' long vacation of endless possibility".  Truly, this area has something for everyone.  Among the best:  The Track classic wooden go-kart track in Pigeon Forge; The Apple Barn for all things apple; The Outdoor Gravity Park adventure course where you get into your own giant transparent sphere; Sugarlands Distilling Company which has a connection to traditional moonshine distilling; and Chubby's Deli inside the New Center Market & Grill.  
The Buckhorn Inn is the perfect calm, restful place with easy access to the wonders of nature and to the excitement that our towns have to offer.  
May 30, 2017
The Buckhorn Inn's Rachael's Labyrinth, at 60 feet in diameter, is one of the largest meditation labyrinths  in the United States.  It is built of local fieldstone, and is a unique feature of the Buckhorn Inn grounds. Peoples all over the world have been creating these structures since the Neolithic period.  They are marked by a symmetry that is visually pleasing and contain surprisingly long paths in a small amount of physical space.  They provide timeless beauty and an intriguing way for individuals to interact with the setting.  Some estimates claim that as many as 10,000 labyrinths may have been constructed all over the world in the last 25 years.  Today the terms "labyrinth" and "maze" often are confused.  A maze is complex, has many branches and dead-ends, and offers walkers various points of decision.  A labyrinth, on the other hand, is unambiguous with one route that always leads to the center.  As such, it is the perfect place to leave stress behind and renew one's spirit in the tranquility of nature.  The Buckhorn Inn guests have often described it as a quiet haven and a respite from stress.  For more information on Rachael's Labyrinth, please visit our website .  http://www.buckhorninn.com/grounds/rachel'slabyrinth
How to do a simple walking meditation in a labyrinth
1.  Stand at the entrance.  Center yourself with a few deep breaths.
2.  Begin to walk, concentrating on the sensations of the placement of your feet and the rhythm of your breath.  If you are stressed, you may find that walking at a slow pace will help to quiet your mind.  As outside thoughts enter your mind, acknowledge them, then bring your mind back to the present sensations of walking.  3.Upon reaching the center, pause for a moment of quiet reflection.  4.  Walk out, appreciating the sense of calm.  
May 24, 2017
Dinner guests at the Buckhorn Inn on May 30 will enjoy Red Velvet Cake for dessert.  My personal history with this treat began when I was a child.  Then it was known as "$200 Cake".  As the story I heard goes, a guest at the Waldorf-Astoria in New York City enjoyed her dessert so much that she asked the chef for the recipe.  She received the formula and instructions,  and $200 was added to her bill.  She protested, but the chef replied that since she had seen the recipe, she must pay for it.  She paid the bill, but exacted revenge by printing cards and passing out  "the secret recipe" on New York City buses.   This story may or may not be true, but we do know a bit of the history of Red Velvet.  Velvet cakes, so called because cocoa powder or cornstarch was used with the flour  to create a fine-textured product, had been around since the 1800's.  But it was during the 1940's  that the Adams Extract company from Texas used point-of-sale recipe cards featuring their butter flavoring and red food coloring.  The recipe spread from Texas throughout the South.  During the era of WWII food rationing, boiled beet juice was used to give the cake its brilliant coloring and help retain moisture.  The dessert was popular at state fair baking contests and other bake-offs.   A cameo role in the 1989 film "Steel Magnolias" put this treat firmly in the modern spotlight.
Frosting on the Cake
The  Red Velvet Cake  I remember from my childhood featured a boiled milk and flour frosting, called an ermine.  It was very light and fluffy, but also very time-consuming to prepare.  That may be one of the reasons that cream cheese frosting is the current favorite go-with.  Whatever its origins, Red Velvet Cake truly is a delight!  For a peek at our ever-changing menu, please visit http://BUCKHORNINN.COM/DINING/WEEKLY-MENU.  
April 13, 2017
A remarkable number of our guests write poems about Buckhorn. Teresa Potter penned this gem about her experience in Cottage One. 
The silence is deafening.  Couldn't a little birdie chirp for me? Couldn't a small green grasshopper rub his sandpaper legs for me? Couldn't a brittle twig that has been on a tree for a hundred years fall for me?
Why won't I hear the pitter-patter of the redtail fox as he runs by my cabin? He's there. Where are the snap, crackle, and pops that are ordinary in any old cabin.There must be a mother mouse nearby snuggling and feeding her young. Squeak. Oh no, the only sound is silence. 
March 30, 2017
Although there are many parks that are larger, Great Smoky Mountains National Park has the greatest diversity of plants anywhere in North America. In fact, north of the tropics, only China has a greater diversity of plant life than the Southern Appalachians.
The Smoky Mountains contain over 300 rare species of plants, with as many as 125 on the protected plant lists of either North Carolina or Tennessee. Three plant species are protected by the Endangered Species Act, with 12 others currently under review for federal protection.
The following is a list of some of the best wildflowers walks in the Smokies in the Spring
Ace Gap – In late April, and into early May, look for yellow trillium, beard tongue, Solomon's seal, spiderwort, fire pink, hawkweed, pink lady slippers, Catesby's trillium, yellow mandarin, rue anemone, wild geranium, little brown jugs, Robin's plantain and flame azalea. In May you can expect to find meadow parsnip, sweet shrub, four leaved milkweed, blackberry, mountain laurel and star grass. In late May and into June, look for fairy wand, false Solomon's seal, galax and Indian pink.
Bradley Fork Trail – During the early spring season, hepaticas, violets, and foam flower are found on this trail out of Smokemont. As the season progresses, umbrella leaf and Fraser's sedge begin to bloom on the higher elevations of the trail. You can also find wood and rue anemone, Vasey's trillium, beaked violets and crested dwarf iris in April and May. From April through July, look for wild strawberry, Robin's plantain and Canadian violets.
Chestnut Top – Spring beauties are usually the first to bloom on this trail in March. Throughout the spring, you can find white trillium, bloodroot, yellow trillium, hepaticas, violets, Jack-in-the-pulpit, bishop's cap, purple phacelia, fire pink, plantain-leaved pussytoes, star chickweed and wild stonecrop. During the late spring and early summer period, look for hairy beard-tongue, rattlesnake hawkweed and squawroot. Many of these flowers can be found within the first couple hundred feet of the trailhead.
Cove Hardwood Self-Guided Nature Trail – This three-quarter-mile loop trail begins in the Chimneys Picnic Area. Many people say that this is one of the best areas in the park for wildflowers, with the best time being in late April. However, as early as March you can begin to see hepaticas and trout-lilies. Through April and May look for yellow trillium, white fringed phacelia, squirrel corn, wild ginger, white trillium and Dutchman's britches. Solomon's seal arrives in May and lasts through June.
Cosby Nature Trail – Located in the Cosby Campground, this one mile trail passes through several forest types, providing for a variety of wildflowers. Peak months for wildflowers are March and April. Look for Vasey's trillium, squirrel corn, Dutchman's britches, brook lettuce and squawroot. Bleeding heart, showy orchis and Vasey's trillium show-up in April and May.
Deep Creek – Wildflowers are abundant along this trail just outside of Bryson City. You'll find a variety of trilliums blooming at different times, as well as foamflower, galax, crested dwarf iris, beard tongue, Solomon's seal, cinquefoil, bloodroot, bluets and blue-eyed grass. Jack-in-the-pulpit is also abundant, but is sometimes hard to locate among the wild geranium, clinton's lily and large houstonia. As the trail rises in elevation along the Sunkota Ridge and Indian Creek Trails, you'll notice rhododendron, mountain laurel and flame azalea.
Husky Gap – Husky Gap is accessed via Little River Trail in Elkmont. Expect to see yellow trillium, dwarf cinquefoil and stonecrop. Roughly half-way between the Little River Trail and Husky Gap there can be a riot of flowers: yellow, white and painted trillium, blue phlox, hepaticas and violets. Sometimes the hillsides throughout this section of trail can be covered in wildflowers. This is a great trail to hike in April and May if your goal is to spot wildflowers.
Kanati Fork – Expect to see early yellow violet as early as March on this trail. By April, you'll begin to see cut-leaved toothwort, dwarf cinquefoil, large-flowered bellwort, white baneberry, Canadian violets, Vasey's trillium, painted trillium, wake robin, Solomon's seal, Northern white violets and brook lettuce. Most of these flowers will last well into May, but the best time to visit is in late April.
Little River Trail – This trail is best hiked between mid-March and April, if you're goal is viewing wildflowers. During the early spring you can expect to see spring beauties and trailing arbutus. As the season progresses, look for hepaticas, yellow trillium, dwarf cinquefoil, stonecrop, Canadian violets and umbrella leaf. You may also see mountain mint, orange and pale jewelweed as early as June here as well.
Porters Creek Trail – This trail is well known for its spectacular wildflower displays from late March through April. We hiked this trail in late March and were treated to a forest floor carpeted with bloodroot, hepaticas, white fringed phacelia, violets and white trillium. As the season progresses into April and May, you can find yellow trillium, toothwort, wild geranium, May-apple, dwarf ginseng, blue phlox, baneberry, foam flower, halberd-leaved violets, woodland bluets and Jack-in-the-pulpits.
Oconaluftee – Late April is the best time for viewing wildflowers along the Oconaluftee River Trail. More than 40 species of wildflowers have been identified along the trail, making it an especially worthwhile walk in spring and fall. During the spring, hikers can find several varieties of trillium and violets, jack-in-the-pulpit, squirrel corn, stonecrop and May apple.
Rich Mountain Loop – This trail had the most diverse amount of wildflowers we've seen in one hike. During our mid-May hike we saw mountain laurel, flame azalea, purple phacelia, rattlesnake hawkweed, yellow ragwort, violets, sweet shrub, wild geranium, blackberry, fourleaf milkweed, everlasting pea and butterfly weed.
Schoolhouse Gap – The Schoolhouse Gap Trail is another excellent trail for spring wildflowers. We saw many Virginia bluebells on the lower portion of the trail. As we proceeded on, we saw beaked violets, pink lady's slippers, fairy wand, golden aster, star grass, red clover, Robin's plantain, sun drops, Catesby's trillium and lyre-leaf sage. The trail also had its share of rhododendron and mountain laurel, which were just beginning to bloom during our mid-May hike. Hikers can also find cardinal flower, Carolina vetch and yellow ragwort on this trail.  
Spence Field – Spence Field has the most spectacular display of mountain laurel I've ever seen. The hillsides and meadows were literally covered in the white and soft pink flowers from this member of the heath family. The best time to visit Spence Field is from late May to mid June.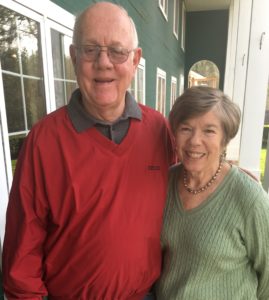 Hilda Henderson Hagins wrote to us………
Some of my fondest childhood memories are of the beautiful Buckhorn Inn.  Our family rented a cabin there for a week for several summers in the 1950's. The beautiful view from the porch of the Inn has remained with me all these years. I also recall the wonderful breakfasts at the lodge and all the books and bookshelves in the main gathering room. Even then I loved books and reading! The breakfasts at the Inn were another highlight of our day.
During our week at Buckhorn Inn we often took day trips into the park and I remember the delicious lunches the staff always packed for us. The innkeepers' daughter Molly and I were best friends for that week each summer, and Molly often accompanied us on our trips into the park. (Maybe that's why our lunches were so good!)
A highlight of my week was when Molly and her mother June would invite me to spend the night with Molly at Bebb House.  Molly and I were pen pals for most of elementary school.
My husband and I are returning to Gatlinburg for a mini vacation later in March. Our son is our official "travel agent" so we asked him to book some accommodations for us in the area. Imagine my surprise when he told us he had booked a stay at Buckhorn Inn for us! He had no idea of my history with that wonderful place. I am excited and can't wait to visit a place that has lived in my heart for many years with beauty and happy memories for me! I'll see you soon!
Hilda Henderson Hagins
February 7, 2017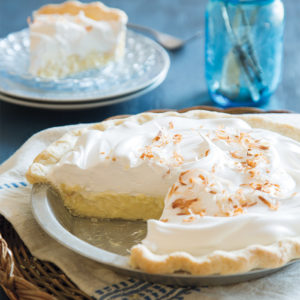 Crust
1 1⁄4 cups all-purpose flour
1 teaspoon kosher salt
1 teaspoon sugar
8 tablespoons cold unsalted butter, cubed
4 tablespoons whole buttermilk, chilled
Filling
1⁄2 cup sugar
3 tablespoons cornstarch
1⁄8 teaspoon kosher salt
1 cup whole milk
1 cup unsweetened coconut milk
4 large egg yolks
1 cup sweetened flaked coconut
1 teaspoon vanilla extract Coconut Whipped Cream (recipe follows)
Garnish: toasted sweetened flaked coconut
Instructions
Preheat oven to 350°.
For crust: In a medium bowl, stir together flour, salt, and sugar. Using a fork or pastry blender, cut butter into flour mixture until mixture resembles coarse crumbs.
Add buttermilk, 1 tablespoon at a time, stirring until a dough forms. Turn dough out onto a lightly floured surface; shape into a disk. Cover tightly with plastic wrap; refrigerate until firm, at least 30 minutes.
On a lightly floured surface, roll dough into a 12-inch circle. Transfer to a 9-inch pie plate, pressing into bottom and up sides. Fold edges under, and crimp as desired. Top with a piece of parchment paper, letting ends extend over edges of plate. Add pie weights.
Bake 20 minutes. Carefully remove paper and weights. Bake until golden brown, approximately 8 minutes more. Let cool 20 minutes on a wire rack.
For filling: In a medium saucepan, combine sugar, cornstarch, and salt; whisk in milk, coconut milk, and egg yolks. Cook over medium heat, stirring constantly, until thickened, approximately 10 minutes. Remove from heat. Stir in coconut and vanilla.
Spoon filling into prepared piecrust. Let cool 10 minutes. Place a piece of plastic wrap directly on surface of filling. Refrigerate until firm, approximately 3 hours.
Top with Coconut Whipped Cream, and garnish with coconut, if desired.
Ingredients for Topping
1 1⁄2 cups heavy whipping cream
6 tablespoons sugar
1⁄2 cup unsweetened coconut milk
Instructions
In a large bowl, beat cream and sugar at high speed with an electric mixer until soft peaks form. Add coconut milk. Beat until stiff peaks form, approximately 1 minute.
December 9, 2016
We have begun work on two major projects to improve accommodation for our guests.
Project 1:  Many guests are now asking for walk-in showers, so we are renovating the bathrooms in Cottages 1 and 2 to provide this amenity. When we are finished, each cottage will have a large, beautifully tiled, walk-in shower.
Project 2: We are beginning a series of improvements in Cottages 3 and 4 which we will accomplish in segments over the next couple of months. These updates include re-painting all the woodwork, re-designing the fireplace, re-postioning the television, replacing windows, and purchasing some new furniture. We will be posting photos when the work is completed.
John and I are so excited about our newest addition to the Buckhorn Inn gift shop and we hope you will be, too.  The Buckhorn Experience is a gorgeous 115 page book featuring 240 high quality photographs of Buckhorn Inn with annotations by Buckhorn I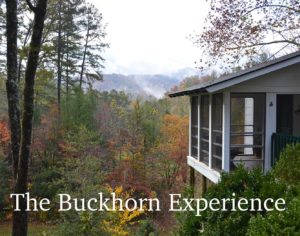 nn guests from the last 78 years. Writer Stephen Williford put this delightful coffeetable-style book together over the last two years and his skills have certainly paid off. Gift-perfect for Christmas, anniversaries, birthdays, first-time guests and for anyone who loves Buckhorn. $25 Paperback $35 Hardcover  Click here to Order Your Book Today.