Blog




February 10, 2015
Buckhorn Inn was a marvelous find. We stayed in one of the cottages and it soon felt like home from home. Debbie and the other staff went to every possible effort to be helpful, and deserve much praise. The house and the cottages are well-furnished and the bed was extremely comfortable. The jauzzi in the bathroom was a lovely touch, and was enjoyed by us! The amenities provided were also very nice. The location is excellent – away from the bustle of Gatlinburg, but not so far as to be inconvenient. It was a delightful stay in a well-run inn in lovely surroundings. My only criticism would be the lateness of the start of breakfast (8 am) which really prevents a full day out unless you skip breakfast. At the end of our stay we were told that we could request it earlier. That's good to know, but a 7 am or even 7:30 am start would be so much better. This isn't a cheap stay, but we felt that it was worth it. We'll return.
We make it a point to return to the Buckhorn Inn two or three times each year and are welcomed warmly by the staff whom we know on a first-name basis. The hospitality is over the top, food is to die for, and the setting is far from the madding crowd of Gatlinburg, yet the park is so close! We love Premier 2 or Premier 1 overlooking Mt. LeConte, but this time we enjoyed Premier 4, a complete apartment on the lower level. John, Lee, Debbie, Heidi, and the team always make us feel like royalty, just like everyone else! The Buckhorn Inn is not for everyone. It is for those of us who want peace, quiet, solitude, total class, and a place to rejuvenate in the beauty of the Smokies.
My husband and I stayed at the Buckhorn Inn in November 2014 as part of a US road trip. We drove from Nashville to Gatlinburg which was an easy drive. The only tip I have for the drive which I believe is written on the confirmation email from the Buckhorn Inn is DO NOT drive through Pigeon Forge on the way to Gatlinburg. We (or should I say I) did not read the information properly and we spent nearly an hour in traffic driving through Pigeon Forge. The only consolation to that drive was that all the Christmas decorations were out and they were spectacular. In fact, Pigeon Forge and Gatlinburg have some of the best Christmas decorations I've ever seen and it's worth a visit around November/December just to see them. We didn't arrive at Buckhorn Inn until nearly 7.30pm on our first night. I had called through to say we were caught in traffic and would be late. I had booked dinner in the restaurant for both our nights and wanted to let them know we would be arriving outside their usual sitting time. The staff were more than accommodating about our delay and on arrival we were greeted by a lovely lady at Reception who checked us in immediately, directed us to our table, took our drink order and our first course was served very soon after that. It was a great relief as we had been very stressed due to the traffic congestion in Pigeon Forge and our late arrival. Dinner is a set menu but the food was absolutely fantastic. We stayed in a Premium 1 Room which was beautiful. The decor was pretty, the room was roomy and very clean and it had a small balcony with a view out to the Smokey Mountains. Breakfast each morning was also excellent and the service was impeccable. We felt very welcome and everyone treated us as though we were long lost relatives. Buckhorn Inn is a short drive to the Smokey Mountains and we drove to the top of the Smokey Mountains both days we were there which was a lot easier than we thought it would be. The location of the Buckhorn Inn is also ideal as it is a short distance to Dollywood (about 20 minutes drive) and many art and craft shops which are scattered throughout Gatlinburg. I would highly recommend the Buckhorn Inn. It is an upmarket, romantic, mountain retreat where you can forget about the everyday stresses of life for a while and spend some quality time with your significant other.
via Buckhorn Inn (Gatlinburg, TN) – B&B Reviews – TripAdvisor.
Wonderful people. The owners and staff were very gracious. We stayed in the Water Tower. It was very unique. We loved it. Delicious food. Breakfast was a wonderful treat. Dinner was great. We will definitely come back.
February 6, 2015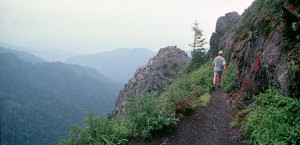 Follow the leader–hiking guide and naturalist extraordinaire Carey Jones on Wednesdays in February.  Carey will conduct gently guided hikes in some less traveled areas in nearby Greenbrier in the Smokies.
December 14, 2014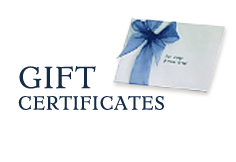 Order your Christmas gift certificate today.
 Give a gift of romance, relaxation, and peace of mind—a Buckhorn Inn Gift Certificate, the gift of an experience to be treasured for years to come.  And for last minute shoppers, we can also email gift certificates. Order online or telephone our Fabulous Office Manager Debbie (865 436 4668)
November 23, 2014
Well, not recently.  But he and his wife Lillian stayed for about a month in 1954 when he was preparing the Davy Crockett series. All reports say he and Mrs. Disney were charming guests who sent all the Bebb children special Christmas gifts each year thereafter.  His signature from one of our guest books is third from the bottom. 
November 19, 2014

Feast of Thanksgiving
Presented by Chef Robert Neisler 
Served by Heidi Gary, Clayton Suttles, Kelli Nash and Diane Lanoye
Herb-Roasted Turkey with Cornbread Stuffing and Giblet Gravy
Baked Southern Ham with Sorghum-Mustard Glaze
 Hot Vegetables 
Mashed Yukon Gold Potatoes 
Green Beans Almondine 
Mixed Southern Greens 
Roasted Brussels Sprouts and Bacon 
Butterbeans with Corn and Pearl Onions 
Root Vegetables Gratinée 
Baked Corn Pudding
Cold Salads and Relishes 
Fresh Cranberry Sauce 
Deviled Eggs 
Chilled Shrimp 
Smoked Salmon 
Cranberry-Whipped Cream Salad 
Black-eyed Pea Salad 
Marinated Vegetables 
Assorted Pickles and Relishes
Desserts 
Traditional Pumpkin Pie 
Maple Pecan Pie 
Fudge Truffle-Hazelnut Tart 
Red Velvet Cake 
Sweet Potato Cheesecake 
Apple-Cranberry Crisp
November 18, 2014
Tuesday, November 17, 2014 was a joyful day for Teller whose mate Pen passed away last May.  His as yet unnamed bride arrived on a flight from Chicago. This three-year old beauty made herself at home immediately with Teller escorting her very courteously around the main points of the pond.  
Please help us name this gorgeous creature.  Names we like include Pentrey, Mrs. Cob, and Penagin.  (Pen is the generic name for female swans and cob is the generic name for males.)  Let us know which of these suggestions you like best or send us your own suggestion to: info@buckhorninn.com.
November 3, 2014
eThis is not only a beautiful and charming inn, in a beautiful location, but they seem to have perfected the art of innkeeping. Everything from check-in to ordering a sack lunch which was large and tasty to housekeeping was smooth as silk. The Buckhorn Inn is about 6 miles outside of Gatlinburg so it is a good thing that they have a very good restaurant on the premises. Food is served at dinner as a prix fix meal and everything we had on the two nights we stayed was very good. It's a very quiet place – away from the hub bub of downtown thank goodness – that's a zoo with rocking chairs on the back "porch" to enjoy the beautiful view toward the Smokys. Children are allowed only in the cabins so it is a place that attracts an older, quieter crowd. Everything is done with care – even housekeeping is in and out of your room while you have breakfast so you never see them. Peace and rest are the best ways to describe this place.