Blog




September 11, 2017
A hearty soup is perfect for fall, whether you are tailgating or relaxing after an afternoon of raking leaves.  This soup is a Buckhorn Inn favorite and we are happy to share it with you.
Black-eyed Pea and Collards Soup
In a stockpot, bring to a boil:
1 lb. dried black-eyed peas
3 qts chicken stock
3 ribs diced celery
1 diced onion
2 cloves minced garlic
1 tsp dried thyme
1 tbl chopped parsley
2 bay leaves
1 tsp black pepper
Slowly boil until the peas are just tender.  Then add:
12 ozs fresh or frozen chopped collards
Salt to taste
1 cup diced cooked ham or 1/2 cup cooked and crumbled bacon
Continue to cook until the peas are tender, adding more stock if necessary.  Taste and correct seasonings.  Some of our guests enjoy this soup with hot pepper-flavored vinegar or other hot sauce.  Cornbread makes a wonderful accompaniment.  This recipe makes 12 servings.
Black-Eyed Peas are Popular Throughout the South
The legume was introduced to the Southern U.S. as early as the 17th century.  George Washington Carver was a proponent of planting the crop as it puts nitrogen back into the soil and is densely nutritious.  The peas contain calcium, folate, protein, fiber, and vitamin A–all for less than 200 calories a cup!  The blossoms produce nectar and attract bees and other pollinators.
A black-eyed pea soup such as this one often is served on New Year's Day as it is thought to bring prosperity in the coming year.  The peas swell when they cook, thus symbolizing prosperity.  The greens represent money.  Because of the rooting style of pigs, pork products are thought to symbolize forward motion.  And serving this dish with cornbread (symbolizing gold) must guarantee success in this New Year!
Some say that when General Sherman marched his Union Army to the sea during the Civil War they pillaged the Confederate food supply.  They left behind, though, the dried peas and salt port as they thought these foodstuffs not fit for human consumption.  The Southerners considered themselves fortunate to have this food left behind to see them through, and this may be how the peas first became associated with good luck in the United States.
For more black-eyed pea recipes and cooking tips, visit the Southern Living website http://www.southernliving.com/side-dishes/how-to-cook-black-eyed-peas
Happy fall, y'all!
September 4, 2017
One of our favorite depictions of the Buckhorn Inn is by our neighbor, G Webb.
The painting captures the timeless charm of the Inn, and includes our beautiful views.  
The G Webb Gallery is on Buckhorn Road
Virginia born, G Webb grew up in Nashville, TN.  By age 10 he already was an avid painter.  In 1971 he opened his first gallery in Murfreesboro, TN.  However, once he began painting the beautiful mountain scenery in east Tennessee, he knew he was "home".   His scenic watercolors convey a sense of the serenity he feels in this part of the country.  G's work focuses on landscapes, mountainscapes, mountain heritage, and historical sites.  G and his wife Vickie are the proud parents of Cami Monet, a talented water colour artist in her own right.  Their gallery on Buckhorn Road showcases the art of both father and daughter.  You can find more details at http://www.gwebbgallery.com.  Both original watercolors and limited edition lithographs are available at the gallery.
What is a Lithograph?
Lithography was invited in 1796 by the Alois Senefelder in Bavaria.  Essentially, an oil-based image is put on the surface of a smooth sheet of limestone.  Then a gum Arabic solution is applied to the surface.  The solution only sticks to the non-oily surface.  During printing, water is attracted to the gum Arabic parts and repelled by the oily surfaces.  The oily ink used for printing does the opposite.  A refined method of this technique is still used for fine art prints today.  The process for fine-art prints was enhanced around 1816 and was used by such artists as Delacroix in the 1820's.  Goya produced his last series by lithography and during the 1870's such artists as Degas began producing most of their art by lithography.
The G Webb Gallery is on Buckhorn Road, a short distance from the Buckhorn Inn.  They are a proud member of the Great Smoky Arts & Crafts Community.  The next time you visit us, we encourage you to spend an afternoon exploring the 8-mile craft loop.  We have maps showing the locations of some of our favorite artist galleries and artisan shops.
August 28, 2017
We are fortunate indeed to host many creative, talented guests who create a poem and or other artwork inspired by their surroundings
.  One of those is Charleen M. VonderMeulen.  Charleen and her group of friends are regular visitors to the Buckhorn Inn.  She crafted this lovely poem during her visit earlier this month.  Her friends agree that it captures their experience here perfectly!  Thanks so much for giving us permission to share your work, Charleen.  Our favorite phrase is "takes our hand and trades it for a heart"–that will stay with us for a long, long time.
Mountain Sanctuary
This mountain sanctuary lights us up,
Engulfed with its love.
We meet as strangers, but seem guided from above.
There seems to be a wonder that leads us to a friend;
That takes our hand and trades it for a heart
And binds us into friendships we hope will never part.
Eclipsed by some Eternal Strength, no sun can ever dim.
We leave enwrapped–hugged–with this loving mist within.  
Resources for Poet and Poem
Love poetry?  So do we!  One of our favorite resources is the Poetry Foundation http://www.poetryfoundation.org.  This organization provides public programs and live events.  They maintain a source of online access to Poetry magazine content–more than 100 years worth!  They also have an easy-t0-access online archive of poet features, poems, and educational resources.  Their awards and fellowships are designed to foster poets at all stages of their careers.
According to Writers' Digest, there are more than 50 distinct types of poems.  From abstract to epitaphs to free verse to sonnets, there is a style for nearly every taste.  The emphasis on the aesthetics of language is one feature that delineates poetry from prose.  Poets use metaphors, similes and other techniques to express emotion and open up a new world for their readers.  Thank you again, Charleen, for taking us with you on this journey.
August 21, 2017
One of the oft-asked questions from our guests is where we got the charming little pottery lamps on our tables in the dining room.  
These lamps were created by one of our neighbors in the Great Smoky Arts and Crafts Community, Buie Pottery.  Buie began throwing pottery when she was only 17 and has been enjoying "slinging mud" every since!  She earned a Bachelor of Fine Arts Degree from the University of Tennessee.  She opened her studio and gallery in 1986.  Her stoneware pieces are colorful, functional, and very attractive.  http://www.buiepottery.com
A Primer on Pottery
It is one of the oldest human art forms.  Some pieces have been identified as being from the pre-Neolithic period.  Ancient vessels and figurines have been recovered from all over the world:  China, Russia, Japan, Sub Saharan Africa, and South America.  Pottery is durable, so shards and pieces have survived long after other materials have broken down.  By examining these objects, archeologists learn much about the daily life of a particular culture.  
Creating Pottery
Before the objects are formed, the clay must be kneaded to ensure that water is evenly distributed throughout the object.  Then air trapped within the clay is removed.  Then objects are formed from the prepared clay by hand-forming or by throwing on a potter's wheel.  The clay can also be molded or machine-shaped.  The object is then heated to high temperatures in a kiln to remove the water.  The resulting object is hard and strong.  
Pieces may be decorated before, or after, firing.  Some of the main means of decoration are painting, glazing or carving.  Colored clays or other additives may be worked into the clay to create different textures and effects.  
Watching a potter at work is fascinating.  We encourage you to stop by one of the local artisan studios on the Arts & Crafts Loop the next time you visit us.
August 14, 2017
I first became fascinated by bison when, as a child, I read Robert McClung's 1960 book Shag, Last of the Plains Buffalo.  The story of the magnificent beast's struggle against drought, famine, and hunters made a lasting impact on me.  Imagine my delight to realize that a herd resides only a little more than a mile from the Buckhorn Inn!
Locals know Benny Hammonds as the longtime Gatlinburg-Pittman high school football coach.  In 2013 he purchased 3 bison cows and one bull.  A recent birth puts the size of the herd at seven now.   To visit The Brown Farm, turn right onto Buckhorn Road from Tudor Mountain Road.  Drive a little more than a mile (the road turns into #454) and you will see the farm on the left.  There is no admission charge and there is parking.  Be careful–the fence is electrified.
Status of American Bison
The American Bison (also sometimes called American Buffalo) is the largest surviving land animal in North America.  During the 19th and 20th centuries the creatures were hunted nearly to extinction.  An estimated 50 million bison were slaughtered for sport.   They are no longer listed as endangered, but their future is not assured.  According to the National Bison Association, http://www.bisoncentral.com, it is mainly through the efforts of small farmers, like Mr. Hammonds, that the animals are being preserved.
They may appear peaceful and nonchalant, but bison can charge without warning.  Both males and females have horns and can use their massive heads as battering rams.  They can gallop at speeds near 35 mph and typically weigh around 2,000 pounds, so you can imagine the momentum they can establish.
They are herbivores and prefer to eat grass and sometimes sedges.  Early mornings and evenings are often the best times to see them be active.  They rest during the day and graze during the morning and evening hours.
They like to roll in depressions in the dirt–a behavior called "wallowing".  Wallowing may help them cope with biting insects and to self-regulate their body temperatures.
We hope you get a chance to visit these magnificent creatures.
August 6, 2017
The Buckhorn Inn's pits for pitching horseshoes are located near stop 18 on our Nature Trail.  This is the stop near the glider and St. Cordelia's Garden.  What a great way to while away an afternoon!
History of Horseshoes
Many experts believe that the origins of the game lie in ancient Greece.  Citizens of less affluence could not afford a discus for sport.  Therefore they used horseshoes, sometimes weighing up to four pounds.  At this point, this was a distance game.  Players competed to see how far they could throw.  At some point, perhaps several centuries AD, the game evolved into one of accuracy.  The use of poles or spikes as targets
became popular and the game spread around the world.  Pitching shoes was a favorite pastime of soldiers and when they returned home they introduced the activity to their communities.  Following the Revolutionary War, England's Duke of Wellington said "The War was won by pitchers of horse hardware."  In 1869 England created very exacting rules for the game.  The first worldwide horseshoe tournament was held in 1910 in Kansas.  The winner received a belt with horseshoes affixed to it.  Let's hope he didn't tumble into a large body of water wearing such a heavy trophy!  In 1914, the game became more formalized.   The "Horseshoe Guide" provided rules on scoring, stake height, shoe weight, size of pitchers' box, and the distance between stakes.
Horseshoes Today
Since 1926 the governing body of the sport has been the National Horseshoe Pitchers Association of America http://www.horseshoepitching.com.  It is estimated that there are more than 15 million horseshoe enthusiasts in the United States and Canada.  To score in this game, you either must throw the shoe around the stake, or throw the shoe closer to the stake than does your opponent.  This scoring system led to the saying "close only counts in horseshoes and hand grenades"!  
We hope to see you trying your pitching the next time you visit us at the Buckhorn Inn!
July 31, 2017
Many of our guests spend quite a few of the hours they have here hiking in the Great Smoky Mountains National Park.  One of our favorite trails for hikes is the one which leads to the Grotto Falls.  The Grotto Falls are the only falls in the Great Smoky Mountains National Park which you can walk behind!
The Trillium Gap Trail leads to, and behind, the Grotto Falls.  The trail winds through old-growth forests and many large eastern hemlocks.  The path is wide and well-worn, but be careful of the rocks and exposed roots!  Be sure to wear sturdy shoes and bring water.  The Buckhorn Inn has hearty and delicious sack lunches available if you choose to take one on your hike.  The trail is a moderate climb.  The roundtrip to the Falls and back takes about 2-3 hours.   During the hike you will cross four small streams.  In the springtime watch for the blooms of white and yellow trillium, white violets, and Dutchman's breeches.  The Dutchman's breeches are so called because the flowers resemble men's trousers hanging by the cuffs on a clothesline.
The Grotto Falls cascade down 25 feet.  The Great Smoky Mountain National Park has all the elements for beautiful waterfalls–ample rainfall and an elevation gradient.  In an average year, the mountains receive more than 85 inches of rain.  The rain trickles, then rushes down the mountainsides, cascading beautifully onto the large boulders below.  
Directions to Grotto Falls for Hikes
From the Parkway in Gatlinburg, turn at light number 8.  Follow the Historic Nature Trail into the Great Smoky Mountains National Park.  Take the Roaring Fork Motor Nature Trail to the large parking area near stop number 5.  You will see a sign for the trailhead.  For more information on planning your hike, visit http://www.nps.gov/grsm/planyourvisit/grotto-falls.htm  Happy hiking!
July 24, 2017
Our guests often ask us questions about Hubert Bebb.  He was the architect brother of the Buckhorn Inn's original owner, Douglas Bebb.
Hubert was born in Illinois but worked in Tennessee for the majority of his career.  When Douglas and Audrey Bebb bought 25 acres near the Great Smoky Mountains National Park, Hubert began work on the plans for an inn.  He took advantage of the views, situating the neo-classical style inn so guests could enjoy Mt. Leconte, Trillium Gap, Brushy Mountain, and Winnesoka Knob.  The inn was called the "Mt. Vernon of the Smokies" for the colonnade which was modeled after Mt. Vernon.
Hubert Bebb's work helped to shape the way Sevier County looks today.  His work stands out by the seamless combination of modernist ideas and regional materials.  His designs respect their surroundings.  For example, his steep roof lines mimic the shape of the mountains behind his buildings. http://www.tennesseeencyclopedia.net
Bebb's Education
He studied architecture at Cornell University and bolstered his understanding of native materials by studying mine engineering in Colorado.  He studied under Frank Lloyd Wright in Illinois.  The young architect worked on designs for the 1933 Chicago World's Fair.  On that project he worked with his good friend Nathanial Owings who founded the firm Skidmore, Owings, and Merrill. 
In Tennessee, the architect created the viewing tower for the Clingman's Dome Overlook.  His design ensured that the tower is accessible by all.  His design for the Arrowmont School of Arts & Crafts won a 1973 Award of Merit from the American Institute of Architects.  Natural air drafts feed the kilns at Arrowmont.  Late in his career, Bebb designed "A Monument to the Sun, the Source of All Energy" for the 1982 Knoxville World's Fair.  The tower remains one of the most recognizable parts of the Knoxville skyline.
July 17, 2017
What do you have in common with former Second Lady Tipper Gore and with the late actress Patricia Neal?  You all have been treasured guests at the Buckhorn Inn!
Tipper Gore was a Buckhorn Guest
Tipper Gore served as the Second Lady of the United States from 1993 to 2001.  She was encouraged to visit the Buckhorn by our regular guest Lucia Gilliland, a member of her staff.  Longtime friends of the Gores, Lucia served as an official advisor to them in the White House.  Her husband, Jim, served as Chief Legal Counsel for the Department of Agriculture.   As related in the book The Buckhorn Experience, Tipper came during her husband's time in office.  Therefore she brought with her a round-the-clock coterie of secret service officers as well as several staff members and every level of law enforcement.  At the time the only internet connection at the Buckhorn was in the kitchen.  So every morning Tipper's chief of staff came down in his pajamas, set up his computer on an ironing board, and got to work.  No word on whether the breakfast chef slipped him any special treats!
Tipper is an author, photographer, and social issues advocate.  You will see the lovely letter she wrote to us framed in the Buckhorn Inn office.  For more on Tipper Gore's current work, please visit http://www.tippergore.com.
Patricia Neal also Enjoyed the Buckhorn Inn
Born in Kentucky coal country, Patricia Neal grew up in Knoxville and attended Knoxville High School.  She was known as Patsy Louise Neal back then.  She began to go by "Patricia" when she began her long and successful acting career in New York City.  She never forgot her Tennessee roots, once saying "We Tennessee hillbillies don't conk out that easy"!  She won a "Best Actress" Oscar in 1964 for Hud in which she played opposite Paul Newman.  In 1978 the Patricia Neal Rehabilitation Center opened at the Fort Sanders Regional Medical Center.  The center cares for patients suffering from disabilities and such traumas as stroke and spinal cord injuries.  Patricia visited the center in Knoxville every year until her death in 2010.  The Buckhorn Inn served as a wonderful escape for Patricia.  The Inn was a place where she could relax, drink in the calmness, and revisit the natural beauty she so loved about Tennessee.
July 11, 2017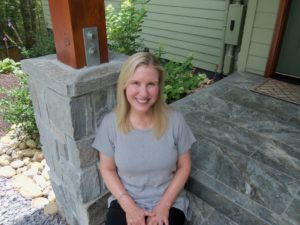 The Mellor Family got lucky 30 years ago when the second Mellor son Jack married Indiana native Sharon Galbreath. We are are so happy that Jack and Sharon have left ttheir corporate careers in Chicago to take  up permanent residence at Buckhorn. Sharon has been making herself very useful around the Inn already and many of you have met her at breakfast, dinner or on check-out. She styles herself as "the daugther-in-law" and loves to talk about food, one of her passions.
Sharon and Jack lived for the past 36 years in greater Chicago area. A Certified Association Executive, most of Sharon's career has been focused on national, nonprofit dental and medical organizations.  Her work history includes: Associate Executive Director of Oral and Maxillofacial Surgery Foundation, Executive Director of American Academy of Periodontology Foundation, and most recently CEO of the Orthopaedic Research and Education Foundation (OREF). At OREF we funded more than $2 million of research each year, providing medical researchers with the data and mentoring they needed to go on to large-scale funding. Sharon says that she " took a great deal of satisfaction in working with donors and other stakeholders to grow the pool of researchers whose work ultimately will provide breakthroughs in patient care."
Sharon earned a BA from Purdue University, MBA from Loyola University and a PhdD from Union Institute and University.
Sharon currently serves on the Board of Directors of a nonprofit called CreatiVets which helps veterans with PTSD develop coping tools by helping them express themselves through music, the visual arts and creative writing. She is a member of MENSA and has served on their national public relations advisory board. Sharon is also a member of the John Purdue Society and cheer on my beloved Boilermakers!