Blog




July 24, 2017
Our guests often ask us questions about Hubert Bebb.  He was the architect brother of the Buckhorn Inn's original owner, Douglas Bebb.
Hubert was born in Illinois but worked in Tennessee for the majority of his career.  When Douglas and Audrey Bebb bought 25 acres near the Great Smoky Mountains National Park, Hubert began work on the plans for an inn.  He took advantage of the views, situating the neo-classical style inn so guests could enjoy Mt. Leconte, Trillium Gap, Brushy Mountain, and Winnesoka Knob.  The inn was called the "Mt. Vernon of the Smokies" for the colonnade which was modeled after Mt. Vernon.
Hubert Bebb's work helped to shape the way Sevier County looks today.  His work stands out by the seamless combination of modernist ideas and regional materials.  His designs respect their surroundings.  For example, his steep roof lines mimic the shape of the mountains behind his buildings. http://www.tennesseeencyclopedia.net
Bebb's Education
He studied architecture at Cornell University and bolstered his understanding of native materials by studying mine engineering in Colorado.  He studied under Frank Lloyd Wright in Illinois.  The young architect worked on designs for the 1933 Chicago World's Fair.  On that project he worked with his good friend Nathanial Owings who founded the firm Skidmore, Owings, and Merrill. 
In Tennessee, the architect created the viewing tower for the Clingman's Dome Overlook.  His design ensured that the tower is accessible by all.  His design for the Arrowmont School of Arts & Crafts won a 1973 Award of Merit from the American Institute of Architects.  Natural air drafts feed the kilns at Arrowmont.  Late in his career, Bebb designed "A Monument to the Sun, the Source of All Energy" for the 1982 Knoxville World's Fair.  The tower remains one of the most recognizable parts of the Knoxville skyline.
July 17, 2017
What do you have in common with former Second Lady Tipper Gore and with the late actress Patricia Neal?  You all have been treasured guests at the Buckhorn Inn!
Tipper Gore was a Buckhorn Guest
Tipper Gore served as the Second Lady of the United States from 1993 to 2001.  She was encouraged to visit the Buckhorn by our regular guest Lucia Gilliland, a member of her staff.  Longtime friends of the Gores, Lucia served as an official advisor to them in the White House.  Her husband, Jim, served as Chief Legal Counsel for the Department of Agriculture.   As related in the book The Buckhorn Experience, Tipper came during her husband's time in office.  Therefore she brought with her a round-the-clock coterie of secret service officers as well as several staff members and every level of law enforcement.  At the time the only internet connection at the Buckhorn was in the kitchen.  So every morning Tipper's chief of staff came down in his pajamas, set up his computer on an ironing board, and got to work.  No word on whether the breakfast chef slipped him any special treats!
Tipper is an author, photographer, and social issues advocate.  You will see the lovely letter she wrote to us framed in the Buckhorn Inn office.  For more on Tipper Gore's current work, please visit http://www.tippergore.com.
Patricia Neal also Enjoyed the Buckhorn Inn
Born in Kentucky coal country, Patricia Neal grew up in Knoxville and attended Knoxville High School.  She was known as Patsy Louise Neal back then.  She began to go by "Patricia" when she began her long and successful acting career in New York City.  She never forgot her Tennessee roots, once saying "We Tennessee hillbillies don't conk out that easy"!  She won a "Best Actress" Oscar in 1964 for Hud in which she played opposite Paul Newman.  In 1978 the Patricia Neal Rehabilitation Center opened at the Fort Sanders Regional Medical Center.  The center cares for patients suffering from disabilities and such traumas as stroke and spinal cord injuries.  Patricia visited the center in Knoxville every year until her death in 2010.  The Buckhorn Inn served as a wonderful escape for Patricia.  The Inn was a place where she could relax, drink in the calmness, and revisit the natural beauty she so loved about Tennessee.
April 16, 2014
I spent some time at the Buckhorn in with my parents, Phoebe and Neil Montgomery, when I was very young.  While you might not know that name, my mother's sister was Liz Strehlow, which really will say it all!  My dad wasn't much of a traveler, but when Liz and Bob invited them down to visit them at the Buckhorn Inn, there was no hesitating, and I got to come along.  It must have been in the late 50's and early 60's that I accompanied my parents.  I remember playing with the Bebb's children, as I was often alone and left to my own devices, which was wonderful as I could explore the Inn's grounds.
I must say the comment in the history section about Bob driving up and honking his horn upon reaching the Buckhorn's driveway is really funny as he was the worst driver ever.  My parents and the Strehlow's loved playing bridge and pitch over some of that Jim Beam.
This all came up as my nephews are hiking the Appalachian Trail and I remembered my wonderful times in the area and I have told my own children of my memories of the coming down to the Buckhorn Inn and thought I would see if it still existed.  What a surprise to see your wonderful website.  It is on the bucket list to come to that area in the spring, and I know we will be in contact. Thanks for a wonderful 75th review, and I hope your 75th year is successful.  Best regards,  Liz Neumann, Iowa
March 27, 2014
 We have lost count how many times we have stayed here and are never disappointed. Our preference is to stay in one of the premier rooms, ideally premier room 1 or 2 located on the first floor in the newer addition to the lodge facing the mountain view. Premier room 4 is like an apartment with a full kitchen, dining, sitting, and living rooms and is located on a lower level of the lodge, with maximum privacy and a lovely mountain view from its balcony. Premier rooms 1, 2, and 3 would be excellent choices for folks with mobility issues.We have stayed in a couple of the traditional rooms upstairs in the lodge. These are original to the lodge and are somewhat smaller than premier rooms, but each is uniquely decorated. The preferred traditional rooms would face the mountains.We have also stayed in the Lindsey House separate from the lodge but still on the property. The bedrooms are on a separate level from the living area and therefore would not be the best choice for folks with mobility issues. The Bebb House next door would then be a better choice since it appears to be one level only.  
A delicious multi-course breakfast is always included in the lodge dining area, with a menu specialty in addition to breakfast standards made to order. The wait staff is always pleasant and efficient. The classical music in the background adds to the relaxing ambiance that begs one to linger. One of the owners, Lee or John, is often present to greet you as well. If you choose, a delicious single four-course gourmet menu dinner is served each night at 7PM for a set price. Dietary adjustments will be accommodated whenever possible with advance notice. Reservations are required. We have never been disappointed! Presentation and service are always given great attention.We have stayed here when our desire is to hike in the park or shop the outlets or in town, or to have a quiet place to avoid distractions from home for my husband to study for his recurrent bi-annual pilot training. There is a lovely sitting area downstairs in the lodge for reading and conversation. A sweet dessert snack is available in the afternoons, and complimentary coffee, tea, hot chocolate, and pepsi colas are always available.We have never stayed in the cabins so I have no experience from which to report on them.I highly recommend staying here any season, which we have. The mountain views are ever-changing and most relaxing anytime.
We just enjoyed out third year in a row at Buckhorn Inn and I can assure you we will most definitely be back for many more. What is exceptional about this place is the atmosphere (peaceful), the people (outstanding service and a kind personable approach) and the FOOD! I cannot say enough about the chefs here. The food is 5 star quality and combined with the outstanding staff you can't beat it. I would recommend this place to anyone looking for a quiet, peaceful spot in the Gatlinberg area that has both beautiful rooms and cabins, and great food.
December 16, 2013
In some 27 years of visiting the Buckhorn, our most treasured memory is of enduring the natural disaster that was the Blizzard of 1993, a.k.a. "The Storm of the Century." The storm was a bona fide natural disaster, starting in Florida with deadly rain, wind and flooding, and morphed into a mid-March snowstorm that buried the southeast and eastern seaboard. It is recognized by NOAA as one of the five worst storms of the twentieth century.
We arrived at the Buckhorn on Thursday evening for a long weekend "spring break" of hiking and relaxing, and within 24 hours knew that we were in for much more of an adventure than we ever dreamed. Also with us as guests of the Inn that weekend were the four delightful couples from Oak Ridge that were here for a weekend of bridge – Gordon and Jean Jones, Norman and Louise Hildreth, Ervin and Sarah Kiser, and Clyde and Ada Hopkins. Martin Rosenberg and Liz Morgan, college professors from Kentucky were staying in one of the cabins, as were Riaz and Behroz Padamsee, business owners from Raleigh, N.C. The Inn was substantially full for its capacity at that time.
On Friday the weather forecasts were generally predicting 12 – 18 inches of snow. On our Friday morning hike to Alum Cave a light snow started by mid to late morning, and when we reached the parking lot it had turned to rain. After some shopping in
Gatlinburg, we headed back to  Buckhorn, making a strategic stop at Park Liquor, just in case. On Friday night we watched a steady snowfall start to accumulate on the front porch hedgerow, and even as we went up to the Tower Room at bedtime that 12 – 18 inches seemed pretty accurate. But then during the night we woke up to hear noise in the parking lot, and looked out to see Rick Willard, one of the inn employees, and John Burns, innkeeper at the time trying to grade snow off of the parking lot with a tractor. Then we realized the electricity was off, and it was game on.
On Saturday morning we came downstairs to join everyone huddled in front of the fireplace listening to a battery operated radio, and watching it continue to snow. The inn had a generator large enough to run electricity for parts of the inn, but not all at the same time, so there was strategic switching between running heat, lights, coffee makers, and the water pump in the main inn. Jo Ann Preske was the only staff member that could get to the inn, walking from her house up on Buckhorn Road. Jo Ann and Connie Burns had to handle the cooking and strategically planning the use of food on hand to feed guests three meals a day instead of just two. Then there was the concern of keeping gas for the generator. We all actually volunteered to let the staff try to siphon gas out of the cars, but discovered that cars had baffles installed on the gas tanks to prevent gas theft! Luckily, John and Rick managed to get to a gas station at some point to replenish the supply. So looking back on it from today's vantage point the whole situation had lots of potentially scary pitfalls, not the least of which was the fact that the temperatures were frigid – near zero. Yet everyone kept their composure and just adapted to the situation as best possible. We washed dishes, helped take firewood to the cabins, read books, talked, the bridge players played bridge, and we chilled wine in the snow. The fireplace area looked like a refugee camp with coats and gloves and boots strewn about to dry at least a bit.
The snow continued on Sunday. Everyone boiled water in the kitchen to take up to the rooms to sponge off, wash hair, etc. At some point later in the day Sunday the snow stopped, and the men went outside
to tackle the job of cleaning snow off of the cars. That is when we got the official snowfall measurement of 34 inches. At the time Eddie and I had a Pontiac Transport minivan that was almost entirely covered. One of the most interesting differences between then and now is that none of us had cell phones in 1993. Fortunately, one of the folks from Oak Ridge had a car phone, which was the predecessor of the cell phone, and he was very kind to let those of us who needed to call family, work, dog sitters, and others to let them know we were safe and coming home as soon as possible. The main issue we had with getting home was the road condition for access roads from the Buckhorn to the main highways. There was not only ice but also downed trees and limbs. By Monday, many were able to begin leaving, but we waited until Tuesday morning because of the 7 or 8 hour drive back to Memphis and still allowing for some icy spots on I-40. On Monday afternoon many from the neighborhood came and sledded down the hill in front of the Inn, then on Monday evening a whole group from the neighborhood, including the G. Webb family and the Preske's all pitched in to cook a great meal of what probably was some of the last food left. On Tuesday morning we threw dirty clothes in the minivan and took off for home!
Of all these memories, there is one that remains with me vividly, and that is the feeling I had when I went out late on Sunday afternoon and took a walk up Tudor Mountain Road. There was absolutely no sound – total stillness, total quiet. The awesome power of nature had brought our busy human activity and our all-important control, to a halt. In that moment it was very clear that something bigger than us was in charge. I'm not sure if that is how you know you've been through a natural disaster, but at that time it sure seemed that way to me.  
December 11, 2013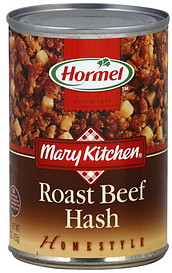 My first memory of Buckhorn is from 1952 when I was six years old–61 years ago.  We were staying on the second floor in rooms looking over my beloved Mt Le Conte–my parents, a mother's helper and me.  There were many trips after that, originally with then innkeeper Doub Bebb fixing a fine breakfast, a tradition I am grateful has continued and expanded under Lee and John's gracious stewardship.  I came to the Inn over the years with my parents, my great friends Judge Macauley Smith and his wife Emmy, with other friends and hikers and for the past 15 years with my husband Boyce Martin.
This Thanksgiving (2013) is our fifth with Lee and John and what a feast it has been.  It wasn't always this way.  One memorable Thanksgiving in the mid-1970s I was with the Smiths in the only heated building at the time–either Cottage 3 or 4.  The Inn itself was closed for the winter, but Doug agreed to let us stay in the cabin.  I slept on the living room couch.  Judge Smith and I wore matching fire engine red pajamas from LLBean.  Most memorable was our Thanksgiving dinner, cooked in the cabin in a cast iron skillet supplied by Emmy.  It was canned roast beef hash to which she added onions and green peppers–and lots of sour cream. It was delicious, enhanced no doubt by the invigorating mountain air and a generous amount of cheering libations.  The Judge was a bourbon man and supplied me with Boisiere dry vermouth.
Tonight's 75th Thanksgiving feast is a far cry from canned roast beef hash.  But never changing is the majesty and magical beauty of my beloved Mt. Le Conte seen from the porch, rooms and cottages of Buckhorn Inn.  Anne Ogden, Treasured Guest, Louisville KY
This was a trip for my husband and myself for a getaway celebrating our 32nd anniversary. This visit was a 3 night stay.  The weather and mountain views spectacular, the swans were swimming on the pond entertaining us. Dinner and breakfasts were tastefully prepared, portions large and  service was attentive. Our room was in the Inn was small and cozy.  (There are larger rooms and cottages to stay in as well).  If you desire beauty of nature this is the place. It is secluded, off the tourist route. The staff and owners are there to see your stay is comfortable.  Glenda W.  Waynesboro Ky via Trip Advisor
December 9, 2013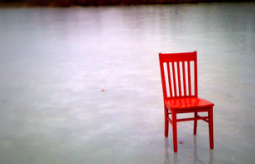 These last few days It has been our pleasure to host a visit from the official symbol of the Professional Association of International Innkeepers–The Red Chair.  The Red Chair is on a nine-month journey that started in Maine and will finish in California in 2014. Red, as we familiarly refer to him, confided confidentially to me that the Smokies has been his favorite destination so far.  We have a story for you about his visit to Buckhorn. 
The Red Chair Gets a Paint Job  The Red Chair arrived tired at Buckhorn Inn after his weeks of traveling and longing for the Orange Chair that had kept him company at his previous stop at Creekwalk Inn. 
We offered him a Blue Chair who was visiting but he said "My heart belongs to Orange."  He was slightly unkempt and grouchy, so we decided a day in our workshop would do him good.  (I know I always feel better after a day getting "fixed-up" at the beauty salon.)  Hugo tightened up his loose bits and gave him a coat of matching red paint and he professed himself ready to face the world again after a quick look in the mirror. 
The Red Chair Officially Arrives  Red had been admitted to the Inn via the back entrance when he arrived  because he said "I don't want anyone looking at me until I get a paint job."  So, we asked him nicely to make his entrance official by coming in the front door, which is the most popular place among our guests for picture taking because of the sign that says "Buckhorn Inn."  A bit vain, Red preened for the photo and we had to show him several versions before he was satisfied with this photo shown here.  Doesn't he look great?  Well, at least that was Red's opinion.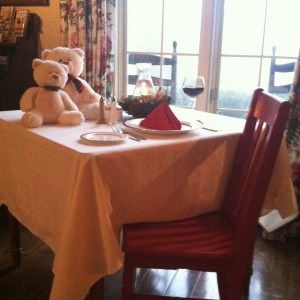 The Red Chair Dines with Friends  "What I want is a good dinner with great service and ambience.  An excellent wine list would also be welcome,"  Red demanded (or asked politely depending on who is telling the story.)  Innkeeper John Mellor told Red he had come to the right place as Buckhorn is the only inn in the area that serves dinner nightly.  He gave Red the best seat in the house and comped him for this fine dinner, Red having pointed out that he is, after all, the Official Ambassador of our national Bed and Breakfast association.  As all of us who have been lucky enough to know, Red makes friends wherever he goes and here at Buckhorn he soon became the center of attention.  Crowds got a little too friendly at times with some of our guests actually wanting to sit on him!  Red did invite the Buckhorn Bears One and Two to have dinner with him because they just adored him.  Buckhorn Bear One said of him "Red is so tall and handsome—I just can't take my eyes off him."  Buckhorn Bear Two had tears in her eyes when Red had to leave the next morning.
The Red Chair Meditates  After a hearty breakfast with a menu just chocked full of delicious choices, Red said he wanted a little time to himself to unwind before going on to his next stop.  Innkeeper Lee Mellor suggested that a visit to Rachael's Labyrinth for a little meditation and a walk through the Inn's gardens would be just the ticket.  "The gardens aren't the best during the winter season but our three perennial gardens really show their stuff in the spring, summer and fall.  Of course, we have so many evergreen bushes—like native rhododendrons and azaleas—that the walk around the property and through our own nature trail is a visual pleasure year round."  (Lee likes to brag.)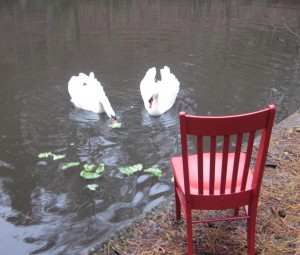 Red Feeds the Swans  Red's favorite stop on his walk (I use this term "walk" figuratively as he was actually transported about on one of our golf carts) was Buckhorn Pond.  Why?  "Well," he said, this is a beautiful, peaceful pond where I could spend several hours just sitting on the bench but the sight of two beautiful swans swanning about came as a big surprise.  Fortunately, my driver had brought a good supply of lettuce for Swans Pentu and Teller (get the joke?—they are mute swans). "  As pointed out previously, Red makes friends wherever he goes and he and Pentu and Teller were soon trading stories and cracking jokes.
Red Says Goodbye  It was hard to say "tata" to Red, but we understood he had his work to think of, pleasurable as it is, and we couldn't be selfish with his company.  After all, he had given up his love for The Orange Chair because of his responsibilities.  Like Buckhorn Bear 2, we had a tear or two our eyes as Red made his departure but we comforted ourselves with the knowledge that he was being delivered into the warmth, comfort and charm of our neighbors at Foxtrot Bed and Breakfast.