Blog




April 12, 2014
Where:  Right here at Buckhorn Inn.  This is bird heaven.  Please see our publication about bird life on this property. 
When:  Thursdays and Saturdays at either 7:30 (before breakfast)  am or 8:30 am (after an early breakfast).  Must reserve in advance. 
Length of Birding Adventure:  1½  Hours 
Cost:  $15 per person or $25 for two (minimum of three persons required) 
How to Register:  Inn Office; 24 hour cancelation required. 
Rain:  Significant rain will result in cancellation 
Expert Birder Keith Watson will lead the adventure
May 23, 2013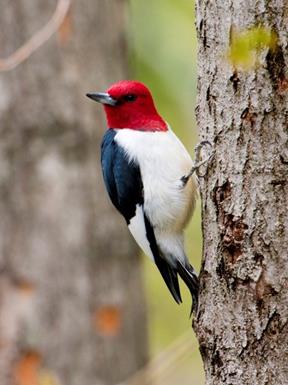 Come see our great photo exhibition of the work of David Kelch entitled "A Room Full of Birds." David is a nationally recognized photographer with oodles of talent. This photo of a red-headed woodpecker is his latest. This exhibit is one of the many activities we are sponsoring as a part of our 75th Anniversary Celebration.
February 24, 2011
What's that song I hear?  According to the Great Smoky Mountains Association, it may be the Louisiana Waterthrush, the Blue-Gray gnatcatcher, the Yellow-throated Warbler or the Blue-headed Vireo (pictured here).  These are among the Smokies' early spring arrivals whose songs can fill the air in late February and March.   The next time you visit Buckhorn, check out our list of birds which inhabit our grounds.  If you would like to have a "bird tour," we can arrange for a naturalist to take you out for a bit of bird spotting.  Or stop in the kitchen for a visit with Chef Robert Neisler who is our resident bird expert.