Blog




January 16, 2021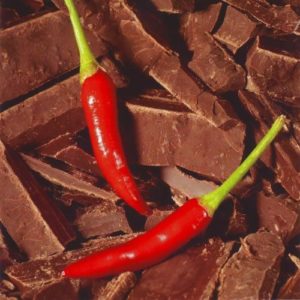 Jack and I met the summer of 1981 in Chicago. We both had just graduated from college and moved to the big city—he from Kentucky and me from Indiana. We were working hard at our first post-college jobs and trying to manage rent and all the other expenses that come with being on your own. Needless to say, we were pinching pennies. When it came to celebrating holidays and special occasions, we started going to Mexican restaurants. The atmosphere was festive, the food delicious and reasonably priced, and dinners came with complimentary chips and salsa—perfect for us. So perfect that all these years later we still celebrate with Mexican food.
This recipe is one of my favorites. The chocolate adds color, the cinnamon and sugar add sweetness, and the chili powder adds spice. This recipe is from "Easy Entertaining" by Marlene Sorosky and I made it for one of the first meals that John and Lee had at our house. That was a special occasion indeed! I often pair this dish with a lush, red Zinfandel. The warm spice, dark berry, vanilla and chocolate notes in the wine go nicely with the dark, bold flavors of the chili. On the other hand, Jack recommends you enjoy it with a bottle of cold Dos Equis or your favorite Mexican beer.
1 ½ cups dried black beans
2 onions, finely chopped
6 cloves garlic, minced
4 pounds pork butt, cut into ½ inch cubes
1/3 cup chili powder
1 tablespoon plus one teaspoon ground cumin
1 tablespoon plus one teaspoon dried oregano
1 teaspoon cinnamon
1 tablespoon sugar
½ teaspoon cayenne pepper
1 teaspoon salt
1 14 ½ ounce can whole tomatoes
4 ½ cups chicken broth
1 ½ ounces unsweetened chocolate
2 corn tortillas torn into small pieces
Rinse beans and place in a large saucepan. Cover with water and bring to a boil. Cook for one minute then drain. Add fresh water to cover by three inches, bring to a boil, reduce heat to low and simmer, partially covered about 45 minutes. Drain and set aside to cool. (Or, use two 16-ounce cans of black beans, rinsed and drained.)
Heat 2 tablespoons of oil. Add onions and garlic and cook until soft, about 20 minutes. Remove from pan and set aside. Heat 2 tablespoons of oil and add the pork. Cook over moderate heat for about 20 minutes or until pink is gone. Pour off drippings. Stir in onions, spices, sugar and salt. Cook 5 minutes. Break up tomatoes and add them with their juice. Add chicken broth and chocolate. Bring to a boil, lower heat and simmer, uncovered, for an hour and a half. Add beans and continue to simmer for 30 minutes until pork is tender and chili has thickened. Stir in tortillas and simmer until they have dissolved.
Offer chopped tomatoes, chopped fresh cilantro, finely chopped onion, and/or sour cream as condiments. Serves 8.
December 14, 2020
At this time of year many of us enjoying curling up in front of a roaring fire with a frothy cup of eggnog.  What is the history of this unusual beverage?
Most food historians agree that eggnog originated from medieval Britain.  In the 1200's Brits were known to be fond of a hot, milky, alcoholic drink called a "posset".  These drinks were usually made with ale.  Eventually, monks developed a posset with eggs, sherry, and figs.  Because milk, eggs, and sherry were consumed by the wealthy, this beverage was often used to toast prosperity and good health.
When the drink came to America in the 1700s, it began to become associated with the winter holidays.  The colonists began substituting less expensive rum for the sherry and mixed it with their eggs and milk.  George Washington had his own favorite recipe which included brandy, rye whiskey, rum and sherry along with eggs, cream, sugar and milk.  Most say that the drink is called a "nog" from the word "noggin" for a wooden cup.  Whatever the reason, by the late 18th century the term eggnog was in common use. 
We are partial to the recipe from Alton Brown http://www.foodnetwork.com.
Alton Brown's Eggnog
Makes 6 to 7 cups
4 egg yolks
1/3 cup sugar, plus 1 tablespoon
1 pint whole milk
1 cup heavy cream
3 ounces bourbon
1 teaspoon freshly grated nutmeg
4 egg whites
Beat egg yolks until they lighten in color.  Gradually add 1/3 cup sugar and beat until completely dissolved.  Add the milk, cream, bourbon, and nutmeg and stir to combine.  Beat egg whites to soft peaks.  Add 1 tablespoon of sugar and beat until stiff peaks form.  Whisk whites into the milk mixture.  Chill and serve.
If you prefer to cook your eggnog, beat yolks until light and beat in sugar until it is dissolved.  Over high heat combine milk, cream and nutmeg and bring just to a boil, stirring occasionally.  Remove from heat and temper the hot mixture into the egg and sugar mixture.  Cook until it reaches 160 f.  Remove from heat, and stir in the bourbon.  Chill.  Then beat and add the egg whites and sugar as described previously.
Cheers!
November 9, 2020
From Sharon Mellor
Flaky Parmesan Pinwheels
One thing I learned from my mother is to always have something on hand to offer unexpected guests. She called it her "social security"! A roll of these pinwheels can remain in your freezer for several months. Simply remove, slice and bake and you have a very delicious appetizer! Serve them with a fresh and acidic white wine. A pinot grigio or a sauvignon blanc would do nicely.
Flaky Parmesan Pinwheels
12 ounces cream cheese at room temperature
1 cup grated parmesan cheese
2 green onion tops, chopped
¼ cup pesto (purchased or your favorite recipe)
1 lb. frozen puff pastry, thawed but still cold
Blend cream cheese and parmesan. Add green onions and pesto and mix until well incorporated. On a lightly floured board, roll 1 sheet of the puff pastry into a 10 x 6 inch rectangle. Spread half of the cheese mixture over the pastry. Roll lengthwise. Wrap tightly in plastic wrap. Repeat with remaining pastry and filling. Freeze until solid. Remove from freezer about 15 minutes before baking. Preheat oven to 375 and place rack in upper third of oven. Slice logs into ¼ inch thick rounds. Place on ungreased cookie sheet about 1 ½ inches apart. Bake for 10 to 13 minutes or until lightly browned. This recipe makes about 50 pinwheels. Serve warm or at room temperature.
October 23, 2020
Pumpkin Pie is a delicious finale to any Thanksgiving dinner.  This week we are planning our upcoming Buckhorn Inn Thanksgiving feast and fondly reminiscing about Thanksgivings past.  Here is Sharon's memory of her first Thanksgiving after she and Jack moved from Chicago.
I was so delighted to be part of the Buckhorn Inn family and was eagerly looking forward to Thanksgiving.  I love to bake, so I was excited when Lee asked if I would help out by baking a few desserts for the feast.  I pictured myself bustling about in an apron, my kitchen fragrant with fall spices.  Perfect!  When the menu was finalized, I was in charge of baking six pies–three apple and three pumpkin. 
Family to the Rescue
Pie crust has long been my nemesis.  My mother makes perfect pie crusts–light, tender, flaky and delicious.  I follow her recipe carefully, but my results are inconsistent.  I watch my mother's deft hands as she quickly and confidently rolls out her crusts.  I don't think I inherited her "dough touch"! 
I was worrying aloud about my pies to my sister-in-law Donna.  I know my brother would have married her anyway, but the fact that she is a great cook certainly sweetened the deal for him!  She said, "Sis, don't worry about a thing.  I have a recipe for pie crust that has never failed me."  She wrote out the recipe and I hurried home to make some practice pies.  Success!  If you would like the recipe for Donna's  crust, check out her blog  https://faithhopefarm.wordpress.com/2020/10/23/a-time-to-give-and-a-time-to-share-a-pie-crust-recipe-story/ Her blog shares the story of how a "town girl" like her adapted to life on a farm.  She shares recipes, craft ideas, garden inspirations, and farm anecdotes.  You might enjoy following her!  
Here is the recipe for my pumpkin pie filling.  It is rich, creamy, and has a hint of bourbon.  This recipe makes one pie and is delicious topped with copious amounts of whipped cream.
Sharon's Pumpkin Pie
8 ounce package cream cheese, softened
2 cups canned pumpkin
1 cup sugar
1/4 teaspoon salt
1 egg plus 2 egg yolks, slightly beaten
1 cup half-and-half
1/4 cup melted butter
1 tablespoon bourbon
1 teaspoon vanilla extract
1/2 teaspoon ground cinnamon
1/4 teaspoon ground ginger
1/4 teaspoon nutmeg
1/8 teaspoon ground clove
Donna's No-Fail Pie Crust
Preheat oven to 350 F.  Place pie dough in a 9-inch pie pan and press down on bottom and sides.  Pinch and crimp edges.  Put the shell in the freezer for an hour to firm up.  Line the frozen shell with foil and fill with pie weights or dried beans.  Bake for 10 minutes, remove the foil and weights and bake for another 10 minutes.  The crust should be dried and just beginning to color.
Beat cream cheese.  Add pumpkin and beat until combined.  Beat in the sugar and salt.  Add egg and yolks, half-and-half and melted butter, beat until combined.  Add the remaining ingredients and beat until incorporated.  
Pour the filling into the warm pie crust and bake for 50 minutes.  The center should be set.  Cool to room temperature before cutting.
We hope you enjoy this pie and that you have a beautiful autumn!
September 8, 2020
Honey-Glazed Roast Pork with Glazed Apples
Thinking about honey reminded me of a dish I had at a Boston restaurant one fall.
We spent a crisp, sunny afternoon walking the Freedom Trail and ended up at charming little restaurant. The special was a pork roast glazed with honey and cooked with fragrant apples. This recipe is very similar to that dish. Cider would be delicious with this! If you prefer wine, I would suggest an off-dry, fruity, low tannin wine to pair with this dish. Perhaps a chardonnay or a pinot noir. It makes four sweet and savory servings.
Honey-Glazed Roast Pork with Apples
2 ½ lb. pork loin roast, tied
2 tablespoons honey
4 sprigs rosemary
4 sprigs thyme
6 tablespoons unsalted butter, cubed
2 medium yellow onions cut into 8 wedges each
2/3 cup dry apple cider
5 tart apples, cored and quartered
Preheat oven to 350 degrees. Place the pork in a large roasting pan and season with salt and pepper. Drizzle the honey over the pork, then arrange the herbs on top. Scatter cubes of butter over the pork. Arrange the onions around the pork. Pour the cider into the pan and bake until a thermometer reads 120, about 45 minutes. Scatter the apples around the pork and bake until the fruit is tender and the pork is golden brown. The thermometer should reach 160. Remove from the oven and let rest for 20 minutes. To serve, cut the pork into slices and serve with the baked apples and onions. Drizzle with pan juices before serving.
August 25, 2020
Don't you love those luscious, sweet, end-of-summer cherry tomatoes?  They pop in your mouth with such bright flavor.  We have grown several varieties of these small tomatoes here at Buckhorn Inn.   One of the most prolific this year was our  heirloom Yellow Pear tomatoes.  They fruit is bright yellow and they are deliciously tangy.  We also have had great success with Shimmer, Honeycomb, Napa Grape, Mighty Sweet, and Black Pearl.  They look beautiful served together in a salad!  Our chefs also have enjoyed using them in "farmer's omelets" showcasing our garden-fresh veggies. http://www.burpee.com/vegetables
Tomato History
Food historians believe cherry tomatoes are a modern version of South American wild tomatoes.  According to archeological evidence, Central American farmers grew the first domestic strains of these small tomatoes.  The Incas and Aztecs farmed tiny pea-size fruit around 700 A.D.  You may not realize that large tomatoes are actually a mutation of the cherry varieties.  The first cultivated tomatoes were berry-small and housed only two cavities for seeds.
We do not know who gets credit for bringing tomatoes to Europe.  The first description of small tomatoes in print appears in a 1623 illustrated book of plants.  The fruits reached wild popularity in the 1970s when British chain Marks & Spencer worked with local growers and food scientists to develop a new cherry tomato that was very sweet and shelf-stable.
We hope you are enjoying a bountiful crop!  If you have more tomatoes than you can use fresh, why not oven dry some of them?  That is what we have been doing.  These little flavor bombs are great for salads, pasta topping, or snacking.   They burst with intense tomato flavor.  And it couldn't be more easy.
Oven-Dried Cherry Tomatoes
35 cherry tomatoes
1 Tablespoon of salt
Herbs, optional
Preheat oven to 200 degrees.  Line a baking sheet with parchment paper.  Cut tomatoes in half horizontally and place on the sheet, sides touching and cut side up.  Sprinkle with salt and let sit about 30 minutes.  Sprinkle with chopped basil, oregano, or parsley.  Bake for 2 1/2 to 3 hours until the halves are about 3/4 of their original size and are deep red in color.  You may keep them for a month or so in an airtight container in the refrigerator or they may be frozen.
August 10, 2020
Several guests have mentioned how much they used to enjoy the Chef's Inspiration Sangria as a weekend special at Buckhorn Inn.  While current challenges have prevented us from serving it this summer, we are prompted to share recipes with you. 
Sangria is a drink which originated in 18th century Spain.  The original version used red wine, hence the name which literally means "bloodletting" in Spanish.  The punch was poplar in colonial America, but largely disappeared in the States by the early 20th century.  The iced version of the drink was reintroduced to the U.S. through Spanish restaurants in the 1940's.  It achieved a wider popularity during the 1964 World's Fair in New York.
Each region of Spain has its own version of this wine and fruit punch.  The traditional version is made with red wine with a variety of fruits and sweeteners.  Spanish Rioja wine, made from the Tempranillo grape, is a good choice.  Recently a version of the drink made with white wine has become popular.  Any type of dry white wine may be used.  http://www.foodandwine.com/drinks/
Red Wine Sangria
1/2 cup water
1/2 cup sugar
2 bottles of dry red wine
1/2 cup brandy
1/2 cup orange juice
2 limes, sliced
1 lemon, sliced
1 orange sliced
Club soda
Ice cubes
Bring water and sugar to a boil.  Cook 3 minutes or until the sugar is dissolved.  Cool.  In a large pitcher stir together wine, brandy, orange juice, and sugar syrup.  Refrigerate, covered overnight.  A few hours before serving, stir in sliced fruit.  When ready to serve, fill glasses with ice.  Fill glass 2/3 with sangria and top off with club soda.  Garnish with fresh fruit and mint leaves. About 12 servings
White Wine Sangria
1 cup water
1 cup sugar
2 bottles dry white wine (unoaked Chardonnays or Chenin Blancs are good choices)
1/2 cup orange liqueur such as Cointreau
1 lemon, sliced
2 limes, sliced
2 oranges, sliced
Club Soda
Ice Cubes
Bring water and sugar to a boil.  Simmer 5 minutes.  Cool.  Stir syrup, wine and liqueur together, cover and chill.  Before serving pour wine into a pitcher.  Stir in fruit.  Serve over ice, topping each glass with the Club Soda.  About 12 servings.
These recipes make great starts for your own experiments with different wines and fruits.  We would love to see the recipe you develop for your very own house sangria!
July 13, 2020
This is the time of summer when the basil in our garden here at Buckhorn is ready to pick.  Combining it with dairy creates the perfect appetizer for a summer evening out on the patio.  This recipe is from the 1988 edition of Easy Entertaining with Marlene Sorosky.  I have made it many times and served it with a variety of crackers.  A good wine pairing might be an Australian sauvignon blanc.  The green, herbaceous notes of the wine complements the pesto flavors and the bright acidity will act as a palate cleanser.  This recipe serves 16.
PESTO
2 large garlic cloves, peeled
2 cups (about 2 ounces) basil leaves (note:  if you blanch them a few seconds in boiling water and then plunge in ice water the basil leaves will retain their emerald green hue)
2/3 cup grated parmesan cheese
2/3 cup chopped walnuts
¼ cup olive oil
CHEESECAKE
11 ounces cream cheese at room temperature
¾ cup ricotta cheese (about 6 ounces)
8 ounces goat cheese
3 eggs, at room temperature
½ cup sour cream
To make the pesto, mince garlic in a food processor.  Add basil, cheese, and walnuts and process until ground.  Add oil and process to a thick paste.
To make cheesecake, butter an 8 ½" springform pan.  Preheat oven to 350 F.  Mix together cream cheese, ricotta, and goat cheese until well blended.  Mix in eggs until thoroughly incorporated.  Add sour cream and process until well blended.  Pour into springform.  Bake for 45 to 55 minutes.  The top will be golden and the center will still jiggle.  Remove to rack and cool completely.  When ready to serve, remove sides of pan and spread pesto evenly over the top.  Sun dried tomato strips make a lovely garnish.  Sit back and wait for the compliments!
May 18, 2020
Today we picked a mix of beautiful greens for salads for our dinner guests.  The bowl of colorful greens had us wondering about the origins of this dish.
The word "salad" comes from the ancient Latin word "sal" for "salt".  In ancient times, salt was an important ingredient in dressing.  You might be surprised to learn that ancient Romans and Greeks enjoyed raw vegetables with dressing.  Typically the vegetables would be dressed with vinegar, oil, herbs, and salt.  "Salata" literally means "salted herb".  The dish became more complex over time.  In the 1700's chef's began to create composed salads with layers of ingredients.  
Today any entrée or side dish that is composed of a mixture of ingredients and intended to be eaten cold is a salad.  Some recipes are world famous.  Master chefs of the International Society of Epicures in Paris voted Caesar Salad as the greatest recipe to originate from the Americas in 50 years.  The Cobb was invented at the Brown Derby restaurant in 1937.  Crab Louie began appearing on menus at the turn of the 20th century.  Nicoise features garlic, tomatoes, anchovies, black olives, capers, and lemon juice.  It is named for the city of Nice, France.  A private party for the pre-opening of New York's Waldorf Astoria Hotel on March 13, 1893 led to the first serving of Waldorf Salad. http://www.whatscookingamerica.net
The recipe below could be the start of your own famous salad!  Fresh mixed greens and vine-ripened tomatoes.  Just add a drizzle of lemon basil dressing and you will enjoy a taste of summer.
Lemon Basil Dressing for Salads
 ¼         Cup     Diced onions
1          Tbl       Minced garlic
1          Tsp      Dijon mustard
½         Cup     Fresh basil leaves
1          Tsp      Salt
½         Tsp      Pepper
1          Tbl       Sugar
¼         Cup     Mayonnaise
½         Cup     Lemon juice
Combine the ingredients above in mixing bowl of food processor.
Add slowly while processing:
1 ½      Cups    Combined Olive and canola oil
Chill and serve over salad greens.
Yield: About 2 cups