Blog




September 3, 2018
Did you know that according to culinary history the word "succotash" is derived from the Narragansett Indian word msickquatash meaning boiled corn kernels?  This simple and delicious dish featuring corn, beans and other vegetables is a nourishing dish of Native American origin.  While we don't know for sure what was on the menu at the first Thanksgiving, many food historians agree that a version of succotash likely was on the table.  This dish has been adapted throughout the United States.  Many versions have corn, pole or lima beans, green or red peppers, tomatoes, okra and fresh herbs.  The ingredients are based on what is fresh and bountiful, so you are not likely to have exactly the same recipe twice.
Chef Frank has succotash on the menu this week, featuring our garden-fresh okra, pole beans, and
herbs.  In the Buckhorn Inn garden we are growing Perkins Mammoth Long Pod okra from Burpee Seed Co.  The 7″ long pods are tender and delicious.  The towering 10′ tall plants are quite a sight in our raised garden beds!  We are not certain what ingredients will inspire Chef Frank on Wednesday night, but here is an easy recipe that serves 6.  It was adapted from a recipe on http://www.thespruceeats.com.
A Taste of History Succotash
4 cups okra pods, sliced into 1/2″ rounds
3 large tomatoes, seeded and diced
2 teaspoons chopped fresh thyme
1 teaspoon kosher salt
1/4 teaspoon black pepper
1 cup sliced pole beans
1 cup corn kernels
1 tablespoon of butter
Combine the okra and tomatoes in a large non-reactive saucepan.  Add the salt and pepper and 1/2 cup water or vegetable broth.  Cover the pot and bring to a boil.  Reduce heat to low and simmer for 15 minutes.  Add the beans and simmer for another 20 minutes.  Add the corn kernels and cook for 20 minutes longer.  Add the butter and blend.  This makes a delicious hot side dish!
June 25, 2018
One of our favorite things about summer is enjoying a ripe tomato fresh from the garden.  The Buckhorn Inn vegetable gardens are doing splendidly and we look forward to a heavy yield.  This year we are growing heirloom style gourmet tomatoes from Burpee Seed Company http://www.burpee.com.  "Black Krims" have a beautiful dark color and tangy flavor.  "Supersteaks" are real giants with a beefsteak flavor.  "Big Rainbows" are sweet and mild with yellow and red
streaked flesh.  Some consider the "Brandywine Pink" to be the best-tasting heirloom of all time.  "Black Pearl" cherry tomatoes are purplish black with a deep, rich, and sweet flavor.  We are looking forward to eating these fresh in salads, in a chilled gazpacho, roasted, and in a delicious summer soup.  
Tomatoes originated in western South America.  The Aztec word tomatl gave way to the Spanish word tomate from which our English word tomato is derived.  The indigenous peoples of Mexico began using tomatoes as a cultivated food.  The Spanish, during colonization of the Americas, discovered tomatoes and brought them to Europe.  Tomatoes are about 95% water and are a good source of vitamin C.
Summer Tomato Soup
Sautee in olive oil until tender:
1 Diced onion
3 Minced garlic cloves
Add:
5-7 Pounds coarsely chopped fresh tomatoes
1 Quart chicken broth
1 Teaspoon dried savory
1 Tablespoon sugar
1 Tablespoon fresh chopped thyme
1/2 Cup tomato paste
Salt and pepper to taste.
Bring to a boil and then simmer for 45 minutes.  Strain ingredients in a colander, pressing on vegetables to get all the juice out.  Discard vegetables.  
Bring to a boil again and add one diced tomato and torn basil and parsley to taste.  Correct seasonings.  This is delicious served with garlic croutons and shaved parmesan cheese.  This recipe yields about eight servings.  Please note that this recipe is best when using tomatoes in season.  If you make this recipe with out-of-season tomatoes you may want to add some tomato juice to ensure a deep, rich flavor.  Enjoy!
May 7, 2018
The beautiful salad greens we have been growing in the Buckhorn Inn gardens have made us love our dinner salads even more!  This spring we have been harvesting and serving a sweet mesclun mix from Burpee Seed Company http://www.burpee.com.  The mix includes Beet Bull's Blood, Spinach Bloomsdale, Black Seeded Simpson lettuce, Red Salad Bowl lettuce, and Mustard Tendergreen.  
Soon we will be harvesting our Heatwave mix which includes a blend of crisphead, romaine, and looseleaf types that mature a bit later than the spring mix.
Caesar's Salad Dressing
Guests love our Caesar salad.  It was first made by restaurateur Caesar Cardini in Tijuana.  In 1924  a rush of diners depleted his ingredient supply.  He made do with what he had and added his own flair by making it tableside.  Our version of the tangy dressing omits the raw egg.  We recommend you serve it at room temperature on romaine with crisp croutons.
3 Anchovies
1 T  Worcestershire sauce
1 T Chopped garlic
1 T Dijon mustard
1/3 C Mayonnaise
1 t Pepper
1 t Salt
1/2 C Lemon juice
1 1/2 C Olive oil
1/2 C Shredded Parmesan cheese
Combine the first 8 ingredients in a food processor.  Slowly add the olive oil, processing until creamy.  Stir in the parmesan cheese.  Makes about 2 1/2 cups.
Lemon Basil Vinaigrette
This is one of Chef Bob's most popular dressings.  We especially like it over a bed of tender spring greens with grilled asparagus and tomatoes.
1/4 C Diced onions
1 T Minced garlic
1 t Dijon Mustard
1/2 C Fresh basil leaves
1 t Salt
1/2 t Pepper
1 T Sugar
1/4 C Mayonnaise
1/2 C Lemon juice
1 1/2 C Combined olive and canola oils
Combine in a food processor, adding the oil slowly at the last.  Chill.  Makes about 2 cups.  We love using the fresh basil from our Buckhorn Inn herb garden for this recipe and many others.  When making a basil-based dish, such as a pesto, blanching the basil will help it retain that sunny green color.
We hope you enjoy many salad days ahead!
March 5, 2018
Although it's roots are Irish, St. Patrick's Day is celebrated the world over.  The day is marked with parades, green beer, and huge corned beef and cabbage dinners.  Contrary to popular belief, however, corned beef is not a traditional dish from Ireland.  According to http://www.history.com/news/hungry-history/corned-beef-as -irish-as-spaghetti- and-meatballs,, corned beef and cabbage was a dish developed by Irish immigrants to the United States.  Many working-class Irish struggled economically in the New World.  "Corning" beef was a way to preserve  meat.  The taste reminded the Irish newcomers of their beloved boiled bacon from back home.  Cabbage was one of the cheapest vegetables in the markets and paired well with the salty spiced beef.  When cooked in the same pot, the dish was easy-to-prepare, inexpensive, and delicious!  Its roots are so American that the dish was served at President Lincoln's inauguration dinner in 1862.
Our guests love our corned beef soup, and so will you, whether or not you serve it on St. Patrick's Day!
Corned Beef Soup for St. Patrick's Day or Not
2-3 lbs Corned beef
1 cube Beef bouillon
2 cloves Garlic, diced
2 Cloves
3 Carrots, sliced thickly
6 Potatoes, peeled and diced
7 cups Water
1/2 cup Onion, chopped
6 Peppercorns
2 Bay leafs
6 cups Cabbage, coarsely chopped
Cover corned beef with water in large soup pot.  Bring to boil and reduce heat.  Simmer for 15 minutes and skim.  Add bouillon cube, onion, garlic, peppercorns, cloves and bay leafs.  Simmer for 3 to 4 hours until meat is tender.  Remove meat from broth and cool.  Skim fat from broth.
Cut meat into bite-size pieces and return to broth.  Add carrots and potatoes; bring to a boil.  Reduce heat and simmer for 15 minutes.  Add cabbage and cook for 15 more minutes or until all the vegetables are tender.  Remove the peppercorns, cloves and bay leaf before serving.  This recipe pairs nicely with soda bread or other rustic bread.
January 23, 2018
What is better on a cold, wintry day than a bowl or mug of delicious warm soup. The recipe below is one of our guest favorites! Try pairing it with a hearty whole grain bread for a warming lunch. This recipe makes four hearty servings.
Butternut Squash Soup with Apple and Smoked Cheddar
2 T. Extra-virgin olive oil
1 med. Onion, halved and thinly sliced
¾ c. Apple Cider
5 ¼ c. Butternut squash—peeled, seeded and cut into 1" cubes
4 ½ c. Chicken stock
½ c. Heavy cream
2 T. Unsalted butter
1 Apple, cut into ½" pieces
1/3 c. Smoked cheddar cheese, coarsely shredded
Salt and Pepper
Chopped chives for garnish
Heat the olive oil in a large stockpot. Add onion and cook until golden. Add the apple cider and cook until syrupy, about 3 minutes. Add the squash and chicken stock and bring to a boil. Cover and simmer until the squash is very tender, about 40 minutes.
Puree the soup in batches in a blender. Return the soup to the saucepan and stir in the cream. Season with salt and pepper and keep warm.
Heat butter in a medium skillet. Add the diced apple and cook over high heat until the apple is tender and golden around the edges, about 2 minutes.
Season the soup with salt and pepper. Garnish with the cheddar cheese, sautéed apples, and chives.
November 28, 2017
Whether you are baking for guests or Santa, the buttery refinement of the sugar cookie can't be beat!
Lore has it that the first sugar cookies appeared around the seventh century. It is possible that a baker around that time used mini versions of his cakes to test the temperature of his oven. When he began selling these mini-cakes, the sugar cookie was born!
The type of sugar used makes a difference in the texture of the finished cookie. Fine sugar granules will make a cookie that is flatter and crisper. Large sugar granules result in a thicker, chewier cookie. This is because the dissolving of the sugar causes the dough to spread. If the sugar is coarser, it will dissolve more slowly.
Our recipe makes about 4 dozen soft and scrumptious cookies. One way to make them uniquely yours is to use a cookie stamp. The die blocks transfer patterns to the cookies that you can then decorate with food paints and sprinkles. Enjoy!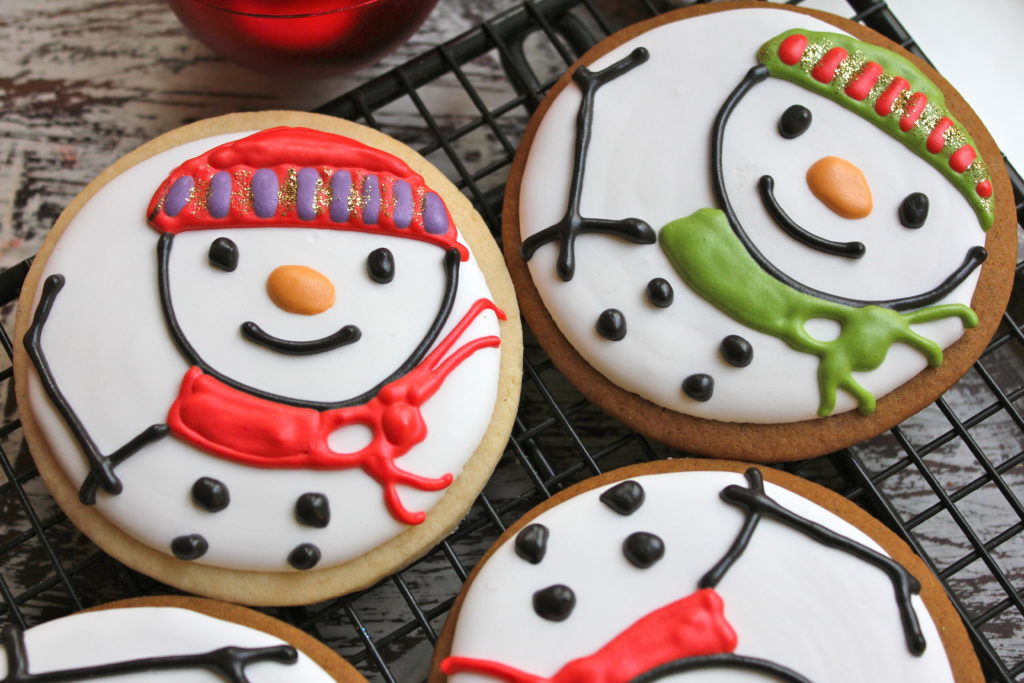 Buckhorn Inn Sugar Cookies
1 cup Butter, softened
1 cup Vegetable Oil
2 large Eggs
1 cup Granulated Sugar
1 cup Confectioner's Sugar
2 teaspoons Vanilla
4 ¼ cups All-Purpose Flour
½ teaspoon Salt
1 teaspoon Baking Soda
1 teaspoon Cream of Tartar
½ cup additional Granulated Sugar for rolling
Preheat oven to 350 degrees.
Cream butter, oil, eggs, sugars and vanilla. In a separate bowl combine flour, salt, baking soda, and cream of tartar. Add the flour mixture to the creamed mixture. Form into 1 inch balls and roll in granulated sugar. Place the cookies on an ungreased cookie sheet and flatten. Bake 10 to 12 minutes until light, golden brown. Let the cookies cool on the cookie sheet for 2 minutes before placing them on a cooling rack.
November 13, 2017
Guests tell us that dessert is a highlight of any Buckhorn Inn dinner.  And why not!  With such delights as coconut cream pie, apple-cranberry crisp, and our special "that" chocolate cake, all dinners end on a sweet note.  But have you ever wondered about the history of dessert?
How Dessert Came to Be
Ancient peoples enjoyed dried fruits and nuts candied with honey.  However it was not until the production of sugar that sweet dishes became popular parts of a meal.   Sugar was expensive, so sweet treats were reserved, for the most part, for the wealthy and special occasions.  
In Medieval Europe, sweet and savory dishes were served alongside each other.  It was not until the 1600's that service a la francaise (serving all dishes at once) became replaced with service a la russe (serving one course after another) and sweets claimed their place as the final course of a meal.
It was at that time that the word "dessert" came into popular use.  The word comes from the French word "dessirvir" which means "to clear the table".  In other words, desserts were served after the table was cleared of main dishes.  For more information on some of your favorite meal-enders, visit http://www.history.com/news/hungry-history/category/desserts
The recipe for one of our guest-favorites appears below.  Enjoy!
Brown Butter Almond Torte with Sour Cherry Sauce
Torte
1/2 cup unsalted butter
1 tsp vanilla
1 cup blanched almonds
1/2 cup AP flour
1 cup sugar
3/4 tsp salt
6 large egg whites
1/3 cup sliced almonds
Preheat oven to 375 F.  Butter and flour a 9″ round cake pan.  Melt butter over moderately low heat.  Continue to cook until golden brown with a nutlike fragrance.  Cool and then stir in vanilla.  In a food processor finely grind blanched almonds with flour, 2/3 c. sugar, and 1/2 tsp salt.  With an electric mixer beat egg whites and remaining 1/4 tsp salt until they hold soft peaks.  Gradually add remaining 1/3 cup sugar, beating until meringue holds stiff peaks.  Fold in almond mixture.  Then fold in butter mixture.  Batter will deflate.  Spread batter into cake pan and top with sliced almonds.  Bake 35-40 minutes until tester comes out clean.  Cool in pan on a rack 15 minutes.  Remove from pan and cool completely.
Sour Cherry Sauce
3 cups sour cherries, pitted.  (about 1 1/2 lbs.)
1/2 cup sugar
1/2 cup water
1 tsp cornstarch
Bring cherries, sugar and water to a boil.  In a cup stir together cornstarch and 1 tablespoon water until dissolved.  Stir into cherry mixture.  Simmer sauce 2 minutes and cool to room temperature.  This recipe makes 6-8 servings.
September 11, 2017
A hearty soup is perfect for fall, whether you are tailgating or relaxing after an afternoon of raking leaves.  This soup is a Buckhorn Inn favorite and we are happy to share it with you.
Black-eyed Pea and Collards Soup
In a stockpot, bring to a boil:
1 lb. dried black-eyed peas
3 qts chicken stock
3 ribs diced celery
1 diced onion
2 cloves minced garlic
1 tsp dried thyme
1 tbl chopped parsley
2 bay leaves
1 tsp black pepper
Slowly boil until the peas are just tender.  Then add:
12 ozs fresh or frozen chopped collards
Salt to taste
1 cup diced cooked ham or 1/2 cup cooked and crumbled bacon
Continue to cook until the peas are tender, adding more stock if necessary.  Taste and correct seasonings.  Some of our guests enjoy this soup with hot pepper-flavored vinegar or other hot sauce.  Cornbread makes a wonderful accompaniment.  This recipe makes 12 servings.
Black-Eyed Peas are Popular Throughout the South
The legume was introduced to the Southern U.S. as early as the 17th century.  George Washington Carver was a proponent of planting the crop as it puts nitrogen back into the soil and is densely nutritious.  The peas contain calcium, folate, protein, fiber, and vitamin A–all for less than 200 calories a cup!  The blossoms produce nectar and attract bees and other pollinators.
A black-eyed pea soup such as this one often is served on New Year's Day as it is thought to bring prosperity in the coming year.  The peas swell when they cook, thus symbolizing prosperity.  The greens represent money.  Because of the rooting style of pigs, pork products are thought to symbolize forward motion.  And serving this dish with cornbread (symbolizing gold) must guarantee success in this New Year!
Some say that when General Sherman marched his Union Army to the sea during the Civil War they pillaged the Confederate food supply.  They left behind, though, the dried peas and salt port as they thought these foodstuffs not fit for human consumption.  The Southerners considered themselves fortunate to have this food left behind to see them through, and this may be how the peas first became associated with good luck in the United States.
For more black-eyed pea recipes and cooking tips, visit the Southern Living website http://www.southernliving.com/side-dishes/how-to-cook-black-eyed-peas
Happy fall, y'all!
June 26, 2017
Dinner guests at the Buckhorn Inn on June 28 have a real treat in store–bumbleberry cobbler for dessert!
You may ask how many bumbleberries it takes to make one cobbler?  The answer is that there is no actual fruit called a "bumbleberry".  Rather, the word describes a mix of berries, or a  "jumble" of berries.  The delicious combination most commonly is used in a pie or in preserves.  Typically the mix includes both sweet and tart flavors that burst into juicy goodness in your mouth.  We bake ours into a cobbler that features a tender crust.  Wikipedia credits Western Massachusetts as the home of the bumbleberry.  Lore has it that the name came from a waitress who was asked what kind of pie was being served.   Bumbleberry recipes have appeared in print since the late 1950's, and we argue that ours is one of the best.
Bumbleberry Cobbler Recipe
Preheat oven to 375 F.
1/2 cup cold butter
1 cup sugar
1 cup self-rising flour
3/4 cup milk
1 teaspoon vanilla
1 tart apple, cored, peeled and sliced
1/2 cup diced rhubarb
1 cup fresh sliced strawberries
1/2 cup blueberries
1/2 cup raspberries
1/2 cup blackberries
Cut cold butter into pats and line the bottom of a 6″x 9″x 2″ pan.  Blend the flour and sugar.  Add the milk and vanilla and stir to make a batter.  Pour the batter into the prepared pan.  Mix fruit together and pour on top of the batter.  (Optional:  if the berries are not sweet you may add 1/2 cup sugar to them.)  Bake for 30-40 minutes until golden brown.  The batter will rise to the top as it bakes.  This recipe makes 10-12 delicious servings.
For a preview of other delightful menus coming up at the Buckhorn Inn, please visit our website http://www.buckhorninn.com/dining