Blog




July 2, 2019
In the U.S., Oregon is the leading commercial blackberry producer.  Here in eastern Tennessee, we find them at local farmers' markets as well as in the grocery store.  Their deep, purple sheen attracts our eyes.  The soft, juicy berries fill our mouths with fresh, sweet, and slightly tart flavor.  Blackberries are not technically a berry, but rather an aggregate bramble fruit.  Did you know that blackberries have been used for medicinal purposes by the ancient Greeks, native Americans, and other peoples worldwide? 
Chewing the leaves was a remedy for mouth ailments and a tea brewed from the leaves, roots, and bark was used to treat pertussis.  The fruit, high in vitamin C, was used to treat scurvy.  A 1771 document recommended a tea of blackberry leaves, stem, and bark for stomach ulcers.  https://en/wikipedia.org/wiki/Blackberry  
They are rich in vitamins A and C, iron, calcium, and dietary fiber.  They also are anti-oxidant rich.  The fruit also has been used to dye fabric and the stems to make rope.  The wild plants have sharp thorns, so have been used as barriers against large animals.  The berry is often used in desserts, jams, jelly, wine, pies, and crumbles.  We use it is this delicious coffee cake.  What a way to start your day!
Blackberry, Walnut, Bran Coffeecake
Pre-heat oven to 350 F.
Grease or spray 9X13 baking pan
Mix together the following ingredients:
1          cup                  sugar  
½         cup                  vegetable oil
2                                  eggs
¼         cup                  molasses
1          tsp                   vanilla 
1          cup                   oat bran
2          cups                all-purpose flour
1          tbsp.                baking powder
1          tsp                   salt                 
1          cup                  fresh blackberries 
1          cup                  chopped walnuts
Bake 35-40 minutes (or until top is brown and tester comes out clean)  
Yield: 18 squares
To get this delicious taste of summer year-round, you can substitute frozen blackberries.  This recipe is also a treat when made with blackberries, raspberries, or your favorite berry mix.
June 12, 2019
This year our kitchen herb garden is planted in pots on the veranda. The plants get lots of sun, the chefs have easy access to fresh herbs, and our guests love the scent! Our abundance of fresh herbs inspired us to make this fresh herb frittata. This is an easy recipe to whip up for brunch or a light lunch with whatever you have on hand, or in the garden, that is fresh and lovely. We used sharp cheddar, but this would also be tasty with tangy goat cheese. This recipe makes four servings.
8 eggs
2 tablespoons water
1 cup shredded sharp cheddar cheese
½ cup chopped fresh herbs (thyme, cilantro, chives, parsley)
½ cup finely chopped red or green bell pepper
½ teaspoon fresh ground black pepper
Preheat oven to 350 F. Butter a quiche dish. Whisk eggs and water. Add herbs, pepper, black pepper, and ½ cup of the cheese. Mix thoroughly. Pour egg mixture into quiche dish. Top with remaining cheese. Bake for 25 minutes or until top is puffed and golden. Let cool slightly. May be served warm or at room temperature. Sprinkle additional fresh herbs on top of each slice when serving.  
April 29, 2019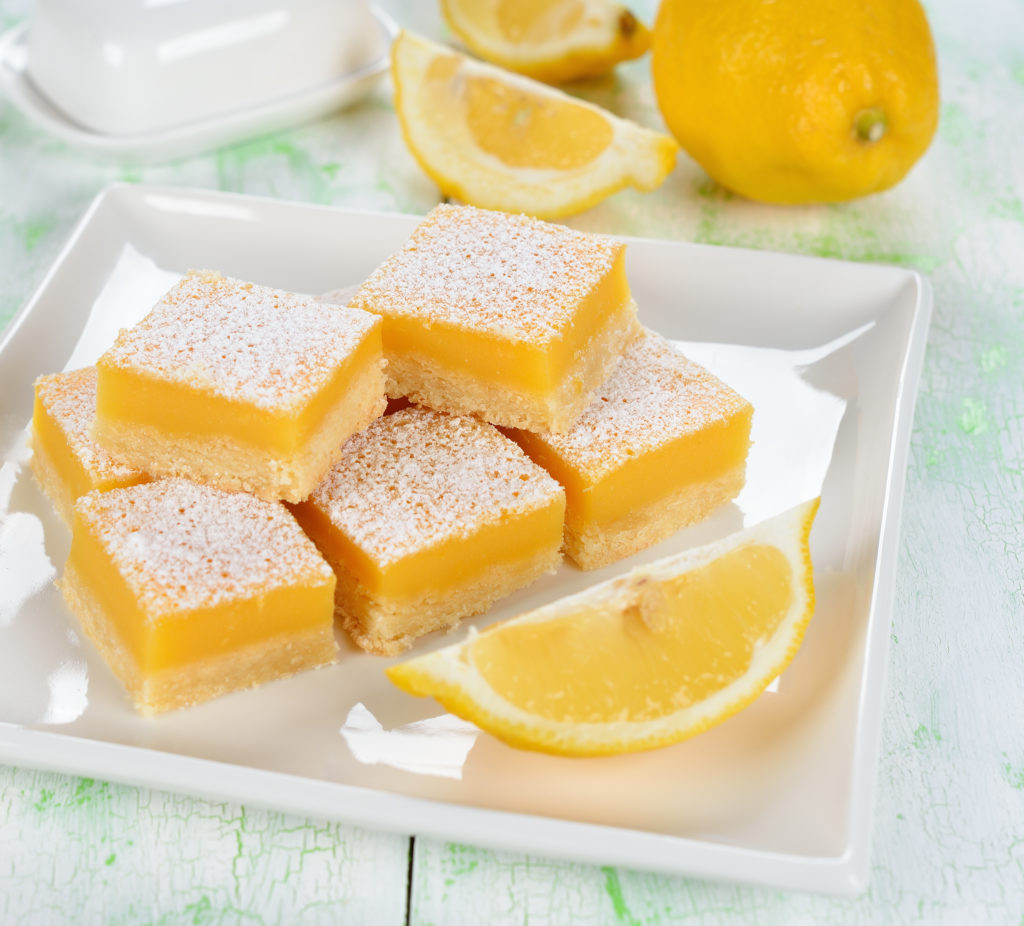 The very best lemon bars have a rich bottom crust and a creamy, tart layer. These delicious cookies fulfill both requirements! The bright, sunny flavor makes them a treat for all ages and you can whip them up in a jiffy. This recipe makes 36 bar cookies. You might also want to try making them with lime juice, rather than lemon, for a citrusy change.
1 cup butter, softened
2 cups white sugar
2 ¼ cups all-purpose flour
4 eggs
2 large lemons, juiced
Preheat oven to 350 degrees F. Blend together softened butter, 2 cups flour, and ½ cup sugar. Press dough into the bottom of an ungreased 9 x 13" pan. Bake for 15 minutes until firm and golden. Meanwhile, whisk together 1 ½ cups sugar and ¼ cup flour. Whisk in eggs and lemon juice. Pour over the baked crust. Bake an additional 20 minutes. The bars will firm up as they cool. Sprinkle with powdered sugar and cut.
February 2, 2019
2 Tbl Extra-virgin olive oil
1 Medium Onion, halved and thinly sliced
¾ Cup Apple cider
2 Lb Butternut squash—peeled, seeded and cut into 1-inch dice (5 ¼ cups)
4½ Cups Chicken stock
½ Cup Heavy cream
Salt and pepper
2 Tbl Unsalted butter
1 Apple, cut into ½-inch dice
1/3 Cup Coarsely shredded smoked cheddar cheese (2 ounces)
Toasted pecans and oats for garnish
In a large stockpot, heat the olive oil. Add onion and cook until golden. Add the apple cider and cook until syrupy, about 3 minutes. Add the squash and chicken stock and bring to a boil. Cover and simmer until the squash is very tender, about 40 minutes.
In a blender, puree the soup in batches. Return the soup to the saucepan and stir in the cream. Season with salt and pepper and keep warm.
Heat a medium skillet. Add butter and diced apple and cook over high heat until the apple is tender and golden around the edges, about 2 minutes. Remove the skillet from the heat. Season lightly with salt and pepper.
Garnish with cheddar and toasted pecans and oats.
Yield: 4 servings
November 28, 2018
Wintertime is perfect for wrapping your hands around a warm mug of soup and sitting in front of a crackling fire. This soup is bright and sunny enough to lighten even the darkest winter day! The spiciness of the ginger plays well off the natural sweetness of the carrots for a creamy and delicious soup.
4 tablespoons butter
1 medium onion, chopped
2 tablespoons fresh ginger, minced
6 cups chicken broth
8 large carrots, peeled and finely chopped
¼ teaspoon white pepper
¼ teaspoon ground nutmeg
½ teaspoon sugar
½ cup sour cream
Salt to taste
Additional sour cream and chopped chives for garnish
Sautee onion and ginger in butter until soft. Stir in the chicken broth and the carrots. Cover and cook over low heat about one hour or until the vegetables are very soft. Cool slightly and puree in batches in a blender or food processor. Return to a simmer and season with salt, pepper, nutmeg, and sugar. Stir in sour cream. Heat but do not allow to boil. Ladle into mugs or soup bowls and garnish each with a dollop of sour cream and a sprinkling of chives. Makes six servings.
November 12, 2018
This cool and crisp weather makes it the perfect time to fill your Buckhorn Inn mugs with a warm beverage.  Coffee and hot tea are good ways to start the day but we have some other ideas to warm your hands and heart.
Hot Chocolate
This "from scratch" recipe makes a superb hot chocolate.
2 1/2 squares unsweetened chocolate
1/2 cup cold water
3/4 cup sugar
Dash of salt
6 cups milk
Whipped cream
Cinnamon and/or chocolate sprinkles
Melt chocolate with water over direct heat, stirring constantly.  When creamy and smooth add sugar and salt.  Return to heat and cook four minutes longer.  Slowly add milk and heat until chocolate mixture and milk are well-blended and hot throughout.  Pour into mugs, top with whipped cream, and garnish with cinnamon and/or chocolate sprinkles.  Fills four large mugs.
Mugs Full of Mulled Cider
Served with a dash of nutmeg, mulled cider is wonderful to wake-up to on a chilly morning.  
1/2 teaspoon allspice
2 sticks cinnamon
6 whole cloves 
1 quart cider
1/3 cup brown sugar
Tie the whole spices in a cheesecloth bag.  Heat the cider and sugar.  Drop in the spice bag and let simmer until the cider is fragrant and spicy to your taste.  Top each serving with a sprinkle of nutmeg and a curl of orange peel.  This recipe is also refreshing served chilled during warm weather.  
Mulled Wine with Cranberries
This easy recipe comes to us from Real Simple magazine http://www.realsimple.com/food-recipes.
1 1/2 cups cranberry juice cocktail
1/2 cup sugar
2 cinnamon sticks
2 pieces star anise
3 cups dry red wine (try a cabernet sauvignon)
1/2 cup fresh cranberries
Combine the cranberry juice cocktail, sugar, cinnamon sticks, and star anise.  Simmer for 15 minutes.  Stir in the wine and cranberries and bring back to a simmer.  Serve warm with a few cranberries in each mug.
These are some of our favorites, but we would love to hear yours.  Please feel free to send us your warm-up recipes and we will share them on this blog.
September 10, 2018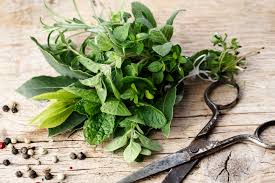 Our kitchen-door herb garden at Buckhorn Inn has provided us with the freshest basil, savory, cilantro, oregano, dill, marjoram, curry and others. This profusion of tastes and aromas has inspired our kitchen staff to develop even more ways to use these herbs.
Compound Butter
What could add more flavor to a dish than a pat of herb butter? Simply mix softened butter with minced fresh herbs like chives, cilantro, tarragon or chervil and chill. Use with your next grilled meat or vegetables. Compound butters also are lovely on baked potatoes. Some combinations to try are dill with salmon, rosemary with steaks, oregano for bread—let your imagination go wild!
Basting Brush
A large sprig of rosemary can be used as a basting brush the next time you barbeque. The sprigs add an extra hint of flavor to the foods on the grill.
Salad Greens
You probably often use minced fresh herbs in your salad dressings. But why not roughly tear them and add them directly to the salad greens? Herbs like parsley and cilantro are perfect for this purpose.
Herb Sauce
We serve this bright green sauce as a salad dressing or as a sauce over grilled salmon.
2 tablespoons almond oil
¼ cup safflower oil
1 tablespoon fresh lemon juice
1 tablespoon Dijon mustard
2 tablespoons heavy cream
¼ cup chopped fresh cilantro
Salt and pepper
Whisk the ingredients together. Makes about ¾ cup.
Summertime Coolers
Herbs like lavender, mint, basil and thyme are delicious in sparkling water, iced tea and lemonade.
Flavored Sugars or Salts
Dry your favorite herbs in the oven. Then mix with salt to provide lovely flavor when finishing a dish. Herb salt can even take popcorn to the next level! The same works with sugar. Mint sugar is perfect for sprinkling on fresh summer berries.
At  Buckhorn  we sometimes offer a chutney as an accompaniment to meat dishes.  To those unfamiliar with chutney, it is a lovely taste treat.  Chutney originated in India as long ago as 500 BC and usually refers to a relish made from fresh fruits and spices.  It comes from the Indian word "chatni" which means "crushed".  British colonials took chutney home with them and made it their own.  They also brought the condiment to outposts in South Africa and the Caribbean where chutneys were made from local fruits.  In England commercially-made cooked chutneys are readily available these days.  They are typically made of fruit, often apples or pears, onions and raisins.  These ingredients are simmered with vinegar, brown sugar and spices for several hours.  The most famous commercial chutney in England is Major Grey's Chutney.  The name is based on a mythical colonial British officer who made his own chutney to accompany curry.  Chutneys can be sweet or sour, spicy or mild, thin or chunky and can include such seasonings as garlic, ginger, mint, turmeric, cinnamon, cilantro or hot chilies.
Chutney typically is used as a flavorful topping for meat dishes or curry.  But you might want to experiment by using chutney:
With cream cheese on crackers for an appetizer
Mixing it with mayonnaise as a spread for ham or turkey sandwiches
Over steamed carrots or other vegetables
Ingredients
¼ cup red wine vinegar
2 tablespoons honey
2 tablespoons light brown sugar
¼ teaspoon ground coriander
1 2-inch cinnamon stick
1 bay leaf
1 ½ cups finely diced mango
1 ½ cup finely diced papaya
1 finely minced garlic clove
½ Scotch bonnet or habanero chili finely chopped
Pinch of ground cloves
Salt and freshly ground white pepper
In a large saucepan combine the vinegar, honey, brown sugar, coriander, cinnamon stick, cloves and bay leaf and bring to a simmer. Add the pineapple, mango, papaya, garlic, ginger and pepper and season lightly with salt and white pepper. Simmer over low heat for 30 minutes. Let cool. Discard the cinnamon and bay leaf. Serve at room temperature or chilled. The chutney can be refrigerated for up to 2 weeks. This recipe yields about 3 cups.
The recipe that appears below is the original Buckhorn Inn recipe. Adding a tablespoon or so of fresh, chopped thyme adds a modern spin to this classic.
Corn Pudding
2 ½ cups cream-style corn
3 eggs, slightly beaten
2 cups whole milk
1 teaspoon salt
½ teaspoon pepper
1 tablespoon minced onion
½ green pepper, chopped
2 tablespoons melted butter
Mix ingredients together and bake in a 325 degree oven for an hour. This makes an interesting and colorful way to serve part of the vegetable course for either holiday meals or party fare.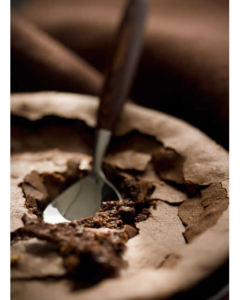 Cake:
½ cup room temperature unsalted butter, cut into one inch pieces plus more for pan
¾ cup plus 2 tablespoons sugar, divided, plus more for pan
10 oz. good quality bittersweet chocolate, coarsely chopped
2 tablespoons vegetable oil
6 large eggs
2 tablespoons unsweetened cocoa powder
1 tablespoon vanilla extract
¾ teaspoon kosher salt
Topping:
1 cup chilled heavy cream
½ cup mascarpone cheese
3 tablespoons powdered sugar
Preheat oven to 350 F. Lightly butter 9 " springform pan and dust with sugar, tapping out any excess. Combine chocolate, oil and ½ cup butter in a large heatproof bowl. Set over a saucepan of simmering water and heat, stirring often, until melted. Remove bowl from saucepan.
Separate 4 eggs, placing whites and yolks in separate medium bowls. Add cocoa powder, vanilla, salt, ¼ cup sugar and remaining 2 eggs to bowl with yolks and whisk until mixture is smooth. Gradually whisk yolk mixture into chocolate mixture, blending well.
Using an electric mixer on high speed, beat egg whites until frothy. With mixer running, gradually beat in ½ cup sugar; beat until firm peaks form. Gently fold egg whites into chocolate mixture in two additions. Scrape batter into prepared pan, smooth top and sprinkle with remaining 2 tablespoons sugar. Bake until top is puffed and starting to crack, 35 to 45 minutes.
Transfer to a wire rack and let cake cool completely in pan. Cake will fall as it cools. Whip the topping ingredients until fluffy and pile on the cake.