Blog




May 10, 2015
It's peony season at Buckhorn.  Come explore our gardens.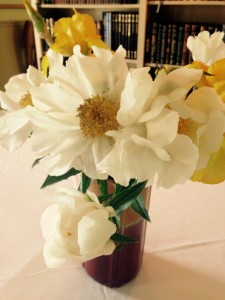 April 28, 2015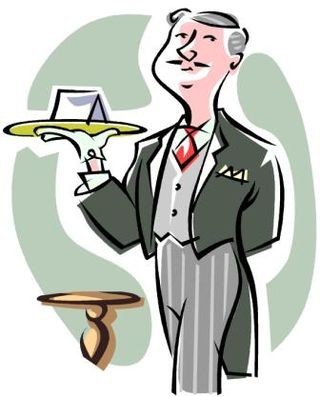 Buckhorn Inn will offer its guests an unusual opportunity—sharing afternoon tea with a very special person, Dr. David Woodfine, one of England's most respected and experienced professional butlers.  Dr. Woodfine is an amusing and engaging speaker who will talk about how to prepare tea properly, different types of teas and proper protocol when setting down for an afternoon "cuppa."  He will also share a few stories from his career as a butler, including service with Princess Diana, Prince Charles, Princess Margaret, and The Duke of Marlborough and the supervision of the wedding of Andrew Lloyd Webber.
Dr. Woodfine was also High Steward of Oxford University where his job was to see to the needs of dignitaries from around the world and to oversee high table dinners for the University.  He was Master of the Oxford City Guild of Chefs for four years and a Master Sommelier.   Dr. Woodfine will be happy to sign copies of his well-received cookbook, From Kitchen to High Table: the British- American Edition, which will be on hand at teatime. 
Tea, cucumber sandwiches, and scones will be served at the event at Buckhorn Inn on Tuesday, May 5, at 3:00 in the Inn's Sitting Room.  Members of the public are welcome to attend this free event by advance reservation only by phoning 865 436 4668 or emailing [email protected].
April 20, 2015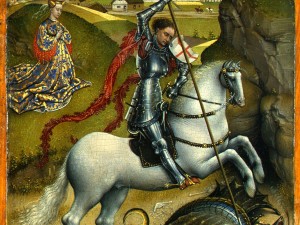 My English-born husband John has a campaign to get more recognition for St. George, the patron saint of England.  To wit, this blog and the following short history of this heroic man and Christian martyr.
"Follow your spirit, and upon this charge cry 'God for Harry, England and Saint George!'"  So howls King Henry V at the climax of the great Harfleur speech in Shakespeare's play.  But who really was the St George that Prince Hal uses to so inspire his men?
But who was St George?
Scientists have haggled over the exact details of the birth of St George for hundreds of years but it is generally put at around 280AD. He was born in the town of Lydda, then in the Roman territory of Syria Palestina and in modern terms around 15 kilometres south of Tel Aviv to two Christian parents.
He went on to become one of the finest soldiers in the Roman army but, in AD 303, the Roman Emperor Diocletian issued an edict that every Christian soldier in the army should be arrested. George, it seems, wasn't too happy about this and approached the emperor to renounce the edict.
Diocletian tried as hard as he could to convert the great soldier to worship of the Roman gods by offering him gifts of land, money and slaves. However, George stood strong and stolidly turned all of these down.
Diocletian realised he had no choice but to make the decision to have George horrifically tortured before being executed. The methods of torture apparently included laceration of wheel of swords before he was eventually decapitated. Not before George had donated his entire wealth to the poor though and, for the actions of his life, he was venerated as a Saint.
But why is George the Patron Saint of England?
The decision to make St George the patron saint of England was predominantly taken by the Plantagenet King Edward III, who reigned from 1327 to 1377. Edward was a big personal fan of the story of George apparently and thus decided to make the famous St George's cross his military banner.
Under the banner, the English army won victories at Halidon Hill, Bannockburn and Crécy. It became quickly associated with English military success and, after the flag was carried at the battle of Agincourt in 1415, Saint George's Day was made into a national feast day.
May 12, 2014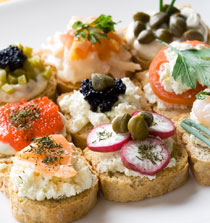 Ever wonder just how our chefs make such fabulous soups — the ones so many of you say would make a meal in themselves — or how they get that Béchamel Sauce just perfect? Why does that tray of appetizers look so appetizing?   Those crisp, light, delicious cookies—just how do they get them that way?   These and other exciting and useful culinary arts are some of the topics included in our  Good Cooking! classes presented at a time convenient for you.
Come and enjoy the peace and serenity of Buckhorn Inn and learn some of the secrets of its delectable cuisine. Come with your spouse, your best friend, your mother or your daughter and enjoy the pleasure of learning something new together. Or come on your own for a productive but fun getaway.  Each class is 1½  hours and is followed by lunch served on the veranda overlooking majestic Mount LeConte
You will learn different techniques and dishes that are regularly prepared at the Inn in small classes, all taught by our highly skilled and experienced Chef Frank Downs.   We can work with you or your group to offer cooking classes on just about any topic and on dates and times that fit your schedule.   Email Chef Downs to discuss your interests and time frame ([email protected]) or phone 865-436-4668.
Rates: $50 per person 
April 24, 2014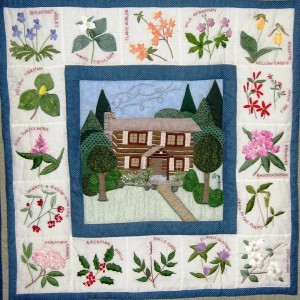 Buckhorn Inn and five other inns are opening their gardens to the public on Wednesday, May 7 as a part of the Gatlinburg Garden Club's Spring Garden Celebration.  You can purchase the $10 tickets for the tour at the Sevier County Bank in Gatlinburg, phoning 865 453 6101, extension 481.  Tickets may also be purchased at participating inns on the day of the event.  All proceeds benefit the Lucinda Ogle Historic Cabin Restoration Fund.  
Other inns participating in the tour are Foxtrot, Quail Ridge, Tudor Inn, Laurel Springs and Blue Mountain Mist.  
You can also purchase tickets for a wine and cheese party at Buckhorn Inn on Tuesday, May 6 from 5:30 until 7:00 pm and a Meet the Author Luncheon at Foxtrot Inn on May 6 at 11:30 am.
April 22, 2014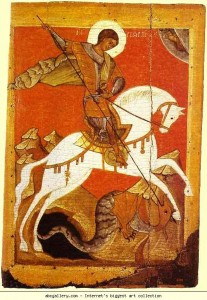 St. George is the patron saint of England.  Tomorrow is his saint's day and England's national day–the equivalent of our Fourth of July but without the fireworks.  Felicitations to all of us on this side of the pond with some English ancestry, our English friends on the other side of the pond, and to everyone else as well.  
To celebrate, we will serve a "full English breakfast."  That includes basted eggs, grilled tomato, bacon, pork bangers, mushrooms and baked beans.  Couldn't find any kippers this year.
April 12, 2014
Where:  Right here at Buckhorn Inn.  This is bird heaven.  Please see our publication about bird life on this property. 
When:  Thursdays and Saturdays at either 7:30 (before breakfast)  am or 8:30 am (after an early breakfast).  Must reserve in advance. 
Length of Birding Adventure:  1½  Hours 
Cost:  $15 per person or $25 for two (minimum of three persons required) 
How to Register:  Inn Office; 24 hour cancelation required. 
Rain:  Significant rain will result in cancellation 
Expert Birder Keith Watson will lead the adventure
March 5, 2014
Yellowtail Chardonnay   
 Rich tropical fruits with a creamy finish, this white wine is soft yet fresh with balanced
acidity and lingering melon flavors.
Biltmore Cabernet Sauvignon   
This medium-bodied red wine is smooth and fruity with a mild oak finish and moderate tannins.
Berringer Sauvingnon Blanc   
This wine dangles exotic tropical fruit flavors long into the finish; very rounded in the aftertaste.
Eroica Riesling  
Eroica delivers a unique combination of mandarin orange aromas melded with spiced apple and slate notes and with the lively, crisp acidity associated with German Riesling.
Michele Chiarlo Barolo  
Barolo is a red full-bodied wine produced in the northern Italian region of Piedmont.  It is made from the Nebbiola grape and is often described as one of Italy's greatest wines. 

December 16, 2013
In some 27 years of visiting the Buckhorn, our most treasured memory is of enduring the natural disaster that was the Blizzard of 1993, a.k.a. "The Storm of the Century." The storm was a bona fide natural disaster, starting in Florida with deadly rain, wind and flooding, and morphed into a mid-March snowstorm that buried the southeast and eastern seaboard. It is recognized by NOAA as one of the five worst storms of the twentieth century.
We arrived at the Buckhorn on Thursday evening for a long weekend "spring break" of hiking and relaxing, and within 24 hours knew that we were in for much more of an adventure than we ever dreamed. Also with us as guests of the Inn that weekend were the four delightful couples from Oak Ridge that were here for a weekend of bridge – Gordon and Jean Jones, Norman and Louise Hildreth, Ervin and Sarah Kiser, and Clyde and Ada Hopkins. Martin Rosenberg and Liz Morgan, college professors from Kentucky were staying in one of the cabins, as were Riaz and Behroz Padamsee, business owners from Raleigh, N.C. The Inn was substantially full for its capacity at that time.
On Friday the weather forecasts were generally predicting 12 – 18 inches of snow. On our Friday morning hike to Alum Cave a light snow started by mid to late morning, and when we reached the parking lot it had turned to rain. After some shopping in
Gatlinburg, we headed back to  Buckhorn, making a strategic stop at Park Liquor, just in case. On Friday night we watched a steady snowfall start to accumulate on the front porch hedgerow, and even as we went up to the Tower Room at bedtime that 12 – 18 inches seemed pretty accurate. But then during the night we woke up to hear noise in the parking lot, and looked out to see Rick Willard, one of the inn employees, and John Burns, innkeeper at the time trying to grade snow off of the parking lot with a tractor. Then we realized the electricity was off, and it was game on.
On Saturday morning we came downstairs to join everyone huddled in front of the fireplace listening to a battery operated radio, and watching it continue to snow. The inn had a generator large enough to run electricity for parts of the inn, but not all at the same time, so there was strategic switching between running heat, lights, coffee makers, and the water pump in the main inn. Jo Ann Preske was the only staff member that could get to the inn, walking from her house up on Buckhorn Road. Jo Ann and Connie Burns had to handle the cooking and strategically planning the use of food on hand to feed guests three meals a day instead of just two. Then there was the concern of keeping gas for the generator. We all actually volunteered to let the staff try to siphon gas out of the cars, but discovered that cars had baffles installed on the gas tanks to prevent gas theft! Luckily, John and Rick managed to get to a gas station at some point to replenish the supply. So looking back on it from today's vantage point the whole situation had lots of potentially scary pitfalls, not the least of which was the fact that the temperatures were frigid – near zero. Yet everyone kept their composure and just adapted to the situation as best possible. We washed dishes, helped take firewood to the cabins, read books, talked, the bridge players played bridge, and we chilled wine in the snow. The fireplace area looked like a refugee camp with coats and gloves and boots strewn about to dry at least a bit.
The snow continued on Sunday. Everyone boiled water in the kitchen to take up to the rooms to sponge off, wash hair, etc. At some point later in the day Sunday the snow stopped, and the men went outside
to tackle the job of cleaning snow off of the cars. That is when we got the official snowfall measurement of 34 inches. At the time Eddie and I had a Pontiac Transport minivan that was almost entirely covered. One of the most interesting differences between then and now is that none of us had cell phones in 1993. Fortunately, one of the folks from Oak Ridge had a car phone, which was the predecessor of the cell phone, and he was very kind to let those of us who needed to call family, work, dog sitters, and others to let them know we were safe and coming home as soon as possible. The main issue we had with getting home was the road condition for access roads from the Buckhorn to the main highways. There was not only ice but also downed trees and limbs. By Monday, many were able to begin leaving, but we waited until Tuesday morning because of the 7 or 8 hour drive back to Memphis and still allowing for some icy spots on I-40. On Monday afternoon many from the neighborhood came and sledded down the hill in front of the Inn, then on Monday evening a whole group from the neighborhood, including the G. Webb family and the Preske's all pitched in to cook a great meal of what probably was some of the last food left. On Tuesday morning we threw dirty clothes in the minivan and took off for home!
Of all these memories, there is one that remains with me vividly, and that is the feeling I had when I went out late on Sunday afternoon and took a walk up Tudor Mountain Road. There was absolutely no sound – total stillness, total quiet. The awesome power of nature had brought our busy human activity and our all-important control, to a halt. In that moment it was very clear that something bigger than us was in charge. I'm not sure if that is how you know you've been through a natural disaster, but at that time it sure seemed that way to me.  
December 9, 2013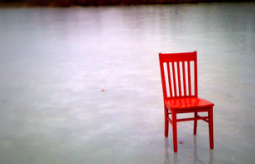 These last few days It has been our pleasure to host a visit from the official symbol of the Professional Association of International Innkeepers–The Red Chair.  The Red Chair is on a nine-month journey that started in Maine and will finish in California in 2014. Red, as we familiarly refer to him, confided confidentially to me that the Smokies has been his favorite destination so far.  We have a story for you about his visit to Buckhorn. 
The Red Chair Gets a Paint Job  The Red Chair arrived tired at Buckhorn Inn after his weeks of traveling and longing for the Orange Chair that had kept him company at his previous stop at Creekwalk Inn. 
We offered him a Blue Chair who was visiting but he said "My heart belongs to Orange."  He was slightly unkempt and grouchy, so we decided a day in our workshop would do him good.  (I know I always feel better after a day getting "fixed-up" at the beauty salon.)  Hugo tightened up his loose bits and gave him a coat of matching red paint and he professed himself ready to face the world again after a quick look in the mirror. 
The Red Chair Officially Arrives  Red had been admitted to the Inn via the back entrance when he arrived  because he said "I don't want anyone looking at me until I get a paint job."  So, we asked him nicely to make his entrance official by coming in the front door, which is the most popular place among our guests for picture taking because of the sign that says "Buckhorn Inn."  A bit vain, Red preened for the photo and we had to show him several versions before he was satisfied with this photo shown here.  Doesn't he look great?  Well, at least that was Red's opinion.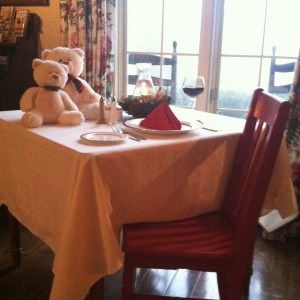 The Red Chair Dines with Friends  "What I want is a good dinner with great service and ambience.  An excellent wine list would also be welcome,"  Red demanded (or asked politely depending on who is telling the story.)  Innkeeper John Mellor told Red he had come to the right place as Buckhorn is the only inn in the area that serves dinner nightly.  He gave Red the best seat in the house and comped him for this fine dinner, Red having pointed out that he is, after all, the Official Ambassador of our national Bed and Breakfast association.  As all of us who have been lucky enough to know, Red makes friends wherever he goes and here at Buckhorn he soon became the center of attention.  Crowds got a little too friendly at times with some of our guests actually wanting to sit on him!  Red did invite the Buckhorn Bears One and Two to have dinner with him because they just adored him.  Buckhorn Bear One said of him "Red is so tall and handsome—I just can't take my eyes off him."  Buckhorn Bear Two had tears in her eyes when Red had to leave the next morning.
The Red Chair Meditates  After a hearty breakfast with a menu just chocked full of delicious choices, Red said he wanted a little time to himself to unwind before going on to his next stop.  Innkeeper Lee Mellor suggested that a visit to Rachael's Labyrinth for a little meditation and a walk through the Inn's gardens would be just the ticket.  "The gardens aren't the best during the winter season but our three perennial gardens really show their stuff in the spring, summer and fall.  Of course, we have so many evergreen bushes—like native rhododendrons and azaleas—that the walk around the property and through our own nature trail is a visual pleasure year round."  (Lee likes to brag.)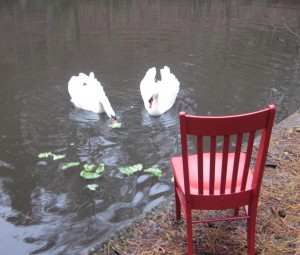 Red Feeds the Swans  Red's favorite stop on his walk (I use this term "walk" figuratively as he was actually transported about on one of our golf carts) was Buckhorn Pond.  Why?  "Well," he said, this is a beautiful, peaceful pond where I could spend several hours just sitting on the bench but the sight of two beautiful swans swanning about came as a big surprise.  Fortunately, my driver had brought a good supply of lettuce for Swans Pentu and Teller (get the joke?—they are mute swans). "  As pointed out previously, Red makes friends wherever he goes and he and Pentu and Teller were soon trading stories and cracking jokes.
Red Says Goodbye  It was hard to say "tata" to Red, but we understood he had his work to think of, pleasurable as it is, and we couldn't be selfish with his company.  After all, he had given up his love for The Orange Chair because of his responsibilities.  Like Buckhorn Bear 2, we had a tear or two our eyes as Red made his departure but we comforted ourselves with the knowledge that he was being delivered into the warmth, comfort and charm of our neighbors at Foxtrot Bed and Breakfast.