Blog




October 1, 2018
The Great Smoky Mountain Association (GSMA) has announced autumn hiking and learning opportunities in our area this October.
Autumn Birding
Both novice and expert birders will find a rich variety of late-season habitats at the Seven Islands State Birding Park in Kodak, Tennessee.  The park is on a peninsula nestled in a bend of the French Broad River and features a diverse landscape of aquatic and grassland habitats, hiking trails, and spectacular mountain views.  In a single day, birders may see or hear as many as 80 different species!  The hike will be conducted on Sunday, October 7 at 8:00 am.  Birders can expect to hike no more than 5 miles on trails rated as moderately difficult.  To learn more about all the activities in this blog post, please visit http://www.gsmassoc.org.  
Another birding opportunity, this one on Monday, October 8 at 8:00 am starts at the Newfound Gap Rockefeller Memorial to seek out high-elevation bird species such as vireos, nesting wood warblers, and flycatchers.  After several hours at Newfound Gap, the birders will drive to Clingman's Dome to follow a nature trail in search of red crossbills, common ravens, and more.  This hike is rated moderate and will be about 5 miles in length.
Hiking
If you are in the mood for an easy to moderate hike of about 6 miles, then be sure to go to Mingus Mill in North Carolina on Monday, October 8.  The hikers will follow a portion of Mingus Creek.  Local hiking enthusiasts will lead the way to Floyd Cemetery and perhaps also to Queen W.H. Cemetery.  The hike includes passing the still-operating Mingus Mill which was built in 1886.
As the group goes to the Enloe Slaves Cemetery they will enjoy spotting wildlife activity, late-season wildflowers, and early fall foliage colors.
On Tuesday October 30 you can meet at 8:30 at the Little Brier School in Tennessee.  Park volunteer Robin Goddard, dressed in character, will take you back in time to 1881 in the one-room Little Greenbrier schoolhouse.  As the hike continues, a professional naturalist will share the cultural history of the Walker family.  She will explain the natural resources they needed so the family of 13 could be self-sustaining.  They worked in their livestock pastures, fruit orchards, and vegetable fields until the 1960's.  Be prepared to walk about 5 miles on easy to moderate trails.
Autumn is a wonderful time to visit the Great Smoky Mountains.  The weather will be perfect for hiking and exploring, and then for enjoying a delightful dinner and cozy accommodation at the Buckhorn Inn.
January 22, 2018
Are you a wine aficionado or someone who would like to know more about wine?  Are you interested in exploring local Tennessee products?  If so, we recommend you plan to visit Gatlinburg April 13 & 14, 2018.
Two events will be taking place:  the Gatlinburg Wine Tour and the Smoky Mountain Wine Fest.  The Tour begins at 6:00 pm on April 13 and will visit local wineries and sipping establishments.
The Fest will be held from 1:00 to 6:00 pm on April 14 at Arrowmont School of Arts and Crafts.  The $25 advance purchase tickets include a branded glass for tasting.  Organizers expect more than 18 Tennessee wineries to participate.  Some of the best restaurants in the Smoky Mountains will provide small plate tastings of their best dishes.  Tickets and more information may be found at http://www.eventbrite.com/e/gatlinburg-wine-weekend-2018-tickets.
Tennessee Wine
Tennessee has a long history of wine-making, with as many as 90,000 gallons being produced annually in the 1880's.  The industry was introduced in this area by immigrants from Germany, Italy, and Switzerland.  Prohibition hit the industry hard.  However, in the 1970's a resurgence of winemaking in the state was led by home vintners.  
The industry in Tennessee focuses on French hybrid and native grape varieties.  The grapes used in Eastern and Central Tennessee include cabernet sauvignon, cabernet franc, cayuga, chardonnay, chenin blanc, merlot, Riesling and viognier.  
The industry has grown and matured in the state.  Over the past few years Tennessee wines have earned gold, silver, and bronze medals in regional and international competitions.  Today's Tennessee wineries have a wine for every taste, from sparkling to fruity, from dry to dessert wines.  
If you plan to attend the weekend, be sure to reserve your accommodation at the Buckhorn Inn soon!
October 16, 2017
Guests often ask us when is the best time to see the beautiful fall color in the Great Smoky Mountains.  Our honest answer:  "It depends"!  Fall color timing depends on a wide variety of variables, making peak times impossible to predict.
We do know, however, that the autumnal hues light up the landscape for as long as seven weeks each year.  The colors begin first in the higher elevations, then gradually move downward.  Adding to this extended show is the fact that the Smokies are home to more than 100 varieties of native trees, most of them deciduous.  
Most years the displays in the very highest elevations may be seen as early as mid-September, with colors visible from Clingman's Dome Road.  The colors in the middle and lower elevations can peak anywhere from mid-October through mid-November.  According to http://www.gatlinburg.com/event/autumn-color-in-the-smokies, visitors can expect to enjoy beautiful colors from sugar maples, scarlet oak, sweet gum trees, red maples, and the hickories.
What Causes the Fall Color Change?
Cooler temperatures and longer nights cause the green pigment in the leaves to deteriorate.  Carotenoids, the pigments that makes the leaves yellow (and carrots orange!) become more prominent.  Red and purple colors come from anthocyanins.  This pigments are formed when leaf sugars break down in bright sunlight.
We recommend the Roaring Forks Motor Nature Trail and the Blue Ridge Parkway as being especially scenic drives this time of year.  The National Park Service http://www.nps.gov/grsm/planyourvisit/fall-suggestions recommends the following fall hikes:  Appalachian Trail, Inspiration Point on Alum Cave Trail, Oconaluftee River Trail, Look Rock Tower, and Sutton Ridge Overlook.
Whether you have made your Great Smoky Mountain trip plans for this year, or are looking forward to 2018, remember that the fall color season typically lasts from mid-September through early November.  This is a busy time of year, so we advise making your travel plans far in advance.  Feel free to check with us at the Buckhorn Inn periodically–we sometimes have cancellations and then you can book accommodation with short lead times.  Our dining room fills up quickly this time of year, so we encourage you to make your dinner reservations early.  And don't forget that Buckhorn Inn guests can pre-order hearty sack lunches to enjoy on a scenic drive or beautiful hike.
Happy fall!
July 3, 2017
Where will you be when the sun goes out?  The Great Smoky Mountains National Park reports that the guided trip to Clingmans Dome for the August 21 solar eclipse already is sold out.  The park can provide information on other viewing areas http://www.nps.gov/grsm/planyourvisit/2017-solar-eclipse.htm
Some Fun Facts About The Solar Eclipse:
Prussian astronomer, Friedrich Bessel, developed the complex mathematical formula for predicting solar eclipses in 1824.
The speed of the moon as it moves in front of the sun is approximately 1,398 miles per hour.
Total eclipses cannot be seen from either the North Pole or the South Pole.
The Citizen Cate (Continental-America-Telescope-Eclipse) Experiment has enlisted scientists from 60 sites across the country to film the eclipse.   When edited together, the film will be the longest video of an eclipse ever recorded.  It is expected to help investigators research the corona which normally is invisible.
In Mark Twain's 1889 book "A Connecticut Yankee in King Arthur's Court" the protagonist saves himself from being burned at the stake by predicting a solar eclipse in the year 528.
One of the most memorable eclipses in filmdom is the crucifixion scene in "Barabbas" which was filmed during an actual eclipse in February 1961.
The Science Fiction Writers of America named Isaac Asimov's "Nightfall" the best story written prior to 1965.  The plot revolves around pending darkness in a world perpetually in sunlight.
The sun is about 400,000 times brighter than the full moon.  Be sure to invest in special filtered glasses to preserve your eyesight.
Venus should be visible to the upper right of the eclipsed sun.  
The sun's diameter is about 400 times larger than that of the moon.  But because of the distance between the sun and the moon, both appear approximately the same size when viewed from Earth.
Total solar eclipses are rare.  One can be viewed from somewhere on Earth about every 18 months.
Happy viewing!
June 22, 2017
In 1972, Carly Simon sang to a lover who flew his "Lear jet up to Nova Scotia to see the total eclipse of the sun".  Luckily, on August 21 you only need come to the Great Smoky Mountains National Park to view the Moon pass between the Earth and the Sun!
The website http://www.greatamericaneclipse.com names the Great Smoky Mountains National Park as one of ten great places from which to view the eclipse.  The park offers great vistas from areas such as Clingman's  Dome.  These expansive views offer the chance to see the shadow of the moon scurrying across the landscape–sure to be a dramatic sight, indeed.
Park Preparing for Eclipse
The blotting out of the sun will be visible from the entire western half of the park.  Park officials are preparing public viewing events for three locations:  Clingman's Dome, Cades Cove, and Oconaluftee.  You are welcome to view from other areas within and without the park on your own.  The park expects large crowds, so we advise that you make your plans well in advance of August 21.  For information and updates on events in the park, please visit http://www.nps.gov/gsm
Eclipse Details
During a total solar eclipse, the moon covers the sun so that only a sliver of the sun's corona is visible.  In our area, the disappearance of the sun will last for one minute and 17 seconds with totality beginning at 2:35 pm EDT.  It is recommended that eclipse viewers purchase solar protective glasses far in advance, wear them while watching, and only remove them during the totality of the darkness.  At the Buckhorn we expect to fill up quickly during this time period, so please reserve your accommodations soon!  
http://www.buckhorninn.com/lodging
March 30, 2017
Although there are many parks that are larger, Great Smoky Mountains National Park has the greatest diversity of plants anywhere in North America. In fact, north of the tropics, only China has a greater diversity of plant life than the Southern Appalachians.
The Smoky Mountains contain over 300 rare species of plants, with as many as 125 on the protected plant lists of either North Carolina or Tennessee. Three plant species are protected by the Endangered Species Act, with 12 others currently under review for federal protection.
The following is a list of some of the best wildflowers walks in the Smokies in the Spring
Ace Gap – In late April, and into early May, look for yellow trillium, beard tongue, Solomon's seal, spiderwort, fire pink, hawkweed, pink lady slippers, Catesby's trillium, yellow mandarin, rue anemone, wild geranium, little brown jugs, Robin's plantain and flame azalea. In May you can expect to find meadow parsnip, sweet shrub, four leaved milkweed, blackberry, mountain laurel and star grass. In late May and into June, look for fairy wand, false Solomon's seal, galax and Indian pink.
Bradley Fork Trail – During the early spring season, hepaticas, violets, and foam flower are found on this trail out of Smokemont. As the season progresses, umbrella leaf and Fraser's sedge begin to bloom on the higher elevations of the trail. You can also find wood and rue anemone, Vasey's trillium, beaked violets and crested dwarf iris in April and May. From April through July, look for wild strawberry, Robin's plantain and Canadian violets.
Chestnut Top – Spring beauties are usually the first to bloom on this trail in March. Throughout the spring, you can find white trillium, bloodroot, yellow trillium, hepaticas, violets, Jack-in-the-pulpit, bishop's cap, purple phacelia, fire pink, plantain-leaved pussytoes, star chickweed and wild stonecrop. During the late spring and early summer period, look for hairy beard-tongue, rattlesnake hawkweed and squawroot. Many of these flowers can be found within the first couple hundred feet of the trailhead.
Cove Hardwood Self-Guided Nature Trail – This three-quarter-mile loop trail begins in the Chimneys Picnic Area. Many people say that this is one of the best areas in the park for wildflowers, with the best time being in late April. However, as early as March you can begin to see hepaticas and trout-lilies. Through April and May look for yellow trillium, white fringed phacelia, squirrel corn, wild ginger, white trillium and Dutchman's britches. Solomon's seal arrives in May and lasts through June.
Cosby Nature Trail – Located in the Cosby Campground, this one mile trail passes through several forest types, providing for a variety of wildflowers. Peak months for wildflowers are March and April. Look for Vasey's trillium, squirrel corn, Dutchman's britches, brook lettuce and squawroot. Bleeding heart, showy orchis and Vasey's trillium show-up in April and May.
Deep Creek – Wildflowers are abundant along this trail just outside of Bryson City. You'll find a variety of trilliums blooming at different times, as well as foamflower, galax, crested dwarf iris, beard tongue, Solomon's seal, cinquefoil, bloodroot, bluets and blue-eyed grass. Jack-in-the-pulpit is also abundant, but is sometimes hard to locate among the wild geranium, clinton's lily and large houstonia. As the trail rises in elevation along the Sunkota Ridge and Indian Creek Trails, you'll notice rhododendron, mountain laurel and flame azalea.
Husky Gap – Husky Gap is accessed via Little River Trail in Elkmont. Expect to see yellow trillium, dwarf cinquefoil and stonecrop. Roughly half-way between the Little River Trail and Husky Gap there can be a riot of flowers: yellow, white and painted trillium, blue phlox, hepaticas and violets. Sometimes the hillsides throughout this section of trail can be covered in wildflowers. This is a great trail to hike in April and May if your goal is to spot wildflowers.
Kanati Fork – Expect to see early yellow violet as early as March on this trail. By April, you'll begin to see cut-leaved toothwort, dwarf cinquefoil, large-flowered bellwort, white baneberry, Canadian violets, Vasey's trillium, painted trillium, wake robin, Solomon's seal, Northern white violets and brook lettuce. Most of these flowers will last well into May, but the best time to visit is in late April.
Little River Trail – This trail is best hiked between mid-March and April, if you're goal is viewing wildflowers. During the early spring you can expect to see spring beauties and trailing arbutus. As the season progresses, look for hepaticas, yellow trillium, dwarf cinquefoil, stonecrop, Canadian violets and umbrella leaf. You may also see mountain mint, orange and pale jewelweed as early as June here as well.
Porters Creek Trail – This trail is well known for its spectacular wildflower displays from late March through April. We hiked this trail in late March and were treated to a forest floor carpeted with bloodroot, hepaticas, white fringed phacelia, violets and white trillium. As the season progresses into April and May, you can find yellow trillium, toothwort, wild geranium, May-apple, dwarf ginseng, blue phlox, baneberry, foam flower, halberd-leaved violets, woodland bluets and Jack-in-the-pulpits.
Oconaluftee – Late April is the best time for viewing wildflowers along the Oconaluftee River Trail. More than 40 species of wildflowers have been identified along the trail, making it an especially worthwhile walk in spring and fall. During the spring, hikers can find several varieties of trillium and violets, jack-in-the-pulpit, squirrel corn, stonecrop and May apple.
Rich Mountain Loop – This trail had the most diverse amount of wildflowers we've seen in one hike. During our mid-May hike we saw mountain laurel, flame azalea, purple phacelia, rattlesnake hawkweed, yellow ragwort, violets, sweet shrub, wild geranium, blackberry, fourleaf milkweed, everlasting pea and butterfly weed.
Schoolhouse Gap – The Schoolhouse Gap Trail is another excellent trail for spring wildflowers. We saw many Virginia bluebells on the lower portion of the trail. As we proceeded on, we saw beaked violets, pink lady's slippers, fairy wand, golden aster, star grass, red clover, Robin's plantain, sun drops, Catesby's trillium and lyre-leaf sage. The trail also had its share of rhododendron and mountain laurel, which were just beginning to bloom during our mid-May hike. Hikers can also find cardinal flower, Carolina vetch and yellow ragwort on this trail.  
Spence Field – Spence Field has the most spectacular display of mountain laurel I've ever seen. The hillsides and meadows were literally covered in the white and soft pink flowers from this member of the heath family. The best time to visit Spence Field is from late May to mid June.
October 2, 2015
OktOBERfest returns to its Gatlinburg-style roots with 38 days of merrymaking from September 25 through Nov.1, 2015 as the resort commemorates the 205th anniversary of the popular festival held in Munich, Germany.
The Bavarian Fun Makers Band, in authentic costumes, will perform traditional Bavarian folk dances, schuhplattling, oompah music, sing-a-longs, yodels and more with daily shows and multiple performances every day during Oktoberfest. Special Oktoberfest Biers will be served along with traditional German wurst, schnitzel, sauerkraut, strudel, pretzels and more.
The first Oktoberfest was not really a festival at all, but the public celebration of the wedding of Crown Prince Ludwig I and Princess Therese of Bavaria on October 17, 1810. Held on a large meadow named the Theresienwiese in Munich, the party featured a horse race, beer, food, music and dancing. Anniversary celebrations continues each year, usually starting in late September and ending in the first week of October, with some six million people attending annually.
For more information on OktOBERfest call 865-436-5423 or visit www.obergatlinburg.com
September 26, 2015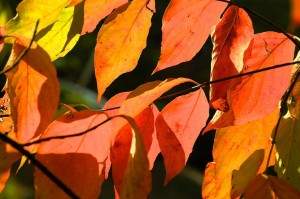 Fall is a beautiful, fascinating period in the Smokies and at Buckhorn Inn.  This photo of the leaves of one of our dogwoods was taken by Bertram Henry, a Buckhorn Regular, when he was here this week.  The main fall leaf season is still several weeks away (mid to late October), but color has begun to develop over the past week in high elevation areas. Many birch trees are showing muted yellows, and species such as witch hobble, sumac, and blueberries are sporting red leaves at higher elevation. It's still early in the season though, so colors should continue to develop over the next week or two along the crests of the mountains.
At low to middle elevations, dogwood trees have a reddish cast that will develop into brilliant reds later in October. Species such as sourwood and red maple are also turning red. And the brilliant reds of Virginia creeper vine can be seen climbing the trunks of many trees. Overall however, the forests are still very green at these elevations. There's not a lot fall color to see yet — just scattered trees here and there.
Fall flowers displays are glorious now. Flowers such as purple asters, white asters, black-eyed Susans, pale jewelweed, ironweed, great blue lobelia, closed gentian, and goldenrod are blooming profusely along roadsides and trails. In the forests, look for the vibrant pink, purple, and red fruits of hearts-a-bustin' bushes and the brilliant reds of dogwood berries.
August 14, 2015
Pittman Center Heritage Day
Saturday, September 19, 2015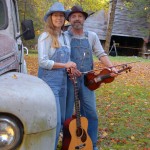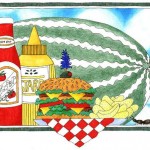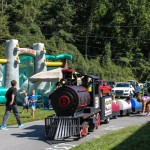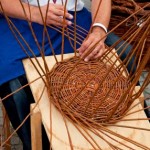 Free Admission
Food and Refreshments Available 
Since 1992, town residents have celebrated their mountain heritage, highlighting the region's food, music, entertainment and crafts of the past.  The event is actually hosted in remembrance of a community fall festival that first took place in the early 1920's. It is a day full of fun that is celebrated with great food, live music, games, crafts vendors, prettiest dog contest, and more! 
About Pittman Center  Just minutes away from downtown Gatlinburg nestled in the mountains of Great Smoky Mountains National Park is the quaint community of Pittman Center. Pittman Center provides a unique blend of history, culture and natural scenic beauty that captures the imagination.
 Proud of their mountain heritage, residents work hard to preserve the historic landscape and mountain culture that beckons visitors to come and stay awhile. Time seems to stand still as one ventures forth to rediscover the beauty of the natural surroundings and rich history that defines the Pittman Center experience.
Directions from Gatlinburg  From Buckhorn, take Highway 321North and turn left (north) to Scenic Route 416. Turn left and go to mile marker #2.   Turn right to 2839 Webb Creek Road.