Blog




July 3, 2017
Where will you be when the sun goes out?  The Great Smoky Mountains National Park reports that the guided trip to Clingmans Dome for the August 21 solar eclipse already is sold out.  The park can provide information on other viewing areas http://www.nps.gov/grsm/planyourvisit/2017-solar-eclipse.htm
Some Fun Facts About The Solar Eclipse:
Prussian astronomer, Friedrich Bessel, developed the complex mathematical formula for predicting solar eclipses in 1824.
The speed of the moon as it moves in front of the sun is approximately 1,398 miles per hour.
Total eclipses cannot be seen from either the North Pole or the South Pole.
The Citizen Cate (Continental-America-Telescope-Eclipse) Experiment has enlisted scientists from 60 sites across the country to film the eclipse.   When edited together, the film will be the longest video of an eclipse ever recorded.  It is expected to help investigators research the corona which normally is invisible.
In Mark Twain's 1889 book "A Connecticut Yankee in King Arthur's Court" the protagonist saves himself from being burned at the stake by predicting a solar eclipse in the year 528.
One of the most memorable eclipses in filmdom is the crucifixion scene in "Barabbas" which was filmed during an actual eclipse in February 1961.
The Science Fiction Writers of America named Isaac Asimov's "Nightfall" the best story written prior to 1965.  The plot revolves around pending darkness in a world perpetually in sunlight.
The sun is about 400,000 times brighter than the full moon.  Be sure to invest in special filtered glasses to preserve your eyesight.
Venus should be visible to the upper right of the eclipsed sun.  
The sun's diameter is about 400 times larger than that of the moon.  But because of the distance between the sun and the moon, both appear approximately the same size when viewed from Earth.
Total solar eclipses are rare.  One can be viewed from somewhere on Earth about every 18 months.
Happy viewing!
June 22, 2017
In 1972, Carly Simon sang to a lover who flew his "Lear jet up to Nova Scotia to see the total eclipse of the sun".  Luckily, on August 21 you only need come to the Great Smoky Mountains National Park to view the Moon pass between the Earth and the Sun!
The website http://www.greatamericaneclipse.com names the Great Smoky Mountains National Park as one of ten great places from which to view the eclipse.  The park offers great vistas from areas such as Clingman's  Dome.  These expansive views offer the chance to see the shadow of the moon scurrying across the landscape–sure to be a dramatic sight, indeed.
Park Preparing for Eclipse
The blotting out of the sun will be visible from the entire western half of the park.  Park officials are preparing public viewing events for three locations:  Clingman's Dome, Cades Cove, and Oconaluftee.  You are welcome to view from other areas within and without the park on your own.  The park expects large crowds, so we advise that you make your plans well in advance of August 21.  For information and updates on events in the park, please visit http://www.nps.gov/gsm
Eclipse Details
During a total solar eclipse, the moon covers the sun so that only a sliver of the sun's corona is visible.  In our area, the disappearance of the sun will last for one minute and 17 seconds with totality beginning at 2:35 pm EDT.  It is recommended that eclipse viewers purchase solar protective glasses far in advance, wear them while watching, and only remove them during the totality of the darkness.  At the Buckhorn we expect to fill up quickly during this time period, so please reserve your accommodations soon!  
https://www.buckhorninn.com/lodging
March 30, 2017
Although there are many parks that are larger, Great Smoky Mountains National Park has the greatest diversity of plants anywhere in North America. In fact, north of the tropics, only China has a greater diversity of plant life than the Southern Appalachians.
The Smoky Mountains contain over 300 rare species of plants, with as many as 125 on the protected plant lists of either North Carolina or Tennessee. Three plant species are protected by the Endangered Species Act, with 12 others currently under review for federal protection.
The following is a list of some of the best wildflowers walks in the Smokies in the Spring
Ace Gap – In late April, and into early May, look for yellow trillium, beard tongue, Solomon's seal, spiderwort, fire pink, hawkweed, pink lady slippers, Catesby's trillium, yellow mandarin, rue anemone, wild geranium, little brown jugs, Robin's plantain and flame azalea. In May you can expect to find meadow parsnip, sweet shrub, four leaved milkweed, blackberry, mountain laurel and star grass. In late May and into June, look for fairy wand, false Solomon's seal, galax and Indian pink.
Bradley Fork Trail – During the early spring season, hepaticas, violets, and foam flower are found on this trail out of Smokemont. As the season progresses, umbrella leaf and Fraser's sedge begin to bloom on the higher elevations of the trail. You can also find wood and rue anemone, Vasey's trillium, beaked violets and crested dwarf iris in April and May. From April through July, look for wild strawberry, Robin's plantain and Canadian violets.
Chestnut Top – Spring beauties are usually the first to bloom on this trail in March. Throughout the spring, you can find white trillium, bloodroot, yellow trillium, hepaticas, violets, Jack-in-the-pulpit, bishop's cap, purple phacelia, fire pink, plantain-leaved pussytoes, star chickweed and wild stonecrop. During the late spring and early summer period, look for hairy beard-tongue, rattlesnake hawkweed and squawroot. Many of these flowers can be found within the first couple hundred feet of the trailhead.
Cove Hardwood Self-Guided Nature Trail – This three-quarter-mile loop trail begins in the Chimneys Picnic Area. Many people say that this is one of the best areas in the park for wildflowers, with the best time being in late April. However, as early as March you can begin to see hepaticas and trout-lilies. Through April and May look for yellow trillium, white fringed phacelia, squirrel corn, wild ginger, white trillium and Dutchman's britches. Solomon's seal arrives in May and lasts through June.
Cosby Nature Trail – Located in the Cosby Campground, this one mile trail passes through several forest types, providing for a variety of wildflowers. Peak months for wildflowers are March and April. Look for Vasey's trillium, squirrel corn, Dutchman's britches, brook lettuce and squawroot. Bleeding heart, showy orchis and Vasey's trillium show-up in April and May.
Deep Creek – Wildflowers are abundant along this trail just outside of Bryson City. You'll find a variety of trilliums blooming at different times, as well as foamflower, galax, crested dwarf iris, beard tongue, Solomon's seal, cinquefoil, bloodroot, bluets and blue-eyed grass. Jack-in-the-pulpit is also abundant, but is sometimes hard to locate among the wild geranium, clinton's lily and large houstonia. As the trail rises in elevation along the Sunkota Ridge and Indian Creek Trails, you'll notice rhododendron, mountain laurel and flame azalea.
Husky Gap – Husky Gap is accessed via Little River Trail in Elkmont. Expect to see yellow trillium, dwarf cinquefoil and stonecrop. Roughly half-way between the Little River Trail and Husky Gap there can be a riot of flowers: yellow, white and painted trillium, blue phlox, hepaticas and violets. Sometimes the hillsides throughout this section of trail can be covered in wildflowers. This is a great trail to hike in April and May if your goal is to spot wildflowers.
Kanati Fork – Expect to see early yellow violet as early as March on this trail. By April, you'll begin to see cut-leaved toothwort, dwarf cinquefoil, large-flowered bellwort, white baneberry, Canadian violets, Vasey's trillium, painted trillium, wake robin, Solomon's seal, Northern white violets and brook lettuce. Most of these flowers will last well into May, but the best time to visit is in late April.
Little River Trail – This trail is best hiked between mid-March and April, if you're goal is viewing wildflowers. During the early spring you can expect to see spring beauties and trailing arbutus. As the season progresses, look for hepaticas, yellow trillium, dwarf cinquefoil, stonecrop, Canadian violets and umbrella leaf. You may also see mountain mint, orange and pale jewelweed as early as June here as well.
Porters Creek Trail – This trail is well known for its spectacular wildflower displays from late March through April. We hiked this trail in late March and were treated to a forest floor carpeted with bloodroot, hepaticas, white fringed phacelia, violets and white trillium. As the season progresses into April and May, you can find yellow trillium, toothwort, wild geranium, May-apple, dwarf ginseng, blue phlox, baneberry, foam flower, halberd-leaved violets, woodland bluets and Jack-in-the-pulpits.
Oconaluftee – Late April is the best time for viewing wildflowers along the Oconaluftee River Trail. More than 40 species of wildflowers have been identified along the trail, making it an especially worthwhile walk in spring and fall. During the spring, hikers can find several varieties of trillium and violets, jack-in-the-pulpit, squirrel corn, stonecrop and May apple.
Rich Mountain Loop – This trail had the most diverse amount of wildflowers we've seen in one hike. During our mid-May hike we saw mountain laurel, flame azalea, purple phacelia, rattlesnake hawkweed, yellow ragwort, violets, sweet shrub, wild geranium, blackberry, fourleaf milkweed, everlasting pea and butterfly weed.
Schoolhouse Gap – The Schoolhouse Gap Trail is another excellent trail for spring wildflowers. We saw many Virginia bluebells on the lower portion of the trail. As we proceeded on, we saw beaked violets, pink lady's slippers, fairy wand, golden aster, star grass, red clover, Robin's plantain, sun drops, Catesby's trillium and lyre-leaf sage. The trail also had its share of rhododendron and mountain laurel, which were just beginning to bloom during our mid-May hike. Hikers can also find cardinal flower, Carolina vetch and yellow ragwort on this trail.  
Spence Field – Spence Field has the most spectacular display of mountain laurel I've ever seen. The hillsides and meadows were literally covered in the white and soft pink flowers from this member of the heath family. The best time to visit Spence Field is from late May to mid June.
October 2, 2015
OktOBERfest returns to its Gatlinburg-style roots with 38 days of merrymaking from September 25 through Nov.1, 2015 as the resort commemorates the 205th anniversary of the popular festival held in Munich, Germany.
The Bavarian Fun Makers Band, in authentic costumes, will perform traditional Bavarian folk dances, schuhplattling, oompah music, sing-a-longs, yodels and more with daily shows and multiple performances every day during Oktoberfest. Special Oktoberfest Biers will be served along with traditional German wurst, schnitzel, sauerkraut, strudel, pretzels and more.
The first Oktoberfest was not really a festival at all, but the public celebration of the wedding of Crown Prince Ludwig I and Princess Therese of Bavaria on October 17, 1810. Held on a large meadow named the Theresienwiese in Munich, the party featured a horse race, beer, food, music and dancing. Anniversary celebrations continues each year, usually starting in late September and ending in the first week of October, with some six million people attending annually.
For more information on OktOBERfest call 865-436-5423 or visit www.obergatlinburg.com
September 26, 2015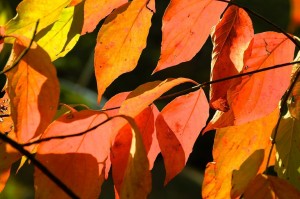 Fall is a beautiful, fascinating period in the Smokies and at Buckhorn Inn.  This photo of the leaves of one of our dogwoods was taken by Bertram Henry, a Buckhorn Regular, when he was here this week.  The main fall leaf season is still several weeks away (mid to late October), but color has begun to develop over the past week in high elevation areas. Many birch trees are showing muted yellows, and species such as witch hobble, sumac, and blueberries are sporting red leaves at higher elevation. It's still early in the season though, so colors should continue to develop over the next week or two along the crests of the mountains.
At low to middle elevations, dogwood trees have a reddish cast that will develop into brilliant reds later in October. Species such as sourwood and red maple are also turning red. And the brilliant reds of Virginia creeper vine can be seen climbing the trunks of many trees. Overall however, the forests are still very green at these elevations. There's not a lot fall color to see yet — just scattered trees here and there.
Fall flowers displays are glorious now. Flowers such as purple asters, white asters, black-eyed Susans, pale jewelweed, ironweed, great blue lobelia, closed gentian, and goldenrod are blooming profusely along roadsides and trails. In the forests, look for the vibrant pink, purple, and red fruits of hearts-a-bustin' bushes and the brilliant reds of dogwood berries.
August 14, 2015
Pittman Center Heritage Day
Saturday, September 19, 2015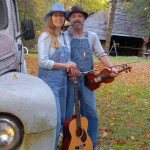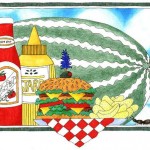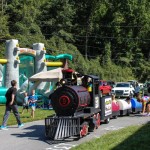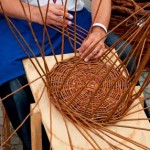 Free Admission
Food and Refreshments Available 
Since 1992, town residents have celebrated their mountain heritage, highlighting the region's food, music, entertainment and crafts of the past.  The event is actually hosted in remembrance of a community fall festival that first took place in the early 1920's. It is a day full of fun that is celebrated with great food, live music, games, crafts vendors, prettiest dog contest, and more! 
About Pittman Center  Just minutes away from downtown Gatlinburg nestled in the mountains of Great Smoky Mountains National Park is the quaint community of Pittman Center. Pittman Center provides a unique blend of history, culture and natural scenic beauty that captures the imagination.
 Proud of their mountain heritage, residents work hard to preserve the historic landscape and mountain culture that beckons visitors to come and stay awhile. Time seems to stand still as one ventures forth to rediscover the beauty of the natural surroundings and rich history that defines the Pittman Center experience.
Directions from Gatlinburg  From Buckhorn, take Highway 321North and turn left (north) to Scenic Route 416. Turn left and go to mile marker #2.   Turn right to 2839 Webb Creek Road.
June 27, 2014
In July you can ice cream with everything at Buckhorn Inn.  In 1984, President Ronald Reagan proclaimed July as national ice cream month. Chef Robert Neisler celebrates each year by offering up some decadent ice cream desserts like Strawberry Smoothie Ice Cream Pie, Triple Chocolate Ice Cream Sandwich, Old-Fashioned Mud Pie, Mint Chocolate Grasshopper Pie, Peach Melba Ice Cream Pie and Peanut Butter 'n Chocolate Treat, Turtle Ice Cream Pie with Caramel, Chocolate and Pecans.
Check out our weekly menus to see when your favorite ice cream dessert will be served.  In honor of the celebration, we are sharing a recipe for Strawberry Smoothie Ice Cream Pie (see below).  But–it tastes so much better if we make it for you. 
Yield:  10-12 servings
Ingredients
1 (7-ounce) package waffle cones, broken into pieces
6 tablespoons butter, melted
1 tablespoon granulated sugar
2 (1-quart) containers premium vanilla ice cream, divided
1 (16-ounce) container fresh strawberries (1 quart), stemmed
1/4 cup powdered sugar, divided
1 pint fresh blueberries
2 ripe bananas
Garnishes:  waffle cone pieces, fresh whole strawberries, fresh blueberries 
Preparation  Process first 3 ingredients in a food processor until finely crushed. Firmly press mixture onto bottom of a lightly greased 10-inch springform pan.  Bake at 350° for 10 minutes. Cool completely in pan on a wire rack. Let vanilla ice cream stand at room temperature 20 minutes or until slightly softened.  Process strawberries and 2 tablespoons powdered sugar in a food processor until pureed, stopping to scrape down sides; remove strawberry mixture, and set aside.  Process blueberries and 1 tablespoon powdered sugar in food processor until pureed, stopping to scrape down sides; set aside.  Mash bananas with a fork in a large bowl; stir in remaining 1 tablespoon powdered sugar. Set aside.  Place 1 quart of ice cream in a large bowl; cut into large (3-inch) pieces. Fold strawberry mixture into ice cream until blended. Place in freezer until slightly firm.
Divide remaining quart of ice cream in half, placing halves in separate bowls. Stir blueberry mixture into half and mashed banana mixture into remaining half. Place bowls in freezer. Spread half of strawberry mixture evenly into prepared crust in springform pan. Place pan and remaining strawberry mixture in freezer. Freeze 30 minutes or until strawberry layer in pan is slightly firm. Spread banana mixture evenly over strawberry layer in pan; return pan to freezer, and freeze 30 minutes or until banana layer is slightly firm. Repeat procedure with blueberry mixture. Spread remaining strawberry mixture over blueberry layer in pan, and freeze 3 hours or until all layers are firm.  Let pie stand at room temperature 15 minutes before serving. Garnish, if desired.
April 24, 2014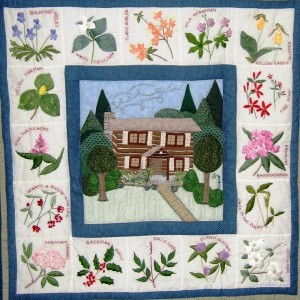 Buckhorn Inn and five other inns are opening their gardens to the public on Wednesday, May 7 as a part of the Gatlinburg Garden Club's Spring Garden Celebration.  You can purchase the $10 tickets for the tour at the Sevier County Bank in Gatlinburg, phoning 865 453 6101, extension 481.  Tickets may also be purchased at participating inns on the day of the event.  All proceeds benefit the Lucinda Ogle Historic Cabin Restoration Fund.  
Other inns participating in the tour are Foxtrot, Quail Ridge, Tudor Inn, Laurel Springs and Blue Mountain Mist.  
You can also purchase tickets for a wine and cheese party at Buckhorn Inn on Tuesday, May 6 from 5:30 until 7:00 pm and a Meet the Author Luncheon at Foxtrot Inn on May 6 at 11:30 am.
April 12, 2014
Where:  Right here at Buckhorn Inn.  This is bird heaven.  Please see our publication about bird life on this property. 
When:  Thursdays and Saturdays at either 7:30 (before breakfast)  am or 8:30 am (after an early breakfast).  Must reserve in advance. 
Length of Birding Adventure:  1½  Hours 
Cost:  $15 per person or $25 for two (minimum of three persons required) 
How to Register:  Inn Office; 24 hour cancelation required. 
Rain:  Significant rain will result in cancellation 
Expert Birder Keith Watson will lead the adventure
November 22, 2013
Dr. Tom and Mrs. Mary Kollie reflect on their memories of Buckhorn Inn, beginning in 1958.
Congratulations to Buckhorn Inn on the occasion of its 75th Anniversary! It is most
exciting to be a tiny part of the Inn's remarkable history, as the following story is shared
with great delight.
It all began on August 23, 1958, when newlyweds of a few hours embarked toward
Gatlinburg for the first night of their honeymoon. Their naiveté in not making reservations
came through when they reached this popular Tennessee resort town to realize that of the
numerous advertised accommodations, there were none available on that hot summer
night. Seeking other options, the young groom in this story took the fork in the road toward
Cosby that turned out to be most serendipitous!
Traveling along the Cosby highway, there shortly appeared a small, shingled sign reading
"Buckhorn Inn," which pointed to a road to the left. Having nothing to lose and with hope
in the unknown, the 1955 red-and-white Ford made the turn and carried the now
suspenseful newlyweds up the steep, graveled road where they followed the signs to a
charming inn on the mountain side.
Upon arriving at the Buckhorn Inn, a lovely lady approached their car when they pulled into
the parking lot in front of the Inn. She peered into the car and saw the bride with her
corsage still pinned to her going-away outfit. Her heart must have taken hold of her head as
she kindly explained the situation at the Inn to the seeking couple. The Inn could not
accommodate them for dinner, but there was a small cabin on a little path on the hillside
that she would have available for them if they dined elsewhere. Upon being shown Cabin
#1, the couple decided it was the perfect honeymoon cottage; and they could not have found
a better place had they searched the region over! If that were not enough, they were offered
breakfast to be delivered to their cabin the next morning. As promised, neatly uniformed
young ladies came to the door with two trays of delicious breakfast fare and carafes of
coffee to fortify their wedded journey.
Good fortune continued to follow their lives as they made their home in Oak Ridge, TN,
where they have lived for 53 years and where they reared their three children. During this
half-century plus, they have had the pleasure of returning to "Buckhorn" a number of times.
Most recently, they celebrated their 55th Wedding Anniversary in Cabin #1. Innkeeper, Lee
Mellor, who greeted them warmly, appeared to be as excited as they were on their return to
the Inn for this anniversary celebration. The moment was strongly reminiscent of the day
55 years ago when another kind lady, Mrs. June Bebb, did so as well. It was an especially
happy occasion for the couple as they received e-mails from their children telling them they
were sharing in their day with their well wishes; and greetings from family and friends
congratulating them on their milestone.
So joyfully, please join the grateful couple in raising a glass to the Buckhorn Inn as it
continues, with both vision and grace, the tradition of hospitality begun 75 years ago. This
couple feels very enriched to have had the experience of the Inn and to foresee its promising
future toward its century mark!