Blog




July 22, 2013
What a wonderful stay we had both years. We will certainly return. We think of Buckhorn as one of our "most favorite" places to visit. The inn has a unique "personality" because of its people, accommodation, grounds and intimate size. Keep it up! CB and Patricia
When your Grandmother is a personal chef, trained in three culinary schools, one in Paris, you have no choice but to be a foodie.  Kate and Liam love fine dining.  Their first trip to Buckhorn Inn was about eight years ago.  When I made the reservation for our dinner I reminded the children there are expectations of good behavior and children that did not behave would be asked to leave. I think they were about five and six.  They were so perfect I am sure no one remembers they were even there. Liam, however, still remembers the green beans.  When we began making plans for our mini vacation to Gatlinburg, their only request for our adventure is that we have dinner again at your Inn.  We will be dining with you on Wednesday the 24th.  I am so looking forward to watching their faces and listen to their culinary chatter.  I thought you might like to know you made a lasting impression on two kids from Kentucky and who can't wait to have the experience again. Carolyn
July 17, 2013
At the time of my first visit to Buckhorn in 1947, my mother was the secretary at the Knoxville Tourist Bureau and had gotten to know Mrs. Audrey Bebb (mistress of Buckhorn at that time). We were comparative newcomers, fresh from the cornfields of Iowa. We had fallen in love with the Tennessee mountains, lakes and people (I married a girl from Jefferson County in 1951 and we have been coming to Buckhorn Inn ever since, just recently to celebrate our 62 wedding anniversary).
At the time of that first visit, I was visiting my folks from Iowa State College and going up to the mountains for the Buckhorn Lunch (yes, they served lunch in those days) was a special treat for me. We sat outside with Mrs. Bebb after lunch and talked—mostly about the mountains. At one point, Mrs. Bebb said that she always enjoyed just sitting and watching the mountains, "always the same but always changing." That comment has remained in my mind all these years because I received a letter from mother several months later with the news that Mrs. Bebb had died from brain cancer. She had gradually lost her sight beginning several months before our visit. Bob Holsaple, Knoxville TN
Everything was absolutely wonderful. Love the friendly personnel and the relaxed, quiet and peaceful atmosphere. Cannot wait to continue to come here when we return to the Smokies. The meals were delicious and were so elegantly served and prepared. Our accommodation was beyond words. We did not want to leave. The grounds are beautiful as well as the view of Mt. LeConte. Thank you for everything. Ken and Janice
July 7, 2013
As you know, my wife Judy & I have been coming to your lovely Inn for a weekend trip for the past several years.  Last year in October we came there for a three day stay and decided that we had seen everything in the local area shopping and sight seeing.  Therefore, we decided to just stay at the Inn and relax, sleep late, enjoy the fire and work a puzzle.  The puzzle we chose to work is called " The Gathering Place".  After several days and many hours of working the puzzle, we had only completed about 10% of it.  We really hated to leave the puzzle, but it was time to return home.  I wrote down the name of the puzzle and was determined to get another copy of it.  I ordered it on Amazon.com and gave it to Judy as one of her Christmas presents.  I knew at that time we would be coming to Florida for an extended vacation of three months (Jan-Mar) and we decided to bring it with us.  Well, we have both been obsessed with working this puzzle, and I wanted to let you see a picture of the completed puzzle.   See you in October. The Krafts

July 6, 2013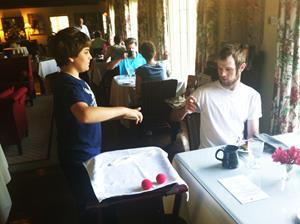 If you weren't a guest at Buckhorn recently, you missed some great entertainment. Koby the Magician from NYC entertained us and our guests with table magic at breakfast. His sleight of hand is very smooth! Balls disappeared and reappeared. Cards changed their spots. Thanks Koby! Come back next year and amaze everyone once again.
Look who's performing at Buckhorn Inn. Miss Sydney Rose Lazar gave a stunning classical music performance last week. She has been performing at the Inn since a wee girl, but she's had much bigger fish to fry in NYC. A native of the Big Apple, this lovely young soprano has been studying classical voice for 5 years. She has attended The Mannes College of Music Preparatory Division in New York City for the last 2 years, and will continue to study classical voice and opera next year at The Hartt School of Music in Connecticut. Sydney has performed in recitals nationally and internationally, highlights including Steinway Hall in New York City, and Palace Halbturn in Vienna, Austria. Sydney hopes to pursue a career in classical vocal music and opera. Her father Neer, mother Shawn and younger brother Koby the Magician were also visiting the Inn as they have done for more than 20 years.

Buckhorn Inn is truly a special place.  The views, the ambience, the fabulous food, and most importantly the graciousness of Innkeepers Lee and John always make for a memorable stay.  The location is superb with great access to all the wonderful outdoor activities the park offers.  Congratulations to Buckhorn Inn for sharing 75 years of a marvelous place to spend time. The Hodges
July 5, 2013

My wife and I would like to thank you and your staff for your gracious hospitality during our recent stay.  Our first visit to the Buckhorn Inn was both relaxing and memorable.  It certainly will not be our last. Cottage 6 was lovely and comfortable.  We enjoyed its serenity, particularly during last Friday's rain, which provided us an opportunity to read, talk, and reconnect.  The meals were wonderful and the wait staff professional and engaging. We had originally booked a 2-night stay.  I am so happy we extended it another night. We'll see you again soon. The Vahrenkamps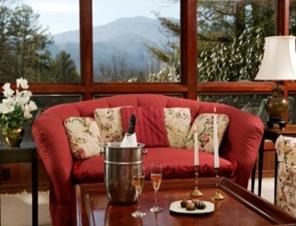 During our three previous visits at the Buckhorn Inn, we stayed in the beautiful, premium rooms at the inn. On this fourth visit and during the 75th anniversary of the inn, we stayed at Bebb House. Bebb House is the former home of Buckhorn Inn founder Douglas Bebb and his wife June. Turns out that Doug and June are still there; something to keep in mind for anyone who decides to book the house in the future. They can be found resting just outside the back door in a cool, shaded area. Although the house has been renovated and decorated much the same as the rooms in the inn, many original features remain. In the kitchen an old, built in oven is embedded in the back side of the rock fireplace, push button controls for what must have once been a state of the art range remain in the wall, and the cabinets are surely original to the house. The wall paneling was cut in Doug Bebb's own sawmill. I guess only so much can be changed when the original owners are still hanging around. The house was designed and the site chosen by Doug Bebb. And the very best part of Bebb House is the breathtaking view of the mountains from the covered patio in the back of the house.

More than any other part of the property, at Bebb House you can really sense the presence of Buckhorn's former innkeeper. Partly because he never left, and partly because of knowing that his hands were laid to so much of the creation of his home. At night it occurs to us that a long, wide hallway running along the bedrooms presents a perfect pathway for the passage of ethereal spirits displeased with our invasion. But no haunting occurs during our stay. As ever, the Bebbs are still the perfect hosts. The Beaubiens