Blog




January 18, 2022
As I write this, I am engaged in one of
my favorite activities—planning next season's vegetable garden!  The brightly colored seed catalogs have begun arriving, tempting me to order old favorites and experiment with new varieties.
My first step in deciding what to grow is to consult with the Buckhorn Inn chefs.  Chef Frank provides key input on herbs that compliment his dishes and on vegetables he can showcase in soups and side dishes.  Chef Bob is a gardener himself, and so we coordinate our efforts.  Bob is well-known for the luscious heirloom tomato varieties he grows—in fact my mouth is watering just thinking about his lovely summer omelets!  We try to grow herbs and veggies that have the biggest impact in the Buckhorn kitchen.  We don't want to repeat the mistake I made when Jack and I married and planted our first vegetable garden together.  I was perusing the seed catalog and asked Jack if he thought we should grow parsnips.  Thinking I must like them, Jack replied in the affirmative.  Thinking he must like them, I ordered the seeds.  We have never to this day grown anything that produced as well as those parsnips.  We harvested a bushel basket from our small garden.  As it turned out, neither of us cared for parsnips!  Our friends and neighbors were the recipients of our garden's parsnips bounty.
Potential New Finds for the Vegetable Garden
As I leaf through the new Burpee catalog, here are some finds that are most intriguing.  http://Www.burpee.com. `
Mocha Swirl Hybrid Sweet Pepper—they ripen from green and white to a rich chocolate-red.  The compact plants would be perfect for our raised bed garden.  The Golden Egg Hybrid Summer Squash promises succulent flavor from the golden-yellow zucchini.  `Everleaf Thai Towers basil is container-friendly and grows up to 3 feet tall.  Kentucky Blue Pole Beans always do well for us.  Last year we also grew asparagus beans.  The 18" long pods have a delicious nutty flavor.  Kale is popular at the Inn for garden greens omelets, soups, and vegetable sautées.  We likely will grow a variety again this year.  Perhaps Dazzling Blue, Red Russian, and Tuscan kale.  We are saving space for some lettuce, so you can pick a few leaves as you go by to feed Bubble and Squeak!  Of course we will grow okra.  It is an ornamental plant, and we love Chef Frank's fried okra as an accompaniment to a southern fish with remoulade sauce dish!  We had best success with Go Big, which produces flavorful dark-green 7" long pods.
In our veranda her pots we typically grow basil, chives, cilantro, mint, parsley, rosemary, and sage.  This year we may also grow borage for their edible flowers and lemon verbena to flavor fish dishes.
Decisions, decisions!  When you visit, please let us know what you are planning to grow in your garden!
January 10, 2022
Have you seen Buckhorn Inn in the snow?  It is a magical sight.  Just imagine walking the nature trail as snow crunches under your boots. The quiet beauty is overwhelming.  Then you return to your cottage, warm yourself in front of the fire, and venture out again for dinner at the Inn.  
The Best Time to See Snow
Our elevation (about 1,280) can get as much as nine inches of snow a year.  While it is very rare, we occasionally have gotten snow in late October and in early April.  According to the National Park Service, snow is most likely in January and in February.  While the weather may warm and it may melt rapidly in town, you will still be able to see the fluffy white stuff in the higher elevations.  In fact, Newfound Gap (at 5,049 in elevation) can get as much as 69 inches of snowfall each year.  Nearly every trail will feature beautiful winter views, but some of the best are in the higher elevations, like Chimney Tops and Alum Cave trail.  The Gatlinburg CVB provides information on all things fun and snowy!  http://Www.gatlinburg.com
Be Prepared
Please be aware that our curving mountain roads can become slick and hazardous during and after snowstorms.  If it is a heavy snowfall, the Great Smoky Mountains National Park may close its entrances.  However, the entrances are usually closed to car traffic only.  We are close enough for you to walk to the Greenbrier entrance and enjoy a snowy hike.  All local businesses are concerned for the safety of their employees.  If employees are unable to safely drive to work, service may be slower than usual or some businesses may be closed.  Our area thanks you for your patience!
Winter is a lovely time to enjoy the Buckhorn Inn and our surrounding area.  And if you are lucky, you will enjoy a bit of snow!
November 9, 2021
We are delighted to let you know that we have added a new white wine to our wine list.  We have added one of our favorite wines from the Marlborough Region of New Zealand.   Oyster Bay Sauvignon Blanc is a crisp, elegant, and refreshing wine.  This zesty wine features aromas of tropical fruits and bright citrus notes with a hint of herbs.  This wine receives consistently high ratings from Wine Enthusiast and was awarded 4 out of 4 stars from acclaimed wine writer Michael Cooper.
The refreshing zest of Oyster Bay makes it a delightful aperitif.  It also enables the wine to pair with many foods, including:  raw and grilled seafood, goat cheese, green vegetables, salads, crab cakes, pasta with tomato sauce, spicy dishes such as Asian and Cajun, and pesto.
White Wine from the Marlborough Region
The Marlborough wine region is New Zealand's largest.  This area accounts for about 75% of New Zealand's wine production.  The most well-known wine in this region is Sauvignon Blanc which prominent wine writers have described as the best in the world.  Other varieties grown here include pinot noir, pinot gris, and chardonnay.  There are also lovely sparkling wines from this region.  http://Www.nzwine.com
Vines were being cultivated in this region as far back as the 1870s.  However, commercial wine-making did not begin until the 1970s.  By the mid 1980s the wines from this region were garnering international attention.
What makes this such a wonderful region for growing grapes?  The climate is sunny and warm summer through autumn which results in a long growing season.  Also, the cool night-time breeze from the ocean provide the variations in temperature which add to the wines' character.  The soil is free-draining and the area typically has low rainfall.  In short, the region is perfect for white wines with a mouth-watering acidity.
Please let us know how you are enjoying this new addition!
October 11, 2021
I always associate mulled wine with happy occasions.  The first time I was introduced to this splendid drink was when Jack and I lived in Chicago.  It was a cold December evening and we were visiting the Christkindlmarket
http://Www.christkindlmarket.com in Daley Plaza. It was gently snowing and we were surrounded by sparkling holiday lights, the sound of festive music, and the aromas of roasted nuts and spiced wine.  The mug of wine warmed my hands, the scent delighted my nose, and the flavors tickled my taste buds.  Since then, I have made hot spiced wine for my family's Christmas Eve Celebrations.
This October we are offering my autumn mulled wine in our sitting room on Thursday, Friday, and Saturday evenings.  If it meets with a positive response we will continue through November.  My recipe is full of fall flavors:  dry and fruity red wine, apple cider, honey, orange, and a variety of warm spices.  I recommend making it and serving it in a crock pot.  If you are entertaining a crowd this recipe may be doubled.   If you have any leftover, it may be kept in the refrigerator for a few days then gently reheated.
Use your favorite red wine in this recipe.  I prefer a somewhat dry Cabernet Sauvignon with notes of dark fruit and firm tannins as I like the way it blends with the other ingredients.
Buckhorn Brew Mulled Wine Recipe
1 bottle red wine (Merlot, Syrah, Cabernet Sauvignon all work well)
3 cups of apple cider
1/4 cup honey
1 orange, sliced
5 whole cloves
4 cardamom pods
2 cinnamon sticks
1 star anise
Add the wine, cider, and honey to a slow cooker.  Stir to be sure honey dissolves.  Put the spices in a cheesecloth bag and add to the cooker.  Float slices of orange on the top.  Cook on low for 45 minutes to an hour.  When ready to serve, turn the slow cooker to the "keep warm" setting.  Ladle into mugs and garnish with an orange slice and/or a cinnamon stick.  Makes 6-7 servings.
I hope this aromatic drink helps you to welcome autumn to your house!
October 4, 2021
As many guests know, the Buckhorn Inn Nature Trail is about a mile long and takes about an hour.  It is important to wear appropriate shoes as some sections are moderately steep.  A complete map of the route and a printed guide is available in our office.  To whet your appetite, here are some highlights!
Beginning the Trail
The Nature Trail begins with this historic 1938 Inn itself.  Before the Inn was built, a mountain cabin with rough hewn timbers, shake roof, and stone fireplace occupied the site.  Douglas Bebb purchased the property from Lying Bill Price—a mountaineer who was well-known for his tall tales.
Inside the Inn's front door is the dining room and veranda.  This spot offers a beautiful view of Mt. LeConte, the third highest mountain in the Great Smoky Mountains National Park.  This is a popular spot for dinner guests to enjoy a glass of wine before their meal.
Back outside the front door and to the left you will see a sloping path through the woods.  To your right you will see Rosebay rhododendrons which usually reach
the peak of their white blooms in June.  As you continue down the trail you will see American holly on both sides.  
To your left you will see the John and Nettie Hill Garden which features native plants.http://www.tnps.org
Near trail marker number 5 you will see the Callaway Garden, which was established in 2001.  This garden features both sun and shade plants, including many native flowers and shrubs.
You will than go to the right to pick up the trail down to the Buckhorn Pond.  On your way you will see the Umbrella magnolia at marker number 6.  If you examine the trunks carefully, you will see neat rows of holes made by sapsuckers eating the sap and the insects trapped in it.  
Approaching the Pond
Near marker number 7 you will see redbud and white-flowered dogwood trees that make a beautiful spring combination. There also is an American chestnut tree in this area.  We are thankful it escaped the blight.
One of the most abundant trees in the area is the tulip tree.  A member of the magnolia family, the tree was called the Apollo of the Woods by poet Walt Whitman because it grows tall and straight.
You will now find yourself near the spring fed Buckhorn Pond.  It is home to two mute swans, Bubble and Squeak.  Bass, carp, koi and perch all call the pond home.  You also may see frogs or the occasional turtle.  Birds attracted to the pond include wood ducks, spotted sandpipers, and herons.
Please visit our blog next week for the next segment of our Trail Guide!  
September 20, 2021
Guests often ask us when the "best" time for fall foliage arrives in our area.  And our answer is "it depends"!  Leaf peeping season varies from year to year.  This year, the experts tell us that the colors will peak in mid-October in the high elevations, and will last through mid-November in the lower elevations.
Since mid-September we have noticed some beginning leaf color at the Buckhorn Inn property.  The fall color season is a long one, so guests definitely will not be disappointed whenever they come to visit.
Favorite Spots for Fall Foliage
The Great Smoky Mountains National Park offers many beautiful scenic drives.  Remember that there may be traffic, so allow plenty of time to reach your destination.  We recommend leaving for your drive in the morning, right after breakfast. http://Www.nps.gov.fall-suggestions
One of our favorite drives is the Roaring Fork Motor Nature Trail.  This 5.5 mile loop road is reached by driving Cherokee Orchard Road in Gatlinburg.  Your trip might include a stop at the Ogle Cabin.  This historic site features a 19th-century log cabin, a four-pen barn, and a tub mill.  
Cades Cove Loop Road is a beautiful 11-mile drive with spectacular colors.  Be aware, though, that traffic is heavy in the fall and it could take up to four hours to loop around the cove.
The Foothills Parkway has amazing views.  You should allow an hour to drive the 33-mile stretch of road.  There are several pull-offs so you can take pictures and the driver can get a chance to take in the view!
The Greenbrier entrance to the Park offers several hiking trails that allow you to see the leaves close-up.  We enjoy Porters' Creek, Old Settlers' and Grape Yard Ridge trails in the fall.  Later in the year, when the leaves are gone, the views seem to go on forever!
Whether you drive or go for a hike, don't forget to pre-order your sack lunch so you can picnic amid the lovely colors.
August 10, 2021
Our new cookbook includes the recipe for Chef Bob's creation, Sticky Toffee Pudding Coffeecake. We include this recipe by popular demand—when it is served for breakfast practically everyone wants the recipe!
Sticky Toffee Pudding Coffeecake
Coffeecake
1 1/2 c pitted dates, chopped
1 t baking soda
1 1/2 c all-purpose flour
1 t baking powder
1/2 t kosher salt
4 T unsalted butter, at room temperature
1 c granulated sugar
2 eggs
1 t vanilla extract
Preheat oven to 350 F. Coat a 9 x 13" cake pan with nonstick spray and line with parchment paper. In a small saucepan cover the dates with one cup of water and bring to a boil. Remove from heat and whisk in baking soda; mixture will foam up. Let cool slightly. Sift the flour with the baking powder and salt. In a stand mixer fitted with the paddle beat the butter with granulated sugar until light and fluffy. Beat in the eggs and vanilla. In 2 alternating batches beat in the dry ingredients and date mixture until must incorporated. Scrape the batter into prepared pan and bake for 35 to 40 minutes or until a toothpick comes out clean. Let the cake cool in the pan for 10 minutes. Turn the cake onto a rack and peel off the parchment. Carefully return the cake, top side down, to the pan. Using a skewer, poke 15 to 20 holes in the cake. Pour half the warm sauce over the cake and let stand until absorbed, about 5 minutes. Invert onto a platter and poke another 15 to 20 holes in the top. Pour the remaining sauce over the top. Serve warm.
Sauce
1/2 c dark brown sugar
1 stick unsalted butter, cubed
1/2 c heavy cream
2 t brandy
1 t vanilla extract
1/2 t kosher salt
While the cake is cooling make the sauce. Bring the brown sugar, butter and heavy cream to boil over moderate heat, whisking to dissolve the sugar. Simmer over moderately low heat for 2 minutes, continually whisking. Remove from heat and whisk in brandy, vanilla, and salt. Keep warm.
August 5, 2021
My brother, Herb Galbreath, and his family invited me to join them on a day trip to the magnificent Biltmore Estate in Asheville, North Carolina.  The estate is about an hour and 40 minutes from Buckhorn Inn.  I recommend this highly as a day trip when you are staying with us.
A Brief Biltmore History
George Washington Vanderbilt II built the estate between 1889 and 1995.  His daughter Cornelia opened the house to visitors in 1930 to help the area get through the Great Depression.  The French Renaissance-style house was designed by Richard Morris Hunt and was modeled on various grand chateaus.  Among its more than 250 rooms, the house features a bowling alley, an indoor swimming pool, and electric elevators.  
The 10 square miles of grounds were designed by Frederick Law Olmstead.  Vanderbilt was interested in the environment and the surrounding forest was the site of the first forestry education program in the United States.
Tips for Visiting the Estate
1,  Be sure to buy your ticket in advance as they sometimes sell out.  
2.  If you can, plan your trip for a weekday when it will be a bit less crowded.  
3.  All tours of the house require a timed reservation.  The peak crowds arrive in the morning, so you may want to visit the gardens, conservatory, winery, and other areas first and plan your house tour for 2:00 pm or later.  
2.  Don't forget to visit the amazing gardens—you will be glad you did.  
3.  The regular tours through the house are self-guided.  They offer an audio guide which tells you facts about the house, the family, and history of the time.  It is very informative.  
4.  Allow about 2 hours to tour the house.
5.  Allow time to explore Antler Village with its crafts demonstrations, Vanderbilt museum, shops, and winery.  It is about five miles from the house.
For more information, visit http://Www.Biltmore.com
July 20, 2021
Our new cookbook "A Treasury of Buckhorn Inn Recipes" is available from our office.  This edition was published in memory of John Mellor who served as Innkeeper from 1998 to 2020.  This cookbook provides recipes for old favorites, new additions to our menu, and a few treasured Mellor family recipes.  It includes guides to local attractions and information on the provenance of some of our recipes.  Copies are available in our gift shop or by calling our office.  We hope you enjoy it!  
Dinner guests love the variety of fish preparations on our menu.  One key is delicious and flavorful sauces.
Below are two easy recipes from the new publication.
Tropical Fruit Salsa for Fish
1 c. Papaya, peeled and finely diced
1/2 Mango, peeled and finely diced
1/2 c. White onion, finely chopped
3 T. Fresh cilantro, chopped
1 T. Orange juice
1 T. Lime juice
1/2 t. Jalapeño, minced
1/2 t. Salt
Stir together all ingredients.  Makes about two cups.  This refreshing salsa is delicious with grilled snapper, pan-seared cod, or other simply prepared fish.
Roasted Pepper Aioli for Fried Fish
1/4 c. Canned, fire-roasted red peppers, drained
1/2 c. Mayonnaise
1 T. Fresh chives, minced
2 t. Lemon juice
1 t. Garlic, minced
Chop the red peppers.  Purée with the other ingredients until smooth.  Makes about half of a cup.  This flavorful aioli also is delicious with crab cakes!
June 13, 2021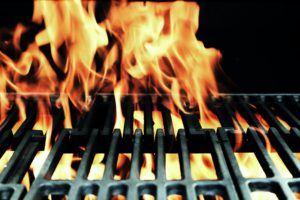 Grilling dinner is one of life's greatest pleasures—surpassed only by eating the grilled dinner! Marinating a chuck roast and basting it with maple barbecue sauce will turn the inexpensive meat into a tender, flavorful dish.
A nice big Zinfandel will stand up to the smoky flavors of this barbecue delight. Another option might be a peppery Australian Shiraz. And if you are grilling on a hot summer day, try a fruity, refreshing red wine sangria!
See recipe below.
Marinated Chuck Roast
1 onion, chopped
2 T. vegetable oil
4 cloves garlic, minced
1/3 c. soy sauce
¼ c. red wine vinegar
2 T. fresh rosemary, chopped
2 T. honey
1 ¼ c. beef broth
1 blade chuck roast, about 3 lb.
Maple barbecue sauce
Stir together onion, oil, garlic, soy sauce, vinegar, rosemary, honey and broth. Place the roast in a glass dish and pour the marinade over. Turn. Cover and refrigerate 36 hours, turning once. Bring to room temperature in marinade about 2 hours before cooking.
Preheat grill. Remove roast from marinade and grill 4 to 6 inches over hot coals. Baste with barbecue sauce and turn as needed. Cook about 30 minutes, or until a thermometer reads 130 for medium rare or 145 for medium. Remove from grill and let rest before serving. Slice thinly and serve with additional barbecue sauce. Serves 4 to 6.
Maple Barbecue Sauce
2 T. vegetable oil
1 onion, chopped
½ c. white distilled vinegar
¼ c. sugar
3 c. ketchup
¼ c. dark brown sugar
1 c. maple syrup
1 c. water
½ c. red wine vinegar
10 garlic cloves, minced
4 t. Worcestershire sauce
4 t. A-1 sauce
1 t. black pepper
½ t. paprika
¼ t. cayenne pepper
¼ t. salt
Heat oil and sauté onion until soft. Add white vinegar and sugar, bring to a boil. Stir until the sugar dissolves. Stir in ketchup, brown sugar, maple syrup, water, red wine vinegar and seasonings. Simmer for about an hour. It will thicken slightly. Cool to room temperature and use immediately or store in the refrigerator.