Blog




February 22, 2021
A highlight of any Buckhorn Inn dinner is when the basket of warm bread is delivered to your table.  You gently lift off the cloth napkin and inhale the warm, yeasty fragrance.  You select a slice and watch as the butter melts slowly into every nook and cranny.  That first bite is heaven!  One of our most popular bread recipes is below.  The aroma of fresh-baked bread will have your family gathering in the kitchen! 
Country Granary Bread
Preheat oven to 400 F.
2          Tablespoons active dry yeast
                        Pinch brown sugar
1 ¼      Cups    Warm water
1/3       Cup     Old-fashioned rolled oats
1          Cup     Cooked bulgur wheat, flax and/or
                        millet
2          Tablespoons       Light brown sugar
1          Cup     Whole wheat flour
3 1/3    Cups    All-purpose or bread flour
1 ¼      Cups    Warm milk
¼         Cup     Vegetable oil
1          Tablespoon      Salt
To cook the bulgur wheat, flax and millet, place the grains in a small bowl and pour in two cups of boiling water.  Let stand for about 30 minutes.  Drain.
Combine the yeast, pinch of brown sugar and warm water.  Stir to dissolve.  Let stand until foamy, about 10 minutes.
In the work bowl of a heavy-duty electric mixer fitted with the paddle attachment, combine the warm milk, oil, the yeast mixture, salt, oatmeal, brown sugar, and the cooked bulgur wheat, flax and millet mixture.  Add the salt and 2 cups of the white and whole wheat flour combined.  Whisk hard until smooth, about 1 minute.  Let stand, uncovered, 30 minutes.  Add the remaining flour, ½ cup at a time, until a soft dough is formed that just clears the sides of the bowl.
Turn out the dough onto a lightly floured work surface and knead until light-colored, smooth, and springy, about 2 minutes, adding only 1 tablespoon flour at a time as needed, and cover with plastic wrap.  Let rise at room temperature until doubled in bulk, 1 ½ to 2 hours.
Turn out the dough onto a lightly floured work surface and divide into 2 equal portions.  Cut each portion into 2 uneven pieces.  Form the 2 large pieces into tight round loaves.  Place on a greased or parchment-lined baking sheet sprinkled with more oatmeal and cereal grains.  Loaves may be formed in a conventional round fashion.  If you want to make the more decorative turban shape, use your fingers to take a pinch from each of the two loaves to form an indentation. 
Roll the 2 small pieces into teardrop-shaped ovals and place in the indentation on the larger rounds, centering them.  Using a floured finger, poke into the middle of each loaf right through the middle to the bottom.  This is important to join the two sections to form one loaf.  Cover loosely with plastic wrap and let rise at room temperature until doubled in bulk, about 45 minutes.
Twenty minutes before baking, heat the oven to 400 F.  Gently brush the tops of the loaves with the 1 tablespoon of oil.  Refine the indentation through the center of each loaf.  Bake in the lower half of the preheated oven until the loaves are golden brown and the bottoms sound hollow.
Yield:  2 cottage loaves
February 15, 2021
Officials at the Great Smoky Mountains National Park have announced that the pilot program for vehicle-free Wednesdays in Cades Cove will continue from May 5 through September 1, 2021.  What a great opportunity to enjoy this beautiful area on foot or by bicycle.  Please know that mobility-assisted devices will be welcome on the vehicle-free days.
Park officials say that up to 1,100 pedestrians and cyclists enjoy Cades Cove without car congestion on the vehicle-free days.  
Cades Cove Is A Beautiful Area of the Park
Visitors to this area can enjoy amazing views.  They can also imagine life in an earlier time as they observe historic buildings dating from the first settlers to the area.  And its one of the most popular places to spot wildlife!  You may see black bears, white-tailed deer, wild turkeys, and many other birds and animals.
If you are driving to Cades Cove from Buckhorn Inn, it is easy to find.  From Gatlinburg you follow the Parkway to the Great Smoky Mountains National Park.  After you pass the Sugarlands Visitor Center, turn right onto Little River Road.  You will follow Little River Road about 25 miles until you arrive at the Cades Cove Loop Road.
The Loop Road is paved and one-way.  It follows an old logging track.  To the left of the entrance you will find an orientation shelter staffed with park rangers who will answer all your questions.  
As you walk travel the Loop Road you will see the John Oliver Cabin.  No pegs or nails keep this building standing–only the notched corners.  
You will see the trailhead for the Cooper Road Trail.  This trail is about an 11-mile round trip hike.  It is considered a moderately easy hike.  You also will see the trailhead for Abrams Falls trail.  The waterfall is about 20 feet high and the water rushing over the rocks is an impressive sight.  This trail is about five miles round trip and is a little more difficult.  
The Cable Mill historic area includes a working gristmill.  You also will find a barn, a smokehouse, and a blacksmith shop.
These highlights are only a small sampling of the wonders to be found on the Cades Cove Loop Road.  We hope you take advantage of vehicle-free Wednesdays this season to enjoy the area in a new way.  http://www.nps.gov.grsm.planyourvisit
February 12, 2021
Even regular visitors don't always know about the special spot called House of the Fairies.  The House is actually the springhouse at what was once the Voorheis estate.  The Voorheis estate is a 38-acre site located about a mile from Gatlinburg.  Louis Voorheis bought the land in 1928.  Desiring a mountain retreat, he developed the land accordingly.  Mr. Voorheis wanted to offer people a place to retreat from big city life and find the peace of the Smoky Mountains.  He utilized the two creeks that ran across the property for a water-powered mill.  He experimented with water power and built a hydroelectric dam.   Many of the flower and vegetable gardens include water features.   In 1933 Mr. Voorheis deeded the property to the National Park Service, which took over full management of the property in 1952.
Much of the original estate survives today.  The structures include the main house, two guest cabins, a horse barn, and an apple barn.  The stone springhouse is called the House of the Fairies and is in the Twin Creeks area of the park.
How to Find House of the Fairies
To get there you should hike the Twin Creeks Trail, a moderate trail of about 4.5 miles round trip.  There is a small pull off at the trailhead, but you may find it more convenient to park at the Ogle Place Parking Area and walk up the road a bit.  The trail goes along the creek.  You will see many buildings from the Estate, including the mill.  As you walk you can imagine what it must have been like living in a log cabin.
After you pass the Resource Center, you will see a small path.  Follow this path to get to the quaint Fairy House.  You will see an arched wall with an open door and stairs leading to the top.  You are welcome to enter the springhouse.  The stone walls, covered in moss, do look like the place where a fairy or water sprite might reside!  It looks like a magical building from some other time.  For more information, visit http://www.thesmokies.com
If you are staying at Buckhorn Inn, don't forget to order one of our hearty sack lunches for the hike.  Who knows, you might be sharing your lunch with a fairy!
January 25, 2021
It may be January, but the garden catalogs are full of photos of ripe, lush, delicious tomatoes!  We are deciding which varieties to grow in the Buckhorn Inn gardens this summer.  Looking at all the types of tomatoes got us wondering about this garden staple.
Tomatoes are actually the berries of the plant Solanum lycopersicum.  Food historians believe that the species originated in South and Central America.  Tomatoes were first cultivated for food by the Aztecs of Mexico.  The Spanish encountered the tomato  when they conquered the Aztec Empire.  They brought the tomato back to Europe.  The popularity of the fruit spread to European colonies worldwide in the 16th century.
The tomato is very versatile and can be used raw in salads or cooked for sauces and soups.  Tomato juice is a popular beverage.  Even green tomatoes are delicious breaded and fried.  They are also used in salsa and gazpacho.  I recently learned that tomatoes are best kept unwashed at room temperature.  In the refrigerator they quickly lose their flavor.
Tomatoes Are Health Powerhouses
A tomato is only 22 calories, but is full of nutrients with a variety of health benefits.  One tomato provides about 40% of the recommended daily amount of vitamin C.  It also supplies vitamin A, vitamin K, and potassium.  Their red color comes from the antioxidant lycopene which is tied to heart benefits and may support vision.  And finally the liquid and fiber in the tomato may boost digestive health.  http://www.health.com
New Jersey selected the tomato as their state vegetable.  Arkansas was more determined to be botanically correct and named the South Arkansas Vine Ripe Pink Tomato both its state fruit and its state vegetable!  Tomato juice became the official drink of Ohio in 1965.  
Be sure to watch this space for the final decisions on what we will be planting for the Buckhorn Inn kitchen!
January 16, 2021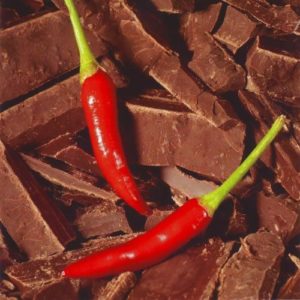 Jack and I met the summer of 1981 in Chicago. We both had just graduated from college and moved to the big city—he from Kentucky and me from Indiana. We were working hard at our first post-college jobs and trying to manage rent and all the other expenses that come with being on your own. Needless to say, we were pinching pennies. When it came to celebrating holidays and special occasions, we started going to Mexican restaurants. The atmosphere was festive, the food delicious and reasonably priced, and dinners came with complimentary chips and salsa—perfect for us. So perfect that all these years later we still celebrate with Mexican food.
This recipe is one of my favorites. The chocolate adds color, the cinnamon and sugar add sweetness, and the chili powder adds spice. This recipe is from "Easy Entertaining" by Marlene Sorosky and I made it for one of the first meals that John and Lee had at our house. That was a special occasion indeed! I often pair this dish with a lush, red Zinfandel. The warm spice, dark berry, vanilla and chocolate notes in the wine go nicely with the dark, bold flavors of the chili. On the other hand, Jack recommends you enjoy it with a bottle of cold Dos Equis or your favorite Mexican beer.
1 ½ cups dried black beans
2 onions, finely chopped
6 cloves garlic, minced
4 pounds pork butt, cut into ½ inch cubes
1/3 cup chili powder
1 tablespoon plus one teaspoon ground cumin
1 tablespoon plus one teaspoon dried oregano
1 teaspoon cinnamon
1 tablespoon sugar
½ teaspoon cayenne pepper
1 teaspoon salt
1 14 ½ ounce can whole tomatoes
4 ½ cups chicken broth
1 ½ ounces unsweetened chocolate
2 corn tortillas torn into small pieces
Rinse beans and place in a large saucepan. Cover with water and bring to a boil. Cook for one minute then drain. Add fresh water to cover by three inches, bring to a boil, reduce heat to low and simmer, partially covered about 45 minutes. Drain and set aside to cool. (Or, use two 16-ounce cans of black beans, rinsed and drained.)
Heat 2 tablespoons of oil. Add onions and garlic and cook until soft, about 20 minutes. Remove from pan and set aside. Heat 2 tablespoons of oil and add the pork. Cook over moderate heat for about 20 minutes or until pink is gone. Pour off drippings. Stir in onions, spices, sugar and salt. Cook 5 minutes. Break up tomatoes and add them with their juice. Add chicken broth and chocolate. Bring to a boil, lower heat and simmer, uncovered, for an hour and a half. Add beans and continue to simmer for 30 minutes until pork is tender and chili has thickened. Stir in tortillas and simmer until they have dissolved.
Offer chopped tomatoes, chopped fresh cilantro, finely chopped onion, and/or sour cream as condiments. Serves 8.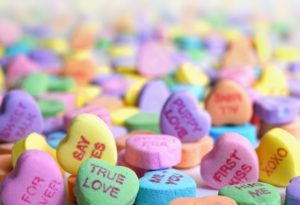 As February 14 nears, we are bombarded with advertisements for chocolates, flowers, wine, and romantic movies. Everything is decorated with hearts, lace, and a baby boy who flies around shooting arrows. What is up with that?
According to myth, Cupid is the ancient god of love. The son of Venus and Mercury, he is often pictured as a winged infant carrying a bow and a quiver of arrows. The wounds from his arrows inspire love in everyone they hit. Interestingly, he is sometimes depicted in art wearing armor—perhaps to symbolize the invincibility of love. Or perhaps to show parallels between warfare and romance!
Cupid generally brings happiness to couples, whether they be gods or mortals. He is sometimes mischievous in his matchmaking, though. Venus is often the instigator of his mischief. In one instance, she tried to use Cupid in seeking revenge on the mortal Psyche. Her plan backfired, however, when Cupid fell in love with Psyche and made her his immortal wife.
In modern culture, we see Cupid as a god who uses his power for good and not for ill. Some of us need a little push to make the first move in expressing our love—and Cupid is there to help us.
If you are looking for a way to express your true love, how about a Buckhorn Inn gift certificate? Your sweetie would love a romantic dinner, or perhaps a get-away complete with flowers, chocolate-covered strawberries, and sparkling wine!
December 14, 2020
At this time of year many of us enjoying curling up in front of a roaring fire with a frothy cup of eggnog.  What is the history of this unusual beverage?
Most food historians agree that eggnog originated from medieval Britain.  In the 1200's Brits were known to be fond of a hot, milky, alcoholic drink called a "posset".  These drinks were usually made with ale.  Eventually, monks developed a posset with eggs, sherry, and figs.  Because milk, eggs, and sherry were consumed by the wealthy, this beverage was often used to toast prosperity and good health.
When the drink came to America in the 1700s, it began to become associated with the winter holidays.  The colonists began substituting less expensive rum for the sherry and mixed it with their eggs and milk.  George Washington had his own favorite recipe which included brandy, rye whiskey, rum and sherry along with eggs, cream, sugar and milk.  Most say that the drink is called a "nog" from the word "noggin" for a wooden cup.  Whatever the reason, by the late 18th century the term eggnog was in common use. 
We are partial to the recipe from Alton Brown http://www.foodnetwork.com.
Alton Brown's Eggnog
Makes 6 to 7 cups
4 egg yolks
1/3 cup sugar, plus 1 tablespoon
1 pint whole milk
1 cup heavy cream
3 ounces bourbon
1 teaspoon freshly grated nutmeg
4 egg whites
Beat egg yolks until they lighten in color.  Gradually add 1/3 cup sugar and beat until completely dissolved.  Add the milk, cream, bourbon, and nutmeg and stir to combine.  Beat egg whites to soft peaks.  Add 1 tablespoon of sugar and beat until stiff peaks form.  Whisk whites into the milk mixture.  Chill and serve.
If you prefer to cook your eggnog, beat yolks until light and beat in sugar until it is dissolved.  Over high heat combine milk, cream and nutmeg and bring just to a boil, stirring occasionally.  Remove from heat and temper the hot mixture into the egg and sugar mixture.  Cook until it reaches 160 f.  Remove from heat, and stir in the bourbon.  Chill.  Then beat and add the egg whites and sugar as described previously.
Cheers!
November 30, 2020
Stumped about holiday gift ideas?  You members of the Buckhorn INNer circle have some options just a phone call away!  Here are some of the goodies available from the Buckhorn Inn gift shop.
Gift Certificates
Buckhorn Inn gift certificates are available in any denomination from $25.  You can gift a stay at the Inn, a dinner, or a special occasion package.  Hard copy certificates are delivered in a beautiful card featuring a watercolor of the Inn by famed painter G. Webb.  We can also email gift certificates.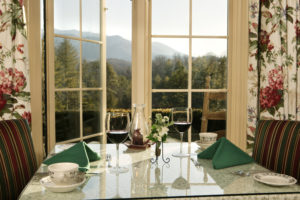 Buckhorn Inn Memories Captured in Watercolors
Long-time guest Tanya Young has created a set of special vignettes created in watercolors.  The matted prints are $25 each and measure 8.5″ x 11″, including matting.  The vignettes feature the meditation labyrinth, Cottage #1, a window table in the dining room, and the book case lamps in the dining room.  What a special way to remember your stay!
Holiday Gift Ornaments
Each year we introduce a new collectible ornament crafted by Tim Weberding Woodworking.  The 2020 ornament features the front of the Inn.  Supplies of these beautiful pieces are limited!
Works by Local Artists and Artisans
We have beautiful hand-crafted hiking sticks priced from $35 to $125.  They would make a lovely gift along with a copy of the book "Hiking Trails of the Smokies" for $19.95.
We also carry some beautiful glass pieces by local artist Pete Alcott.  He produces colorful fused glass art pieces that are durable enough to be functional.  These striking works will be treasured for years to come.
Other Gifts
We also carry bathrobes, Buckhorn Inn cookbooks and shirts.  Our supplier promises our mugs will be back in stock soon!  Many of our local partners have gift cards as well–you can check out Anakeesta http://www.anakeesta.centeredgeonline.com and Ober Gatlinburg http://www.obergatlinburg.com.
We look forward to helping you with your holiday shopping this year!
November 9, 2020
For those who plan to travel to Buckhorn Inn in the next few months, I wanted to remind you of the precautions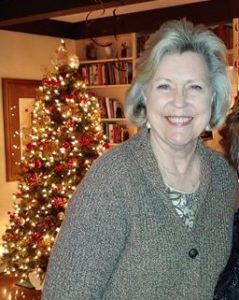 we are taking ensure your health as well as that of our staff.
All hard and soft furnishings in your room are thoroughly cleaned and sanitized before your arrival. We have removed bedspreads, decorative quilts, and decorative throw pillows to speed our sanitation procedures. You may use contactless check-in. Upon your arrival, we will not enter your room again until after you check out. We have eliminated our hard copy guest directories in favor of an electronic version which you may download to your phone. We will send the link to it in your confirmation letter. In it you will find much information—including the location of the supply of extra towels and toiletries stored for you in your room!
All staff members undergo a temperature and health check daily and must stay home if they, or a family member, are ill. Our housekeeping members are masked and gloved when they are preparing your room for you. All kitchen and serving staff are masked and gloved as well. We reservation times for breakfast, so that we can manage social distancing in our dining room in the morning. We utilize the library for additional dining space. We clean and sanitize dining tables, chairs, and condiment holders between guests. We keep as much air flowing in the dining room as possible. We have limited the number of dinner reservations we will accept so that we can maintain social distancing in the evenings as well. Our afternoon treats are individually wrapped in plastic. Our team sanitizes all high-touch surfaces in the Inn's public areas several times each day. We have large, well-marked dispensers for hand sanitizers in several places in the public areas.
If we have an active credit card for you on file, we will email you the final bill the day before you check out. Then you will not need to come into the office as you can simply leave your key in your room. If you do enter the office or gift shop, you will see that we have installed a large plexiglass window as a barrier between our guests and the office staff.
Thank you for placing your trust in us.  We look forward to seeing you soon.  And we look forward to a future where we can greet you with a hug and you can see our welcoming smiles!
From Sharon Mellor
Flaky Parmesan Pinwheels
One thing I learned from my mother is to always have something on hand to offer unexpected guests. She called it her "social security"! A roll of these pinwheels can remain in your freezer for several months. Simply remove, slice and bake and you have a very delicious appetizer! Serve them with a fresh and acidic white wine. A pinot grigio or a sauvignon blanc would do nicely.
Flaky Parmesan Pinwheels
12 ounces cream cheese at room temperature
1 cup grated parmesan cheese
2 green onion tops, chopped
¼ cup pesto (purchased or your favorite recipe)
1 lb. frozen puff pastry, thawed but still cold
Blend cream cheese and parmesan. Add green onions and pesto and mix until well incorporated. On a lightly floured board, roll 1 sheet of the puff pastry into a 10 x 6 inch rectangle. Spread half of the cheese mixture over the pastry. Roll lengthwise. Wrap tightly in plastic wrap. Repeat with remaining pastry and filling. Freeze until solid. Remove from freezer about 15 minutes before baking. Preheat oven to 375 and place rack in upper third of oven. Slice logs into ¼ inch thick rounds. Place on ungreased cookie sheet about 1 ½ inches apart. Bake for 10 to 13 minutes or until lightly browned. This recipe makes about 50 pinwheels. Serve warm or at room temperature.