Blog




September 20, 2021
Guests often ask us when the "best" time for fall foliage arrives in our area.  And our answer is "it depends"!  Leaf peeping season varies from year to year.  This year, the experts tell us that the colors will peak in mid-October in the high elevations, and will last through mid-November in the lower elevations.
Since mid-September we have noticed some beginning leaf color at the Buckhorn Inn property.  The fall color season is a long one, so guests definitely will not be disappointed whenever they come to visit.
Favorite Spots for Fall Foliage
The Great Smoky Mountains National Park offers many beautiful scenic drives.  Remember that there may be traffic, so allow plenty of time to reach your destination.  We recommend leaving for your drive in the morning, right after breakfast. http://Www.nps.gov.fall-suggestions
One of our favorite drives is the Roaring Fork Motor Nature Trail.  This 5.5 mile loop road is reached by driving Cherokee Orchard Road in Gatlinburg.  Your trip might include a stop at the Ogle Cabin.  This historic site features a 19th-century log cabin, a four-pen barn, and a tub mill.  
Cades Cove Loop Road is a beautiful 11-mile drive with spectacular colors.  Be aware, though, that traffic is heavy in the fall and it could take up to four hours to loop around the cove.
The Foothills Parkway has amazing views.  You should allow an hour to drive the 33-mile stretch of road.  There are several pull-offs so you can take pictures and the driver can get a chance to take in the view!
The Greenbrier entrance to the Park offers several hiking trails that allow you to see the leaves close-up.  We enjoy Porters' Creek, Old Settlers' and Grape Yard Ridge trails in the fall.  Later in the year, when the leaves are gone, the views seem to go on forever!
Whether you drive or go for a hike, don't forget to pre-order your sack lunch so you can picnic amid the lovely colors.
August 10, 2021
Our new cookbook includes the recipe for Chef Bob's creation, Sticky Toffee Pudding Coffeecake. We include this recipe by popular demand—when it is served for breakfast practically everyone wants the recipe!
Sticky Toffee Pudding Coffeecake
Coffeecake
1 1/2 c pitted dates, chopped
1 t baking soda
1 1/2 c all-purpose flour
1 t baking powder
1/2 t kosher salt
4 T unsalted butter, at room temperature
1 c granulated sugar
2 eggs
1 t vanilla extract
Preheat oven to 350 F. Coat a 9 x 13" cake pan with nonstick spray and line with parchment paper. In a small saucepan cover the dates with one cup of water and bring to a boil. Remove from heat and whisk in baking soda; mixture will foam up. Let cool slightly. Sift the flour with the baking powder and salt. In a stand mixer fitted with the paddle beat the butter with granulated sugar until light and fluffy. Beat in the eggs and vanilla. In 2 alternating batches beat in the dry ingredients and date mixture until must incorporated. Scrape the batter into prepared pan and bake for 35 to 40 minutes or until a toothpick comes out clean. Let the cake cool in the pan for 10 minutes. Turn the cake onto a rack and peel off the parchment. Carefully return the cake, top side down, to the pan. Using a skewer, poke 15 to 20 holes in the cake. Pour half the warm sauce over the cake and let stand until absorbed, about 5 minutes. Invert onto a platter and poke another 15 to 20 holes in the top. Pour the remaining sauce over the top. Serve warm.
Sauce
1/2 c dark brown sugar
1 stick unsalted butter, cubed
1/2 c heavy cream
2 t brandy
1 t vanilla extract
1/2 t kosher salt
While the cake is cooling make the sauce. Bring the brown sugar, butter and heavy cream to boil over moderate heat, whisking to dissolve the sugar. Simmer over moderately low heat for 2 minutes, continually whisking. Remove from heat and whisk in brandy, vanilla, and salt. Keep warm.
August 5, 2021
My brother, Herb Galbreath, and his family invited me to join them on a day trip to the magnificent Biltmore Estate in Asheville, North Carolina.  The estate is about an hour and 40 minutes from Buckhorn Inn.  I recommend this highly as a day trip when you are staying with us.
A Brief Biltmore History
George Washington Vanderbilt II built the estate between 1889 and 1995.  His daughter Cornelia opened the house to visitors in 1930 to help the area get through the Great Depression.  The French Renaissance-style house was designed by Richard Morris Hunt and was modeled on various grand chateaus.  Among its more than 250 rooms, the house features a bowling alley, an indoor swimming pool, and electric elevators.  
The 10 square miles of grounds were designed by Frederick Law Olmstead.  Vanderbilt was interested in the environment and the surrounding forest was the site of the first forestry education program in the United States.
Tips for Visiting the Estate
1,  Be sure to buy your ticket in advance as they sometimes sell out.  
2.  If you can, plan your trip for a weekday when it will be a bit less crowded.  
3.  All tours of the house require a timed reservation.  The peak crowds arrive in the morning, so you may want to visit the gardens, conservatory, winery, and other areas first and plan your house tour for 2:00 pm or later.  
2.  Don't forget to visit the amazing gardens—you will be glad you did.  
3.  The regular tours through the house are self-guided.  They offer an audio guide which tells you facts about the house, the family, and history of the time.  It is very informative.  
4.  Allow about 2 hours to tour the house.
5.  Allow time to explore Antler Village with its crafts demonstrations, Vanderbilt museum, shops, and winery.  It is about five miles from the house.
For more information, visit http://Www.Biltmore.com
July 20, 2021
Our new cookbook "A Treasury of Buckhorn Inn Recipes" is available from our office.  This edition was published in memory of John Mellor who served as Innkeeper from 1998 to 2020.  This cookbook provides recipes for old favorites, new additions to our menu, and a few treasured Mellor family recipes.  It includes guides to local attractions and information on the provenance of some of our recipes.  Copies are available in our gift shop or by calling our office.  We hope you enjoy it!  
Dinner guests love the variety of fish preparations on our menu.  One key is delicious and flavorful sauces.
Below are two easy recipes from the new publication.
Tropical Fruit Salsa for Fish
1 c. Papaya, peeled and finely diced
1/2 Mango, peeled and finely diced
1/2 c. White onion, finely chopped
3 T. Fresh cilantro, chopped
1 T. Orange juice
1 T. Lime juice
1/2 t. Jalapeño, minced
1/2 t. Salt
Stir together all ingredients.  Makes about two cups.  This refreshing salsa is delicious with grilled snapper, pan-seared cod, or other simply prepared fish.
Roasted Pepper Aioli for Fried Fish
1/4 c. Canned, fire-roasted red peppers, drained
1/2 c. Mayonnaise
1 T. Fresh chives, minced
2 t. Lemon juice
1 t. Garlic, minced
Chop the red peppers.  Purée with the other ingredients until smooth.  Makes about half of a cup.  This flavorful aioli also is delicious with crab cakes!
June 13, 2021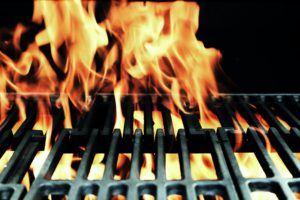 Grilling dinner is one of life's greatest pleasures—surpassed only by eating the grilled dinner! Marinating a chuck roast and basting it with maple barbecue sauce will turn the inexpensive meat into a tender, flavorful dish.
A nice big Zinfandel will stand up to the smoky flavors of this barbecue delight. Another option might be a peppery Australian Shiraz. And if you are grilling on a hot summer day, try a fruity, refreshing red wine sangria!
See recipe below.
Marinated Chuck Roast
1 onion, chopped
2 T. vegetable oil
4 cloves garlic, minced
1/3 c. soy sauce
¼ c. red wine vinegar
2 T. fresh rosemary, chopped
2 T. honey
1 ¼ c. beef broth
1 blade chuck roast, about 3 lb.
Maple barbecue sauce
Stir together onion, oil, garlic, soy sauce, vinegar, rosemary, honey and broth. Place the roast in a glass dish and pour the marinade over. Turn. Cover and refrigerate 36 hours, turning once. Bring to room temperature in marinade about 2 hours before cooking.
Preheat grill. Remove roast from marinade and grill 4 to 6 inches over hot coals. Baste with barbecue sauce and turn as needed. Cook about 30 minutes, or until a thermometer reads 130 for medium rare or 145 for medium. Remove from grill and let rest before serving. Slice thinly and serve with additional barbecue sauce. Serves 4 to 6.
Maple Barbecue Sauce
2 T. vegetable oil
1 onion, chopped
½ c. white distilled vinegar
¼ c. sugar
3 c. ketchup
¼ c. dark brown sugar
1 c. maple syrup
1 c. water
½ c. red wine vinegar
10 garlic cloves, minced
4 t. Worcestershire sauce
4 t. A-1 sauce
1 t. black pepper
½ t. paprika
¼ t. cayenne pepper
¼ t. salt
Heat oil and sauté onion until soft. Add white vinegar and sugar, bring to a boil. Stir until the sugar dissolves. Stir in ketchup, brown sugar, maple syrup, water, red wine vinegar and seasonings. Simmer for about an hour. It will thicken slightly. Cool to room temperature and use immediately or store in the refrigerator.
March 23, 2021
As the weather warms we are hopeful that our honey bees made it through the cold, wet winter. We love our honey and are always looking for new recipes featuring this special ingredient. This recipe is sweet and hot, and would make a great snack to enjoy while watching the NCAA basketball tournament. As for wine, I especially enjoy Gewürztraminer with spicy food. You might also try an off-dry Riesling. Stay away from anything oaked or very dry. A crisp lager would be another good choice.
Honey Jerk Chicken Wings
20 chicken wings
Marinade
1 tablespoon of finely minced ginger
2 garlic cloves, chopped
4 green onion tops, chopped
¼ to ½ hot pepper, deseeded and finely chopped
1 teaspoon fresh thyme leaves
2 teaspoons nutmeg
1 teaspoon ground allspice
1 teaspoon salt
3 tablespoons honey
1/3 cup apple cider vinegar
2 tablespoons olive oil
Put all ingredients for the marinade in a blender and process to a smooth paste. Put chicken in a non-metallic bowl and mix with the marinade. Cover and refrigerate overnight. Preheat oven to 375 and line a baking sheet with parchment. Cook wings for 45 minutes. Serve with a wedge of lime.
We sometimes gets such lovely letters from guests that we can't wait to share them! We received two such letters this month.
John and Susan wrote:
"Dear Lee,
Susan and I want to take a minute to say a special thank you to the entire Buckhorn team for making our visit February 27-March 2 especially memorable.
We totally appreciate the effort expended by you, and everyone around you, to meet our every need. Our son and his wife had a much-needed relaxing time as they await their first child in June. As older parents-to-be they are being especially cautious with the virus, and anything else that might create risk for this pregnancy.
Both commented that it was so nice to just be able to be, without worrying about their safety, or what other people might be doing that might endanger them. They knew that you guys had their backs. They could sense the caring from everyone! Someone even took the time to write Happy Birthday on our dinner containers Sunday night! Laura said these were the first days in nearly a year that she hasn't worried about something! Lest the kitchen team be concerned—they loved the food, as did we.
You know we will be back, rest assured that David and Laura look forward to joining us again at some future date.
Our granddaughters are already planning our July visit. They had us check on the swans, told us to bring home coffee mugs for their hot chocolate, and are making plans for games, movies, playing soccer below the Webb Mountain parking lot, hiking in the Smokies, and feeding lettuce to the swans. They might even leave artwork in the Webb Mountain Loft for someone else to discover while exploring.
Special thanks to Libby, Tracey, Debbie, Hugo, the birthday greeting messenger, and all the rest. I know I've overlooked someone, but we hope that everyone knows that we appreciate them. The Buckhorn Inn is special because of its people."
And from Pam and Mike:
"Dear Lee,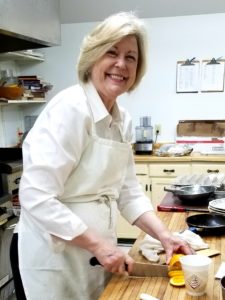 I just wanted to write you a note to tell you how much Mike and I have enjoyed our stay at Buckhorn this week. It has always been a special place to us and this year is no exception. A highlight this year was the absolutely delicious crab cake and shrimp dinner the chef prepared last night! And that chef was you! Our group decided that it was the best dinner we had ever had at Buckhorn. We did not know that culinary skills were among your many talents. We enjoyed our evening meal so much and hope that you will continue being chef sometimes at Buckhorn. We also were so pleased to learn that your son and daughter-in-law are also working here—a special family legacy. We look forward to getting to know them. It was so good to see you yesterday and you just looked wonderful, as always. We will always have special memories of Buckhorn, you, and John."
March 1, 2021
Have you ever shared a review of Buckhorn Inn?  One of the most pleasant innkeeping tasks is reading reviews from our guests on TripAdvisor.  We love hearing your reactions to your stay.  And we are grateful to know of any ways we can make your time with us even better.  Today we are sharing a recent review from a first-time guest.
mom2ginny
 wrote a review on Feb 26, 2021
Hopefully, the first of many trips.
For Christmas, my husband and I received a gift certificate for the Buckhorn Inn. the Inn is located a few miles from downtown Gatlinburg away from the rush of the tourist area on a quiet and peaceful hill.
We were greeted by Lee at check in and directed to our room. She directed us to where we would find the fresh fruit, coffee and homemade treats (brownies and cookies were available during our short stay).
I have never seen a room so immaculately clean and tastefully decorated. It was if every item in the room had been carefully thought-out and placed so as to be lovely, but not cluttered. There was not a speck of dust to be found anywhere.
It didn't take long until we had chairs pulled up to the fireplace with our feet propped on the hearth. The room was so quiet we wondered if anyone else was at the Inn.

Dinner is offered by reservation only, but we had opted to go out for dinner. When we left our room to go out, we realized by the smell we should have made reservations for dinner at the Inn. We will next visit.
For breakfast, you are given a menu to choose from 4 entrees plus a couple of healthier options. The first morning we chose the basic egg and meat breakfast. It was served with hash brown casserole, fresh fruit, biscuits with jelly and coffee cake. The coffee cake was so good that I wish that I had the recipe. The following morning we had cream cheese with blackberries stuffed waffles. That was accompanied by warm syrup, breakfast meat, a fried pie and melt in your mouth biscuits.
Every guest that we spoke with said that they were repeat guests of the Inn. Many of them having stayed at the Inn 8 – 10 times previously. My husband and I understand why. We have had our first stay of what we hope will be many more visits to this wonderful inn!
February 22, 2021
A highlight of any Buckhorn Inn dinner is when the basket of warm bread is delivered to your table.  You gently lift off the cloth napkin and inhale the warm, yeasty fragrance.  You select a slice and watch as the butter melts slowly into every nook and cranny.  That first bite is heaven!  One of our most popular bread recipes is below.  The aroma of fresh-baked bread will have your family gathering in the kitchen! 
Country Granary Bread
Preheat oven to 400 F.
2          Tablespoons active dry yeast
                        Pinch brown sugar
1 ¼      Cups    Warm water
1/3       Cup     Old-fashioned rolled oats
1          Cup     Cooked bulgur wheat, flax and/or
                        millet
2          Tablespoons       Light brown sugar
1          Cup     Whole wheat flour
3 1/3    Cups    All-purpose or bread flour
1 ¼      Cups    Warm milk
¼         Cup     Vegetable oil
1          Tablespoon      Salt
To cook the bulgur wheat, flax and millet, place the grains in a small bowl and pour in two cups of boiling water.  Let stand for about 30 minutes.  Drain.
Combine the yeast, pinch of brown sugar and warm water.  Stir to dissolve.  Let stand until foamy, about 10 minutes.
In the work bowl of a heavy-duty electric mixer fitted with the paddle attachment, combine the warm milk, oil, the yeast mixture, salt, oatmeal, brown sugar, and the cooked bulgur wheat, flax and millet mixture.  Add the salt and 2 cups of the white and whole wheat flour combined.  Whisk hard until smooth, about 1 minute.  Let stand, uncovered, 30 minutes.  Add the remaining flour, ½ cup at a time, until a soft dough is formed that just clears the sides of the bowl.
Turn out the dough onto a lightly floured work surface and knead until light-colored, smooth, and springy, about 2 minutes, adding only 1 tablespoon flour at a time as needed, and cover with plastic wrap.  Let rise at room temperature until doubled in bulk, 1 ½ to 2 hours.
Turn out the dough onto a lightly floured work surface and divide into 2 equal portions.  Cut each portion into 2 uneven pieces.  Form the 2 large pieces into tight round loaves.  Place on a greased or parchment-lined baking sheet sprinkled with more oatmeal and cereal grains.  Loaves may be formed in a conventional round fashion.  If you want to make the more decorative turban shape, use your fingers to take a pinch from each of the two loaves to form an indentation. 
Roll the 2 small pieces into teardrop-shaped ovals and place in the indentation on the larger rounds, centering them.  Using a floured finger, poke into the middle of each loaf right through the middle to the bottom.  This is important to join the two sections to form one loaf.  Cover loosely with plastic wrap and let rise at room temperature until doubled in bulk, about 45 minutes.
Twenty minutes before baking, heat the oven to 400 F.  Gently brush the tops of the loaves with the 1 tablespoon of oil.  Refine the indentation through the center of each loaf.  Bake in the lower half of the preheated oven until the loaves are golden brown and the bottoms sound hollow.
Yield:  2 cottage loaves
February 15, 2021
Officials at the Great Smoky Mountains National Park have announced that the pilot program for vehicle-free Wednesdays in Cades Cove will continue from May 5 through September 1, 2021.  What a great opportunity to enjoy this beautiful area on foot or by bicycle.  Please know that mobility-assisted devices will be welcome on the vehicle-free days.
Park officials say that up to 1,100 pedestrians and cyclists enjoy Cades Cove without car congestion on the vehicle-free days.  
Cades Cove Is A Beautiful Area of the Park
Visitors to this area can enjoy amazing views.  They can also imagine life in an earlier time as they observe historic buildings dating from the first settlers to the area.  And its one of the most popular places to spot wildlife!  You may see black bears, white-tailed deer, wild turkeys, and many other birds and animals.
If you are driving to Cades Cove from Buckhorn Inn, it is easy to find.  From Gatlinburg you follow the Parkway to the Great Smoky Mountains National Park.  After you pass the Sugarlands Visitor Center, turn right onto Little River Road.  You will follow Little River Road about 25 miles until you arrive at the Cades Cove Loop Road.
The Loop Road is paved and one-way.  It follows an old logging track.  To the left of the entrance you will find an orientation shelter staffed with park rangers who will answer all your questions.  
As you walk travel the Loop Road you will see the John Oliver Cabin.  No pegs or nails keep this building standing–only the notched corners.  
You will see the trailhead for the Cooper Road Trail.  This trail is about an 11-mile round trip hike.  It is considered a moderately easy hike.  You also will see the trailhead for Abrams Falls trail.  The waterfall is about 20 feet high and the water rushing over the rocks is an impressive sight.  This trail is about five miles round trip and is a little more difficult.  
The Cable Mill historic area includes a working gristmill.  You also will find a barn, a smokehouse, and a blacksmith shop.
These highlights are only a small sampling of the wonders to be found on the Cades Cove Loop Road.  We hope you take advantage of vehicle-free Wednesdays this season to enjoy the area in a new way.  http://www.nps.gov.grsm.planyourvisit