Blog




August 29, 2022
If you enjoy county fairs, the Sevier County Fair will be one of your most favorite!  In 2022 the Fair will run from August 30 through September 5.  The fairgrounds are located at 754 Old Knoxville Highway in Sevierville.  Admission is $6 and children younger than 10 are admitted free.
Attendees can watch the cattle, goat, and sheep shows or wander the exhibit hall.  Folks from our community are submitting photography, floral arrangements, vegetables and fruits, and arts and crafts for judging.  In the exhibit hall you will find a booth with Master Gardeners just waiting to answer your most pressing garden questions.  
A popular exhibit from 2021 is back this year—the Butterfly Haven.  This live butterfly habitat offers you the opportunity to walk through and see amazing butterflies and plants.  Volunteers will be on hand to provide information on the importance of these pollinators.  They will offer tips on how to attract butterflies to your own yard.  
Fair Has Something for Everyone
Entertainment options include laser tag, a bird show, a bulls and broncs rodeo, and a variety show.
Competitive eaters can participate in eating contests of sausage, donuts, corn dogs, ice cream, watermelon, pizza, French fries, pickles, pies, funnel cakes, spaghetti, barbecue, hot dogs, and corn on the cob.  Whew!  Or, you could just sample all the delicious food available and decide who your pick would be for the best of the fair food competition.
Children will enjoy this year's Farm Fest.  Activities include sheep shearing, coopering, wool spinning, veggie tasting, digging potatoes, knife forging, apple pressing and corn shuck dolls.  Kids who complete the activities will get free ice cream!
We are a competitive bunch here in Sevier County.  Competitions this year include a dog fashion show, a lawn mower derby, a mullet contest, a look-alike lip synch contest, and a skillet toss.  A crowd favorite is sure to be the Sevier County Fair's Got Talent talent show!
A wide variety of live music will be available.  Performances range from Rock 'n Roll hits from the 50's and 60's, country, classic rock, gospel, and Motown hits.
We hope to see you there!  For more information, please visit http://Www.seviercountyfair.org
August 15, 2022
This weekend we harvested honey from one of our hives.  Several guests have asked us about the process.  Earlier in the summer, we placed a "super" on top of our hive.  The super is a small box.  It sits on top of a "queen excluder" so that no eggs will be laid in the super.  When all the frames are covered with honey comb capped in white wax, it is time to harvest.
We don our protective gear and give the bees some gentle puffs from our smoker.  The smoke keeps them calm by interfering with their sense of smell.  They can't detect the alarm pheromones being released and thus will not aggressively defend their hive against us.  We take out each honey-laden frame, gently brush off the bees, and place it in a covered box.  Once we have collected all the frames, it is time for extraction.
Honey Extraction
We extract the honey on our screened porch so that we keep the stickiness confined to one area, and so that the bees cannot reach us!  The first stop is to use a scratcher to remove the wax capping from the cells.  We then scrape the honey and wax into a fine-mesh sieve atop a collection bucket.  Once the honey has been filtered once, we do a second filtration through cheese cloth and then it is on to bottling!
This year's honey is a beautiful gold amber color and we can't wait to see how the Buckhorn Inn chefs use it!  We will clean the beeswax and then use it to make candles.  More on that process later.
We are careful to only take the extra honey.  Our bees need adequate stores to get them through the winter.
In celebration of our harvest, we are offering this simple summer cocktail recipe.  Cheers!
The Bee's Knees
2 ounces gin
2 tablespoons honey
2 tablespoons fresh lime juice
Combine the ingredients in a cocktail shaker filled with ice.  Shake until chilled.  Strain into a glass.  Makes one cocktail.
July 19, 2022
We tried two new recipes out on Lee and our friends Sam and Lucy over the Fourth of July weekend.  They were both hits, so I am passing them along to you.  Both can be prepped early and held, so that you can spend more time with your guests.  The Greenbrier House Grillmaster, Jack, rounded out the main course with roasted potatoes.  For a red, white and blue dessert, I served vanilla bean ice cream with wild blueberry sauce and strawberries that had marinated in limoncello.  A bottle of Spanish Cava added some sparkle to our evening!
Summer Supper Recipes
Zucchini and Tomato Packets
3 medium zucchini and/or summer squash, sliced
1 pint cherry tomatoes
2 t olive oil
1 t dried oregano
1/2 t dried basil
1/2 t sea salt
1/4 t black pepper
1/2 c crumbled feta cheese
Combine zucchini, tomatoes, olive oil, herbs, salt and pepper in a large bowl.  Pour onto a sheet of heavy duty foil.  Fold top and ends to form a packet.  Grill for 12 minutes on a medium-high grill.  Sprinkle with cheese before serving.  Makes six servings.  Note:  This recipe also works well in the oven.  Place the foil packet on a cookie sheet and bake for 20 minutes in a 450 degree oven.
Grilled Tilapia with Zesty Mustard Sauce
2 T olive oil
2 T butter at room temperature
1 t Dijon mustard
1/2 t grated lemon peel
1/2 t Worcestershire sauce
1/4 t black pepper
4 fish fillets (about 4 oz each)
1 1/2 t paprika
1/4 t salt
1/2 lemon
2 T minced fresh parsley
Lightly oil a grill basket. Combine butter, mustard, lemon peel, Worcestershire sauce, and pepper.  Stir until blended and set aside.  Sprinkle both sides of fish with paprika and salt.  Grill fish, in oiled basket, over high heat.  Cook about 6 minutes, turning halfway through.  The fish will flake easily when done.  Remove to a serving platter.  Squeeze lemon over hot fish and top each fillet with butter mixture.  Garnish with Parsley.  Makes four servings.
July 4, 2022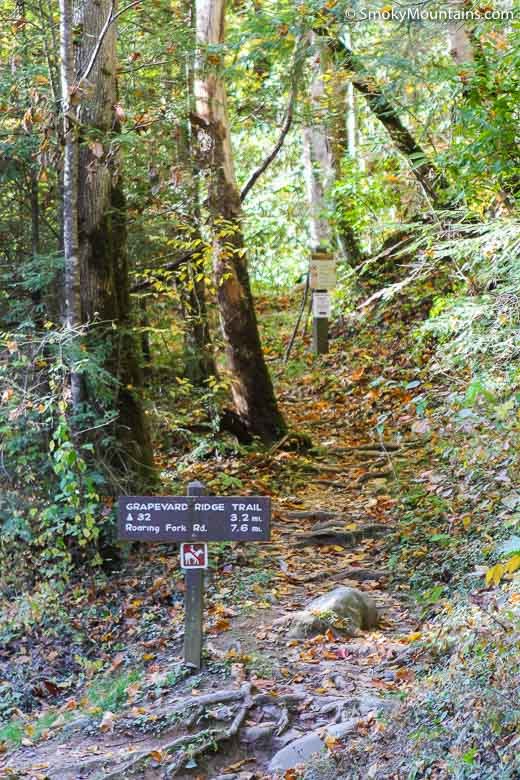 Grapeyard Ridge
The trailhead for Grapeyard Ridge is about 1.5 miles from Buckhorn.   Delightfully quiet,  the Grapeyard Ridge Trail links Greenbrier Cove with the Roaring Fork Motor Nature Trail. Many opt to hike the trail from Greenbrier to the ruins of an old steam engine partway along, which makes for a 5.8-mile round-trip undertaking. However, you can extend your adventure by going the full way to Roaring Fork, crossing Grapeyard Ridge—named for prolific grapevines strung through its forests—in the process.
The steam engine—used to haul logs and wrecked in the 1920s—is only one of the historical leavings along the trail. There's much evidence of bygone settlements, including the Whaley Cemetery not far from the Greenbrier trailhead.
Mount Sterling
The 60-foot fire tower atop 5,842-foot Mount Sterling is one of the hidden gems of the Great Smokies, tucked in the far northeastern corner of the national park. It's said this structure, no longer staffed, is the highest-situated fire lookout tower in the eastern U.S., and it certainly delivers some amazing views. The shortest way to get there is from Mount Sterling Gap to the east, a roughly 5.5-mile round-trip climb with close to 2,000 feet of elevation gain. The vistas from the Mount Sterling summit include such important landmarks as Mount Guyot (the second-highest peak in the Great Smokies), Mount Cammerer (with its own fire tower), and Max Patch (a famous bald along the Appalachian Trail offering its own eye-popping views).
Smokemont Loop 
Starting in Smokemont Campground and close to the Oconaluftee entrance and visitor center, the Smokemont Loop still manages to be a pretty sure bet for some peace and quiet. This 6.5-mile route, which incorporates both the Smokemont Loop Trail proper and the Bradley Fork Trail, delivers great looks at spring wildflowers as well as plentiful signs of early settlers, including the mostly unmarked gravestones of the Bradley Cemetery.
Lumber Rich Trail
Full of history but rarely full of fellow hikers, the Lumber Ridge Trail is a great ramble in the Little River watershed. It begins and ends in Walker Fields in the Tremont area, host to the Great Smoky Mountains Institute, with a turnaround point at Buckhorn Gap. The "Walker" in Walker Fields comes from homesteaders Will and Nancy Walker, while the name of Lumber Ridge itself reflects the area's logging heritage. The Little River Lumber Company worked these woods, hauling out timber via rail lines installed up the drainage. The Walkers held out against selling to the lumber company a long time, so their old spread was one of the last parts of the Great Smokies to be logged.
It's an 8.1-mile hike between Walker Fields and Buckhorn Gap, but the latter is a significant crossroads, and you can make an extended shuttle hike of it instead by continuing on the Meigs Creek or Meigs Mountain trails. Alternatively, you can drop down a manway from Buckhorn Gap to the picturesque Spruce Flat Falls, then follow a user path back to Walker Fields.
April 16, 2022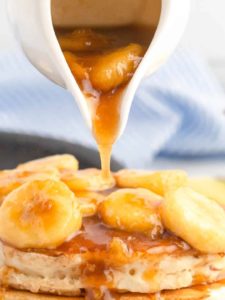 In the springtime we celebrate moms, dads, grads, newlyweds and many others. At Buckhorn Inn we love to celebrate with a scrumptious breakfast.
Perhaps no dish is so closely associated with Buckhorn Inn as is our Bananas Foster French Toast. Do you know who the
"Foster" is in Bananas Foster? In the 1950's New Orleans was the major port of entry for bananas shipped from Central and South America. Brennan's Restaurant owner Owen Brennan challenged his chef Paul Blange to create a new dish featuring bananas. Chef Paul created the flamed dessert and it was served at Brennan's for the first time. The dessert is named for Richard Foster who served as chairman of the New Orleans Crime Commission and led the civic effort to clean up the French Quarter. Foster was a frequent diner at Brennan's. Here is our recipe for Bananas Foster French Toast.
And in case you are really celebrating, I have included a recipe for Champagne Royale!
Toast
2 eggs
1 1/2 c. Milk
1/4 c. Sugar
1 t. Vanilla
6 slices French Bread
Mix the eggs, milk, sugar and vanilla. Dip French bread slices in mixture and cook in butter
until brown on both sides, about five minutes.
Sauce
2 T. Butter
2 T. Brown Sugar
1 banana, sliced
Powdered sugar
Bring butter and brown sugar to a fast boil. Add banana slices, stirring constantly. Cook
mixture until bananas begin to caramelize. Spoon onto French toast. Sprinkle with powdered
sugar and serve immediately.
Champagne Royale
1 bottle of Champagne or sparkling wine, chilled
6 teaspoons Chambord (raspberry liqueur)
Fresh raspberries
Pour 1 teaspoon of Chambord into each of six Champagne glasses. Fill with Champagne.
Place several raspberries in each glass.
April 11, 2022
I grew up on a farm, so intellectuallyI knew that young chickens can be high maintenance and grow up into messy adults.  But when Jack suggested we get chickens, all I could seem to think of was cute little balls of fluff.
So we journeyed to the Smoky Mountain Farmers Co-op to select our little flock.  There are seemingly endless varieties of chicks.  http://Www.starmilling.com We chose three French Marans (black) and three Wellsummers (brown).  We named them Quiche, Omelet, Benedict, Scrambled, Poached and Hazel.  Why didn't Hazel get an egg-dish for a name?  Because she quickly set herself apart as you will soon understand.
The Chicks Come Home
On the drive home I held the box of chicks on my lap.  They were all cheeping contentedly, except for Hazel, who complained loudly the entire trip.  We had a cozy brooder set up for them in our garden shed with soft bedding, a heater, water and chick feed.  The minute I set them in their new home, five of the chicks began exploring.  The sixth chick, Hazel, began flying at the other chicks, trying to peck their eyes out.  To my horror, I watched the other chicks try to hide behind Omelet, who had a large, bleeding gash beneath one eye, as Hazel flung herself at them again and again.
At about that time our poultry mentors, Jonathan and Morgan, arrived to see our new birds.  None of their chicks had ever been set on destruction like Hazel seemingly was.  They promptly dubbed her the Murder Chicken.
I couldn't let Hazel blind my entire flock so I did the only thing I could think of—I put her into solitary confinement.  Her cell was a cardboard box with bedding, food and water.  I put it near the heater so she could stay warm.  Hazel was very unhappy and kept flinging herself at the walls of her jail.  I assumed she would soon calm down.  So we left the brooder.  And  Jack left for a business trip to Chicago leaving me in charge of our little chicks.  I did some research and found that chicks sometimes mistake the eyes of other chicks for bugs and try to peck them.  Thankfully, they seem to grow out of this phase quickly.
The next morning Hazel was still disconsolate.  She had not calmed down.  By the amount of bedding in her water, it seemed as though she had been throwing herself at the walls all night long.  I cautiously returned her to the general population.  I watched for a long time, and she did not attack any of her brooder mates.  Perhaps everything was fine and dandy in Chick World?  It was not.
Chick Spa Setup for Hazel
When I checked on them in the afternoon, I noticed something odd about Hazel's profile.  Again I turned to the internet and found that stress can cause a condition that the English call "Pasty Bum".  Basically stress upsets their little digestive tracts and makes the chick's droppings pasty.  The dropping  then clog the chick's elimination vent.  Without care, they will die within a few days.  Oh dear.
I read about caring for this condition.  I didn't like what I read, so I read some more.  Finally I realized there was nothing to do but follow the recommended protocol.  I held Hazel's little bottom under a gentle stream of warm water and used a soft cloth to clean her backside.  I dried her with a fluffy towel.  And then I used my hair dryer set on low to dry her fluff.  It takes a surprising long time to dry a chick, so I had plenty of time to think.  My thoughts ran along the lines of "I used to be a CEO of a $40 million organization.  I used to attend galas and cocktail parties.  And now I am spending my evening blow drying a chick's bottom."
Apparently this is not a one and done treatment.  So Hazel and I developed a routine.  When I walked into the shed I could almost hear her groan.  She would try to evade me, but once caught would quietly submit to my ministrations.  Day two involved a sitz bath in one of my grandmother's berry bowls.  By day three I was able to clean her with a wet cloth and apply the tiniest bit of Crisco to her vent with a cotton swab.
After a week of daily cleanings, Hazel was finally back to normal.  And Jack was back from Chicago.  I was eager to show him how much the chicks had grown.  He looked at them and said "Now that we are good at raising chickens, maybe we should get some goats."  ???????!!!!!!!!!!
February 5, 2022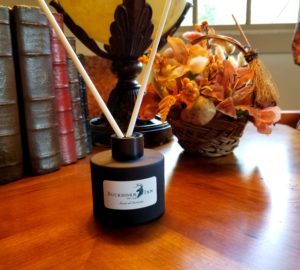 Scents have a stronger link to memory and emotion than information garnered by our other senses.  The scientific explanation is that when you hear, touch, taste, or see something, the information heads to your thalamus, your brain's relay station. Then that information is sent to
other areas of the brain. But when you smell something, the information bypasses the
thalamus and goes directly to the olfactory bulb. This may explain why a particular scent can
trigger a detailed memory or an intense emotion.
We learned this in working with an artisan to create a unique aroma for Buckhorn Inn—the
Scent of Serenity. We began by identifying all the aromas that you have told us you associate with a vacation here: robust coffee, fresh herbs on the veranda, clean sheets, morning rain,
roses, fresh-baked bread, antique wood, pine, warm maple syrup, books, wood smoke, and
others. We described a stay here in the words you have given us: relaxing, serene, cozy, quiet.
Our scent expert used this information to develop six unique scents.
Lee and Sharon each spent a week trying out the scents and both fell in love with the same one. We have dubbed it Scent of Serenity.   
The Scent of Serenity is subtle, warm and cozy, and has hints of smoke, spice, antique wood,
and greenery. We are using diffusers with the Scent of Serenity in the entry way, library, sitting
room, office, and the premier suites.
If you would like to take an air of serenity home with you, diffusers of this custom scent and
reeds are available in our gift shop for $27. It is our hope that when you catch a subtle hint of
the Scent of Serenity, it will trigger happy memories of your stays with us.
I rarely order dessert as I usually am not in the mood for something sweet after a meal. I am,
however, very fond of ending a meal with a cheese plate. In France the cheese course comes
after the main course and before dessert, but I find I usually enjoy it in lieu of dessert.
I used a cheese course as inspiration for a Wednesday dessert I made this October. I made a
pear tart with a cheddar cheese crust and a cheese streusel topping. I carried the idea further
by serving it with a candied pear slice and toasted pecans. Several kind guests told me how
much they enjoyed it. The pears are the star of this dish and bring the sweetness. You may
use your favorite variety, but be sure they are ripe but firm. The Cheddar brings a bit of salt
and tang—use a good quality cheese. This dish also could be served as a brunch dish. I hope
you enjoy this taste of winter!
Pear and Cheddar Tart
Crust
1/3 cup vegetable shortening
1 cup all-purpose flour
1/8 teaspoon salt
1/8 teaspoon sugar
1 cup shredded sharp Cheddar cheese
4 to 6 teaspoons of ice water
Chill shortening in freezer for 15 minutes. Place flour, shortening, salt, sugar and cheese into a
food processor. Pulse 6 or 8 times until the mixture resembles peas. Add 4 teaspoons of ice
water. Pulse until the dough holds together—adding additional water if it seems dry. Form
dough into a disk and refrigerate until cold. Roll out dough between waxed paper. Peel off the
paper and fit the dough into a 10" tart pan with a removable bottom. Trim the edges. Line the
crust with foil and fill with pie weights or beans. Place on a baking sheet and bake at 400 F on
the bottom rack of the oven for 10 minutes. Remove the foil and weights—the edges of the
dough will stick a bit to the foil so you will need to use a knife to carefully loosen it. Return the
crust to the oven for 13 to 15 minutes. It will be golden. Cool on a rack.
Filling and Topping
1 stick unsalted butter, melted
1 cup all-purpose flour
1/2 cup sugar
1/4 teaspoon salt
1 cup shredded sharp Cheddar cheese
1 1//2 lbs. pears
Mix together butter, flour, sugar, salt and cheese until crumbly. Peel pears, cut in half and core,
and cut into 3/4" thick slices. Arrange slices very close together in crust. Sprinkle cheese
mixture over top. Place tart pan on a baking sheet. Bake in 400 F oven on bottom rack for 35
to 40 minutes. The streusel will be brown and the pears tender. Remove sides of pan before
serving. Best served warm. Makes 8 servings.