Blog




September 28, 2020
Dear Neighbors,
I am writing to tell you a bit about myself and to ask for your vote for Pittman Center Alderman.  My late husband, John, and I lived in many different places.  But nowhere felt as much like "home" to us as Pittman Center http://www.pittmancentertn.gov.  Over the last 30 years of living in this area, I have been fortunate to call many of you friends.  The rest of you are friends that I have not met yet!  For the last 22 years John and I have owned and operated Buckhorn Inn.  As many of you know, the hallmark of our time at the Inn has been to embrace and maintain the Inn's historic charm while providing modern conveniences.  This is the same sensibility I want to bring to leadership decisions in our town.
Locally, I have been involved in two projects that are very near and dear to my heart.  Both  were satisfying to me because of my love for heritage.  I assisted in fundraising for the new Pittman Center Elementary School and the Glenn Cardwell Heritage Museum, as well as making a donation.  I have served as treasurer on the Museum Board since its inception.  I view the Museum as a means of preserving and communicating our community's heritage and as a way of promoting appropriate tourism.  I was also chairman of the Gatlinburg library for many years and was chairman of the fundraising campaign that raised $1,000,000 for constructing its new facility.
While a university student, I organized a campaign to save beautiful oak trees which were scheduled to be removed to make way for a new building.  It wasn't a successful campaign, but I learned a lot about community action.   It has always been important to me to ensure my voice, and that of others, is heard. 
I grew up on a ranch in Texas and rode the bus to school 14 miles away every day and I rode my horse whenever I could.  Education has always been important to me.  I graduated with bachelor's and master's degrees from Texas A&M University-Commerce.  For most of my long professional career, I was a senior administrator in higher education in this country and overseas.  I have had the opportunity to serve on many boards and committees.  I have three children, two grandchildren, and five great-grandchildren.
My Vision of Pittman Center
As your alderman I would want to
balance environmental protection and economic well-being as contained in the FutureScape report of the 1990s which took place under the leadership of Mayor Judy Perryman and supported by Glenn Cardwell
ensure that enforceable zoning ordinances and building codes reflect the values of our community
protect our ridgetops
help the Glenn Cardwell Heritage Museum develop and expand
look into petitioning the postal service to enable our residents to use the town's name, Pittman Center, as our official address
encourage more community participation in developing the town's policies and strategic vision
work toward ensuring that all residents can access broadband internet without excessive access fees
I love Pittman Center. Thank you for your consideration.  I look forward to receiving your vote.
Sincerely,
Lee Mellor
September 21, 2020
Are you familiar with petrichor?  This is the earthy smell produced when rain falls.  The word comes from the Greek petros, stone, and ichor, the fluid that flows in the veins of the gods in mythology.  Scientists speculate that humans enjoy the scent of rain because our ancestors may have relied on rainy weather for survival.
Surprisingly, this common smell was not given a name until a scientific paper written in 1964.  The authors described how the smell comes from an oil exuded by plants in dry weather.  The oil is absorbed by clay-based soils.  When it rains, the oil is released into the air along with another compound, geosmin.  Geosmin is a byproduct of certain bacteria and is released from wet soil.
Scientists from the Massachusetts Institute of Technology used high-speed cameras in 2015 to record how smells move in the air.  When a raindrop lands on a porous surface, air from the pores forms small bubbles.  These bubbles release aerosols which carry the scent.  Petrichor is more common after light rains because raindrops that move more slowly produce more aerosols.  
If the rain is a heavy one, the scent can travel downwind and alert people that rain is on the way.  Farmers often talk about smelling rain in the air.
Petrichor Described Poetically
Scientist T.L. Phipson described the phenomena in somewhat more poetic terms in 1865.  His notes refer to "the fragrance emitted by thousands of flowers . . ." that were "absorbed into the pores of the soil" and only released by rain.   
This poem by Jayde E is entitled Petrichor.
The scent of rain on dry Earth.
Churning like seawater on a stormy day.
Rising from the ground like bluebonnets on a summer evening.
Petrichor is a delight.
Wafting about beneath soft grey skies.
Traveling on the cool breeze like fairy dust in the wind.
The scent of nature.  
As fresh and invigorating as a thing could be.
A promise of new life.
A promise of new days.
A promise of more nights.  http://www.powerpoetry.org
The next time you visit Buckhorn Inn on a rainy day, we invite you to sit on one of the porches and savor the petrichor!
September 14, 2020
Have you travelled along the Foothills Parkway yet?  This is a national parkway that traverses the foothills of the northern Great Smoky Mountains.  The completed parkway will be more than 72 miles long and will connect U.S. Route 129 with Interstate 40. Today the parkway is 38.6 miles long with the remainder to be completed in the future.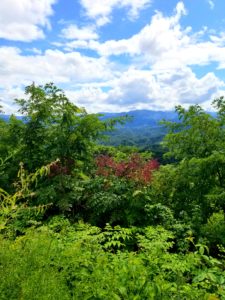 The views from the Foothills Parkway are magnificent.
Portions of the parkway run through parts of Blount, Sevier, and Cocke Counties in Tennessee.  Sections cross a series of high ridges running parallel to the Tennessee boundary of the Great Smoky Mountains National Park.  The road offers unobstructed views of the Smokies to the south and the Tennessee Valley to the north.
Many of our guests like to drive the section known as the "missing link".  This 16-mile drive features magnificent views with many overlooks from which you can take photos and enjoy the scenery.
History of the Foothills Parkway
Congress authorized the parkway in 1944 as a scenic road that would provide magnificent views.  http://www.nps.gov/articles/foothillsparkway  The first few sections of the parkway were finished in the late 1960s.  The 5.6 mile section between I-40 and Cosby was the first to be completed.  Crews worked for several decades on a 16-mile segment from Walland to Wears Valley.  They nearly finished it.  But the construction hit rugged peaks and valleys.  The walls they built crumbled and the soil was filled with minerals with the potential for environmental damage.  Because of these issues, the project was placed on the backburner in 1989.  The 16.5 mile gap in the road left behind became known as the "missing link".
In 2009 federal stimulus money got construction started again.  The Missing Link of the Foothills Parkway opened to the public in November 2018.
The parkway entrance is off of Wears Valley Road.
As always when you are visiting the mountains, be sure your brakes and tires are in good shape.  Be sure to have a plenty of fuel as gas is not available in the park.  Using a lower gear on steep downhill terrain can avoid hot brakes.  And be extra careful if the conditions include precipitation or low visibility.
September 8, 2020
Each year Tripadvisor evaluates reviews, ratings, and saves from travelers worldwide. They use that information to recognize the very best. Thanks to your reviews and ratings, Buckhorn Inn is a 2020 Travelers' Choice Winner! We are in the exclusive group of the top 10% of hotels worldwide.
Thank you for sharing your Buckhorn Inn experiences with other travelers. We are so grateful for your support.
Here are some recent Tripadvisor reviews:
First time visit for us but traveling with friends who have stayed there previously.
Couldn't have been more pleased from checking in to checking out. Room was spacious; bed very comfortable, and the food…fantastic. Breakfast had several choices, all of which were great. Had dinner there one night and service, food, and attention to detail were spot on.
Saved best for last…the view. Unforgettable to sit and take in the view of Smokies and Mt Leconte. Beautiful.
Overall, can't wait to visit again. The perfect blend of old charm, great service, and nature views.
Stayed in Premier 1. Great room!
We needed a peaceful get-a-way in nature and Buckhorn Inn provided a soothing healing balm to our souls. The setting is tucked away from traffic and the staff is very accommodating. Our breakfasts were superb and daily snacks were a pleasant surprise. This is an older Inn with modern conveniences. They also practice safety measures during this time of social distancing.
I have lived in East Tennessee for 30 years. I have never found a better inn than the Buckhorn. If you want gracious service, clean lodging, and terrific food this is the place for you when visiting the mountains. My wife and I have been guests on numerous occasions and we have never been disappointed.
Gorgeous little inn, tucked away in the Smokies, with beautiful views. We had a wonderful stay; we'll make it our regular stop whenever we're in Gatlinburg. Centrally located, so it's not too far from anything, but hidden away so it's private – wonderful inn!
I happened upon the Buckhorn Inn while searching for a place in the Gatlinburg area and decided to take a chance. This place is amazing, relaxing and a hidden gem in the middle of beautiful mountains! Our room which was premier 4 was nothing short of spectacular. The breakfasts are delicious and they do offer special dinners which are equally delicious. Everyone that we encountered was very friendly. This was the first time we really traveled
during this pandemic and I felt completely comfortable and safe at the Buckhorn Inn. This is a place we will definitely book again.
I had had dinner at the Buckhorn a few times through the past few years.
I finally got the chance to stay there! Stayed in Cottage #7, perfect, in my opinion. The cottage was small, clean, and very cozy. We loved the jacuzzi tub in the bathroom!
It rained a little during our visit, but that only added to the charm of the surrounding scenery. The screened-in porch and balcony off the bedroom were so adorable.
Dinners and breakfasts, included in the price, were well prepared and planned. My only regret is that we could not finish all of our food!
Not enough good things can be said about the staff…warm and welcoming and cheerful. Yes, this must sound too good to be true…but it is true. And listen to this: fresh brownies or cookies in the afternoon. We met some wonderful people in the common areas, and we toured the grounds. The swans are magnificent.
Please try to stay here, it is close, yet a world away from Gatlinburg. Maybe hike to Laurel Falls, as we did.
Obviously, I cannot say enough good things about this place!
Honey-Glazed Roast Pork with Glazed Apples
Thinking about honey reminded me of a dish I had at a Boston restaurant one fall.
We spent a crisp, sunny afternoon walking the Freedom Trail and ended up at charming little restaurant. The special was a pork roast glazed with honey and cooked with fragrant apples. This recipe is very similar to that dish. Cider would be delicious with this! If you prefer wine, I would suggest an off-dry, fruity, low tannin wine to pair with this dish. Perhaps a chardonnay or a pinot noir. It makes four sweet and savory servings.
Honey-Glazed Roast Pork with Apples
2 ½ lb. pork loin roast, tied
2 tablespoons honey
4 sprigs rosemary
4 sprigs thyme
6 tablespoons unsalted butter, cubed
2 medium yellow onions cut into 8 wedges each
2/3 cup dry apple cider
5 tart apples, cored and quartered
Preheat oven to 350 degrees. Place the pork in a large roasting pan and season with salt and pepper. Drizzle the honey over the pork, then arrange the herbs on top. Scatter cubes of butter over the pork. Arrange the onions around the pork. Pour the cider into the pan and bake until a thermometer reads 120, about 45 minutes. Scatter the apples around the pork and bake until the fruit is tender and the pork is golden brown. The thermometer should reach 160. Remove from the oven and let rest for 20 minutes. To serve, cut the pork into slices and serve with the baked apples and onions. Drizzle with pan juices before serving.
August 31, 2020
September 3, 2020 marks the reopening day for campgrounds and picnic areas in the Great Smoky Mountains National Park (GSMNP).  The reopening follows guidance from the White House, Centers for Disease Control and Prevention (CDC), and state and local public health authorities.  The National Park Service is closely monitoring the covid-19 pandemic.  They have developed a phased approach to increasing park access.
Campgrounds and Picnic Areas
The following areas will be accessible beginning on September 3: 
Abrams Creek, Balsam Mountain, Big Creek, Cataloochee, and Cosby Campgrounds
Big Creek, Cataloochee, Round Bottom, and Tow String Horse Camps
Heintooga and Look Rock Picnic Areas
Little Greenbrier Road
Please remember that the following areas continue to be open:
All Park trails, backcountry campsites, and shelters
All visitor centers and restrooms
Cable Mill in Cades Cove and Mingus Mill near Oconaluftee
Cades Cove, Elkmont, Deep Creek, and Smokemont Campgrounds
Anthony Creek Horse Camp
Big Creek, Cades Cove, Chimney Tops, Collins Creek, Cosby, Deep Creek, Greenbrier, and Metcalf Bottoms Picnic Areas
Spence Cabin and all Picnic Pavilions for day-use rental
Concession operations:  LeConte Lodge, Sugarlands Riding Stables, Cades Cove Riding Stables, Cades Cove Campstore, and Smokemont Riding Stables
The Appalachian Clubhouse remains closed.
According to Park Superintendent Cassius Cash, "We are pleased to be able to offer more opportunities for visitors to disperse and recreate in the park in time for the Labor Day holiday and our busy fall season.  The Park has experienced record visitation this summer and we want to remind everyone that we need your help more than ever to keep the Park protected and clean."
Park officials suggest you choose trails and overlooks without congested parking areas.  Visiting early in the morning will help you view the Park in less crowded conditions.  Remember to maintain distance from other visitors and wear a face covering when you cannot maintain physical distance.
Buckhorn Inn guests may ask staff to recommend some of our favorite hiking trails.  We also can pack you a hearty sack lunch for $10 to enjoy at one of the picnic areas.
August 25, 2020
Don't you love those luscious, sweet, end-of-summer cherry tomatoes?  They pop in your mouth with such bright flavor.  We have grown several varieties of these small tomatoes here at Buckhorn Inn.   One of the most prolific this year was our  heirloom Yellow Pear tomatoes.  They fruit is bright yellow and they are deliciously tangy.  We also have had great success with Shimmer, Honeycomb, Napa Grape, Mighty Sweet, and Black Pearl.  They look beautiful served together in a salad!  Our chefs also have enjoyed using them in "farmer's omelets" showcasing our garden-fresh veggies. http://www.burpee.com/vegetables
Tomato History
Food historians believe cherry tomatoes are a modern version of South American wild tomatoes.  According to archeological evidence, Central American farmers grew the first domestic strains of these small tomatoes.  The Incas and Aztecs farmed tiny pea-size fruit around 700 A.D.  You may not realize that large tomatoes are actually a mutation of the cherry varieties.  The first cultivated tomatoes were berry-small and housed only two cavities for seeds.
We do not know who gets credit for bringing tomatoes to Europe.  The first description of small tomatoes in print appears in a 1623 illustrated book of plants.  The fruits reached wild popularity in the 1970s when British chain Marks & Spencer worked with local growers and food scientists to develop a new cherry tomato that was very sweet and shelf-stable.
We hope you are enjoying a bountiful crop!  If you have more tomatoes than you can use fresh, why not oven dry some of them?  That is what we have been doing.  These little flavor bombs are great for salads, pasta topping, or snacking.   They burst with intense tomato flavor.  And it couldn't be more easy.
Oven-Dried Cherry Tomatoes
35 cherry tomatoes
1 Tablespoon of salt
Herbs, optional
Preheat oven to 200 degrees.  Line a baking sheet with parchment paper.  Cut tomatoes in half horizontally and place on the sheet, sides touching and cut side up.  Sprinkle with salt and let sit about 30 minutes.  Sprinkle with chopped basil, oregano, or parsley.  Bake for 2 1/2 to 3 hours until the halves are about 3/4 of their original size and are deep red in color.  You may keep them for a month or so in an airtight container in the refrigerator or they may be frozen.
August 17, 2020
At Buckhorn Inn we have two wild turkeys who frequent the area below one of our bird feeders.  We were interested to learn more about them, and thought you might be, too.
According to the Tennessee Wildlife Resources Agency, http://www.tn.gov/twra/wildlife/birds, wild turkeys are the largest birds nesting in Tennessee.  These birds were a very important food source to Native Americans and early settlers.  Unfortunately, over-hunting and land clearing reduced the numbers of this species.  Wildlife management techniques have reestablished the birds through their historic range.
The birds are found in mature woodlands or fields.  They eat acorns, nuts, seeds, fruits, insects, buds, fern fronds, and salamanders.  The males begin strutting to attract females in late winter and early spring.  The female, with no help from the male it should be noted, makes a ground nest and lines it with with leaves and grass.  The nest is usually at the base of a tree or bush and hidden by thick vegetation.  The female lays anywhere from 7 to 14 eggs and incubates them for about 28 days.  The young leave the nest soon after hatching.  The male young stay with the female until fall while the females remain with their mother until spring.
Fun Facts about Tennessee Wild Turkeys
 There are approximately 300,000 of the birds in Tennessee.
The average male weighs 16.2 pounds and the female weighs 9.2 pounds.
The male provides no care to the young.
Several females and their broods may form flocks of 30 or more birds.
The birds can be seen throughout the Great Smoky Mountains National Park, most often in the lower elevations.  They roost in trees, so you are less likely to see them in the evening.  Good places to spot them are the open fields near the Sugarlands Visitor Center and the Cades Cove Loop Road.  Or you may just see them hanging around Buckhorn Inn!
August 10, 2020
Several guests have mentioned how much they used to enjoy the Chef's Inspiration Sangria as a weekend special at Buckhorn Inn.  While current challenges have prevented us from serving it this summer, we are prompted to share recipes with you. 
Sangria is a drink which originated in 18th century Spain.  The original version used red wine, hence the name which literally means "bloodletting" in Spanish.  The punch was poplar in colonial America, but largely disappeared in the States by the early 20th century.  The iced version of the drink was reintroduced to the U.S. through Spanish restaurants in the 1940's.  It achieved a wider popularity during the 1964 World's Fair in New York.
Each region of Spain has its own version of this wine and fruit punch.  The traditional version is made with red wine with a variety of fruits and sweeteners.  Spanish Rioja wine, made from the Tempranillo grape, is a good choice.  Recently a version of the drink made with white wine has become popular.  Any type of dry white wine may be used.  http://www.foodandwine.com/drinks/
Red Wine Sangria
1/2 cup water
1/2 cup sugar
2 bottles of dry red wine
1/2 cup brandy
1/2 cup orange juice
2 limes, sliced
1 lemon, sliced
1 orange sliced
Club soda
Ice cubes
Bring water and sugar to a boil.  Cook 3 minutes or until the sugar is dissolved.  Cool.  In a large pitcher stir together wine, brandy, orange juice, and sugar syrup.  Refrigerate, covered overnight.  A few hours before serving, stir in sliced fruit.  When ready to serve, fill glasses with ice.  Fill glass 2/3 with sangria and top off with club soda.  Garnish with fresh fruit and mint leaves. About 12 servings
White Wine Sangria
1 cup water
1 cup sugar
2 bottles dry white wine (unoaked Chardonnays or Chenin Blancs are good choices)
1/2 cup orange liqueur such as Cointreau
1 lemon, sliced
2 limes, sliced
2 oranges, sliced
Club Soda
Ice Cubes
Bring water and sugar to a boil.  Simmer 5 minutes.  Cool.  Stir syrup, wine and liqueur together, cover and chill.  Before serving pour wine into a pitcher.  Stir in fruit.  Serve over ice, topping each glass with the Club Soda.  About 12 servings.
These recipes make great starts for your own experiments with different wines and fruits.  We would love to see the recipe you develop for your very own house sangria!
August 3, 2020
Our community of Pittman Center has joined communities across the country to call attention to an important issue.  Affiliates of Bee City USA  are working to protect pollinators.  So far 111  cities have signed up to raise awareness, establish and enhance habitats, and celebrate the efforts of volunteer leaders.
Honey bees and other pollinators are facing threats at increasing rates.  According to Bee City USA http://www.beecityusa.org one of every three bites of food that we eat is thanks to insect pollination.  In fact, 90% of all plants and trees rely on pollinators for the survival of their species.  That is why we must be concerned with bees disappearing because of loss of habitat, diseases and parasites, and inappropriate pesticide use.  Some experts estimate that U.S. honey bee populations are declining at an annual rate of as much as 44%.  
Pittman Center Approves Resolution
In May 2020 the town of Pittman Center approved a resolution naming the town an affiliate of Bee City USA.  The town's Tree Board will oversee the Bee City USA program.  The town will host at least one educational event or pollinator habitat planting each year to showcase the community's commitment.  There also are plans to create or expand a pollinator-friendly habitat on public and private land.  The Tree Board also will create and adopt an integrated pest management plan.  This plan will be designed to prevent pest problems, reduce pesticide use, and expand the use of non-chemical pest management methods.  
At the Buckhorn Inn, we are delighted with this new program.  This is the second summer for our honey bee hives.  We report that Queens Violet and Catherine and their minions are healthy and happy.  You can watch them at work in our vegetable and flower gardens.  When the nectar is flowing they are especially busy in St. Cordelia's garden.  We hope you have a chance to watch them at work.