Blog




July 13, 2020
This is the time of summer when the basil in our garden here at Buckhorn is ready to pick.  Combining it with dairy creates the perfect appetizer for a summer evening out on the patio.  This recipe is from the 1988 edition of Easy Entertaining with Marlene Sorosky.  I have made it many times and served it with a variety of crackers.  A good wine pairing might be an Australian sauvignon blanc.  The green, herbaceous notes of the wine complements the pesto flavors and the bright acidity will act as a palate cleanser.  This recipe serves 16.
PESTO
2 large garlic cloves, peeled
2 cups (about 2 ounces) basil leaves (note:  if you blanch them a few seconds in boiling water and then plunge in ice water the basil leaves will retain their emerald green hue)
2/3 cup grated parmesan cheese
2/3 cup chopped walnuts
¼ cup olive oil
CHEESECAKE
11 ounces cream cheese at room temperature
¾ cup ricotta cheese (about 6 ounces)
8 ounces goat cheese
3 eggs, at room temperature
½ cup sour cream
To make the pesto, mince garlic in a food processor.  Add basil, cheese, and walnuts and process until ground.  Add oil and process to a thick paste.
To make cheesecake, butter an 8 ½" springform pan.  Preheat oven to 350 F.  Mix together cream cheese, ricotta, and goat cheese until well blended.  Mix in eggs until thoroughly incorporated.  Add sour cream and process until well blended.  Pour into springform.  Bake for 45 to 55 minutes.  The top will be golden and the center will still jiggle.  Remove to rack and cool completely.  When ready to serve, remove sides of pan and spread pesto evenly over the top.  Sun dried tomato strips make a lovely garnish.  Sit back and wait for the compliments!
May 18, 2020
Today we picked a mix of beautiful greens for salads for our dinner guests.  The bowl of colorful greens had us wondering about the origins of this dish.
The word "salad" comes from the ancient Latin word "sal" for "salt".  In ancient times, salt was an important ingredient in dressing.  You might be surprised to learn that ancient Romans and Greeks enjoyed raw vegetables with dressing.  Typically the vegetables would be dressed with vinegar, oil, herbs, and salt.  "Salata" literally means "salted herb".  The dish became more complex over time.  In the 1700's chef's began to create composed salads with layers of ingredients.  
Today any entrée or side dish that is composed of a mixture of ingredients and intended to be eaten cold is a salad.  Some recipes are world famous.  Master chefs of the International Society of Epicures in Paris voted Caesar Salad as the greatest recipe to originate from the Americas in 50 years.  The Cobb was invented at the Brown Derby restaurant in 1937.  Crab Louie began appearing on menus at the turn of the 20th century.  Nicoise features garlic, tomatoes, anchovies, black olives, capers, and lemon juice.  It is named for the city of Nice, France.  A private party for the pre-opening of New York's Waldorf Astoria Hotel on March 13, 1893 led to the first serving of Waldorf Salad. http://www.whatscookingamerica.net
The recipe below could be the start of your own famous salad!  Fresh mixed greens and vine-ripened tomatoes.  Just add a drizzle of lemon basil dressing and you will enjoy a taste of summer.
Lemon Basil Dressing for Salads
 ¼         Cup     Diced onions
1          Tbl       Minced garlic
1          Tsp      Dijon mustard
½         Cup     Fresh basil leaves
1          Tsp      Salt
½         Tsp      Pepper
1          Tbl       Sugar
¼         Cup     Mayonnaise
½         Cup     Lemon juice
Combine the ingredients above in mixing bowl of food processor.
Add slowly while processing:
1 ½      Cups    Combined Olive and canola oil
Chill and serve over salad greens.
Yield: About 2 cups
March 2, 2020
Are you familiar with mulligatawny soup?  It is new to many of our guests, but once they sample it, it becomes one of their favorites!  Mulligatawny is a soup with South Indian roots.  The name originates from a Tamil word and loosely means "pepper water" or "pepper broth".  
The original version made popular in Madras was vegetarian.  It was originally prepared with peppers, hence the name.  Indian cooks made the recipe to fulfill the British desire to have a soup course.  It became popular with employees of the East Indiana Company during colonial times.  In the 1800s British cookbooks began to feature many different variations on the recipe, some with meat.  Several brands of tinned soup became available.  The noted explorer Dr. David Livingstone took mulligatawny paste with him into the deep interior of Africa.  http://www.livehistoryindia.com
Mulligatawny is a rich curried soup.  The recipes have changed to suit differing tastes in Western culture.  It is usually made with chicken stock, although vegetable stock may be used.  Apples add a sweet/tart note to the vegetables.  Almonds, raisins, and coconut milk are often added.  Freshly grated ginger is best in this recipe although powdered ginger may be used.  This soup blends British tastes with Indian spices.  We hope you savor this delicious soup.  
Mulligatawny Soup Recipe
| | | |
| --- | --- | --- |
| | |   |
| 1 | | Chicken, cut up or quartered |
| 3 | Qts | Water or chicken broth, unsalted |
| 4 | Ribs | Diced celery |
| 1 | Med | Diced onion |
| 3 | | Diced carrots |
| 3 | | Diced tart apples |
| 2 | Med | Peeled and diced turnips |
| 1 | Med | Diced tomato |
| 1 | Cup | Rice |
| 1 | Tbl | Curry powder |
| 1 | Tsp | Ground ginger |
| 1 | Tsp | Black pepper |
| 2 | Tbl | Salt |
| 1 | Tsp | Thyme |
| 1 | Tsp | Oregano |
Combine all ingredients in a stock pot and bring to
boil. Slow boil for 45 minutes. Remove chicken
from pot and let cool. Pick meat from chicken,
discarding skin and bones. Return meat to pot.
Cook until vegetables are tender. Taste and correct seasonings. Serve steaming hot and topped with a spoon of plain yogurt.
Yield: 10-12 servings
January 14, 2020
A rich and meaty steak and mushroom pie is nourishing and comforting on cold winter days!  It is possible that the ancient Greeks were the first to use meat to fill a pastry crust.  According to  http://www.houseofnasheats.com the dish was called a "coffin" in northern Europe.  During Medieval times magpies were a popular filling and thus the  dish became known as a "pie".  Early settlers brought savory meat pie recipes with them to North America.  The Americans, however, used a much deeper dish.  They called it a "pot pie".  
Steak pies are popular today in Scotland during Hogmanay, the celebration of the New Year.  The recipe below is adapted from Jeff Smith's The Frugal Gourmet Cooks American.  He says this recipe is an Old English favorite that remained popular with colonists.
Steak and Mushroom Pie
3 slices bacon cut into large dice
1 1/2 lb. chuck steak cut into 1/2″ pieces
1 1/2 cups beef broth
1/2 cup Madeira wine
2 cloves garlic, crushed
1 lb, fresh mushrooms, lightly sautéed in butter
2 tablespoons chopped yellow onions
3 tablespoons chopped parsley
1 teaspoon thyme leaves
1/2 teaspoon sage
salt and pepper to taste
3 tablespoons each butter and flour cooked to form a roux
1 double pie crust
Preheat oven to 375.  Brown the bacon and remove from the pan.  Brown the beef in the bacon fat.  Add enough beef stock to cover and simmer the meat, covered, for about 30 minutes.  Add the remaining ingredients, except for the roux, and cook for 15 minutes.  Thicken the sauce with the roux.  Roll out the crust to make 4 individual pot pies or one large pie.  Fill the bottom crusts and top with the upper crust.  Bake for 45 minutes until the crust is brown and flaky.  Serves four.  As Jeff Smith notes, "A good dry wine and a big salad is about all you need to complete this fine English meal."
"The Frug" goes on to suggest using this basic technique with other fillings.  Perhaps lamb and artichoke pie?  Or chicken curry pie?  Maybe even a vegetable pie!  The possibilities are nearly endless.  
The team at the Buckhorn Inn is sending you wishes for a happy, healthy, and delicious New Year!
October 22, 2019
Pork paired with apples is a classic combination.  The apples contribute a touch of sweetness and flavor to the chops and match well with the cabbage.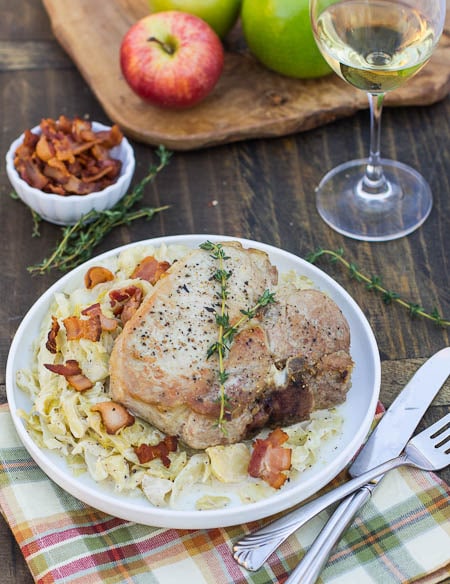 Mashed sweet potatoes would make a lovely autumnal starch to pair with this dish.  Pour yourself a glass of Riesling and say welcome to fall!
Pan-Roasted Pork Chops with Creamy Cabbage and Apples 
¼         Cup     Plus 1 tablespoon olive oil
4                      Thyme sprigs
1                      Garlic clove, coarsely chopped
4                      12-ounce bone-in pork loin chops     
3                      Thick slices of applewood-smoked bacon, cut into ½ inch dice
2          Tbl       Unsalted butter
½                     savoy cabbage, thinly sliced crosswise
1                      Granny Smith apple-peeled, cored and cut into 1/2–inch dice
1          Tsp      White wine vinegar
1          Tbl       Dijon mustard
¾         Cup     Heavy cream
¾         Cup     Milk
            Salt and freshly ground pepper
In a large, shallow dish, combine ¼ cup of the olive oil with the thyme sprigs and garlic.  Add the pork chops and turn to coat with the marinade.  Refrigerate overnight. 
In a large skillet, cook the bacon over the moderate heat, stirring a few times, until browned, about 4 minutes; pour off the fat.  Add the butter and cabbage to the skillet, cover and cook over moderate heat, stirring occasionally, until the cabbage is tender, about 7 minutes.  Add the apple and vinegar, cover and cook, stirring occasionally, until the apple is tender, about 5 minutes.  Stir in the mustard and cream and simmer uncovered over moderate heat until the cream has thickened, about 3 minutes.  Season with salt and pepper, cover and keep warm. 
Preheat the oven to 325 F.  In a large ovenproof skillet, heat the remaining 1 tablespoon of olive oil until shimmering.  Remove the pork chops from the marinade; discard the thyme sprigs and scrape off the garlic.  Season the chops with salt and pepper and add to the skillet.  Cook over moderately high heat until richly browned, about 3 minutes per side. 
Transfer the skillet to the oven and roast the chops for about 12 minutes, turning once halfway through, until just pink in the center.  Transfer the pork chops to plates and serve with the cabbage. 
Yield:  4 servings
September 9, 2019
Much like cilantro, the olive is a food that you either love or hate.  We happen to love the chewy, rich fruit of the olive tree and use them in many recipes.  This delicacy has a long history.  Research indicates that olives were first cultivated more than 7,000 years ago in the Mediterranean.  They were grown commercially in Crete as long ago as 3000 BC.  Spanish travelers brought olives to plant in Peru, Chile, and Argentina.  Spanish missionaries planted the tree in California, the start of a highly successful commercial crop.  
Oil from olives was once considered sacred, symbolizing wisdom, fertility, power, and purity.  The olive branch is still a symbol of peace.  The fruit is nutritious, too.  Olives, and their oil form an integral part of the Mediterranean diet which may help us live healthier lives. They are low in cholesterol, a good source of dietary fiber, and rich in iron and copper.  They are a good source of monounsaturated fatty acid and antioxidants.  Whether you eat them for health benefits or taste benefits, we are sure you will love this bread!
Olive Bread 
Preheat oven to 375 degrees F.
In an electric mixer, combine:
1          Cup     All-purpose flour
1          Tbl       Dry yeast
2          Tbl       Olive oil
1          Tbl       Salt
Add and mix until smooth:
1 ½      Cups    Warm water
Add (1 cup at a time) approximately 2 ½ cups flour or until a pliable dough is formed. Turn onto a floured surface and knead until smooth and elastic. Place in a greased bowl, loosely cover and let rise until double in size.
In a food processor, process until smooth and set
aside:
1          Cup     Black olives
2                      Cloves Garlic
1                      Shallot
1/4       Cup     Olive oil
Zest of 1 lemon
When doubled in size, press down dough. Divide
into thirds. Form flat rectangle. Spread part of
olive mixture on each dough. Roll up jellyroll
fashion. Pinch seams. Put on a greased and corn-
mealed baking sheet. Let rise until almost doubled.
Cut 2 or 3 diagonal slashes in each loaf. Bake 20-
25 minutes or until golden brown.
Yield: 3 loaves
August 16, 2019
What says Buckhorn Inn dinner more than a flavorful bowl of soup?  And what says summer more than fresh ripe tomatoes from the garden?  With end-of-summer tomatoes so plentiful, now is the time to make this soup and transport yourself back to Buckhorn Inn—if only for dinnertime.
Heat oven to 400 F.
4                      Tomatoes, cut in half
1          Cup     Celery, diced small
1          Cup     Onion, diced small
1          Tbl       Garlic, minced
2          Qts      Clam or chicken broth
8          Oz       Lump crabmeat
1                      Bay leaf
1          Tsp      Thyme
1          Tsp      Fennel seeds
1          Cup     Heavy cream
Salt and pepper to taste
Roast tomatoes drizzled with olive oil in 400 F. oven until starting to blacken, about 30-40 minutes.  Let cool and remove skins.  Puree in food processor.  Sauté celery, onion and garlic in butter until tender.  Add clam or chicken broth, crabmeat, bay leaf, roasted tomato puree, thyme, fennel seeds.  Bring to boil and simmer until vegetables are tender.  Thicken slightly with flour and butter roux.  Add 1 cup whipping cream.  Salt and pepper to taste.
Cheddar Toasts:  Slice French bread into ½ inch thick slices.  Top with sharp cheddar cheese slices and chopped parsley.  Toast until cheese melts.  Serve bisque topped with Cheddar Toasts.
Yield:  10-12 servings
July 2, 2019
In the U.S., Oregon is the leading commercial blackberry producer.  Here in eastern Tennessee, we find them at local farmers' markets as well as in the grocery store.  Their deep, purple sheen attracts our eyes.  The soft, juicy berries fill our mouths with fresh, sweet, and slightly tart flavor.  Blackberries are not technically a berry, but rather an aggregate bramble fruit.  Did you know that blackberries have been used for medicinal purposes by the ancient Greeks, native Americans, and other peoples worldwide? 
Chewing the leaves was a remedy for mouth ailments and a tea brewed from the leaves, roots, and bark was used to treat pertussis.  The fruit, high in vitamin C, was used to treat scurvy.  A 1771 document recommended a tea of blackberry leaves, stem, and bark for stomach ulcers.  https://en/wikipedia.org/wiki/Blackberry  
They are rich in vitamins A and C, iron, calcium, and dietary fiber.  They also are anti-oxidant rich.  The fruit also has been used to dye fabric and the stems to make rope.  The wild plants have sharp thorns, so have been used as barriers against large animals.  The berry is often used in desserts, jams, jelly, wine, pies, and crumbles.  We use it is this delicious coffee cake.  What a way to start your day!
Blackberry, Walnut, Bran Coffeecake
Pre-heat oven to 350 F.
Grease or spray 9X13 baking pan
Mix together the following ingredients:
1          cup                  sugar  
½         cup                  vegetable oil
2                                  eggs
¼         cup                  molasses
1          tsp                   vanilla 
1          cup                   oat bran
2          cups                all-purpose flour
1          tbsp.                baking powder
1          tsp                   salt                 
1          cup                  fresh blackberries 
1          cup                  chopped walnuts
Bake 35-40 minutes (or until top is brown and tester comes out clean)  
Yield: 18 squares
To get this delicious taste of summer year-round, you can substitute frozen blackberries.  This recipe is also a treat when made with blackberries, raspberries, or your favorite berry mix.
June 12, 2019
This year our kitchen herb garden is planted in pots on the veranda. The plants get lots of sun, the chefs have easy access to fresh herbs, and our guests love the scent! Our abundance of fresh herbs inspired us to make this fresh herb frittata. This is an easy recipe to whip up for brunch or a light lunch with whatever you have on hand, or in the garden, that is fresh and lovely. We used sharp cheddar, but this would also be tasty with tangy goat cheese. This recipe makes four servings.
8 eggs
2 tablespoons water
1 cup shredded sharp cheddar cheese
½ cup chopped fresh herbs (thyme, cilantro, chives, parsley)
½ cup finely chopped red or green bell pepper
½ teaspoon fresh ground black pepper
Preheat oven to 350 F. Butter a quiche dish. Whisk eggs and water. Add herbs, pepper, black pepper, and ½ cup of the cheese. Mix thoroughly. Pour egg mixture into quiche dish. Top with remaining cheese. Bake for 25 minutes or until top is puffed and golden. Let cool slightly. May be served warm or at room temperature. Sprinkle additional fresh herbs on top of each slice when serving.  
April 29, 2019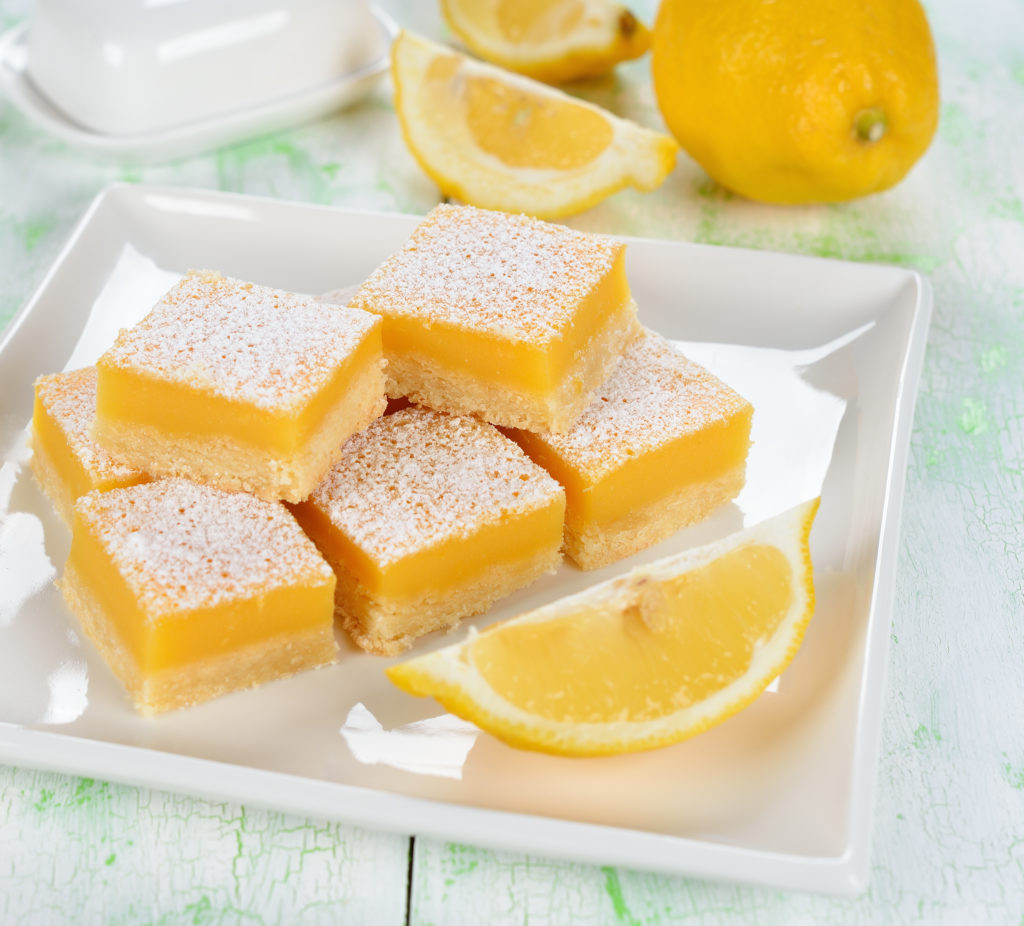 The very best lemon bars have a rich bottom crust and a creamy, tart layer. These delicious cookies fulfill both requirements! The bright, sunny flavor makes them a treat for all ages and you can whip them up in a jiffy. This recipe makes 36 bar cookies. You might also want to try making them with lime juice, rather than lemon, for a citrusy change.
1 cup butter, softened
2 cups white sugar
2 ¼ cups all-purpose flour
4 eggs
2 large lemons, juiced
Preheat oven to 350 degrees F. Blend together softened butter, 2 cups flour, and ½ cup sugar. Press dough into the bottom of an ungreased 9 x 13" pan. Bake for 15 minutes until firm and golden. Meanwhile, whisk together 1 ½ cups sugar and ¼ cup flour. Whisk in eggs and lemon juice. Pour over the baked crust. Bake an additional 20 minutes. The bars will firm up as they cool. Sprinkle with powdered sugar and cut.