September 14, 2020
Have you travelled along the Foothills Parkway yet?  This is a national parkway that traverses the foothills of the northern Great Smoky Mountains.  The completed parkway will be more than 72 miles long and will connect U.S. Route 129 with Interstate 40. Today the parkway is 38.6 miles long with the remainder to be completed in the future.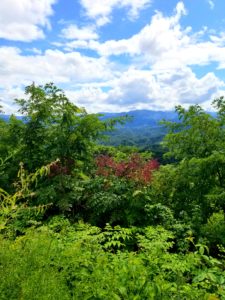 The views from the Foothills Parkway are magnificent.
Portions of the parkway run through parts of Blount, Sevier, and Cocke Counties in Tennessee.  Sections cross a series of high ridges running parallel to the Tennessee boundary of the Great Smoky Mountains National Park.  The road offers unobstructed views of the Smokies to the south and the Tennessee Valley to the north.
Many of our guests like to drive the section known as the "missing link".  This 16-mile drive features magnificent views with many overlooks from which you can take photos and enjoy the scenery.
History of the Foothills Parkway
Congress authorized the parkway in 1944 as a scenic road that would provide magnificent views.  http://www.nps.gov/articles/foothillsparkway  The first few sections of the parkway were finished in the late 1960s.  The 5.6 mile section between I-40 and Cosby was the first to be completed.  Crews worked for several decades on a 16-mile segment from Walland to Wears Valley.  They nearly finished it.  But the construction hit rugged peaks and valleys.  The walls they built crumbled and the soil was filled with minerals with the potential for environmental damage.  Because of these issues, the project was placed on the backburner in 1989.  The 16.5 mile gap in the road left behind became known as the "missing link".
In 2009 federal stimulus money got construction started again.  The Missing Link of the Foothills Parkway opened to the public in November 2018.
The parkway entrance is off of Wears Valley Road.
As always when you are visiting the mountains, be sure your brakes and tires are in good shape.  Be sure to have a plenty of fuel as gas is not available in the park.  Using a lower gear on steep downhill terrain can avoid hot brakes.  And be extra careful if the conditions include precipitation or low visibility.