Blog




November 18, 2019
We are very fortunate to be located near the Arrowmont School of Arts and Crafts.  Our guests are able to take advantage of the school's top-quality art instruction in well-equipped studios.  It is a great place to meet new friends in a creative learning environment.  
Wine Nights  In 2020 the art school is offering wine nights.  The classes are held from 6:00 to 9:00 pm and a glass of wine and materials are included in the course fee of $50.  Here are some upcoming offerings:
January 17:  Woven for your Wall, Ceramic Decal Collage, Rings for All Occasions
February 21:  Weave and Wear It, Sculptural Painting, Print/Wine/Repeat
March 13:  Earrings:  Cut to Patina, Wine and Wax, Painted Silks
Arrowmont Adult Short Courses  Short courses will be held February 24-26.  The Monday to Wednesday classes also are held from 6:00 to 9:00 pm for a course fee of $90.  Here are the offerings:
Surfacing with A Smoothing Plane.  Students will learn the fundamentals of using wooden and metal smoothing planes to obtain wood surfaces ready for finish.
Nailed It:  Tool Making for Clay.  Ceramic  learners will make their own forming, trimming, and decorating tools.
Figure Sculpting.  Sculptures will learn how to sculpt the human figure in a naturalistic way using a live model.  The pieces will be fired and available for pickup a few weeks after the class.
Appalachian Broom Making.  Those who complete the class will leave with two different styles of brooms:  a cobweb broom and a hearth sweeper.
Complex Enameled Surfaces.  From graphite, sugar firing, and retexturing techniques, students will add to their enameling skill sets.
Framed Weaves:  Constructing and Using Your Own Frame Loom.  During this class, attendees will construct their own looms to fit their needs.  Then they will make a wall hanging, bath mat, or other small piece on their new looms.
Pairing an art class with the Buckhorn Inn's Great Winter Escape is a great way to add creativity and relaxation to your winter!   Additional information on the 2020 classes may be found at http://www.arrowmont.org/classes 
November 11, 2019
As readers of this blog may remember, the city of Gatlinburg attempted this fall to break the Guinness World Record for most scarecrows within a location.  The previous record holder was Burton-on-Trent, England, which also is the hometown of Innkeeper John Mellor.
According to WVLT-TV http://www.wvlt.tv/content/news/Gatlinburg, Gatlinburg needed to have more than 3,812 scarecrows.  According to the final count, Gatlinburg laid claim to 4,325 scarecrows!  Guinness representatives must confirm the count before the new record becomes official.  
Gatlinburg businesses and community members created scarecrow scenes throughout the community.  Scarecrows also appeared in the Great Smoky Mountains Arts and Crafts Community where hundreds of handcrafted scarecrows could be found as part of the "Scarecrow Trail".
Gatlinburg Fall Festival Continues Through November 21, 2019
According to Gatlinburg PR Manager, Marci Claude, "With so much scenic beauty and festivities to take part in every year, Gatlinburg's harvest season is always an exciting time to visit, and this year's Guinness World Record will only add to that tradition."  Claud pointed out that fall festivities are a true community event, involving everyone.  
Other upcoming community events include the Great Smoky Thanksgiving Arts and Crafts Show.  This show will be held at the Convention Center Tuesday November 26 through Sunday December 1.  The annual Festival of Trees will be held Wednesday November 27 through Sunday December 1. The Festival of Trees will be held at the W.L. Mills Conference Center on the Historic Nature Trail.  And don't forget the Fantasy of Lights Christmas Parade!  The Parade will begin at 7:30 pm from Baskins Creek Bypass.  The route runs right through downtown Gatlinburg.  Viewers will enjoy lighted floats, 11 marching bands, giant balloons, and equestrian units.  And we understand that Santa Claus will be making a special appearance!
The Parade celebrates the holiday season and marks the beginning of Gatlinburg Winter Magic.  We hope to see you during this festive season!
October 29, 2019
Have you stayed in The Tower?  In the early days of Buckhorn Inn, the water tower actually was a water tower!  The tower held an enormous wooden bucket which stored water!   The height was sufficient to pressurize a water distribution system.  When electricity came to the Inn, this system was no longer needed.   Rachael Young, the second mistress of the Inn, had converted the space to a bedroom in the late 1970s for use by her and her husband Robert.
Guests have loved this unique accommodation.  Their reviews have often cited the "cool factor" of the space.  They especially have noted the third level with windows looking in all directions.  This floor has many times been described as a "tree house"!
New Tower Has Kept Charm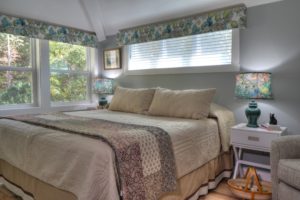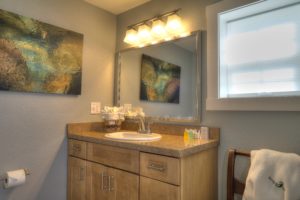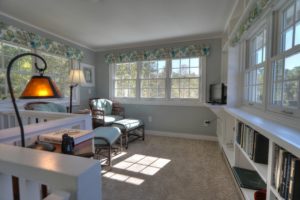 Innkeepers John and Lee Mellor wanted to keep all of the historic charm of this room, but to make it more spacious and convenient.  The renovation has done just that!
Guests enter the new room from their own entrance from their private parking space in front of the Inn.  On the ground floor they find a light and airy bedroom with a king-size bed.  High windows on two walls flood the room with sunshine and look out upon a leafy skyscape.  A kitchenette, smart TV, sitting space and roomy closet provide for coffee and morning news while getting ready for the day.  The room is decorated with original art throughout.  One of our favorite pieces is a painting by local artist Susan Edwards.  The stairway has been transformed into a work of modern art with a cut-out and new railings.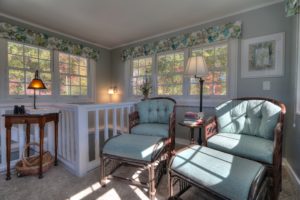 The bathroom on the second floor features a new tiled corner shower and lots of natural light.  We call the top floor The Lookout.  Here guests can relax in comfy chairs and admire the 360 degree views.  We have provided binoculars for bird and wildlife watching.  This is a breathtaking spot to read and relax.  There also is a TV in this room–but we suspect the views will be more captivating than anything on television!
We welcomed the first guests to this room in October 2019.  The response has been overwhelming!  Here are some of the comments from the guest book:  "We are very honored to be the first to stay in The Tower at Buckhorn Inn.  I like the amazing design and the upper room with a good view of the sunset.  Service at Buckhorn Inn is excellent–friendly staff and helpful!  Yummy breakfast and dinner!  I enjoyed the natural splendor and peaceful atmosphere!!  If you are looking for a place/vacation to reflect and relax, this is it!  Thank you Buckhorn Staff!  The Chong Family, Phoenix, AZ"
October 22, 2019
Have you ever heard of Grandma Gatewood?  She was the first woman to hike the Appalachian Trail by herself.  She also was the first person to walk it three times.  Even more surprising is that she did all of this after age 65!
Ben Montgomery's book "Grandma Gatewood's Walk:  The Inspiring Story of the Woman Who Saved the Appalachian Trail" http://www.amazon.com was published by Chicago Review Press in 2016.  This is the story of a great-grandmother who left her small Ohio town with a change of clothes, a pair of thin-soled sneakers, and less than $200.  She did not have a tent nor any professional hiking gear.  By September 1955 she was standing atop Maine's Mount Katahdin proclaiming "I said I'll do it, and I've done it."  Emma Gatewood had lived through poverty, an abusive husband, and raised 11 children before she began her walk.  
On the trail she faced fierce storms and saw the beauty of nature.  She walked up steep ridges and down treacherous ravines.  She often relied
on the kindness of other hikers or community members to keep going.  It is not only a tale of grit and determination, but also of the healing power of nature.
The author interviewed family members and others that Gatewood met along her journey.  He also had access to her trail journals and diaries as well as media coverage of her amazing journey.  
Grandma Gatewood Benefitted the Trail
Gatewood became a celebrated hiker.  She appeared on television programs with Groucho Marx and Art Linkletter.  Her celebrity brought public attention to the Appalachian Trail.  She was not shy about voicing criticism of parts of the trail which were not well-maintained and hence difficult.  This public spotlight led to enhanced trail maintenance.  Many believe that this attention very likely saved the trail from extinction.
At age seventy-one she hiked the 2,000 mile Oregon Trail.  By the time she passed away at age 85, she likely had hiked more than 10,000 miles!
May 13, 2019
"What is it like being an apprentice innkeeper?"  "How do you and Jack like Tennessee?"  "What do you do at Buckhorn Inn?"  "What do you do when not at the Inn?"  So many of our guests have asked me these questions.  Now that Jack and I have lived here for two years this week, I feel that I can finally answer them!  
Life in Chicago
Jack and I both moved to Chicago in 1981 after completing our undergraduate degrees.  I went to Purdue University and he went to the University of Kentucky.    We met on the commuter train from the western suburbs to downtown Chicago.  We both loved reading, college sports, and exploring our new city and quickly became best friends before we became sweeties and then husband and wife.  By 2011 we both had completed our MBA degrees and I had my PhD under my belt.  I was serving as CEO of the Orthopaedic Research and Education Foundation (OREF) and Jack was a founder and CFO of Business IT Source (BITS).  
Moving to Eastern Tennessee
Jack and I built the Greenbrier House  three years ago with the idea that we would offer it up as part of the Buckhorn Inn for "5 or 6 years" until we were ready to retire.  
But once the house was built, retirement became an incredibly alluring thought!  I had just finished leading OREF through a complete refocusing of our business model and was deciding if I wanted to simply maintain our new organization or go on to a new challenge.  Jack had a 90-minute commute each way to and from work and was finding that to be really wearing.  So, we clasped our hands together and jumped into the unknown of moving to Eastern Tennessee!
Life as an Apprentice Innkeeper
Jack and I serve breakfast at Buckhorn Inn on Tuesdays, Thursdays, and Saturdays.  I began as a new face, but guests immediately recognized Jack as John's son.  In fact, I often tell my pop-in-law that looking at him lets me know how my husband will look 30 or so years from now–and the prospect pleases me!  Jack works with Lee on the payroll and accounting.  I work in the office checking out guests and taking reservations on Saturdays.  We get to participate in regular management meetings and have spearheaded some projects, like the new landscaping around the pond.  Lee has entrusted me with Buckhorn Inn social media and many of you read my blog posts and follow us on Instagram and Facebook.  I admire Lee greatly and enjoy spending time with, and learning from, her.  
Cooking, Gardening, Beekeeping
I grew up on a farm in Indiana and greatly enjoyed 4-H.    So our work at the Buckhorn Inn gives me a great opportunity to further explore some of the activities I have always enjoyed–namely cooking and gardening.  I am somewhat a "chef groupie" and feel so fortunate to get to observe Chef Frank in the kitchen.  His knife skills are astounding and everything he plates looks beautiful and tastes delicious. 
I love to cook, so sometimes I get to provide salads and desserts for special luncheons and bake desserts for dinner https://www.buckhorninn.com/dining.  I got to consult with Frank on revamping the Buckhorn Inn wine list.  A wine aficianado, I am taking a wine expert certification course so that I can help more in this regard.  Our friends Brian and Dana at The Rampant Lion have a very nice wine list and have really helped me when my "homework" involved tasting different wines.  A new cookbook is in the works–I am hoping to finish the draft in the next month or so. 
Jack and I created some raised bed vegetable gardens to grow fresh produce for the Inn.  Jack has installed two bee hives and I am his "bee girl", helping with their care.
The Buckhorn Inn guests have been so welcoming and so kind to me.  Well, for the most part.  When Purdue played Tennessee in the NCAA tournament this year I served breakfast in my Purdue shirt.  Who knew that cultured, well-mannered people could boo me so soundly?!!
Other Activities
How marvelous to be so close to the Great Smoky Mountains National Park!  Jack and I enjoy taking early morning hikes before work.  Jack is still working remotely for BITS, so we have to get back before his day begins.  I am still a flatlander, so am working to conquer the uphill portions of the trails! 
This past year I finished my time on the board of CreatiVets, a national nonprofit that serves veterans with post-traumatic stress gain healing tools through the arts.  We have programs at the Art Institute of Chicago and the University of Southern California as well as writing opportunities with professional songwriters in Nashville.  We are a new foundation, but have accomplished much in five years.  Feel free to check us out at http://www.creativets.org.. 
I also have been elected to the Board of the Anna Porter Public Library and enjoy helping guide our programs.  I belong to two books clubs, and have gotten to meet many new friends through our book discussions.  We met some local friends through frequenting the same restaurants and love being part of this community.
Family is Important
We enjoy spending time with my brother-in-law Bill and his wife Louise.  Bill, Jack and I are trivia fiends and have spent some delightful afternoons matching wits with trivia contestants nationwide.  We get to spend off time with John and Lee.  Currently we gather together at Buckhorn House on Sunday evenings for supper and to watch Game of  Thrones.
I very much miss my mother and my brother Herb and his family in Indiana.  But now I have the flexibility to take a week every few months to spend with them.  One of my nieces and I went to New Orleans for the Tennessee Williams Literary Festival and another joined me for a trip to Boston.  Next spring I am hoping to travel with my third niece.  Being an auntie brings me great joy.  
Thank you to all the Buckhorn Inn guests who have expressed an interest in how we are finding Tennessee.  It is beautiful here and we love it.  
Your apprentice innkeeper,
Sharon
January 7, 2019
Need a winter get-away?  While summer is the peak tourist season, our area offers plenty to see and do.  
Gatlinburg is gussied up through February for Winterfest.  Literally millions of lights and displays make the area glow.  This is a great time of year to stroll the downtown streets, admire the lights, and visit some of the shops and restaurants.  Because there are not the crowds of summer and fall, now is the time to visit some of the local indoor attractions.  You might want to check out Ripley's Aquarium of the Smokies, the new Ripley's Believe It or Not, and the Guinness World of Records Museum.  The mild
seasonal weather also makes it a great time to visit Ober Gatlinburg.  The resort has eight ski trails with varying levels of difficulty for beginners, intermediate, and experienced skiers and snow boarders.  Certified instructors are available and an on-site shop rents skis and other equipment.  The view from Anakeesta goes on for miles!  Enjoy a meal or a snack, try your hand at zip-lining, or enjoy the treetop walk.
Winter Hiking
In this area about half the days in winter have high temperatures at more than 50 degrees F, making it very comfortable for hiking.  Fewer tourists means more quiet.  The absence of the leaves opens new vistas.  It is easy to spot the stone walls, chimneys, foundations, and other reminders of past residents of the area.  If there is snow on the ground, spotting and identifying animal tracks adds to the fun of your hike.  If the weather has been below freezing for a length of time, you will see frozen waterfalls, sparkling icicles, and azure blue skies.  Please note that as of today the federal government shutdown is still in force.  That means that for most national parks there will be no park-provided services such as restrooms, trash collection, facilities, or road maintenance.  For information go to the park website https://www.nps.gov/grsm/index.html.  Before you start out, be sure to check the weather in the area you intend to hike.  In addition to temperature and precipitation, wind is an important consideration.  Limbs blowing down create danger.  Our guests report that some of their favorite winter hiking trails are:  Rainbow Falls, Porters Creek, Max Patch, and Andrews Bald.  Please share some of your favorite hiking adventures!
November 5, 2018
Today's guest blogger http://www.trip101.com shares five of the best activities to enjoy in the Great Smoky Mountains.  
Perhaps the most renowned mountain range in North America, the Great Smoky Mountains border North Carolina and parts of Tennessee, and offer a virtually unlimited selection of world class outdoor activities.  Opportunities abound across the "Smokies," an iconic portion of the Appalachian Mountains, where diversified forest ecosystems thrive among untouched and protected spaces alike. From spruce-fir forests to river valleys, the Great Smoky Mountains offers a proven solution for outdoor adventure in the American southeast. Check out our top five activities worth pursuing in the Smoky Mountains, to fill your travel itinerary with easy, lifelong memories.
1. Clingmans Dome
Dedicated hikers and lovers of awe-inspiring sights and sounds will fall easily in love with Clingmans Dome. Welcome to the highest mountain peak in all of the Smoky Mountains, with an elevation of more than 6,600 feet. Venture to the peak of this coniferous environment, for sweeping, uninterrupted
panoramas of the surrounding landscapes, together with a simply unmatched sense of accomplishment.
Clingmans Dome is halfway in North Carolina and halfway in Tennessee, and provides hours of hiking enjoyment to dedicated travelers. Drive Clingmans Dome Road, and then take to a rather steep pathway up to the summit itself, fitted with an observation tower for extended viewing enjoyment. When visibility is at its best from the top of Clingmans Dome, you can see for more than one hundred miles in all directions, and into seven individual states. Take in a picture-perfect sunrise or sunset from the peak, and cross-country ski to the destination come wintertime.
2. Cades Cove
Located in Tennessee, well within the confines of the Great Smoky Mountains National Park, Cades Cove qualifies as a staple site in the southeastern portion of the United States. The original home to decades-old settlers, Cades Cove is today beloved for its easy access and scenic wildlife surroundings. The historical element of the site alone is enough to satisfy qualifications for the National Register of Historic Places.
A geological "limestone window" defined by dated erosion, Cades Cove is home to rock formations that are more than 400 million years old. Take note of the fact that you must plan ahead if you plan on visiting Cades Cove, given the fact that it is the single-most visited location within the confines of the National Park itself. Home to Cherokee natives, European settlers and now generations of satisfied travelers, Cades Cove offers the unique synthesis of panoramic landscapes and educational immersion alike.
3. Mount Le Conte
For a truly unique Smoky Mountains experience, you need to stop by Mount Le Conte. The pride of Sevier County, Mount Le Conte offers you access to the highest peak housed entirely within the state of Tennessee. Better yet, on the way to the summit you will have ample opportunities to experience more than 5,000 feet worth of forest. The sandstone and the shale that comprise large portions of the
mountain are easily 450 million years old, if not more.
Annual snowfall at Mount Le Conte totals nearly forty inches per year, so if you plan on visiting this site during the winter you would be advised to dress accordingly. Interestingly, Mount Le Conte is also renowned for its lodge near the summit itself, so if you're looking for some award-winning hospitality along your way to the mountain's peak, that's an opportunity worth pursuing. If you spot a train of llamas trekking alongside of you, don't be alarmed: llamas deliver supplies to the lodge three times a week during peak operational months. Intermediate hiking conditions and frequent opportunities for photos make the hike up Mount Le Conte worth every second of your investment.
4. Andrews Bald
From the bottom of the mountain to the summit, you can expect an elevation gain of nearly 900 feet, coupled with lasting opportunities for photos and fresh, outdoor air alike. If you're looking to reach Andrews Bald, you're going to want to embark on the nearby Forney Ridge Trail, which eventually delivers you to your destination. Well-maintained hiking endeavors and stone steps pave the way to the summit itself, part of a park-wide manicured effort to keep this location easily accessible to all guests.
Andrews Bald is the destination for you if you're looking to bring the entire family along for the ride. Again, this hike is an all-time favorite among dedicated Smoky Mountains hikers, so you're going to want to get an early start, and prepare to accommodate other hikers en route to Andrews Bald itself. All in all, the hike's popularity witnesses to its worth, as a family-friendly, worthwhile endeavor in the Great Smoky Mountains.
5. Roaring Fork
With a name like Roaring Fork, you know the experience is worth your investment. A stream that cuts through the Great Smoky Mountains in the Volunteer State, Roaring Fork today is the home of both a historic district and a nature trail of the same name. Straight from the Little Pigeon River, the Roaring Fork stream is a must-see in the Great Smoky Mountains. Take the trail direct to the stream, along the way experiencing waterfall background, ample opportunities for relaxation and the chance to take life at a pace comfortable for you. Activities include touring historic sites.  Historically preserved cabins, mills and more will greet satisfied hikers upon arrival, making Roaring Fork an ideal outing, especially for those individuals looking for a quick immersion into local lore.
The Great Smoky Mountains Abound with Family-Friendly Activities
No matter the corner of the Great Smoky Mountains in which you elect to spend your time, the massive acreage allows you to capitalize on authentic outdoor adventure, at a moment's notice. From the waterfalls of the Andrews Bald trek to the limestone structures of Cades Cove, There's an outdoor endeavor at the Great Smoky Mountains that can comfortably accommodate anyone's individual preferences. Provide the entire family with the outing at the Great Smoky Mountains that they deserve, with any one of these five activities virtually guaranteed to deliver lifelong memories outdoors in Tennessee and North Carolina! If you are looking for more destination guides and accommodation reviews, hotels and vacation rentals, check out http://www.trip101.com
August 6, 2018
Thank you to all of our guests who have taken the time to review the Buckhorn Inn!  This week we are sharing some recent reviews from TripAdvisor
It Can't Get Much Better!!
We had a wonderful get-a-way with expected awesome meals and unexpected warm, sunny weather (included great views of Mt. LeConte from our room). We had only eaten there previously not stayed the night. Very quite atmosphere, great hosts and staff, dinner of course was exquisite as was breakfast. We will be back!
Trip type: 
Traveled as a couple
Room Tip:
 All rooms are shown on website. Don't miss selection one with a view of Mt. LeConte.
Awesome stay—-Awesome staff—Awesome Inn
The Buckhorn prides itself in leaving no stone unturned–no detail overlooked—this visit was no exception—every "t" was crossed and every "i" dotted!!! This was our first stay in a guest home—The Webb Mountain House–and it was spectacular—appointed wonderfully–excellent views–breakfast was beyond compare and dinner was beyond any of our expectations—so delicious!! Erica made sure our every need was cared for!! Lee and Debbie are the best hostesses around! When you think The Smokies–or Gatlinburg–Look no further than a stay at The Buckhorn Inn!! You will be thrilled you did!
Joy for the heart and peace for the soul
Once you stay at the Buckhorn Inn, you will want to return again and again. Buckhorn offers spectacular views of Mt. LeConte. You have a choice of accommodations, including rooms in the inn itself, private cottages (our favorite) and even private guesthouses. All of the rooms are tastefully decorated and comfortable. The four course gourmet dinners are the highlights of our stays. The grounds include a Nature Trail for walking and plenty of beautiful spots for relaxing. Plus the inn is located within the Gatlinburg arts district featuring galleries, craftsmen and shops. My husband and I have been visiting Buckhorn for about 15 years now, and we can't wait to go back.
Date of stay:
 February 2019
"Perfect Long Weekend"
A beautiful view of picturesque Mt. LeConte is the backdrop for a scrumptious breakfast in the Buckhorn's dining room each morning. All enjoyed from what what John Mellor teasingly calls the "best seat in the house." We say "teasingly" because every seat is stellar. Innkeepers John and Lee Mellor are usually found in the dining room at breakfast greeting their guests. It is their genuine fondness for people which creates the home-like atmosphere that keeps so many of us returning year after year. The Buckhorn is a wonderful B&B for an extended visit to the Smokies and for that "perfect long weekend."
Read less
Date of stay: February 2019
Dinner at the Buckhorn in a Rare Treat.  Jenny G gave us 5 stars and wrote:  "We recently stayed at the Inn and chose to enjoy the four-course dinner this time.  No regrets.  The food was just exquisite and it made for a beautiful night to remember.  Can't think when I have had a better meal."
Outstanding, Don't Miss this One.  Tom R gave us five stars and wrote:  The Inn is outside the hustle and bustle of Gatlinburg but well worth the drive.   Fixed menu each evening, so check ahead to see what's on the menu.  We had pork tenderloin, melt-in-your-mouth and tasty.  Blackberry cobbler with lemon curd ice cream.  Wow.  Great service and views.  Don't miss it. "
Buckhorn is the Best!  ddmeen gave us five stars and wrote:  "We visit the Smokies several times each year and we always stay at the Buckhorn Inn.  The accommodations are beautiful, and the views of the mountains are magnificent.  The breakfasts are absolutely delicious.  Special desserts such as cookies and brownies are available each afternoon.  Be sure to book dinner there also!  The staff is lovely, and they do everything possible to make your stay a memorable one."
Great Family Vacation Spot.  susangoodson gave us five stars and wrote:  "We recently stayed at the Bebb House at the Buckhorn Inn.  It is a lovely place to stay and the view was spectacular.  The breakfast and dinners at the Inn are the shining star of this resort.  It's a lovely experience and I would highly recommend it."
Best Place to Stay East of the Mississippi.  Jenny gave us five stars and wrote:  "You can't go wrong with the Buckhorn Inn.  It's been there for 80 years.  The hosts are lovely people, the food is stellar, the view is amazing.  You're looking into Great Smoky Mountains National Park.  And the brownies and cookies every afternoon are out of this world.  I've been staying at B&Bs for thirty years and this is the best ever."
Thank you everyone for these wonderful reviews.  We strive to make your stay with us lovely in every way–thank you for letting us know we are hitting the mark!
July 30, 2018
In 2018 Buckhorn Inn is celebrating our 80th anniversary with Throwback Thursday!  Each Thursday in August our talented chef, Matthew Poole, will incorporate into the menu his modern take on some historical recipes.  Innkeeper Lee Mellor is in possession of the original hand-written recipes used by our cooks in the 1930's!  
Desserts figured prominently in these early recipes.  We found recipes for Fluffy Banana Cake, Texas Pecan Pralines, and Heavenly "Goo" topping for shortcake.  
Savory recipes from 1938 include stuffed pork chops, roasted turkey and porcupine meatballs.  Don't worry– there is no porcupine meat in these meatballs!  The name comes from the way rice grains poke out of the meatballs when they are done.  The rice resembles the quills of these little animals, common in Israel.  In Hebrew these meatballs are called Ktzizot Kipod.
Throwback Thursday Honors Long Culinary Tradition
The Buckhorn Inn opened its doors for business in August 1938.  Many Knoxville residents visited this new Inn for lunch.  Yes–in those days the Inn served three meals a day.  Leisurely, plentiful lunches were a hallmark of the times.  Douglas Bebb was passionate about the meals served at the Inn.  He raised his own chickens to provide the very freshest eggs and his garden produced an abundance of fresh vegetables.  He was an excellent cook and prepared all the meat dishes served at the Inn.  
The guests especially looked forward to the Sunday luncheon buffet.  It was Mrs. Branam's  (the cook) day off, so Mr. Bebb cooked the meal in its entirety.  He was rightfully famous for his corn pudding.  In fact, his recipe was featured in the book Ford Times published by the Ford Motor Company to encourage driving vacations.
In those early days, a staff of four served the three meals a day.  Tennessee was dry in those days, yet the pre-dinner cocktail hour was an honored tradition.  The guests would simply bring their wine and spirits with them.  Ellen Bebb, daughter of Douglas, reports that some of the guests would take turns hosting cocktail hours in the cottages.  But the greatest honor was bestowed when guests were invited to Bebb House to share cocktails with their hosts.
Join us for a taste of history during dinners this August.  Visit our website https://www.buckhorninn.com/dining/weekly-dining-menu to review our upcoming menus.
July 23, 2018
The term "biodiversity" refers to the variety of plants, fungi, animals, and other organisms that can be found in a particular location.  The Great Smoky Mountains is the most biodiverse park in the National Park System.  The more than 800 square miles of the park contains more than 19,000 documented species.  Some scientists believe an additional 80,000 to 100,000 species may be found here.
What are the Reasons for such Biodiversity?
According to the National Park Service, mountains, climate, and weather are the big reasons.  http://www.nps.gov/grsm/learn/nature/index.htm  The Smokies are among the oldest mountain ranges in the world.  The plant-covered mountains were formed as long as 300 million years ago.  Elevations in the park range from 850 to 6,643 feet.  This range is similar to what one would find from Georgia to Maine.  More than 95% of the park is covered with forest, much of it old-growth.  The park is home to 100 species of native trees.  The abundant rainfall and high humidity provide good growing conditions.  It is interesting to note that the relative humidity in the Smokies in the summertime is about twice that of the Rocky Mountain region.  
The north/south positioning of the Appalachian chain allowed the Smokies to become a home for many plants and animals that sought refuge from the glaciers of the last ice age.  More than 1,500 flowering plant species have been identified in the Great Smoky Mountains National Park.  Scientists report that the park also is home to more than 200 bird species, 68 species of mammals, 67 native fish species, 39 species of reptiles, and 43 species of amphibians.
The University of Tennessee has worked with the Great Smoky Mountains National Park to create the Species Mapper.  The Species Mapper uses information from observations and research studies to predict where various species may be found in the Park.  As more observations are added to the model, it becomes more accurate.  
We will use this blog space to share an occasional series of articles focusing on the amazing biodiversity of our area.