October 29, 2019
Have you stayed in The Tower?  In the early days of Buckhorn Inn, the water tower actually was a water tower!  The tower held an enormous wooden bucket which stored water!   The height was sufficient to pressurize a water distribution system.  When electricity came to the Inn, this system was no longer needed.   Rachael Young, the second mistress of the Inn, had converted the space to a bedroom in the late 1970s for use by her and her husband Robert.
Guests have loved this unique accommodation.  Their reviews have often cited the "cool factor" of the space.  They especially have noted the third level with windows looking in all directions.  This floor has many times been described as a "tree house"!
New Tower Has Kept Charm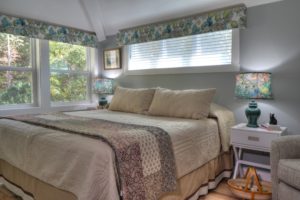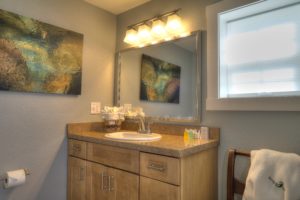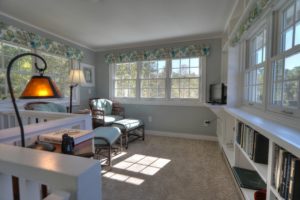 Innkeepers John and Lee Mellor wanted to keep all of the historic charm of this room, but to make it more spacious and convenient.  The renovation has done just that!
Guests enter the new room from their own entrance from their private parking space in front of the Inn.  On the ground floor they find a light and airy bedroom with a king-size bed.  High windows on two walls flood the room with sunshine and look out upon a leafy skyscape.  A kitchenette, smart TV, sitting space and roomy closet provide for coffee and morning news while getting ready for the day.  The room is decorated with original art throughout.  One of our favorite pieces is a painting by local artist Susan Edwards.  The stairway has been transformed into a work of modern art with a cut-out and new railings.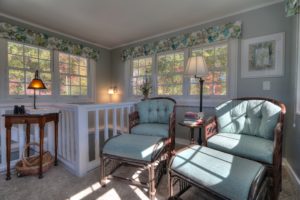 The bathroom on the second floor features a new tiled corner shower and lots of natural light.  We call the top floor The Lookout.  Here guests can relax in comfy chairs and admire the 360 degree views.  We have provided binoculars for bird and wildlife watching.  This is a breathtaking spot to read and relax.  There also is a TV in this room–but we suspect the views will be more captivating than anything on television!
We welcomed the first guests to this room in October 2019.  The response has been overwhelming!  Here are some of the comments from the guest book:  "We are very honored to be the first to stay in The Tower at Buckhorn Inn.  I like the amazing design and the upper room with a good view of the sunset.  Service at Buckhorn Inn is excellent–friendly staff and helpful!  Yummy breakfast and dinner!  I enjoyed the natural splendor and peaceful atmosphere!!  If you are looking for a place/vacation to reflect and relax, this is it!  Thank you Buckhorn Staff!  The Chong Family, Phoenix, AZ"