Blog




January 29, 2011
February is the month of love. Celebrate at Buckhorn this month and relax, letting us take care of all the pesky details.
Our two-night Romantic Anytime Getaway includes
accommodation with fireplaces and jacuzzis
sumptuous breakfast each day (delivered to your room if you like)
romantic, lamp-lit dinner on both nights
chilled champagne and chocolate-dipped strawberries on arrival

fabulous flowers

our Lotions and Potions Spa Amenity Gift Set
$635
January 28, 2011
Winter Heritage Festival  February 3-6
A celebration of the human history, natural beauty, and cultural history of the Smokies.  There will be fascinating speakers, musicians and experts on the Smokies. 
www.smokymountains.org
Saddle Up!  February 24-27
This celebration of the American West features cowboy singers, musicians and poets. 
1-800-251-9100
Music of the Mountains April 16
The National Park presents old-time, traditional and bluegrass music performers in this all-day free festival at the Sugarlands Visitor Center.  Evening performance headlined by Jimbo Whaley and his band Greenbrier.  865-436-1200
Wildflower Pilgrimage  April 26-May 1
The Wildflower Pilgrimage offers over 150 programs including an array of instructional walks, guided hiking tours, demonstrations and guest lecturers. These programs showcase the abundant varieties of wildflowers, plants, ferns, mosses, trees and shrubs, as well as birds, reptiles and amphibians that are native to the Great Smoky Mountains.  865-436-7318
Gatlinburg Scottish Highland Games  May 13-14
Scottish clans gather for a parade and traditional Highland games–tossing the caber, wrestling, haggis hurling and the stone put.  Dancing, pipe and drum bands and border collie demos are among other activities. 
www.gatlinburg-scottish-highland-games.org
Gatlinnburg Fine Arts Festival  May 14-15
This event showcases artists at the top of their field from around the United States in a street fair atmosphere along River Road.  Proceeds benefit the Arrowmont School of Arts and Crafts. 
www.gfaf.net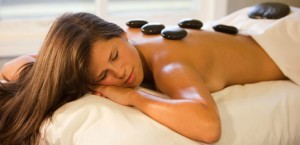 Swedish Relaxation Massage
This massage uses specific strokes to have a therapeutic benefit.  It includes long strokes and kneading to help you relax while promoting health and well being. This blend of smooth relaxing strokes, moderate pressure and gentle fluid motions is great for relieving fatigue and tension. Swedish massage is designed to have a relaxing effect without working the muscles too vigorously.  $85 / 1 Hour  |  $125 / 1.5 Hours
Deep Tissue Massage
(also known as Trigger Point and Neuromuscular Massages)
A deep tissue massage is a strong, vigorous massage used to release tensions, eliminate pain and relax tight muscles. The pressure is moderate to firm and consistent and great for releasing those "knotted up areas."    $95 / 1 Hour  |  $145 / 1.5 Hours
Hot Stone Massage
This is a relaxing massage that uses deep heat therapy and universal energy. Smooth stones are heated and incorporated into your full body massage using rhythmic flows. This is a deeply centering therapy which brings about intense calm and a sense of peace and tranquility. The warmed riverbed stones glide across your body with the help of natural essential oils, soothing the nervous system, clearing toxins and gently balancing your body's energy. The stones relax and smooth the muscles and dissolve away stress and knots. This therapy has a sedative effect on the nervous system. This is a very enchanting massage to pamper you and melt away the cares of the day.   $145 / 1.5 Hours
Lomi Lomi
This approach to the full body massage is a spiritual tour. It can help you relieve tension and stress.  Your therapist will use long flowing rhythmic strokes along with many different healing techniques. This treatment incorporates more use of the forearms and less finger tip pressure. There are no demands on your body with this massage, making it very relaxing.
$110 / 1 Hour
Reiki (Ray-Key, also known as healing touch)
Reiki is a Japanese word meaning "universal life energy". A gentle, but effective treatment is administered by the hands being lightly placed on the client's clothed body. The healing energy is gentle and non-invasive and helps stimulate the client's own inner energy flow. Its beneficial effects include reduction of stress, release of pain or discomfort, relaxation and awareness. Reiki is known as a Japanese healing art. It restores balance and harmony to the whole person, bringing about a sense of wellness.  A powerful collection of healing techniques in which energy is sent through the hands to heal by utilizing your body's resources. It is said to provide profound relaxation and uses very little rubbing.   $85 / 1 Hour
Raindrop Therapy
Pure essential oils containing curative properties, are massaged into the back and liver meridians, aiding tissue cleansing, fighting off infections, and eliminating back pain. Raindrop therapy combines the science of aromatherapy with Reflexology, different massage techniques and essential oils. The oils are applied on various areas of the body to bring structural and electrical alignment. It is designed to bring balance to the body using a relaxing and mild application. All this is done without using pressure or force. When you combine our massage techniques and the nine pure essential oils, a greater healing process begins.   $110 / 1 Hour
Craniosacral Therapy
Takes a whole-person approach to healing. The inner-connections of mind, body and spirit are deeply acknowledged. This is an effective form of treatment for a wide range of issues helping to create the optimal conditions for health, encouraging vitality and facilitating a sense of well being. Through the development of subtle palpatory skills the practitioner can read the story of the body, identify places where issues are held and then follow the natural priorities for healing as directed by the patients own physiology. A truly relaxing and serene experience.
$130 / 1.5 Hours
Steam Tunnel
The steam tunnel is a steam bath therapy.  It increases the metabolic rate, burning calories, improving circulation and promoting water-weight loss. Steam therapy is also used to beautify skin by purifying and eliminate toxins. It is done after your massage to invigorate and relax you at the same time.   $55
Body Polish
Our body polish is a very invigorating massage that uses a special blend of organic salts to energize and heal. The body polish gently rids the skin of dead cells leaving your skin soft and glowing. Toxins are gently coaxed from your body to purify and cleanse. A rubdown with a custom moisturizer completes this therapeutic and refreshing treatment. Your whole body will once again be silky smooth and baby soft.   $55
Rejuvenating Hot Mud Wrap
A detoxifying mud wrap will pull out the accumulated wastes our modern way of living puts in. A therapeutic grade mud is heated and used to cover your body, and then you are wrapped and insulated. It leaves you feeling pampered and rejuvenated. This treatment will leave your skin enriched and healthy with a radiant glow.   $95 / 1 Hour
Aromatherapy
Your aroma therapist will determine which blend of pure essential plant and flower oils will best suit your individual needs and best benefit you in healing and balancing your system. This is a blissful, stress relieving and deeply relaxing massage  using the massage techniques your body needs. Aromatherapy is a holistic, balancing, revitalizing and nurturing treatment that helps create balance and harmony in the body. The ultimate relaxation for mind, body and soul.   $20
It is recommended that you book services at least 48 hours in advance by telephoning 865-908-2530.  For information see www.beneficialtolife.com.
January 27, 2011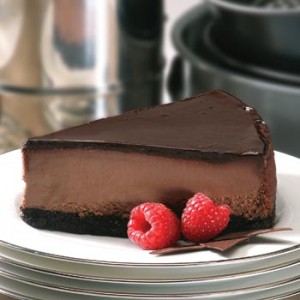 The sweetness of this cheesecake recipe checks in at just the right level to let the chocolate flavor stand out.
Ingredients
1 1/2 cups cream-filled chocolate sandwich cookie crumbs (about 18 cookies)
1 (12-ounce) package semisweet chocolate morsels
3 (8-ounce) packages cream cheese, softened
1 (14-ounce) can sweetened condensed milk
2 teaspoons vanilla extract
4 large eggs
Ganache Topping
Preparation
Press cookie crumbs into bottom and halfway up sides of a 9-inch springform pan; set aside.
Microwave chocolate morsels in a microwave-safe bowl at HIGH 1 1/2 minutes or until melted, stirring at 30-second intervals. Beat cream cheese at medium speed with an electric mixer 2 minutes or until smooth. Add sweetened condensed milk and vanilla, beating at low speed just until combined. Add eggs, 1 at a time, beating at low speed just until combined after each addition. Add melted chocolate, beating just until combined.
Pour cheesecake batter into prepared crust. Bake at 300° for 1 hour and 5 minutes or just until center is set. Turn oven off. Let cheesecake stand in oven 30 minutes with oven door closed.
Remove cheesecake from oven; run a knife along outer edge of cheesecake, and cool in pan on a wire rack until room temperature. Cover and chill 8 hours. Remove sides of springform pan, and place cake on a serving plate. Slowly pour and spread warm Ganache Topping over top of cheesecake, letting it run down sides of cheesecake. Chill 1 hour before serving.
Yield: 8 – 12 servings
Ingredients for Ganache Topping
3/4 cup whipping cream
1 (6-ounce) package semisweet chocolate morsles (1 cup)
1 (6-ounce) package milk chocolate morsels (1 cup)
Preparation
Bring cream to a boil in a saucepan over medium heat; quickly remove from heat, and stir in semisweet and milk chocolate morsels until melted and smooth. Let mixture cool (about 30 minutes) until slightly warm before pouring and spreading over cheesecake.
January 20, 2011
Thank you and the staff for making our stay at Buckhorn enjoyable and memorable.  We can't say enough about the professional yet homey atmosphere you create and making we strangers feel like we are at home.  I will highly recommend Buckhorn to all our traveling friends–those looking for a relaxing vacation with great food and surroundings.  Jim and Claudette
My husband and I so enjoyed our stay.  Our cottage had onen of the best views we've seen.  Thank you to both the innkeepers and the staff for an amazing stay.  Until our next visit, Russell and Leigh
Thank you all so very much for a lovely vacation.  My husband and I were there in October.  We fell in love with Buckhorn Inn.  Everyone was so friendly and made us feel right at home.  Our cabin was so warm and comfy.  We cannot wait to come back.  Gail and Brad