Gifts
Gifts
Gift Certificates
Make someone happy with a Buckhorn Inn Gift Certificate. Gift certificates come printed on a beautiful card featuring a watercolor of the Inn by famed painter G. Webb.  Certificates may be ordered online or by email, telephone or fax and come in any denomination beginning with $25. In a hurry? We can email gift certificates, too.
The Buckhorn Experience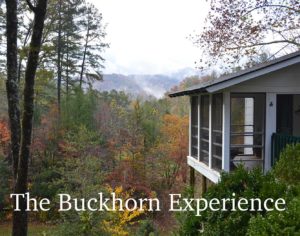 New in 2016, The Buckhorn Experience is a gorgeous 115 page book featuring 240 high quality photographs of Buckhorn Inn with annotations by Buckhorn Inn guests from the last 78 years.  Writer Steven Williford put this delightful coffeetable style book together over the last two years and his skills have certainly paid off.  Gift-perfect for Christmas, anniversaries, birthdays, first-time guests and for anyone who loves Buckhorn.  $25 Paperback  $35 Hardcover   Click here to order online.
Gift Store
Our gift shop features great goodies and Inn mementos. Here's a sampling of Buckhorn Inn gifts that you can purchase.
Buckhorn Inn Golf Shirts – Price: $25
Buckhorn Inn Bathrobes – Price: $73
Buckhorn Inn Sweatshirts – Price: $25
Buckhorn Inn T Shirts – Price: $18
Buckhorn Inn Mugs – Price: $16
Buckhorn Inn Cookbook – Price: $12
Locally Crafted Hiking Sticks – Price: $35-$120
Hiking Trails of the Smokies (book) – Price: $19.95
Waterfalls and Cascades of the Smokies (book) – Price: $7.95
The Cades Cove Story (book) – Price: $5.95
Great Smoky Mountains: The Range of Life (book) – Price: $8.50
The Civil War Story in the Smokies (book) – Price: $12.95