Blog




December 14, 2020
At this time of year many of us enjoying curling up in front of a roaring fire with a frothy cup of eggnog.  What is the history of this unusual beverage?
Most food historians agree that eggnog originated from medieval Britain.  In the 1200's Brits were known to be fond of a hot, milky, alcoholic drink called a "posset".  These drinks were usually made with ale.  Eventually, monks developed a posset with eggs, sherry, and figs.  Because milk, eggs, and sherry were consumed by the wealthy, this beverage was often used to toast prosperity and good health.
When the drink came to America in the 1700s, it began to become associated with the winter holidays.  The colonists began substituting less expensive rum for the sherry and mixed it with their eggs and milk.  George Washington had his own favorite recipe which included brandy, rye whiskey, rum and sherry along with eggs, cream, sugar and milk.  Most say that the drink is called a "nog" from the word "noggin" for a wooden cup.  Whatever the reason, by the late 18th century the term eggnog was in common use. 
We are partial to the recipe from Alton Brown http://www.foodnetwork.com.
Alton Brown's Eggnog
Makes 6 to 7 cups
4 egg yolks
1/3 cup sugar, plus 1 tablespoon
1 pint whole milk
1 cup heavy cream
3 ounces bourbon
1 teaspoon freshly grated nutmeg
4 egg whites
Beat egg yolks until they lighten in color.  Gradually add 1/3 cup sugar and beat until completely dissolved.  Add the milk, cream, bourbon, and nutmeg and stir to combine.  Beat egg whites to soft peaks.  Add 1 tablespoon of sugar and beat until stiff peaks form.  Whisk whites into the milk mixture.  Chill and serve.
If you prefer to cook your eggnog, beat yolks until light and beat in sugar until it is dissolved.  Over high heat combine milk, cream and nutmeg and bring just to a boil, stirring occasionally.  Remove from heat and temper the hot mixture into the egg and sugar mixture.  Cook until it reaches 160 f.  Remove from heat, and stir in the bourbon.  Chill.  Then beat and add the egg whites and sugar as described previously.
Cheers!
November 30, 2020
Stumped about holiday gift ideas?  You members of the Buckhorn INNer circle have some options just a phone call away!  Here are some of the goodies available from the Buckhorn Inn gift shop.
Gift Certificates
Buckhorn Inn gift certificates are available in any denomination from $25.  You can gift a stay at the Inn, a dinner, or a special occasion package.  Hard copy certificates are delivered in a beautiful card featuring a watercolor of the Inn by famed painter G. Webb.  We can also email gift certificates.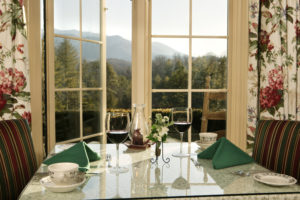 Buckhorn Inn Memories Captured in Watercolors
Long-time guest Tanya Young has created a set of special vignettes created in watercolors.  The matted prints are $25 each and measure 8.5″ x 11″, including matting.  The vignettes feature the meditation labyrinth, Cottage #1, a window table in the dining room, and the book case lamps in the dining room.  What a special way to remember your stay!
Holiday Gift Ornaments
Each year we introduce a new collectible ornament crafted by Tim Weberding Woodworking.  The 2020 ornament features the front of the Inn.  Supplies of these beautiful pieces are limited!
Works by Local Artists and Artisans
We have beautiful hand-crafted hiking sticks priced from $35 to $125.  They would make a lovely gift along with a copy of the book "Hiking Trails of the Smokies" for $19.95.
We also carry some beautiful glass pieces by local artist Pete Alcott.  He produces colorful fused glass art pieces that are durable enough to be functional.  These striking works will be treasured for years to come.
Other Gifts
We also carry bathrobes, Buckhorn Inn cookbooks and shirts.  Our supplier promises our mugs will be back in stock soon!  Many of our local partners have gift cards as well–you can check out Anakeesta http://www.anakeesta.centeredgeonline.com and Ober Gatlinburg http://www.obergatlinburg.com.
We look forward to helping you with your holiday shopping this year!
November 9, 2020
For those who plan to travel to Buckhorn Inn in the next few months, I wanted to remind you of the precautions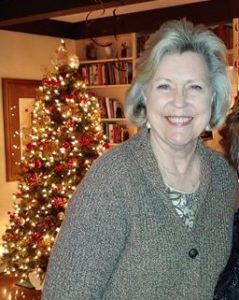 we are taking ensure your health as well as that of our staff.
All hard and soft furnishings in your room are thoroughly cleaned and sanitized before your arrival. We have removed bedspreads, decorative quilts, and decorative throw pillows to speed our sanitation procedures. You may use contactless check-in. Upon your arrival, we will not enter your room again until after you check out. We have eliminated our hard copy guest directories in favor of an electronic version which you may download to your phone. We will send the link to it in your confirmation letter. In it you will find much information—including the location of the supply of extra towels and toiletries stored for you in your room!
All staff members undergo a temperature and health check daily and must stay home if they, or a family member, are ill. Our housekeeping members are masked and gloved when they are preparing your room for you. All kitchen and serving staff are masked and gloved as well. We reservation times for breakfast, so that we can manage social distancing in our dining room in the morning. We utilize the library for additional dining space. We clean and sanitize dining tables, chairs, and condiment holders between guests. We keep as much air flowing in the dining room as possible. We have limited the number of dinner reservations we will accept so that we can maintain social distancing in the evenings as well. Our afternoon treats are individually wrapped in plastic. Our team sanitizes all high-touch surfaces in the Inn's public areas several times each day. We have large, well-marked dispensers for hand sanitizers in several places in the public areas.
If we have an active credit card for you on file, we will email you the final bill the day before you check out. Then you will not need to come into the office as you can simply leave your key in your room. If you do enter the office or gift shop, you will see that we have installed a large plexiglass window as a barrier between our guests and the office staff.
Thank you for placing your trust in us.  We look forward to seeing you soon.  And we look forward to a future where we can greet you with a hug and you can see our welcoming smiles!
From Sharon Mellor
Flaky Parmesan Pinwheels
One thing I learned from my mother is to always have something on hand to offer unexpected guests. She called it her "social security"! A roll of these pinwheels can remain in your freezer for several months. Simply remove, slice and bake and you have a very delicious appetizer! Serve them with a fresh and acidic white wine. A pinot grigio or a sauvignon blanc would do nicely.
Flaky Parmesan Pinwheels
12 ounces cream cheese at room temperature
1 cup grated parmesan cheese
2 green onion tops, chopped
¼ cup pesto (purchased or your favorite recipe)
1 lb. frozen puff pastry, thawed but still cold
Blend cream cheese and parmesan. Add green onions and pesto and mix until well incorporated. On a lightly floured board, roll 1 sheet of the puff pastry into a 10 x 6 inch rectangle. Spread half of the cheese mixture over the pastry. Roll lengthwise. Wrap tightly in plastic wrap. Repeat with remaining pastry and filling. Freeze until solid. Remove from freezer about 15 minutes before baking. Preheat oven to 375 and place rack in upper third of oven. Slice logs into ¼ inch thick rounds. Place on ungreased cookie sheet about 1 ½ inches apart. Bake for 10 to 13 minutes or until lightly browned. This recipe makes about 50 pinwheels. Serve warm or at room temperature.
We are very ready to bid adieu to 2020 and to usher in a New Year. We look forward to ringing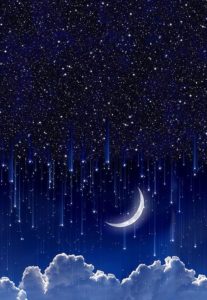 in 2021 with those of you who are participating in our package. We hope you will be joining us for an evening of Pearls and Moonlight! The dining room will be dressed in snowy white and the dress code is winter white. Chef Frank has devised an elegant white menu for our enjoyment:
Dîner en Blanc
Course #1
Scallop and Fennel Risotto
Course #2
Cauliflower and Gruyere Soup
Course #3
White Asparagus and Prosciutto Salad
Main Course
Beef Tenderloin enrobed in Horseradish Sauce
White Truffle Mashed Potatoes
White Corn in a Tomato Cup
Dessert
White Chocolate Pots de Crème with Pistachio, Cranberry and White Chocolate Biscotti
Thanksgiving is more than a harvest festival.  It is the beginning of the fall-winter holiday season!  Each year we pay homage to the first Thanksgiving—a feast shared by the Pilgrims who settled the Plymouth Colony and the Wampanoag natives.  Our Buckhorn Inn tradi has been to serve a Thanksgiving buffet with everyone's favorite dishes.  To comply with the current knowledge about Covid-19 prevention, we will not be offering a buffet this year.  But the feast will be bountiful nonetheless!  Chef Frank has developed a fantastic menu for a plated dinner which will be served at 5:00 p.m.  If you are joining us for our three-day Thanksgiving package, please know that families and groups travelling together will be seated with their own groups for the holiday meal.  All couples will have their own tables.  We will be removing furniture from the dining room and library to ensure adequate social distancing between tables.  So that you may start looking forward to it, here is the menu:
Course #1 
Root Vegetable Soup with Crema and Dried Apples
Course #2 
Shrimp Martini
Main Course 
Roast Tom Turkey with Giblet Gravy
Sausage, Sage, and Cornbread Stuffing
Mashed Yukon Gold Potatoes
Green Beans Almandine
Roasted Butternut Squash
Dup of Black-Bottom Mascarpone Tart
and
Brandy Pumpkin Cake with Pumpkin Mousse
We look forward to celebrating a delicious harvest meals and counting our blessings with you, our wonderful guests.
October 23, 2020
Pumpkin Pie is a delicious finale to any Thanksgiving dinner.  This week we are planning our upcoming Buckhorn Inn Thanksgiving feast and fondly reminiscing about Thanksgivings past.  Here is Sharon's memory of her first Thanksgiving after she and Jack moved from Chicago.
I was so delighted to be part of the Buckhorn Inn family and was eagerly looking forward to Thanksgiving.  I love to bake, so I was excited when Lee asked if I would help out by baking a few desserts for the feast.  I pictured myself bustling about in an apron, my kitchen fragrant with fall spices.  Perfect!  When the menu was finalized, I was in charge of baking six pies–three apple and three pumpkin. 
Family to the Rescue
Pie crust has long been my nemesis.  My mother makes perfect pie crusts–light, tender, flaky and delicious.  I follow her recipe carefully, but my results are inconsistent.  I watch my mother's deft hands as she quickly and confidently rolls out her crusts.  I don't think I inherited her "dough touch"! 
I was worrying aloud about my pies to my sister-in-law Donna.  I know my brother would have married her anyway, but the fact that she is a great cook certainly sweetened the deal for him!  She said, "Sis, don't worry about a thing.  I have a recipe for pie crust that has never failed me."  She wrote out the recipe and I hurried home to make some practice pies.  Success!  If you would like the recipe for Donna's  crust, check out her blog  https://faithhopefarm.wordpress.com/2020/10/23/a-time-to-give-and-a-time-to-share-a-pie-crust-recipe-story/ Her blog shares the story of how a "town girl" like her adapted to life on a farm.  She shares recipes, craft ideas, garden inspirations, and farm anecdotes.  You might enjoy following her!  
Here is the recipe for my pumpkin pie filling.  It is rich, creamy, and has a hint of bourbon.  This recipe makes one pie and is delicious topped with copious amounts of whipped cream.
Sharon's Pumpkin Pie
8 ounce package cream cheese, softened
2 cups canned pumpkin
1 cup sugar
1/4 teaspoon salt
1 egg plus 2 egg yolks, slightly beaten
1 cup half-and-half
1/4 cup melted butter
1 tablespoon bourbon
1 teaspoon vanilla extract
1/2 teaspoon ground cinnamon
1/4 teaspoon ground ginger
1/4 teaspoon nutmeg
1/8 teaspoon ground clove
Donna's No-Fail Pie Crust
Preheat oven to 350 F.  Place pie dough in a 9-inch pie pan and press down on bottom and sides.  Pinch and crimp edges.  Put the shell in the freezer for an hour to firm up.  Line the frozen shell with foil and fill with pie weights or dried beans.  Bake for 10 minutes, remove the foil and weights and bake for another 10 minutes.  The crust should be dried and just beginning to color.
Beat cream cheese.  Add pumpkin and beat until combined.  Beat in the sugar and salt.  Add egg and yolks, half-and-half and melted butter, beat until combined.  Add the remaining ingredients and beat until incorporated.  
Pour the filling into the warm pie crust and bake for 50 minutes.  The center should be set.  Cool to room temperature before cutting.
We hope you enjoy this pie and that you have a beautiful autumn!
September 28, 2020
Dear Neighbors,
I am writing to tell you a bit about myself and to ask for your vote for Pittman Center Alderman.  My late husband, John, and I lived in many different places.  But nowhere felt as much like "home" to us as Pittman Center http://www.pittmancentertn.gov.  Over the last 30 years of living in this area, I have been fortunate to call many of you friends.  The rest of you are friends that I have not met yet!  For the last 22 years John and I have owned and operated Buckhorn Inn.  As many of you know, the hallmark of our time at the Inn has been to embrace and maintain the Inn's historic charm while providing modern conveniences.  This is the same sensibility I want to bring to leadership decisions in our town.
Locally, I have been involved in two projects that are very near and dear to my heart.  Both  were satisfying to me because of my love for heritage.  I assisted in fundraising for the new Pittman Center Elementary School and the Glenn Cardwell Heritage Museum, as well as making a donation.  I have served as treasurer on the Museum Board since its inception.  I view the Museum as a means of preserving and communicating our community's heritage and as a way of promoting appropriate tourism.  I was also chairman of the Gatlinburg library for many years and was chairman of the fundraising campaign that raised $1,000,000 for constructing its new facility.
While a university student, I organized a campaign to save beautiful oak trees which were scheduled to be removed to make way for a new building.  It wasn't a successful campaign, but I learned a lot about community action.   It has always been important to me to ensure my voice, and that of others, is heard. 
I grew up on a ranch in Texas and rode the bus to school 14 miles away every day and I rode my horse whenever I could.  Education has always been important to me.  I graduated with bachelor's and master's degrees from Texas A&M University-Commerce.  For most of my long professional career, I was a senior administrator in higher education in this country and overseas.  I have had the opportunity to serve on many boards and committees.  I have three children, two grandchildren, and five great-grandchildren.
My Vision of Pittman Center
As your alderman I would want to
balance environmental protection and economic well-being as contained in the FutureScape report of the 1990s which took place under the leadership of Mayor Judy Perryman and supported by Glenn Cardwell
ensure that enforceable zoning ordinances and building codes reflect the values of our community
protect our ridgetops
help the Glenn Cardwell Heritage Museum develop and expand
look into petitioning the postal service to enable our residents to use the town's name, Pittman Center, as our official address
encourage more community participation in developing the town's policies and strategic vision
work toward ensuring that all residents can access broadband internet without excessive access fees
I love Pittman Center. Thank you for your consideration.  I look forward to receiving your vote.
Sincerely,
Lee Mellor
September 21, 2020
Are you familiar with petrichor?  This is the earthy smell produced when rain falls.  The word comes from the Greek petros, stone, and ichor, the fluid that flows in the veins of the gods in mythology.  Scientists speculate that humans enjoy the scent of rain because our ancestors may have relied on rainy weather for survival.
Surprisingly, this common smell was not given a name until a scientific paper written in 1964.  The authors described how the smell comes from an oil exuded by plants in dry weather.  The oil is absorbed by clay-based soils.  When it rains, the oil is released into the air along with another compound, geosmin.  Geosmin is a byproduct of certain bacteria and is released from wet soil.
Scientists from the Massachusetts Institute of Technology used high-speed cameras in 2015 to record how smells move in the air.  When a raindrop lands on a porous surface, air from the pores forms small bubbles.  These bubbles release aerosols which carry the scent.  Petrichor is more common after light rains because raindrops that move more slowly produce more aerosols.  
If the rain is a heavy one, the scent can travel downwind and alert people that rain is on the way.  Farmers often talk about smelling rain in the air.
Petrichor Described Poetically
Scientist T.L. Phipson described the phenomena in somewhat more poetic terms in 1865.  His notes refer to "the fragrance emitted by thousands of flowers . . ." that were "absorbed into the pores of the soil" and only released by rain.   
This poem by Jayde E is entitled Petrichor.
The scent of rain on dry Earth.
Churning like seawater on a stormy day.
Rising from the ground like bluebonnets on a summer evening.
Petrichor is a delight.
Wafting about beneath soft grey skies.
Traveling on the cool breeze like fairy dust in the wind.
The scent of nature.  
As fresh and invigorating as a thing could be.
A promise of new life.
A promise of new days.
A promise of more nights.  http://www.powerpoetry.org
The next time you visit Buckhorn Inn on a rainy day, we invite you to sit on one of the porches and savor the petrichor!