Blog




April 24, 2023
This classic soup is simple, can be made ahead, and is a great way to celebrate fresh, inseason asparagus. The silky, rich, green soup is beautiful as well as delicious. Just add some
warm sourdough bread and a green salad and you have a beautiful, light supper! Asparagus is
notoriously difficult to pair with wine—it can make the wine taste very vegetal or grassy. The
addition of cream in this recipe makes the soup more wine-friendly. Crisp, sparkling wines like
Champagne, Cava, or Prosecco will pair very nicely with this soup. Other options might be a
refreshing Sauvignon Blanc or an unoaked Chardonnay, like the Mer Soleil Silver we offer as an
Innkeeper's Special at the Inn.
2 pounds green asparagus
1 large, sweet onion, chopped
3 tablespoons unsalted butter
5 cups chicken stock
1/2 cup heavy cream
1/2 teaspoon fresh lemon juice.
Cut the tips from 12 asparagus spears and reserve. Cut all remaining asparagus into 1/2 inch
pieces. Cook onion in 2 tablespoons butter over low heat, stirring, until soft. Add cut
asparagus and salt and pepper to taste. Cook and stir for 5 minutes. Add the stock and
simmer, covered, for 20 minutes. The asparagus should be tender.  Add the heavy cream. Use an immersion blender,
or a regular blender, to purée soup. Add the reserved asparagus tips and bring to a boil. Taste
and add salt or pepper if necessary. Once the asparagus tips are tender, whisk in one
tablespoon of butter. Add lemon juice and serve. If making ahead, do not add last tablespoon
of butter and lemon juice until after the soup is reheated. Makes four servings
March 27, 2023
Have you noticed that our mute swan, Bubble, now has a young pal?  Butty, a nine-month-old male came to us in March all the way from Chicago.  Butty still displays some of the dusky brown-gray feathers of youth.  When he matures, he will be entirely white.
Why is he called Butty?
As many of you know, Bubble's brother was Squeak.  They were named by Innkeeper John Mellor for the famous British dish, Bubble and Squeak.  And also because the noises they make sound like bubbles and squeaks.  When we lost Squeak to natural causes, we were anxious to get a companion for Bubble.  But what to call him?
A Butty is an informal term for a sandwich in the United Kingdom.  Typically, butties have hot, savory fillings.  The most common are chips (French fries), bacon, sausage, and egg.  Bacon butties were a great favorite of Innkeeper John.  He made them for his children when they were small.  (His recipe was white bread, bacon, and ketchup!)
The first time Jack to me to England, we went to the theater in London's West End.  We had a light supper afterwards at a nearby restaurant.  The post-theater menu was promoted as Bubble and Butty—champagne and bacon sandwiches!
So the name honors John and brings back a wonderful memory of his homeland.
Fun fact:  I had assumed the Brits named bacon sandwiches after pork butt.  But according to Better Homes and Gardens http://www.bhg.com/chip.butty, the term is actually a shortened form of bread and butter.  
The picture below was taken by our own Eddie—a handy guy with a camera as well as other tools!  We hope you will stop by soon to greet our swans.  Don't forget to ask for a bag of lettuce in the office to share with them!
February 12, 2023
This relatively 1.9 mile, flat hiking trail starts at the Sugarlands Visitors Center. It  runs through forest along the West Prong of the Little Pigeon River. There are beautiful views of the river and  the foundations and chimneys of several old homesites. Keep in mind that the Gatlinburg Trail is the only one which allows dogs.
Located in Greenbrier Cove, Porter's Creek is an easy and-and-out hike from Buckhorn Inn  You can experience some of the natural communities in the cove hardwood forest. This hiking trail also contains the remnants of settlers who lived in the area before the Great Smoky Mountains National Park was established. There was once a community of about 500 people in Porters Flat and Greenbrier Cove, so keep your eyes peeled for evidence of old homesteads, stone fences, stairs and the Ownby cemetery.  This trail is particularly beautiful in the Spring Wildflower Season beginning in late March through early May.
If you love waterfalls, enjoy an easy hike along the Cataract Falls Trail.  It is only 3/4 miles roundtrip, making it a perfect destination for families with kids and other family members who have trouble walking long distances! The trail starts off paved but quickly turns to gravel as it travels over Fighting Creek on several well maintained bridges and through a stunning canopy of trees. While the highlight of the Cataract Falls Trail is naturally the 25 foot waterfall, you will also find a unique photo opportunity in an old hollowed out tree!
When you want to combine one of the easy hikes in the Smoky Mountains with one of the most enchanting hikes, be sure to check out the Grotto Falls Trail.  While this is an easy hike, note that you should allow up to 3 hours to complete the roundtrip trail that is 2.6 miles in length. Walk through an overgrown forest before experiencing the gorgeous sight of Grotto Falls.  This is one of the only waterfalls that you can actually walk behind, offering one of the most amazing views and photo opportunities in the national park.
February 10, 2023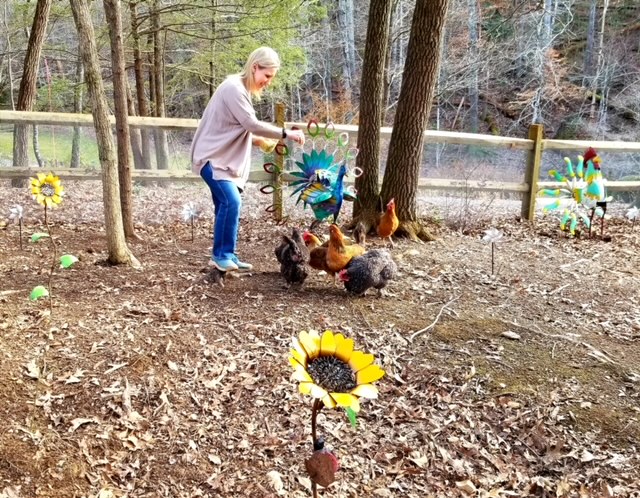 We recently had a surprise cold snap.  Of course Jack was out of town, so keeping the chickens healthy and happy was my  responsibility!
The first frigid morning, the sliding door to their coop was frozen shut. Eddie
kindly came to our rescue and opened the door and broke the ice on the chickens' drinking
water. However they remained huddled in their little coop, not braving the cold even for a drink
of water. So of course, I served them their breakfast food and beverage "in bed"!  The chickens have come to expect pampering, I guess.
Eddie, with assistance from Jonathan, built a fenced in play yard for their free-range time. They free-range in the late afternoon as the conventional local wisdom is that day predators will be sated by then and night predators will not have started hunting yet.  We found a place in Cosby, TN, with metal art, so promptly brought home pieces of yard art to decorate their space.
The chickens eat a well-balanced organic layer feed. Their daily treat is a mix of protein flakes, dried mango, dried peas, and pumpkin seeds. It looks pretty tasty! I also grow them a variety of sprouts—clover, alfalfa, mung bean, barley, and rye. If I don't sprinkle out the sprouts fast enough, Benedict leaps up to take them from my hand.
Benedict is not our only athletic chicken. I thought Hazel would be too plump to fly,
but I was wrong. We had a guest arrive in a helicopter this summer and the chickens got quite
excited. When I came that evening to feed them, Hazel surprised me from behind, leapt onto
my shoulder, and proceeded to beat me about the head with her wings. The harder I tried to
brush her off, the more she dug her feet into my shoulder. When I finally pried her off, she looked at me as though she were saying "You need to take better care of us!"
Hmmm, so far two of our chickens can do tricks. If I get Poached, Scrambled, Quiche, and Omelet to follow suit, we could have a vaudeville act! 
We have learned that happy chickens reward us with lovely eggs! They c0me in dark chocolate brown, brown spotted, blue, green, and pink. They have brilliant orange yolks and are
delicious. I hope you will have a chance to try some when you are here.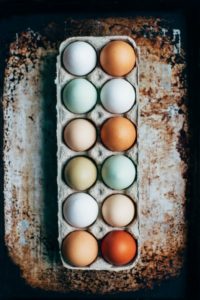 Thinking about our chickens and their eggs brings quiche to mind. Chef Frank Downs is famous for his quiche—he has a knack for tender pastry and creamy filling. But when I am pressed for time, instead of Frank's recipe I use frozen puff pastry. The following recipe is quick, easy and delicious! We served it during the holidays and rounded out our brunch menu with roasted rosemary potatoes, and Greek yogurt topped with limoncello-marinated berries. 
For ingredients and directions, see below.  
Goat Cheese Quiche
1 T extra-virgin olive oil
1 T unsalted butter
2 cloves garlic, minced
8 cups kale and/or chard
Kosher salt
1 sheet frozen puff pastry, thawed
5 ounces goat cheese
1/2 cup shredded Parmesan Cheese
4 large eggs
1 cup heavy cream
1/4 t ground nutmeg
1/4 t black pepper
Preheat oven to 425 F.  
Heat olive oil and butter in large skillet. Add garlic and cook about one minute. Add greens and 1/2 t salt. Cook, stirring occasionally, until the greens wilt and the
liquid evaporates. This should take 5 to 7 minutes.  
Roll out the pastry on a lightly floured board until large enough to fit a 9" pie plate. Ease pastry into pie plate, trim and crimp the edges. Scatter the cheeses in the bottom, then top with the sautéed greens. Whisk the eggs, cream, nutmeg, 1/2 t salt, and 1/2 t pepper together. Pour over the greens.
Bake until the crust is golden brown and the filling set.  Serves 4.
November 17, 2022
This chicken dish makes regular appearances at Buckhorn Inn. Guests are always delighted to
see it on the menu. The apricots are the star of the dish. The tart/sweet flavor of the fruit
brings out the sugar in the onion. We usually suggest Meiomi Chardonnay as a good pairing.
The aromas of stone fruit in the wine work well with this dish. To complete your Buckhorn
Evening in our own home, don't forget to take home our logo stemless wine glasses! You will
find them for $12 in the gift shop.
3 1/2 oz dried apricots
4 skin-on boneless chicken breasts
Salt and Pepper
1 T olive oil
1 onion, diced
1 garlic clove, thinly sliced
2 thyme sprigs
1 bay leaf
1/2 c dry white wine
1 1/2 c chicken stock
2 T apricot preserves
1 T unsalted butter
Preheat the oven to 350 F. Rehydrate the apricots by covering them with hot water and letting
then stand for 15 minutes, then drain. Season the chicken and cook in hot oil until the skin is
golden brown. Turn and cook 3 minutes more. Transfer to a baking sheet and roast for 15
minutes. Meanwhile, cook the onion, garlic, thyme and bay leaf in the skillet until the onion is
tender. Add the wine and boil until reduced by half, scraping up the browned bits. Add the
stock, apricots and preserves. Bring to a boil. Cook until the sauce thickens. Remove from
heat and stir in butter. Discard the thyme and bay leaf. Season. Plate the chicken and spoon
the sauce over it. Makes four servings.
1. Walker Sisters Place
The Walker Sisters Place is a log cabin located in the Little Greenbrier section of the National Park. The Walker Sisters spent their entire lives in the cabin, which was built by their grandfather in the 1840s. When the Walker Sisters' father died in 1921, the property was left to the sisters, who then took on all the responsibilities on the farm for more than 40 years, including raising livestock, growing vegetables and even making their own clothes! When the National Park was established, the Walker Sisters remained living in their cabin and became quasi-ambassadors of the park. Visitors to the park had the opportunity to chat with the sisters, who sold homemade treats and toys. Although the Walker Sisters are no longer there, you can still go see the historic cabin today!
2. Cades Cove
Cades Cove attracts more than 2 million visitors per year, and is the most-visited section of the national park! That's because not only does it offer great chances to view wildlife, but it's full of a number of historic buildings and landmarks. You can find John Oliver's cabin, one of the oldest historical structures in the National Park. The cabin was built in the early 1820s by John and Lucretia Oliver, who were the first to come to this area of the Smokies. You can also see 3 beautiful churches that each come with their own unique history. There's the Primitive Baptist Church, the Missionary Baptist Church and the Methodist Church. And we can't forget to mention the John Cable Grist Mill. The Cable Mill was built in the early 1870s and processed logs, wheat and corn. The mill is still functional, and visitors can purchase its corn meal at the Cades Cove Visitor Center seasonally. These are just a few of the many historic sites in Cades Cove!
3. Elkmont Ghost Town
The story of Elkmont Ghost Town is definitely an interesting one. What was once a sleepy mountain community transformed into a bustling logging town in the 20th century when the Little River Lumber Company was formed and a railroad was built to connect the logging operation to a sawmill in Tuckaleechee Cove. Many of the residents got lifetime leases for their summer cottages, but many of the leases expired in 1992, turning Elkmont into a ghost town. Some of the cabins are still being preserved by the National Park Service and are open to the public to walk through and view.
4. Little Greenbrier School
Built in 1882, the Little Greenbrier School is a 1-story building that doubled as a church and a school for the residents of the Little Greenbrier Town. The school was started because citizens of the town wanted a teacher for their children. For a little more than 50 years, from 1883 until 1936, the Little Greenbrier School was a place for the community to grow academically and spiritually. Today, school groups can visit the historic building and learn about the Smoky Mountains while sitting in the old desks.
5. John Ownby Cabin
The John Ownby Cabin, which was built in 1860, was constructed from tulip trees, white pine logs and clay mortar. If you hike the Fighting Creek Nature Trail in the National Park, you'll get to see this historic log cabin, along with beautiful forest scenery and a mountain stream. The John Ownby Cabin is one of the oldest remaining pre-park cabins in the Forks of the River community. It was added to the National Register of Historic Places in 1976.
6. Little Cataloochee Church
The Little Cataloochee Church was built in 1889 and served about 1,200 people who lived in Cataloochee Valley at the time. It is a white painted church surrounded by the Smoky Mountains and was a popular place for community gatherings. The well-maintained cemetery that is close to the church became the final resting place for many of its members. On Memorial Day, many descendants of the early Cataloochee families return to the church to decorate the graves of their relatives.
Now that you know more about these historical places in the Great Smoky Mountains National Park, it's time to come see them in person! Learn more about the National Park and plan your visit today.
November 10, 2022
The 53 acres of Zoo Knoxville is about an hour's drive from Buckhorn Inn.  It is part of the largest species conservation movement on earth.  Accredited by the Association of Zoos and Aquariums (AZA), the zoo participates in a collective Species Survival Plan.  The goal of AZA is to maintain a healthy, genetically diverse population in zoos.  Because so many wild populations are in peril, zoos play an important role in ensuring we don't lose species to extinction.  Part of each Zoo Knoxville ticket sold is donated to conservation organizations to fund programs worldwide.
The initiative to create a zoo in Knoxville began in 1923 with funds collected to create a park for poor children.  The first four-acre plot was purchased in 1935.  In 1951 the city took over the park and renamed it the Municipal Zoo.  The first animal welcomed to the zoo was Al the alligator, donated by a local family.  On Al's first day, about 4,000 people came to see him.  
Zoo Knoxville Firsts
In 1963 the Ringling Brothers Barnum & Bailey Circus donated a seven-ton Bull elephant called Old Diamond.  The modern Zoo Knoxville was born in 1971.  In 1978, Old Diamond was successfully mated with a younger female, Toto.  Their daughter was called Little Diamond.  Her birth was a huge achievement for the zoo as this was the first African elephant born in the eastern Hemisphere.  
The zoo also was the first in the world to hatch critically endangered northern spider tortoises.  Knoxville also was the first zoo in the world to successfully breed the second generation of captive-born Arabian forest turtles and common spider tortoises.  
It is noteworthy that the zoo is home to more red panda births than any other zoo in the world.
Fun Activities
Families will enjoy animal encounters, behind-the-scenes tours, twilight tours and night safaris, and a zip line.  Dining options include:  Beastro's, Safari Smokehouse, Al's Rockin' Cantina, and Tennessee Dogs.  Additional information is available at http://Www.zooknoxville.org
October 25, 2022
Bush's Chili Beans is presenting the 33rd Gatlinburg Chili Cookoff on November 10, 2022.  Samples of a variety of chilis, from mild to wild, will be available from 5:00 to 8:00 pm at Anakeesta Plaza, 576 Parkway in Gatlinburg.  Free, live entertainment will be offered throughout the event.  This is a popular event, so we recommend that you purchase your tickets in advance.  General Admission tickets are $15 per person (5:30 pm entry) and VIP tickets (good for early entry) are $20 per person.  To purchase tickets, please visit http://Www.gatlinburg.com
November 10 also marks the official lighting of the thousands of twinkling lights that will adorn the city all winter long!  The Headliner for the Kickoff will be singer Hannah Dasher.  She will be performing in the Shade Tree Lot.
While we won't be entering the friendly competition this year, we are sharing our chili recipe with you!
Beef Chili
2 1/2 lb chuck roast, cubed
Salt and Pepper
1 T vegetable oil
2 1/2 lb lean ground beef
1 sweet onion, chopped
6 garlic cloves, minced
24 oz lager beer
1 14 oz can crushed tomatoes
3 dried guajillo chiles
2 T chili powder
1 T ground cumin
1 T dried oregano
3/4 c corn meal
1 15 oz can of each, drained and rinsed:  dark red kidney beans, light red kidney beans, pinto beans, garbanzo beans
Heat the oil.  Salt and pepper the chuck roast and sear until browned.  Remove from the pot and add the ground beef.  Cook until browned.  Add the onion and garlic and cook for 3 minutes.  Add back the roast along with the beer and tomatoes.  Snip the chiles into small strips, add to the pot, and bring to a boil.  Add the spices and 2 t of salt.  Reduce to a simmer and cook for 10 minutes.  Mix the corn meal with just enough water to form a paste and add to the pot.  Add the beans.  Adjust the seasoning and simmer for one hour.  Makes 10 servings.
We like to serve this with sour cream, cilantro leaves, fresh tomatoes, lime wedges, and finely sliced green onion.
September 29, 2022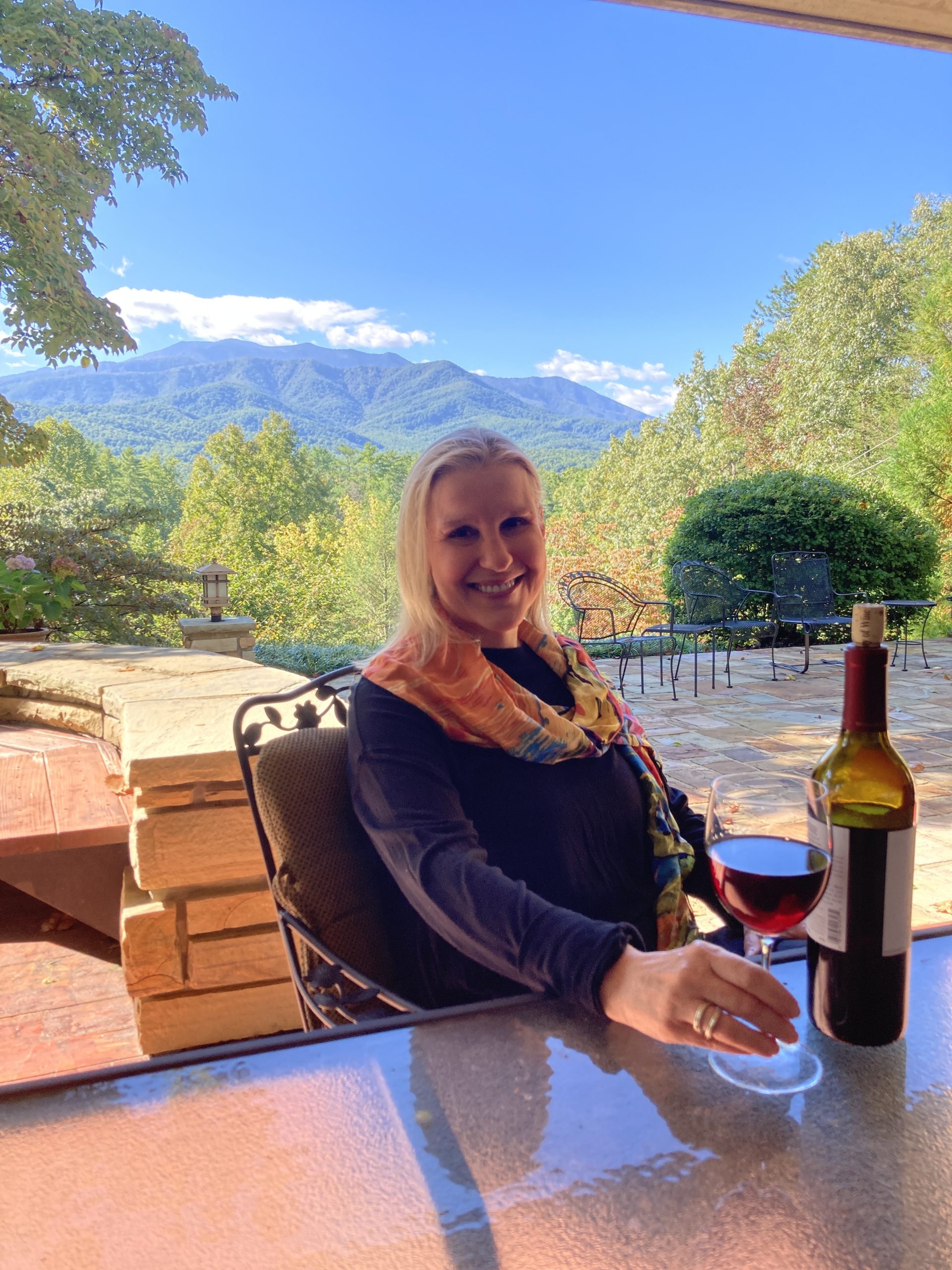 Join Innkeeper and Wine Afficianado Sharon Mellor for a wine tasting experience on select Wednesday afternoons in October.
from 4:00 to 6:00 pm.
Wednesday, October 5, Wednesday, October 12, Wednesday, October 26
Sharon will share tasting tips from her WSET certification program for two Chardonnays and two Cabernet Sauvignons. Chef Karen Valentine will provide four types of delicious gourmet appetizers and artisinal cheeses paired with each wine.
For casual and experienced wine fans, this event is perfect for expanding your palate and making new friends. The tasting will be held on the veranda of Buckhorn House so guests can enjoy the spectacular views of the mountains. Buckhorn House is a pleasant five minute walk from the Inn; however, ample parking is available.  The inclement weather location will be the Buckhorn Inn Sitting Room.
Reservations are required and space is limited to 12 guests with a minimum of 6 guests required. The cost is $65 per person. To reserve, email us or telephone 865 436 4668.  Reservations must be received 24 hours in advance and there is a 24 hour cancellation required.