Blog




February 24, 2011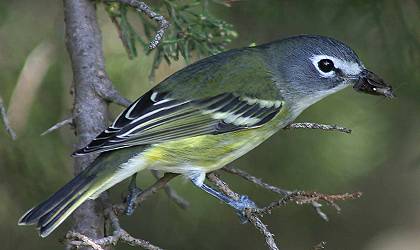 What's that song I hear?  According to the Great Smoky Mountains Association, it may be the Louisiana Waterthrush, the Blue-Gray gnatcatcher, the Yellow-throated Warbler or the Blue-headed Vireo (pictured here).  These are among the Smokies' early spring arrivals whose songs can fill the air in late February and March.   The next time you visit Buckhorn, check out our list of birds which inhabit our grounds.  If you would like to have a "bird tour," we can arrange for a naturalist to take you out for a bit of bird spotting.  Or stop in the kitchen for a visit with Chef Robert Neisler who is our resident bird expert.
February 16, 2011
This gracious Inn, is definitely the best hidden treasure in the Smokies!! (and we have been to many!) Our hostess was lovely and had such an inviting spirit that made you want to keep coming back, and we plan on doing just that!   The dinners were absolutely delicious and the breakfasts made you actually want to get out of bed!…
This was our second visit to Buckhorn but our first opportunity to spend the night. I would definitely recommend the inn as a perfect weekend getaway. The room was cozy, the views beautiful, and the food indescribably good! The innkeepers, John and Lee, were delightful and added the perfect touch to an unforgettable weekend!
Makes 2 large loaves
2 medium-sized potatoes
4 1/2 teaspoons (2 packages) instant yeast
2 tablespoons granulated sugar
1 cup buttermilk
2 tablespoons unsalted butter
1 tablespoon salt
6 to 7 cups all-purpose flour or bread flour
1 egg (for glaze, optional)
Peel and slice the potatoes.  Place them in a small pan and cover with water.  Boil until potatoes are soft.  Drain the potatoes, reserving 1 cup of the water.  If you have less than 1 cup of water remaining, just add enough water to make 1 cup.  Mash the potatoes and set aside.
Allow the potato water to cool until it is approximately 100°-110°.  Place buttermilk and butter in a saucepan, and heat over medium heat until the butter melts.  Add the sugar, salt, and mashed potatoes, and stir to combine.
In the bowl of your mixer (or any large bowl), combine the potato water, buttermilk mixture, yeast, and 2 cups of flour.  Beat vigorously with a whisk until smooth, about 3 minutes.  Add remaining flour, 1/2 cup at a time, until the dough is soft and only slightly sticky.  You can use a spoon, or the dough hook of your mixer, to blend in each 1/2 cup of flour.  The amount of flour you will need depends on the climate of your kitchen. Knead the dough on a floured surface, or by mixer, for about 10 minutes.  Add a small amount of flour (about 1 tablespoon) at a time if the dough starts to get sticky.
Grease a large bowl with a bit of olive oil, and place the dough in the bowl.  Turn it over so that the top is also greased.  Cover with plastic wrap and let rise until it doubles in volume, about 1 hour.
Grease 2 loaf pans (9 inches by 5 inches) with butter and set aside.  Turn the dough out onto a floured surface, and divide in half.  Shape each piece into a rectangle, and roll the rectangle into a log shape.  Seal the seam with your fingers.  Fold each end over and seal the seams.  Place the loaves into the greased pans, seam side down.  Cover with lightly greased plastic wrap and let rise for 30-40 minutes.  Preheat the oven to 375° during this rise.
If you'd like to glaze the top of the bread, beat the egg in a small bowl and use a pastry brush to apply it to the top of each loaf.  Place the pans on the middle rack of the oven and bake for about 45 minutes, or until loaves are deep brown and sound hollow when tapped.  Remove from pans immediately and cool on a cooling rack.
February 10, 2011
1 (2 1/2 to 3 lb.) fryer
6 c. cold water or a little more
6 peppercorns
3 whole cloves
1 can cream of chicken soup
1 can cream of mushroom soup
1 c. water or rich broth
1 c. diced potatoes
1 c. chopped celery
1/2 c. chopped onion
1 1/2 c. chopped carrots
1 c. frozen peas
1 bay leaf
1 tsp. seasoned salt
DUMPLINGS:
2 c. flour
1 tsp.s alt
4 tsp. baking powder
1 egg, beaten
2 tbsp. melted butter
2/3 c. milk
Cut up chicken and plate in kettle with water, bouillon cubes, peppercorns and cloves. Simmer 1 1/2 hours until tender. Remove chicken, cut meat from bones, discarding skin and bones. Cut chicken into pieces. Skim broth and strain out spices. Return meat to broth. Add remaining ingredients and simmer for 2 to 3 hours longer.
To make dumplings, sift together flour, salt and baking powder. Combine egg, melted butter and milk and add to flour mixture, stirring quickly just until smooth. Drop by spoon evenly around over boiling soup. Cover tightly and simmer 18 minutes until done without peeking. Serves 12.
February 8, 2011
Ganache
¾         Cup      Semisweet chocolate chips ½         Cup      Heavy cream  
For ganache, put chocolate chips in a metal mixing bowl.  Bring cream to a light boil and pour over chips until they completely dissolve.  Set aside and allow to cool to room temperature.
Filling
8       Oz          Cream cheese, softened 1/4     Cup     Granulated sugar 1/3        Cup       Heavy cream plus 1/4 cup sugar,  whipped soft 8    Oz          White chocolate, melted ½         Tsp         Orange zest 2/3      Cup        Roasted chopped macadamia nuts 1                          9-inch graham cracker crust  
Garnish
1 ½       Cups     Heavy cream ¼          Cup       Confectioners' sugar 2            Oz         Macadamia nuts, chopped  
For filling, beat cream cheese and granulated sugar until smooth.  Mix in the 1/3 cup heavy cream.  Add white chocolate, zest and nuts and stir just until incorporated.  Fold in the ¾ cup heavy cream.  Spread into pre-baked pie shell and level off using a rubber spatula.  Put in freezer until frozen.   To finish pie, you will need to place the ganache in a microwave on the low setting for no more than 10 seconds at a time.  Stir after each warming until ganache pours loosely but is not even close to boiling.  Spread warm ganache over the top of frozen pie. 
For garnish, beat cream and confectioners' sugar with a handheld electric mixer to a stiff peak.  Pipe edges of pie with whipped cream and sprinkle macadamia nuts over pie.  Store in fridge.
February 5, 2011
6       slices bacon, cut into thin strips 2       onions, chopped 3       carrots, chopped 2       ribs celery, chopped 3 ½   cups canned tomatoes, drained and chopped 2 1/3 cups lentils 1       bouquet garni: 6 parsley stems, 3 springs fresh thyme and 2 bay leaves 2 ½   quarts chicken stock or broth 1 ¾   teaspoons salt ½      teaspoon fresh-ground black pepper 6       tablespoons chopped fresh parsley 1       teaspoon lemon juice In a large pot, cook bacon over moderate heat until crisp.  Remove.  Pour off all but 2 tablespoons of the fat.  Reduce the heat to moderately low.  Add the onions, carrots and celery.  Cook, stirring occasionally, until the onions are translucent, about 5 minutes. Add the tomatoes, lentils, bouquet garni and stock and bring to a boil.  Reduce the heat and simmer, partially covered for 30 minutes.  Add the salt and continue cooking until the lentils are tender, about 15 minutes longer.  Discard the bouquet garni. Before serving, stir in the pepper, half of the parsley and the lemon juice.  Top with the bacon and the remaining 3 tablespoons of parsley.  If the soup thickens too much on standing, stir in some water. Serves 6-8
Pentu has made herself at home on Buckhorn Pond and she and Teller are obviously in love.  He looks after her most attentively and she never goes anywhere without him.  They have relished the cold temperatures–they break up the ice with their feet.