Blog




June 30, 2011
½         Cup      Butter, melted
½         Cup      Flour
2          Cups    Heavy Cream
¼         Cup      Chicken Base
2          Cups    Sour Cream
1          Cup      Chopped onion
¼         Tsp      Black Pepper
2          Cups    Cheddar Cheese, Shredded
5-6       Lbs      Shredded Baking Potatoes
Corn Flakes
Preheat oven to 425F.  Melt butter and whisk in flour to make roux.  Heat heavy cream and then add chicken base.  Add roux to cream mixture and cook until thickened.  Whisk in chicken base and sour cream.   Stir in onions and pepper.  Put mixed cheese and potatoes in a cooking dish.  Pour cream mixture over and stir in.  Sprinkle lightly with corn flakes.  Bake for about 30 minutes or until internal temperature is 160F. 
Alternatively:  Portion out in smaller serving dishes.  Sprinkle with corn flakes.  Put smaller dishes on baking sheet and bake at same temperature for about 10 minutes.
June 29, 2011
Guests Anne and Chris send this note:  Our visit with you was pure delight.  You have done everything right in providing a welcome refuge, a place for renewal.  It was perfect in every way.  We wouldn't have changed a thing"
Serves 8 to 10 
Frosting
1 ¼ cups granulated sugar 1 cup heavy cream 5 ounces unsweetened chocolate, finely chopped 8 tablespoons (4 ounces) unsalted butter, cut into ½ inch pieces 1 teaspoon pure vanilla extract  
In a small saucepan, combine the sugar and cream and bring to a boil over medium heat, stirring occasionally.  Reduce the heat and simmer for 6 minutes.  Add the chocolate and butter and stir until melted.  Pour into a bowl and stir in the vanilla. Let the frosting cool, whisking gently from time to time.  Don't overwhip or you'll create air bubbles.
Cake
Unsalted butter and flour for the pans 2 cups granulated sugar 1 ¾ cups all-purpose flour ¾ cup unsweetened cocoa powder 1 teaspoon salt 1 ½ teaspoons baking powder 1 ½ teaspoons baking soda 2 large eggs, lightly beaten ½ cup canola oil 1 cup whole milk 1 cup boiling water
 Preheat oven to 350F.  Lightly butter the bottom of two 9-inch round cake pans.  Line the bottom with parchment paper, then butter and flour the parchment and the sides of the pans.  Combine the sugar, flour, cocoa, salt, baking powder, and baking soda and mix on low speed.  Mix in the eggs, oil and milk.  Increase the speed to medium and beat for 2 minutes.  Reduce the speed to low and mix in the water.  The batter will be soupy.
Divide the batter evenly between the cake pans and bake for 30-35 minutes or until a toothpick inserted in the center comes out clean.  Remove from the oven and cool on a cooling rack for 5 minutes and then turn the layers out onto the rack and cool completely. 
 Frosting the Cake:  When the cakes have cooled, check the frosting.  It should have the consistency of mayonnaise.  If it is still too thin, allow it to cool longer.
June 27, 2011
We are back home again since the day before yesterday.  Lucky, very lucky we were that we had the chance to stay at Buckhorn Inn! What a wonderful week!  We would like to thank you very much that you made it possible for us to stay some days longer as we had intended to do, all in all 7 days (June 05 – 12). Many thanks for your exceptional hospitality.   Accommodation and service were excellent. Our very best "Dankeschön" to all the staff. They were competent, friendly and helpful – always. Breakfast and dinner were delicious as were the cakes in the afternoon. We met many other guests and enjoyed talking to them. 
We shall not forget this calm and peaceful atmosphere within your hotel as well as outside. The nature trail is something very special, a treasure.  We enjoyed our walks and loved sitting at the pond and on the bench in front of the labyrinth. Our thoughts "flew away", if I may say so. 
Buckhorn Inn was the right starting point for very interesting excursions to some of the famous attractions of the Smokies. This park is gorgeous!  It had been a must to spend some days in this wonderful surrounding. Yes, we saw some bears! Very close to us. We took photos.   As I said above, all in all a WONDERFUL TIME!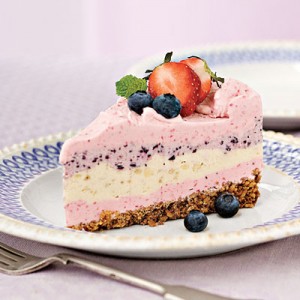 Yield:  10-12 servings
Ingredients
1 (7-ounce) package waffle cones, broken into pieces 6 tablespoons butter, melted 1 tablespoon granulated sugar 2 (1-quart) containers premium vanilla ice cream, divided 1 (16-ounce) container fresh strawberries (1 quart), stemmed 1/4 cup powdered sugar, divided 1 pint fresh blueberries 2 ripe bananas
Garnishes
waffle cone pieces, fresh whole strawberries, fresh blueberries
Preparation   Process first 3 ingredients in a food processor until finely crushed. Firmly press mixture onto bottom of a lightly greased 10-inch springform pan.  Bake at 350° for 10 minutes. Cool completely in pan on a wire rack.  Let vanilla ice cream stand at room temperature 20 minutes or until slightly softened.  Process strawberries and 2 tablespoons powdered sugar in a food processor until pureed, stopping to scrape down sides; remove strawberry mixture, and set aside.  Process blueberries and 1 tablespoon powdered sugar in food processor until pureed, stopping to scrape down sides; set aside.  Mash bananas with a fork in a large bowl; stir in remaining 1 tablespoon powdered sugar. Set aside.
Place 1 quart of ice cream in a large bowl; cut into large (3-inch) pieces. Fold strawberry mixture into ice cream until blended. Place in freezer until slightly firm.
Divide remaining quart of ice cream in half, placing halves in separate bowls. Stir blueberry mixture into half and mashed banana mixture into remaining half. Place bowls in freezer.  Spread half of strawberry mixture evenly into prepared crust in springform pan. Place pan and remaining strawberry mixture in freezer. Freeze 30 minutes or until strawberry layer in pan is slightly firm. Spread banana mixture evenly over strawberry layer in pan; return pan to freezer, and freeze 30 minutes or until banana layer is slightly firm. Repeat procedure with blueberry mixture. Spread remaining strawberry mixture over blueberry layer in pan, and freeze 3 hours or until all layers are firm. Let pie stand at room temperature 15 minutes before serving. Garnish if desired.
Coffeecake
½ cup granulated sugar 1/2 cup dark brown sugar ½ cup vegetable oil 2 apples peeled and cored 2 eggs 1 cup buttermilk 2 ½ cups self-rising flour ½ cup chopped walnuts 1 tbl vanilla 1 tbl molasses 1 tbl cinnamon Optional:  1 cup fresh blueberries in season
Preheat oven to 375F.  In a food processor, puree the apples with a little buttermilk.  In a mixing bowl combine sugars, oil buttermilk, eggs, vanilla, molasses, apples and cinnamon.  Add the flour and walnuts and mix.  Place in a greased 13×9 pan.  Top with the streusel and bake about 40 minutes or until a toothpick comes out clean.
Struesel Topping
1 cup all purpose flour 1 cups oats ¼ cup granulated sugar ¼ cup brown sugar Melted butter
In a food processor, combine first 4 ingredients.  Add butter a little at a time until the topping comes together slightly.
Serves 6-8
4 cups chicken stock 2 skinless, boneless chicken breast halves 12 ounces tomatillos 1 cup chopped onion ¾ cup cilantro sprigs 5 large garlic cloves, peeled 1 3-inch jalapeno pepper, stemmed and quartered lengthwise 2 15-ounch cans hominy (posole), drained ½ teaspoon dried oregano Kosher salt
Garnishes
½ cup cubed avocado tossed in 1 teaspoon fresh lime juice ¼ cup chopped fresh cilantro ½ cup chopped onion 1 cup crisp tortilla strips
Bring chicken stock to boil. Add chicken breasts and simmer until cooked through—about 15 minutes. Transfer chicken to a plate. Reserve poaching liquid.  (If you don't have 3 cups remaining, add more chicken stock.)  Shred the chicken and set aside.
Remove and discard husks from the tomatillos. Rinse and coarsely chop. Put tomatillos in a large bowl and add onion, cilantro, garlic and jalapeño. In a food processor, process half of this mixture with ½ cup water until chunky. Repeat with remaining half of mixture and another ½ cup water.
Place the tomatillo mixture in a large, deep-sided pot. Add the reserved chicken poaching liquid, shredded chicken, hominy and oregano. Simmer and cook until all ingredients are just heated through—2-3 minutes. Taste soup and season with salt as needed.
To serve ladle soup in 6-8 soup bowls and add garnishes.
June 16, 2011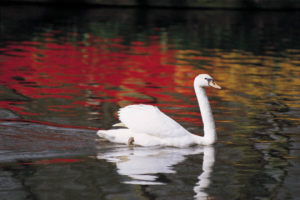 Swans get our vote for the natural world's most graceful and beautiful creature. The beautiful snowy feathers and long graceful neck have created a picture that many artists have worked hard to recreate. There are logos, associations, organizations, home décor and more inspired by the beauty.
The mute swan is the one that most Americans and Europeans are familiar with
A swan mates for life
There are three species of swans found in North America:
Trumpeter: Black bill with red border on lower mandible; the red border may be present on some tundras. The eye is hard to distinguish, fading into the bill and the slope of bill is straighter.
Tundra: Black bill, usually with yellow spot of varying size in front of the eye; the spot may be absent on some. The eye is separate from the bill.
Mute: Orange bill with prominent black knob (called a caruncle) at base—Pentu and Teller are Mute Swans.
The black swan is native to Australia.
The adult male is called a cob. He is the only known bird to have a penis.
He is both a devoted father and husband. He has been known to use a blow from the "knucklebone" of his wing to defend his family. His blow is said to be strong enough to break a man's arm according to Donald and Louise Peattie in "Legend with Wings."
The Mute Swan is perhaps the noisiest of all swans having eight different sounds in its repertoire
Swans can fly as fast as 50 to 60 miles per hour
Some have a wing span of 10 feet
Swans were nearing extinction in the 1930s in the U.S. but due to measures taken to protect them their population is again growing.
A baby swan or cygnet has a grey feathered coat until it reaches about 20 pounds. Then it too will become snowy white like its parents.
The black necked swan is native to South America. 
A baby swan pecks at the inside of the egg for 24 hours prior to making its entrance
The female swan is referred to as a pen
Visually the most noticeable difference between the male and female swan is size, unlike many other animals where the male and female are colored differently
The typical

weight

of a swan is from 11.3 to 15.88 kg (25 to 35 pounds) and height while standing alert 4 feet or 1.2 meters.
From the tip of the bill to the end of their tail they measure 5 feet or 1.5 meters.
The regal beauty is one of the reasons for the swan to be considered as a royal bird in England and all swans found in the open

waters

belong to the crown
A mother swan has a sound similar to a yipping puppy, which it uses to call the young to her
Swans are the largest known flying bird
They are not known to attack humans without cause, and actually can remember humans that have been kind to them
They dine off of aquatic vegetation, insects, tiny fish and tadpoles. Because they are able to reach far below

the water

's surface, they have actually broken plants apart and left them floating on the water which enables smaller birds to find ready food.
The mute swan's neck has 23 vertebrae, which is more than any other bird
Their life expectancy in a protected environment is as long as 30 years
In Canada the swans of Lost Lagoon have their wing tendons clipped to keep them from flying away. While they cannot fly they can raise themselves above the water surface for a quick get away or to protect their young.
Event Name:
Gatlinburg's River Raft Regatta
Date(s):
July 4
Season:
Summer
Category:
Entertainment
Description:
Gatlinburg's popular River Raft Regatta takes place at noon on Monday, July 4th, on the Little Pigeon River in Downtown Gatlinburg.
Location:
Downtown Gatlinburg
 
 
 
 
Admission:
Free
---
Event Name:
Gatlinburg Craftsmen's Fair
Date(s):
July 15 – 24
Season:
Summer
Category:
Arts, Entertainment
Description:
Art, crafts and music lovers can find almost 200 booths featuring some of the nation's finest work. Artisans and craftspeople are on hand to demonstrate their skills, answer questions and offer their unique art for sale. Live Country & Bluegrass entertainment. Open 10 a.m. to 6 p.m. daily, Sunday 10 a.m. to 5 p.m.
Location:
Gatlinburg Convention Center
Website/Link:
http://www.craftsmenfair.com
Contact Info:
865/436-7479
Admission:
$6.00
---
Event Name:
Fourth of July Midnight Parade
Date(s):
July 3 – 4
Season:
Summer
Category:
Entertainment, History, Parades
Description:
Saluting the valiant men and women of our military services, this 36th annual showcase is the "First July Fourth Parade in the Nation!" Parade starts at the stroke of midnight to begin Independence Day.
Location:
Downtown
Website/Link:
http://www.eventsgatlinburg.com/
Contact Info:
(800) 568-4748
 
 
---
Event Name:
Gatlinburg United Way Shark Race
Date(s):
July 30
Season:
Summer
Category:
Entertainment, Fundraiser
Description:
Rubber sharks are released into the Little Pigeon River at the Christ in the Smokies Museum and Gardens bridge to race downstream, first one to cross the finish line wins!
Location:
Ripley's Aquarium Plaza
Website/Link:
http://www.uwosc.org/eventscalendar/2011sharkrace.html
Contact Info:
865/430-5727
Admission:
Entry Fee
---
Event Name:
"Stand Here" Fireworks Finale
Date(s):
July 4
Season:
Summer
Category:
Entertainment
Description:
Finish off the 4th in style with a magnificent fireworks show visible from the downtown streets of Gatlinburg!
Location:
Downtown Gatlinburg
 
 
 
 
Admission:
Free
---
Event Name:
Gatlinburg Farmer's Market
Date(s):
May 21 – October 15
Season:
Summer, Fall
Category:
Food
Description:
Offering local choices for healthy mountain living, the Gatlinburg Farmers Market is open each Saturday from 8:30 a.m. to 11:30 a.m. in the Alamo Steakhouse parking lot at 705 East Parkway through October 21.
Location:
705 East Parkway
Website/Link:
http://www.gatlinburgfarmersmarket.com
 
 
 
 
---
Event Name:
Christmas Expo
Date(s):
June 29 – July 2
Season:
Summer
Category:
Arts, Entertainment
Description:
Whether you're a home decorator or professional, Christmas Expo has something for you. See new lighting products and decorations at this FREE trade show, or register to attend a how-to-class or seminar.
Location:
Gatlinburg Convention Center
Website/Link:
http://www.ChristmasExpo.com
 
 
 
 
---
Event Name:
Smoky Mountain Tunes & Tales
Date(s):
June 17 – August 13
Season:
Summer
Category:
Arts, Entertainment
Description:
Smoky Mountain Tunes & Tales is a summer-long street performance event featuring costumed musical performers, storytellers and artisans portraying time periods as far back as 1800.
Location:
Downtown
Website/Link:
www.eventsgatlinburg.com
Contact Info:
Parkway
Gatlinburg, TN 37738
Admission:
Free
Rangers in the Great Smoky Mountains will again be leading a series of hikes to various destinations within the park this summer. This is a great opportunity to learn about the flora and faun and the history and people of The Smokies. Here's the current list of scheduled hikes:
Cades Cove Night Hike: Mondays and Fridays thru mid-August
Times: 9:00 PM to 11:30 PM
Location: Orientation Shelter at the entrance to the Cades Cove Loop Road
Listen to the spirits of Cades Cove while enjoying a night-time walk in the cove. Distance: 2.5 mile walk rated easy in difficulty.
Sunset Stroll: Every Monday thru 8/8/2011
Times: 7:00 PM to 9:00 PM
Location: Laurel Falls Trailhead
Summary: Come along with a ranger for a guided walk up to Laurel Falls just before sunset. 2.6 miles roundtrip hike rated moderated in difficulty. Click here for more info.
Return of the Elk: Every Tuesday thru 8/9/2011 (except 6/21)
Times: 6:00 PM to 7:00 PM
Location: Cataloochee Valley, Rough Fork Trailhead
Summary: Learn about the return of the elk to the Smokies with a guided hike to the elk acclimation pen. Hike distance: less than one mile, rated moderate in difficulty.
Where the Waters Sing: Every Wednesday thru 8/10/2011
Times: 1:00 PM to 3:00 PM
Location: Kephart Prong Trailhead on Newfound Gap Road between Smokemont and Newfound Gap
Summary: The sound of water is music for the soul. Join a ranger and experience the melody of the mountains. Two-mile round-trip hike rated moderate in difficulty. Click here for more info.
Hike into the Sugarlands Valley: Every Wednesday thru 8/10/2011
Times: 1:00 PM to 3:00 PM
Location: Sugarlands Visitor Center
Summary: Round up the kids and get your blood pumping on a brisk walk along the West Prong of the Little Pigeon River to learn some secrets of the natural world. Hike rated moderate in difficulty.
Hike to Alum Cave Bluffs: Every Thursday thru 8/11/2011
Times: 9:00 AM to 11:30 AM
Location: Alum Cave Bluff Trailhead on Newfound Gap Road
Summary: Geology, old-growth trees, and panoramic views await you while joining a park ranger on one of the most diverse hikes in the Smokies. Wear sturdy shoes; bring water and a snack. Hike rated moderate to strenuous in difficulty. Click here for more info.
Hike to Grotto Falls: Every Sunday thru 8/07/2011
Times: 1:00 PM to 3:30 PM
Location: Grotto Falls Trailhead on Roaring Fork Motor Nature Trail
Summary: Hike with a ranger through an old growth forest to one of the most popular waterfalls in the park. Hike rated moderate in difficulty. Click here for more info.
All hikes are free. For more information, please visit the GSMNP event page.