November 18, 2012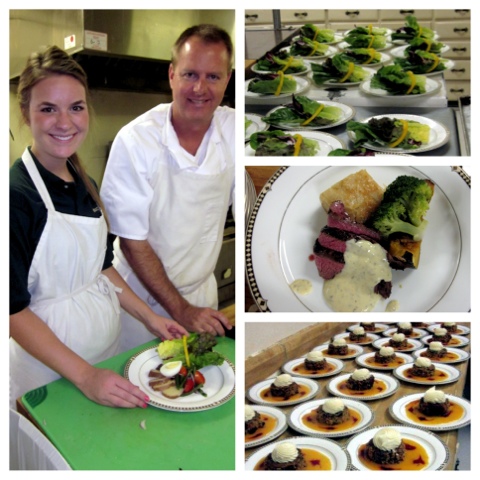 Hand me an apron and let's cook! A day in the kitchen with Frank is an amazing experience. He is a talented chef and kind teacher. I told him I have never been much of a cook, but I was able to follow a recipe. He laughed and informed me that he does not use recipes. I knew I was in for a long night! We prepared a four-course meal together. The menu included: Grilled London Broil with Béarnaise Sauce, Mushroom and Wild Rice Soup, Garden Salad, and Orange Carrot Cake with Mascarpone Icing. Doesn't that Orange Carrot Cake look good? Here is the recipe straight from the Buckhorn's Best II:
Heat oven to 350 F.
1 Navel orange, unpeeled and quartered
2 Cups All-purpose flour
2 Cups Sugar
2 Tsp Baking powder
2 Tsp Baking soda
1 Tsp Salt
2 Tsp Ground cinnamon
2 Tsp Ground nutmeg
1 ¼ Cups Vegetable Oil
4 Eggs
2 Cups Grated carrot
½ Cup Chopped walnuts
½ Cup Raisins
Cream Cheese Icing (See below)
Position knife blade in food processor bowl; add quartered orange, and process until pureed, stopping once to scrape down sides. Set orange puree aside. Combine flour and next 6 ingredients in large bowl. Add orange puree, oil, and eggs; mix well. Stir in carrot, walnuts, and raisins. Pour batter into a greased and floured 10-inch tube pan.
Bake at 350 for 1 hour. Let cool completely in pan on a wire rack. Remove cake from pan. Frost top of cake with cream cheese icing. Cover and story in refrigerator.
Yield: 1 10-inch cake
Cream Cheese Icing
8 Oz Cream cheese, softened
½ Cup Butter, softened
2 Tbl Honey
½ Tsp Vanilla extract
Beat cream cheese and butter at medium speed in the bowl of an electric mixer until creamy. Add honey and vanilla, and beat until blended.
November 17, 2012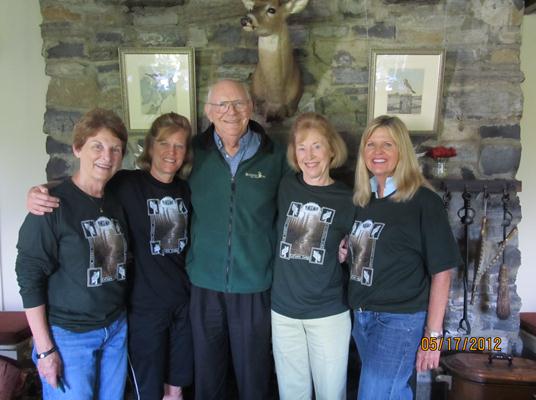 The "Stegeman Sisters" paid their annual visit to Buckhorn this year and made the trek up to Mt. Le Conte. Doubting Thomas Innkeeper John Mellor had to accept they had really made the trip when they came back in the late afternoon with Mt. Le Conte teeshirts. Great going, ladies!
November 10, 2012
I like to say I am a shadow to Innkeeper Lee Mellor. We have become good friends throughout my internship. She makes me lunch and drinks coffee with me in the afternoons. We have become so inseparable that I even go to her home office to work with her. Unfortunately, she only has one desk, but that's okay because we have learned that a couple of TV dinner trays make a wonderful workspace. See…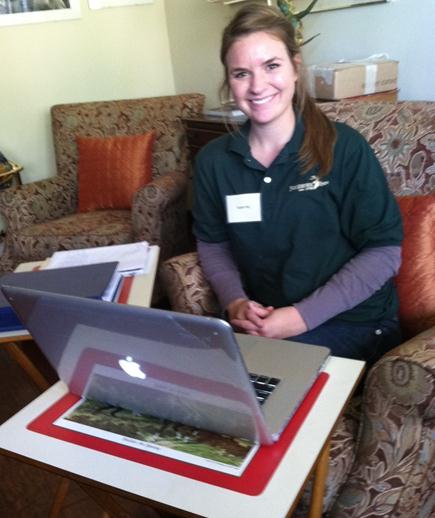 I am working hard to plan the 75th Anniversary of the Inn. We have some really exciting events planned for 2013. Keep looking back at the website for more information from me so you can celebrate with us!