Blog




September 5, 2013
My wife and I have been guests at Buckhorn many times over the last 20 years.  We have had countless pleasant and memorable experiences.  However, there is one memorable moment which does stand out.  While moving luggage from our car to our room one August afternoon, my wife had an unforgettable encounter.  First, you must know that she has had multiple knee surgeries and is normally limited in her mobility.  As she held an outside door ajar for me to carry luggage inside, a harmless but six foot long black snake came through the door before I could and it brushed against her leg.  My wife reacted with a scream and leapt across the entrance hallway, the fastest she had moved in many years by the way.  Needless to say, the poor snake wanted back outside as much as my wife wanted it there.  Buckhorn staff quickly helped the snake retreat to the wild.  While the encounter was short-lived, my wife still gets teased about her reaction to the infamous snake to this day.  James and Joyce Parker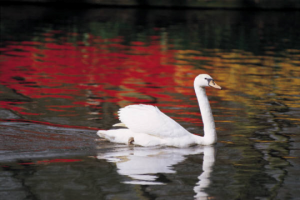 Smoky mountain mist
Swan pond peaceful
Buckhorn Inn
Serenity place
Fred Schuzzler
We enjoyed your lovely inn so very much.  It was the perfect place to celebrate our 30th anniversary or as my husband jokingly says:  "26 wonderful years, 30 altogether."  What a treat that young beautiful Sydney was.  She graced us with her operatic performance.  What a perfect surprise for our anniversary dinner!  The Guins
Buckhorn Inn is a wonderful place to stay.  John and Lee have a great place for you to relax, enjoy some beautiful scenery and east some delicious food.  The staff is very courteous and eager to please.  We would not hesitate to recommend Buckhorn Inn.  Don and Polly Thomas 
September 3, 2013
Honey-gold shafts of light through the trees
The mountains in summer like waves of green velvet
The smells of breakfast cooking if you're lucky enough to stay in a traditional room
Sunsets over Mt Le Conte
Stargazing on the front lawn
The Pittman Center Heritage Days Festival in September
Rhododendrons in full bloom in June
Hoar frost that sparkles like diamonds
Savoring sweet treats in the sitting room in the afternoon
Visiting with other guests about hikes and good books.
Staff who welcome and treat you like family
Malinda Lewis, September 2013 
September 2, 2013
I have been coming to Buckhorn for more than 30 years.  I came before I married.  I came for my honeymoon.  We came to celebrate birthdays.  I came to recover from chemotherapy.  Buckhorn is a place here I can relax and enjoy and appreciate life.  All is good—the food, the rooms, the views and the mountains.  I hope to continue to come and live and celebrate life at Buckhorn.  Thanks for being here and being you.  Trudy Stone.
Buckhorn Inn remains our favorite place to visit.  We have stayed in the cottages, the traditional and premier rooms.  We can recommend any of these.  The food, the service, the other guests you meet, and the beautiful setting make the perfect combination for a wonderful vacation.  Frank and Wanda Hill
We have been to Buckhorn in snow and rain and sunshine.  Through all, we have always left "fat and happy."  Service is always fabulous and the food is amazing.  The setting is just a wonderful relaxing getaway and we always love walking the labyrinth.  Sandy and Jeff Sturgeon
My husband and I are very blessed to be able to own our own company.  Our staff gave us the most wonderful gift–a gift certificate to Buckhorn Inn.  Wow!  We were totally blow way by the accommodations, the awesome breakfast and dinners and the delightful staff.  We both work very hard putting in long hours and have little time for us.  We have made Buckhorn our getaway and it's our heaven on earth.  All should experience this very special place.  God bless you all.  Linda Tate