Blog




May 12, 2014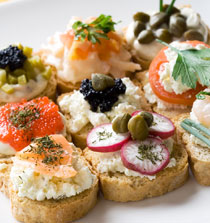 Ever wonder just how our chefs make such fabulous soups — the ones so many of you say would make a meal in themselves — or how they get that Béchamel Sauce just perfect? Why does that tray of appetizers look so appetizing?   Those crisp, light, delicious cookies—just how do they get them that way?   These and other exciting and useful culinary arts are some of the topics included in our  Good Cooking! classes presented at a time convenient for you.
Come and enjoy the peace and serenity of Buckhorn Inn and learn some of the secrets of its delectable cuisine. Come with your spouse, your best friend, your mother or your daughter and enjoy the pleasure of learning something new together. Or come on your own for a productive but fun getaway.  Each class is 1½  hours and is followed by lunch served on the veranda overlooking majestic Mount LeConte
You will learn different techniques and dishes that are regularly prepared at the Inn in small classes, all taught by our highly skilled and experienced Chef Frank Downs.   We can work with you or your group to offer cooking classes on just about any topic and on dates and times that fit your schedule.   Email Chef Downs to discuss your interests and time frame ([email protected]) or phone 865-436-4668.
Rates: $50 per person 
Spent one night in the Tower Room. Private and clean. Neat space if you don't mind stairs. The B&B was lovely. Beautiful setting with outstanding mountain views from the back porch. Roomy public spaces. Southern hospitality from all the staff.
"Wonderful wedding weekend"
Reviewed 1 week ago
We stayed at the Buckhorn Inn's Bebb House during a weekend celebrating our son's marriage, and we had a wonderful time. We stopped in several hours ahead of check-in time because we were traveling from out-of-state, and the office staff helped us pass the time by making several good recommendations to nearby restaurants and galleries. The Bebb was built in the 1950's and subsequent owners of the inn have been conservative with updates, so it feels like stepping back in time. As such, it's not pristine but it's charming and comfortable, and the view is fabulous.
Every meal we had at the Buckhorn was tasty and well-presented. Their breakfasts were a reason to get up in the morning…I still dream about the hash brown casserole and the coffee cakes. Dinner in the library on the night of the wedding was lovely, and the wait staff was excellent. On another evening they provided casual meal for us at the Bebb House so we could serve it ourselves.
Owners Lee and John, event planner Frank, and all the staff we met at the Buckhorn were friendly, professional, and extremely accommodating. We could not have asked for a more memorable family celebration. (In contrast to another reviewer who complained about a gratuity added to their bill, we appreciated that convenience. If anything, the weekend was a bargain.) We hope we will have a chance to stay at the Buckhorn again.
via Buckhorn Inn (Gatlinburg, TN) – B&B Reviews – TripAdvisor.
We have just returned from another wonderful visit to the Buckhorn Inn, a springtime tradition for us for the past 12 years. We always stay in one of the Premier rooms which offer spectacular mountain views, king bed, large bath with jacuzzi, gas fireplace, mini fridge, coffee maker and even dishes and silverware. The room always looks fresh and sparkling clean, as is the rest of the inn. Breakfasts are great but the dinner is the real anticipated meal here. Candlelight, silver and wine .. and excellent food and service, quiet music, all just lovely! Lee and John, the owners, always take time to chat with you, and all the support staff do a wonderful job at making your stay just what you want it to be: simply the best!
The cottage where we stayed was spacious, clean and very nice. The fixed menu diner at 7 pm was a real treat. The service was wonderful. We got box lunches which turned out to be very handy while out and about. Would go back any time.
Dear Buckhorn:  Thanks once again for adding more precious memories to cherish in this life.  Buckhorn Inn is the closest thing to Heaven for me.  Everything from the beauty of the land, to all the cottages, houses and the Inn itself, the delicious food, other guests and last but certainly not least…each and every person that works at the Inn is what makes this place so unique and special.  Love you and see you  in a few!  God bless you and keep you safe.  Colleen
Note from Innkeeper:  It's messages from guests like this one that make our day here at Buckhorn.