May 12, 2014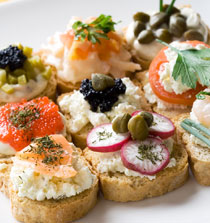 Ever wonder just how our chefs make such fabulous soups — the ones so many of you say would make a meal in themselves — or how they get that Béchamel Sauce just perfect? Why does that tray of appetizers look so appetizing?   Those crisp, light, delicious cookies—just how do they get them that way?   These and other exciting and useful culinary arts are some of the topics included in our  Good Cooking! classes presented at a time convenient for you.
Come and enjoy the peace and serenity of Buckhorn Inn and learn some of the secrets of its delectable cuisine. Come with your spouse, your best friend, your mother or your daughter and enjoy the pleasure of learning something new together. Or come on your own for a productive but fun getaway.  Each class is 1½  hours and is followed by lunch served on the veranda overlooking majestic Mount LeConte
You will learn different techniques and dishes that are regularly prepared at the Inn in small classes, all taught by our highly skilled and experienced Chef Frank Downs.   We can work with you or your group to offer cooking classes on just about any topic and on dates and times that fit your schedule.   Email Chef Downs to discuss your interests and time frame ([email protected]) or phone 865-436-4668.
Rates: $50 per person