Blog




July 24, 2014
Love It!
We have stayed at the Buckhorn Inn several times. Each stay has been great. Our favorite place to stay in the Smokies. The innkeepers are so nice, staff is the best, food is delicious, rooms and beds are very comfortable. The grounds and mountain view from our room are beautiful. Can't say enough good things about the Buckhorn. You will love it!
These are our fabulous new Tennessee Orange mugs–just in time for football season. And one of our talented guests–Jane Hill–is offering color coordinated UT mug rugs.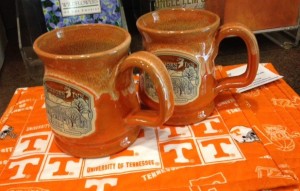 July 16, 2014
Gorgeous retreat just outside of town"
Reviewed 6 days ago NEW
We booked the Buckhorn Inn based on its excellent reviews, and we were not disappointed! The building and grounds are just beautiful. Our room was lovely and spotlessly clean, with a wonderful view of the mountains. The various sitting areas are a wonderful place to relax. We enjoyed exploring the well-maintained grounds – what beautiful gardens! The staff was very friendly and helpful. Breakfast was delicious. Location wise it is a quick drive into Gatlinburg and the park. I liked being outside of town; it was so quiet and peaceful.
I would highly recommend the Buckhorn Inn to anyone visiting the area!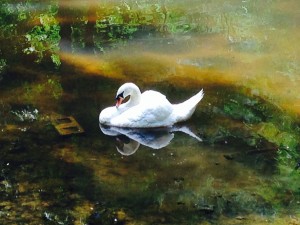 Thanks to Buckhorn Inn Regular Shari Kortum for these great photos of Mr. Majestic (aka Teller the Swan)
July 11, 2014
This is the second time I came back for a hideaway vacation. Service is good as always. We spent more time exploring the trails outside the Inn. It was very scenic and linked to some art and craft shops in a walk-able distance.You still need to drive to the area where the majority of art and craft shops locate. The Labyrinth was a place we walked pass and skipped while we spend 2 hours this time. Really a good place for self reflection and meditation.Stayed June 2014, traveled as a couple
.
July 4, 2014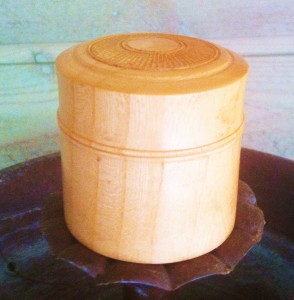 The Nashville Yount family has been visiting Buckhorn for generations.  Lately,  they have been coming "en masse" for about a week over the Fourth of July.  This is one of Mrs. Jane Yount's favorite holidays and one  for which she always writes a poem. This year, to our great pleasure, she presented us with another of her late husband Tom Yount's wood carvings, this beautiful work in hackberry.  We are lucky innkeepers to have this delightful family as guests.  
St Cordelia's Garden at Buckhorn Inn showing a little color for the Fourth of July.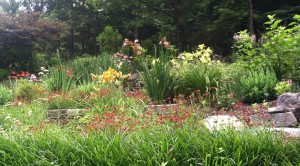 July 1, 2014
Spent two nights here recently and wish it could have been at least two weeks. The Inn is perfect — comfortable bedrooms, lovely sitting rooms and outdoor sitting areas, beautiful grounds, great food, friendly helpful staff. The best experience of my whole vacation was sitting on the back porch in the evening and watching the Smoky Mountains gradually disappear into the night sky while the fireflies darted over the gardens. Can't wait to go back!