Blog




August 22, 2014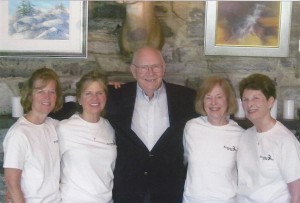 These sisters are four of our favorite guests.  We love to see how they maintain their joyous relationship with one another, an important part of which is an annual visit to Buckhorn.  From left, meet Kathy, Cookie, Gail and Judy.
Years ago my parents would take us to Gatlinburg TN where my mother studied at one of the artist schools. We would always stay at the Buckhorn Inn just outside of town, and I loved it there. This year my husband and I returned, I must say that Gatlinburg is honky tonk and no longer an artists colony, but the Buckhorn was fantastic! Beautiful rooms, lovely staff, total quiet. Places to walk and read, and just relax. The breakfasts were beyond belief, so much that I had to ask for only a half portion. Dinner was a highlight. Our five days there were lovely. It is true that you can't go back again, but thanks to the Buckhorn some of my memories were restored!
We just stayed in the Bebb House for 2 nights and thorougly enjoyed this historical Inn. The caring and attentive service with owner presence is impressive. The Inn grounds are beautiful to walk. For those less able to wander the hilly property there are rocking chairs on the patio and beautiful mountain views from many windows The meals were excellent. Many thanks to the dedicated owners and all Buckhorn Inn staff (even those behind the scenes) that allowed us to have a wonderful stay. You all certainly have dedicated your hearts and minds to a noble cause in service of others that need a bit of respite.
August 18, 2014
In planning our first trip to Gatlinburg, we wanted to find someplace to stay that was away from the crowds, within easy driving distance of restaurants and hiking, and near the arts and crafts areas. The Buckhorn Inn offered all that. Everyone at the Inn was very friendly and worked hard to make us feel welcomed and at home. We loved the location…in the mountains about 15 minutes outside Gatlinburg proper…with wonderful views of the mountains. There are rooms in the main lodge, but we stayed in a cabin. While the cabin was clean and private, it was a little "tired" and could have used some updating.
The breakfasts were very good and they always had a variety of options that included eggs, ham and bacon, besides the special breakfast and biscuits and muffins. We never left hungry in the morning.
We enjoyed the nature trail on the grounds and the beautiful gardens and plantings throughout the property. And it was nice to pop into the lodge after an afternoon stroll for a fresh baked cookie!
This is a great place for couples wanting to relax and enjoy the beauty of the Smoky mountains.
via Buckhorn Inn (Gatlinburg, TN) – B&B Reviews – TripAdvisor.
I cannot imagine a better bed & breakfast than Buckhorn Inn. My wife and I have stayed there multiple times for special occasions. We are never disappointed. The food is some of the best I have ever had. The staff & service are excellent. They go out of their way to make you feel welcome. The variety of accommodations offer something for everyone. I can recommend without any reservations.
via Buckhorn Inn (Gatlinburg, TN) – B&B Reviews – TripAdvisor.
Stayed 2 nights. Romantic-get-a-way!
Dinner: 4 course meal; Had dinner both nights. Food excellent; great pace at dinner; we never felt rushed. It was the first time in years that we had dinner and relaxed the whole time. If can travel during the week (Sunday-Thursday) ask for "Iced Tea" (in summer) or "Hot Chocolate" (in winter) special. Includes: 2 nits; 2 dinners; 2 breakfasts. Awesome deal!  Breakfast daily: 8am–9:30am; Will even deliver breakfast to your room if requested. Even though kids are welcomed, this is more of a couples retreat; quiet & relaxing.
Ask kitchen for a bag of lettuce and you can feed the swan by the pond. We did this daily; nice walk to pond.
via Buckhorn Inn (Gatlinburg, TN) – B&B Reviews – TripAdvisor.
My wife and I had a generous gift certificate to this fabulous inn about 5 miles from Gatlinburg; otherwise, we might not have known about it even though we live only an hour's drive away in Knoxville. We celebrated our anniversary there (two nights) and felt like royalty the whole time we were there. The staff is exceptional; the food is absolutely some of the best we have ever had, and we've been around almost as long as this 75-year-old inn. There are rooms in the inn, but we stayed in one of the cottages which was very nice. The gardens are beautiful; nice view of Mt. LeConte; everything is well kept. We certainly intend to return.
via Buckhorn Inn (Gatlinburg, TN) – B&B Reviews – TripAdvisor.