Blog




February 27, 2015
Stumbled upon Buckhorn Inn last second due to our prior inn canceling due to inclemate weather. Was able to get a great traditional room with dinner and breakfast of course for a great price. Inn has great view of mountains with an easy accessible location. Innkeepers and staff very sweet and helpful highly recommend!
via Great Smokey Mtn B&B – Review of Buckhorn Inn, Gatlinburg, TN – TripAdvisor.
February 23, 2015
"Wonderful, relaxing experience"
I am biased. My wife and I have stayed at the Buckhorn Inn so many, many times over the past decade that we aren't sure how exactly how often we have been guests here. This is a wonderful, quiet, relaxing place to be close to all of the activities of Gatlinburg and the Park and still be able to retreat to the peacefulness of the Lodge itself. The Innkeepers/owners and their staff are great hosts and make all guests feel welcome. Breakfasts at the Inn are fabulous and included… but you must try dining at least once at the evening 4 course dinner also served here (at added cost and reservation required). You cannot find a better dining experience anywhere else in the Gatlinburg area.
Stayed February 2015, traveled as a couple
"A place you will never forget….and will want to return to year after year!"Reviewed 3 days ago NEWThe Buckhorn Inn is a place that you will fall in love with on your 1st visit. We have come for the last 7 years, and look forward to our next visit before we leave!The wonderful owners, the staff, the chefs, servers, and ground folks are like family. They make you feel like you have come home…a comfy one. The history of the Inn is so interesting. The building, the grounds, the cottages are simply beautiful. It's safely tucked away from the hustle and bustle of Gatlinburg, but close if that interests you. Hiking is a favorite of ours, and so many trails close by. We have been guests in different seasons, but the winter is our favorite with snow.My husband and I love the inn and the people there!
February 10, 2015
Buckhorn Inn was a marvelous find. We stayed in one of the cottages and it soon felt like home from home. Debbie and the other staff went to every possible effort to be helpful, and deserve much praise. The house and the cottages are well-furnished and the bed was extremely comfortable. The jauzzi in the bathroom was a lovely touch, and was enjoyed by us! The amenities provided were also very nice. The location is excellent – away from the bustle of Gatlinburg, but not so far as to be inconvenient. It was a delightful stay in a well-run inn in lovely surroundings. My only criticism would be the lateness of the start of breakfast (8 am) which really prevents a full day out unless you skip breakfast. At the end of our stay we were told that we could request it earlier. That's good to know, but a 7 am or even 7:30 am start would be so much better. This isn't a cheap stay, but we felt that it was worth it. We'll return.
We make it a point to return to the Buckhorn Inn two or three times each year and are welcomed warmly by the staff whom we know on a first-name basis. The hospitality is over the top, food is to die for, and the setting is far from the madding crowd of Gatlinburg, yet the park is so close! We love Premier 2 or Premier 1 overlooking Mt. LeConte, but this time we enjoyed Premier 4, a complete apartment on the lower level. John, Lee, Debbie, Heidi, and the team always make us feel like royalty, just like everyone else! The Buckhorn Inn is not for everyone. It is for those of us who want peace, quiet, solitude, total class, and a place to rejuvenate in the beauty of the Smokies.
My husband and I stayed at the Buckhorn Inn in November 2014 as part of a US road trip. We drove from Nashville to Gatlinburg which was an easy drive. The only tip I have for the drive which I believe is written on the confirmation email from the Buckhorn Inn is DO NOT drive through Pigeon Forge on the way to Gatlinburg. We (or should I say I) did not read the information properly and we spent nearly an hour in traffic driving through Pigeon Forge. The only consolation to that drive was that all the Christmas decorations were out and they were spectacular. In fact, Pigeon Forge and Gatlinburg have some of the best Christmas decorations I've ever seen and it's worth a visit around November/December just to see them. We didn't arrive at Buckhorn Inn until nearly 7.30pm on our first night. I had called through to say we were caught in traffic and would be late. I had booked dinner in the restaurant for both our nights and wanted to let them know we would be arriving outside their usual sitting time. The staff were more than accommodating about our delay and on arrival we were greeted by a lovely lady at Reception who checked us in immediately, directed us to our table, took our drink order and our first course was served very soon after that. It was a great relief as we had been very stressed due to the traffic congestion in Pigeon Forge and our late arrival. Dinner is a set menu but the food was absolutely fantastic. We stayed in a Premium 1 Room which was beautiful. The decor was pretty, the room was roomy and very clean and it had a small balcony with a view out to the Smokey Mountains. Breakfast each morning was also excellent and the service was impeccable. We felt very welcome and everyone treated us as though we were long lost relatives. Buckhorn Inn is a short drive to the Smokey Mountains and we drove to the top of the Smokey Mountains both days we were there which was a lot easier than we thought it would be. The location of the Buckhorn Inn is also ideal as it is a short distance to Dollywood (about 20 minutes drive) and many art and craft shops which are scattered throughout Gatlinburg. I would highly recommend the Buckhorn Inn. It is an upmarket, romantic, mountain retreat where you can forget about the everyday stresses of life for a while and spend some quality time with your significant other.
via Buckhorn Inn (Gatlinburg, TN) – B&B Reviews – TripAdvisor.
Wonderful people. The owners and staff were very gracious. We stayed in the Water Tower. It was very unique. We loved it. Delicious food. Breakfast was a wonderful treat. Dinner was great. We will definitely come back.
February 6, 2015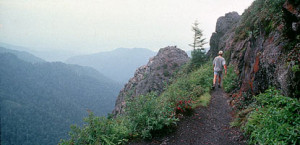 Follow the leader–hiking guide and naturalist extraordinaire Carey Jones on Wednesdays in February.  Carey will conduct gently guided hikes in some less traveled areas in nearby Greenbrier in the Smokies.