January 28, 2016
Winter Deal #1  Can you only getaway for one night?  Then book our February Sunday-Thursday Special.  Accommodation, breakfast and dinner for two is $200 in a premier room or cottage or $170 in a traditional room.  
Winter Deal #2   Annual Buckhorn Inn Wine Fest   February 18 Look, smell, taste – starting with your basic senses and expanding from there you will learn how to taste wines like the pros in no time!   We are offering a special one-night rate which includes the wine tasting experience, breakfast and accommodation at $175 for premier rooms and cottages and $130 for traditional rooms. 
Winter Deal #3  Two-Night Midweek Discount of 24%  Hot Chocolate Special Sunday through Thursday Nights, January through March 17.  Two Nights, Two Breakfasts on Two Mornings and Two Dinners on Two Nights.   $385 Cottage or Premier Room; $320 Traditional Inn Room. 
Winter Deal #4  Valentine's Day   We only have two accommodations left on Valendine's Day, Sunday, February 14.  Book any one of them at $195 and get rose petals strewn on your bed!
Winter Deal #5  Experience Peace in the Heart of Nature  February 26-28, 2015 Here in the beautiful foothills of the Smoky Mountains you will find the perfect environment to learn how to meditate or to refresh your practice.
Elements of the Retreat include
Learning basic meditation techniques
Joining in group meditations that help you go deeper
Gentle yoga poses that will help relax and release tension
Silent nature experiences to help you regain your inner awareness and calm
The art and science of prayer and meditation
Gentle Yoga postures,that will help you to release tension and give you the ability to meditate more deeply
Package Price: The per person cost (sharing) of $220 includes the retreat, two nights' accommodation, two breakfasts, two dinners, and one lunch. Participants with little or no meditation experience attend for three nights, beginning on Thursday. There is an additional fee of $120 for these participants which includes the additional night's accommodation, breakfast, dinner and lunch. 
It is best to call the inn to make reservations:  865 436 4668.  We do block out space for the retreat, so accommodation which may looked unavailable actually is.
January 12, 2016
Hi Lee and John,
Arline  and I were recent guests of yours at  Buckhorn Inn and found it to be one of the highlights of our visit to the Great Smoky National Park.  From the greeting on our arrival, to the comfortable tower room, to the delicious breakfasts and dinners, to the warmness and fine service of the staff, we were delighted in all that you folks offer.  Arline is ready to return and suggested a number of times on our return to New England the possible dates and the various things there are to enjoy.  We did, by the way, really enjoy the Nature Trail on your 30 acres.Our compliments to all.
Russell 
January 8, 2016
Frank is never too busy that he can't think of new ideas.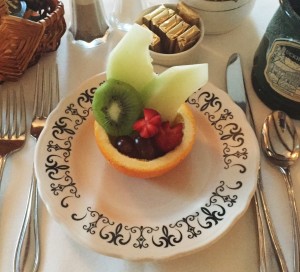 This week he produced a pretty fruit cup to serve at breakfast, taking the time to hollow out an orange and filling it with sliced honeydew, kiwi fruit, strawberries and blueberries.  The thinly sliced honeydew gives the fruit cup the benefit of added height and drama.
Frank also wanted to produce a breakfast dish which would accommodate guests who are vegetarians who eat fish.  He came up with Buckhorn's Bayou Breakfast, the layered dish you see below:  hash browns followed by crunchy fried shrimp, spinach, creamy scrambled eggs and a garnish of chopped tomatoes and green onions.  He finished it off with a great aioli sauce.  Our guests, whether vegetarians or not, really went for it.  We think the secret of the dish was the crunchy shrimp!