Blog




November 28, 2017
Whether you are baking for guests or Santa, the buttery refinement of the sugar cookie can't be beat!
Lore has it that the first sugar cookies appeared around the seventh century. It is possible that a baker around that time used mini versions of his cakes to test the temperature of his oven. When he began selling these mini-cakes, the sugar cookie was born!
The type of sugar used makes a difference in the texture of the finished cookie. Fine sugar granules will make a cookie that is flatter and crisper. Large sugar granules result in a thicker, chewier cookie. This is because the dissolving of the sugar causes the dough to spread. If the sugar is coarser, it will dissolve more slowly.
Our recipe makes about 4 dozen soft and scrumptious cookies. One way to make them uniquely yours is to use a cookie stamp. The die blocks transfer patterns to the cookies that you can then decorate with food paints and sprinkles. Enjoy!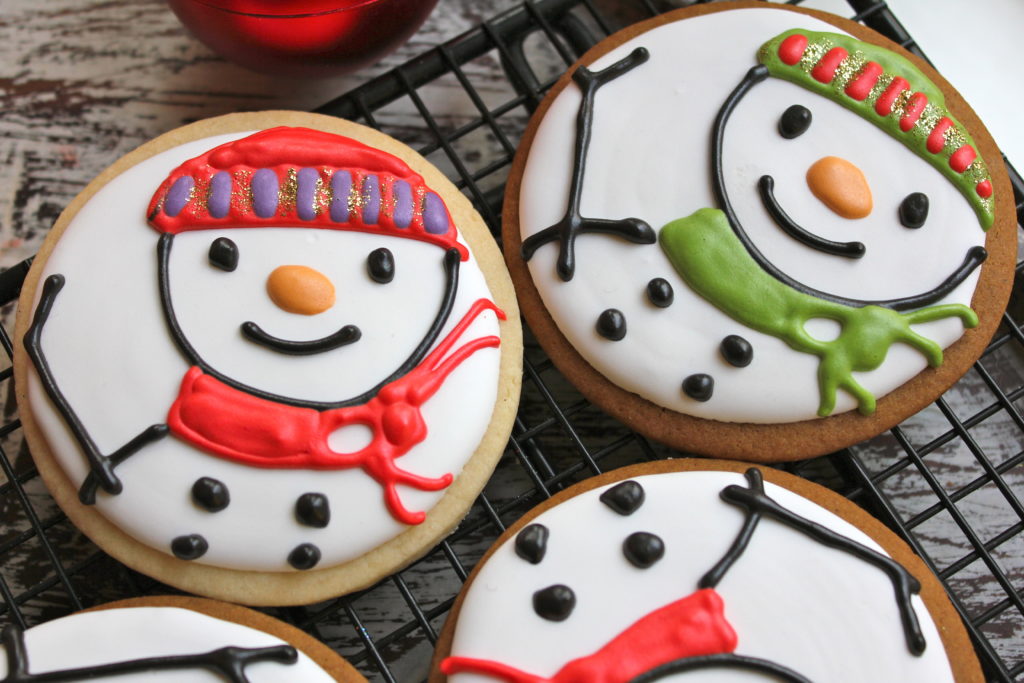 Buckhorn Inn Sugar Cookies
1 cup Butter, softened
1 cup Vegetable Oil
2 large Eggs
1 cup Granulated Sugar
1 cup Confectioner's Sugar
2 teaspoons Vanilla
4 ¼ cups All-Purpose Flour
½ teaspoon Salt
1 teaspoon Baking Soda
1 teaspoon Cream of Tartar
½ cup additional Granulated Sugar for rolling
Preheat oven to 350 degrees.
Cream butter, oil, eggs, sugars and vanilla. In a separate bowl combine flour, salt, baking soda, and cream of tartar. Add the flour mixture to the creamed mixture. Form into 1 inch balls and roll in granulated sugar. Place the cookies on an ungreased cookie sheet and flatten. Bake 10 to 12 minutes until light, golden brown. Let the cookies cool on the cookie sheet for 2 minutes before placing them on a cooling rack.
Have you admired the holly bushes on the Buckhorn Inn Nature Trail?  We have two American specimens of this beautiful evergreen.  
The thick, spiny leaves provide color in the landscape year round.  And wildlife, including many different bird species, feed on the bright red berries.  Interestingly, the berries are hard and inedible during the fall and early winter months.  It takes several frosts, or freezes, for the fruit to become softer.
Symbolism of Holly
To the ancient Druids, the leaves  offered protection against evil spirts.  In those days holly was often worn, sometimes as a wreath around the head.  It was viewed as being a sacred plant because it remained green all winter.
In some traditions of Wicca, the Holly King is one of the faces of the Sun God.  He was born at midsummer and rules from the autumnal equinox to the vernal equinox.
In the Christian faith, the sharp leaves harken to the crown of thorns worn by Jesus and the red berries symbolize drops of his blood.  
The evergreen is often used in decorations for the Chinese New Year.
Growing Holly
Whether evergreen or deciduous, the plant prefers a moist location, and partial to full shade.  It grows well planted under, or around, large trees.  This plant can grow up to 50 feet in height, if not kept pruned to size.  Therefore it can be grown as a tree, bush, or hedge.  Both male and female plants of American holly are necessary to produce the bright red berries.  It begins to produce small white spring flowers and then berries when the plant is four to five years old.  You can find a wealth of information on growing this favorite from the Holly Society of America http://www.hollysocam.org
You can cut your own branches to fashion wreaths and centerpieces.  Just be sure to wear protective gloves when working with holly–the leaves are sharp!
If you've visited the Smoky Mountains National Park area in the summer, spring or fall, then you know it can get a little crowded here. That's why you should consider a getaway during the wintertime. You'll find fewer visitors and traffic, enjoy clearer views of the landscape, and even enjoy some sunny days in the crisp winter air.   You can also enjoy our Great Winter Escape at a great price. Take advantage of this great 25% discount package– two nights of lodging, breakfasts on two mornings, and dinners on two nights. All for $320 for a traditional room or $385 for a cottage or premier room. 
Great Winter Hiking on Amazing Trails  Alum Cave is the most popular winter hiking trail in the Smokies.  At the bluff you can see beautiful frozen icicles and breathtaking mountain views.  Other great winter hiking trails include Charlies Bunion, Andrews Bald and the Little River Trail.  And our own Porter's Creek—just a stone's throw from Buckhorn—offers easy walking along the river or a more challenging climb to Ramsey Cascades.
Take a Drive through the Mountains  In the winter, the mountaintops are covered in a beautiful white dusting of snow.  There's nothing prettier than the view from Cades Cove Loop in the winter with its snowy landscapes across wide open fields.   If you are lucky, you might see a few white-tailed deer.  But you may also glimpse otter, bob-cat, red fox, mink, red squirrel.
Moonshine, Whiskey and Wine  Take a stroll down Gatlinburg's main street and get a free taste of the locally made moonshine, whiskey and wine.  One of the best places to visit is Ole Smoky Moonshine because it offers great rocking chairs and live bluegrass music.
Go Skiing at Ober Gatlinburg  Gatlinburg is home to a favorite attraction – Ober Gatlinburg. Along with indoor ice skating, an alpine slide, restaurants, and an arcade, it also offers skiing, snowboarding, and tubing! Kids can learn at the ski school, and there is even a terrain park for the more adventurous boarders!
Shop 'Til You Drop  Avoid the crowds and shop the great Five Oaks Shopping Mall this winter with its more than 100 stores. Explore the beloved Christmas Place with its over-the-top supply of everything Christmas and enjoy its January sales.  Check out the Smoky Mountains Arts and Crafts Loop at our front door.
Explore History  Glenn Cardwell Heritage Museum celebrates the heritage and culture of the people of the small mountain town of Pittman Center.  Find out about the area's first settler, a veteran of the American Revolutionary War, who arrived in 1784, and the migration of people who were forced to leave their homes when the National Park was established in the 1930s.
Waddle with the Penguins  Take a stroll through Ripley's Aquarium in downtown Gatlinburg where you can splash with rays, sleep with the sharks and take a ride in a glass-bottom boat.  The latest exciting exhibit focuses on Pearl Harbor.
Renew Your Spirit in the Serenity of Buckhorn Inn  For many of us life can be a rush.  Slow down with a quiet dinner for two in our dining room overlooking the Smokies, read a book in front of a fire, enjoy a massage, take a nap in the afternoon, or reflect on life with your partner.
November 20, 2017
We are so pleased that many of our long-time guests refer to themselves as part of the "Buckhorn Family"!  When John and I purchased the Buckhorn, we expected to provide travelers with a respite from the rush of everyday life, and an opportunity to renew their spirits in the tranquility of nature's bounty.  What has delighted us most is that we also are providing a place for family and friends to connect and celebrate each other.  Nothing pleases us more than to have a couple or a group announce to us that this is their 5th, or 12th, or 27th visit to the Buckhorn!  
Comments from Buckhorn Family Members
We gathered many comments from guests in the book The Buckhorn Experience".  Here is a sampling:
"The fireplace is the perfect backdrop for a cozy opportunity to chat with newly-made friends."  Cyndy
"We are sitting here tonight watching the fire, with a good wine.  Everything here is peaceful.  Why would you want to be anywhere else?  This is and always will be my favorite place to stay."  Cindy and Lamar
"Our ninth visit is as memorable as ever.  As my wife said to Lee, the Buckhorn trip is not like going away, it is like coming home!"  Philip and Judy
"We do not leave this place behind, for in our hearts, we will always carry the love and beauty we found here."  Babe
"Our 12th trip to the Buckhorn was just as wonderful as the others.  We look forward to returning next fall!"  Grady and Cindy
"We have been coming here so long, we can't agree just how many times we've been here!"  June
"We celebrated our 35th wedding anniversary here with four other couples who have also been married for 35 years.  Just as good as it was 10 years ago when we were all here for our 25th!"  Mel and Bobbie
"There's magic here.  It's subtle.  Worries and fears slip off like ill-fitted garments."  Suzan
"Every time I go to the Buckhorn Inn, I always come away with new friends.  I don't go to the Buckhorn to get friends.  I have plenty already.  But these are special friends, who have shared the Buckhorn experience."  Douglas
Thank you to all our wonderful guests for being part of the Buckhorn family.  We wish you a joyous Thanksgiving!
November 13, 2017
Guests tell us that dessert is a highlight of any Buckhorn Inn dinner.  And why not!  With such delights as coconut cream pie, apple-cranberry crisp, and our special "that" chocolate cake, all dinners end on a sweet note.  But have you ever wondered about the history of dessert?
How Dessert Came to Be
Ancient peoples enjoyed dried fruits and nuts candied with honey.  However it was not until the production of sugar that sweet dishes became popular parts of a meal.   Sugar was expensive, so sweet treats were reserved, for the most part, for the wealthy and special occasions.  
In Medieval Europe, sweet and savory dishes were served alongside each other.  It was not until the 1600's that service a la francaise (serving all dishes at once) became replaced with service a la russe (serving one course after another) and sweets claimed their place as the final course of a meal.
It was at that time that the word "dessert" came into popular use.  The word comes from the French word "dessirvir" which means "to clear the table".  In other words, desserts were served after the table was cleared of main dishes.  For more information on some of your favorite meal-enders, visit http://www.history.com/news/hungry-history/category/desserts
The recipe for one of our guest-favorites appears below.  Enjoy!
Brown Butter Almond Torte with Sour Cherry Sauce
Torte
1/2 cup unsalted butter
1 tsp vanilla
1 cup blanched almonds
1/2 cup AP flour
1 cup sugar
3/4 tsp salt
6 large egg whites
1/3 cup sliced almonds
Preheat oven to 375 F.  Butter and flour a 9″ round cake pan.  Melt butter over moderately low heat.  Continue to cook until golden brown with a nutlike fragrance.  Cool and then stir in vanilla.  In a food processor finely grind blanched almonds with flour, 2/3 c. sugar, and 1/2 tsp salt.  With an electric mixer beat egg whites and remaining 1/4 tsp salt until they hold soft peaks.  Gradually add remaining 1/3 cup sugar, beating until meringue holds stiff peaks.  Fold in almond mixture.  Then fold in butter mixture.  Batter will deflate.  Spread batter into cake pan and top with sliced almonds.  Bake 35-40 minutes until tester comes out clean.  Cool in pan on a rack 15 minutes.  Remove from pan and cool completely.
Sour Cherry Sauce
3 cups sour cherries, pitted.  (about 1 1/2 lbs.)
1/2 cup sugar
1/2 cup water
1 tsp cornstarch
Bring cherries, sugar and water to a boil.  In a cup stir together cornstarch and 1 tablespoon water until dissolved.  Stir into cherry mixture.  Simmer sauce 2 minutes and cool to room temperature.  This recipe makes 6-8 servings.