Blog




February 26, 2018
Did you know that their are roughly 150 cemeteries scattered throughout the Great Smoky Mountains National Park?  The land for the park was purchased from families, many of whom lived in this area since the 1800's.  Along with homes, churches, farm buildings, and stone walls, many of their cemeteries are part of the park land.  Some are near main trails, others can be found with a map, and a few are slowly becoming overgrown and disappearing.  
"Cemeteries of the Smokies" Guidebook
One of the most popular books published by the Great Smoky Mountains Association is "Cemeteries of the Smokies".  The book provides directions to all 152 graveyards in the park.  For each site, the book provides a complete listing of burials and dates, kinship links, and epitaphs.  There is also an index of local family names.  These historic spots provide a tangible link with our area's past.  They can provide us with insight into customs, religious beliefs, cultural and ethnic influences, and the community development of our ancestors.
The Hiking 101 program sponsored by the Great Smoky Mountains Association takes its inspiration from this book.  They have designed 12 guided hikes and a bus tour to take participants to the sacred spaces within the boundaries.  These hikes are not all easy, but the hiker is rewarded by coming to know those who lived and died here, and remain buried in lost graves, family plots, and in church burial grounds.  Registration for these hikes is now open.  For program details and to register, please visit http://www.smokiesinformation.org.
The hikes are limited to 15 individuals each and run from March 17 through October 16 2018.  It is important to note that the Park Service frowns on creating "rubbings" of inscriptions on the headstones.  The pressure needed to make a clear rubbing can damage the surface.  The Great Smoky Mountain Association asks for your help in ensuring the preservation of these plots for future generations.
February 23, 2018

Here are some reviews posted in the last month on Trip Advisor.
Reviewed 1 week ago
Wonderful and Relaxing Atmosphere!
We have been several times to Buckhorn Inn to celebrate our wedding anniversary and usually rent Cottage #7. It has never been a disappointment! Last year we went somewhere else to celebrate so this was our first time back in two years. When we opened the door to Cottage #7, I said "Oh….we're home"! That's how it felt….like we were coming home. One of the highlights of the trip is the fantastic food that is served for breakfast and supper. It can't be beat! And you leave stuffed! Definitely a place I would very highly recommend.
Reviewed 1 week ago
Such a beautiful, peaceful place
The cottages are quaint and very private. We love turning on the fireplace and just soaking in the breathtaking view. It is nice to have the kitchenette for snacks, etc., but you must eat at the Inn. The food is excellent.
Knoxville, Tennessee22
Reviewed 3 weeks ago
So lovely – every year!
Banana Foster's French Toast for breakfast. It's the first thing I think of when I hear the words "Buckhorn Inn." I cannot praise the inn highly enough. The inn is comfortable, warm, and inviting, as is the staff. My husband and I return annually for a weekend to unwind after the holidays. I have recommended this inn to countless family and friends, and they come home saying the same thing. The highest compliment? Many of my single girlfriends have stayed here – traveling alone – and they have felt safe, nurtured, and well taken care of – a high compliment in this crazy world. I cannot wait to come back.
Reviewed 4 weeks ago
A Great Idea
Sometimes you just need to get out of town and the Buckhorn Inn is the perfect place to escape to, if only for one night. Debbie made reserving and checking in a delight, even arranging for a pitcher of our favorite spiced tea in our cabin. Of course, freshly baked treats and coffee were also waiting in the downstairs sitting room. A pleasant walk to the pond and back and quiet reading time left us ready for one of the best dinners we've ever enjoyed there. The cottages are our favorite accommodation when we visit, offering comfort and privacy. We enjoyed the usual great breakfast and wonderful mountain views from our morning table. Upon leaving, our only comment was "this was a great idea." We hope you get the chance to visit this unique and charming establishment.
Reviewed 4 weeks ago
Just love it
Here on a package deal (2 nights in a cottage, includes 2 dinners and 2 breakfasts) and loving it. Our cabin has a great Mountain View, a fireplace, and a jacuzzi tub. Cozy, comfortable and spotlessly clean. Mini kitchen means we can pack a lunch for adventures out, and there is a screen porch that is lovely if it wasn't too cold to use it! Food has been absolutely delicious, and staff is great. We have already booked our August visit!
February 19, 2018
One of the most famous stories in children's literature is "The Ugly Duckling" by Hans Christian Andersen.  The story is about a cygnet who thinks he is an unattractive duckling, but grows into a beautiful and graceful swan.  Andersen also wrote "The Wild Swans".  This tale features an evil stepmother who turned her stepsons into swans.  They carry away their sister to save her.  The sister is mute, but spends her days knitting shirts from nettles.  She is about to be burned at the stake as a witch when her brothers descend from the sky and save her.  They don the magic nettle shirts and turn into human form.  Their sister regains her speech and all live happily ever after.  
Greek mythology shares the story of Leda and the swan.  This story recounts the conception of Helen of Troy by the Queen of Sparta and Zeus, disguised as a swan.  This myth was expressed powerfully by W.B. Yeats in his poem "Leda and the Swan".  Yeats also wrote "The Wild Swans at Coole" which expressed his search for lasting beauty in a changing world where beauty was temporary.
In Norse mythology, two swans drink from the Well of Urd.  The water is so pure that the swans turn white, as do all their descendants.  
The Nicaraguan poet Ruben Dario used the swan as inspiration.  His most famous poem perhaps is "Coat of Arms".  His use of the swan made it the symbol of the Modernismo poetic movement.
Works of classical literature reference the myth that otherwise mute swans sing beautifully at the moment of their death.  This idea gave birth to the phrase "swan song".
Because of their lifelong, monogamous pairing, swans are often a symbol of never ending love.  Swans were a favorite bird Shakespeare.  Many of his works feature them, including this passage from "As You Like It":
And wheresoever we went, like Juno's swans, still we went coupled and unseparable.  
Buckhorn Inn Swans to be Named in Mid-March, Literature Provides Inspiration
Our two brother swans arrived at the Inn on February 14.  Innkeeper John is contemplating the many clever names submitted by our guests.  Please refer to our earlier blog listing potential names.  Please let us know your ideas if you have not yet done so!
February 12, 2018
February 14, St. Valentine's Day, is a day for celebrating love.  In addition to the United States, the holiday also is celebrated in Canada, Mexico, the United Kingdom, France, Australia, Denmark, Italy and Japan.
According to a survey done by Hallmark, more than 141 million cards are sent each Valentine's Day.  http://www.history.com/topics/valentines-day/valentines-day-facts  This number excludes the packaged Valentines that children exchange in the classroom.  This same research shows that more than half of these cards are purchased in the week leading up to the holiday.  
Origins of February 14 as a Day of Love
The medieval poet Geoffrey Chaucer may have inspired Valentine's Day as a day for lovers with his 1375 poem "Parliament of Foules".  The poem refers to February 14 as the day when birds (and humans) search for a mate.  His work links traditions of courtly love with the feast of St. Valentine. 
Charles, Duke of Orleans, is credited with writing the oldest known Valentine.  He wrote a poem to his wife while he was imprisoned in the Tower of London in 1415.  This poem currently is part of the collection of the British Library in London.
While Richard Cadbury did not patent the heart-shaped box of chocolate, experts agree he likely was the first to produce it in England in 1840.  In a stroke of marketing genius, he promoted the boxes as having a dual purpose.  They were so beautiful that after the chocolates were eaten they could be used to store love letters and other trinkets.  The boxes grew increasingly detailed and elaborate.  That is until World War II.  Sugar was rationed, so the candy-giving aspect of the holiday was scaled down.
If you have not yet found the perfect token of affection for your Valentine, we can help!  Our Valentine's package includes a night in a cozy cottage or a luxurious premier room, both with fireplace.  You and your sweetie will enjoy a delicious four-course dinner.  The next morning you will enjoy a hearty breakfast in the dining room, or delivered to your accommodation.  This $265 package is available through the end of February.  Just let us know if you would like to add wine and a dozen roses to your experience. 
Wishing you a special Valentine's Day!
February 5, 2018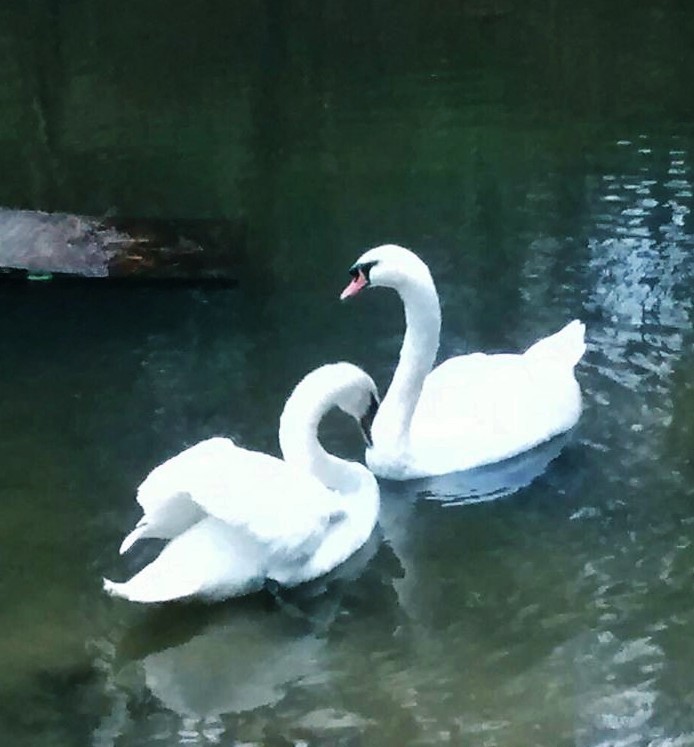 Buckhorn must have the most literate and wittiest group of Inn friends.  Wow!  We are so impressed by the terrific response from our guests for names for our new swans and the range of those suggestions—inspired by sports, politics, the personal, popular and classic music, literature, Greek and Roman myth, television and movies.
Nominations are open until March 15, so it's not too late to send your entry.
• Wilbur and Orville (multiple nominations)
• Prince Harry and Prince William (multiples)
• Jakob and Wilhelm (Grimm) (multiples)
• George and Ira (Gershwin) (multiples)
• Doug and Hub (Bebb brothers) (multiples)
• Rogers & Hammerstein (multiples)
• Gilbert & Sullivan (multiples)
• Eli and Payton (Manning) (multiples)
• Bert & Ernie (multiples)
• Trevor and Bayne
• Andy and Barney
• Robert and Lindsay (Young twin brothers and former owners of Buckhorn)
• Zig and Zag
• Larry and Other Brother Darryl
• John and Jim, for the Belushi brothers who are from Chicago
• Pops and Peanuts, for the Panezko brothers, Chicago's famous jewel thieves
• Marshall and Field, for department store
• Eliot (Ness) and Al (Capone)
• Wrigley and Soldier, for the baseball and football stadium
• Shakespeare and Van Gogh
• Cain and Abel
• Romulus and Remus
• Zeus and Poseidon
• Groucho and Harpo
• Blue and Ridge
• Elvis (Presley) and Carl (Perkins)
• Apollo and Zeus
• Buck & Hornsby
• Buckin * Bronco
• Bubble and Squeak
• Walter (Matthau) and Jack (Lemmon)
• John and Lee (We thank you but these names might confuse new guests!)
• Andres and Tchaikovsky ( both associated with the tale of swan lake- by Tchaikovsky- Andres was the writer of Black Swan( the movie remake of swan lake)
• Rozencrantz and Guildenstern.
• Fiachra and Conn (Irish legend about the children of Lir who were brothers turned into swans)
• How about "Karom" and "Azov"… as in Dostoyevsky' s "The Brothers Karamazov"?
• Max and Val
• May I suggest Hansa (Sanskrit word for swan) and Hugh (patron saint of swans—who knew they had one?)
• Castor and Pollux, the Gemini boys
• Laurel & Hardy,
• Simon & Garfunkel
• Mellor and Bucki
• Marsden and Hartley
• Kelly and Declan
• Some combination of the Marx brothers…Groucho, Chico, Harpo, Zeppo…
• Jake and Elwood (as in the Blues Brothers)
• Duane and Gregg (as in Allman Brothers Band—one of our favorites!)
• Zeus and Poseidon
• Peter and Anatoly – two of the Tchaikovsky brothers (Peter wrote Swan Lake)
• Snip & Snap
• Holliday and Earp
• Douglas and Audrey
• Adonis & Narcissus
• Lincoln & Apollo
• Constantine and Alexander
• Winston and George
• Maverick and Iceman
• Lennon and McCartney
• Bow and Derek Sewanee
• Love and Hope
• In Tennessee only Jack and Daniel will do.
• Albert and Ernest? Those names reflect the royal British history of the swans, and Albert and Ernest are the brothers who came from Germany to become a part of the royal family in England in the 1840
• William and Andrew, the current princes of the British realm
• Sam and Dave.
• Swift and Sure
• Malcolm and Angus
• Mikhail and Rudolf
• Holly and Oak (in honor of the Celtic legend of the Holly King and the Oak King – representing the struggle of the waxing and waning of the seasons)
• Stonewall & Jackson
• Elliott & Emmett
• Name one of them "Brodrick", which is an old Scottish name that means Brother. Name the other one "Brother".
• Conner & Murphy
• Seigfried and Roy…
• Calloway and Beethoven and call them Cal and Bay
• Turner and HoochLuke SwanWalker
• Hekel and Jeckel
• Starsky and Hutch
• Obi-Swan Kenobi
• Herman and Melville
• Marc & Anthony
• Julius & Caesar
• Matt & Damon
• Anderson & Cooper
• Sean & Hannity
• Elton and John
• Billy & Joel
• Willie and Nelson