Blog




November 30, 2020
Stumped about holiday gift ideas?  You members of the Buckhorn INNer circle have some options just a phone call away!  Here are some of the goodies available from the Buckhorn Inn gift shop.
Gift Certificates
Buckhorn Inn gift certificates are available in any denomination from $25.  You can gift a stay at the Inn, a dinner, or a special occasion package.  Hard copy certificates are delivered in a beautiful card featuring a watercolor of the Inn by famed painter G. Webb.  We can also email gift certificates.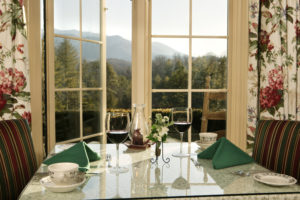 Buckhorn Inn Memories Captured in Watercolors
Long-time guest Tanya Young has created a set of special vignettes created in watercolors.  The matted prints are $25 each and measure 8.5″ x 11″, including matting.  The vignettes feature the meditation labyrinth, Cottage #1, a window table in the dining room, and the book case lamps in the dining room.  What a special way to remember your stay!
Holiday Gift Ornaments
Each year we introduce a new collectible ornament crafted by Tim Weberding Woodworking.  The 2020 ornament features the front of the Inn.  Supplies of these beautiful pieces are limited!
Works by Local Artists and Artisans
We have beautiful hand-crafted hiking sticks priced from $35 to $125.  They would make a lovely gift along with a copy of the book "Hiking Trails of the Smokies" for $19.95.
We also carry some beautiful glass pieces by local artist Pete Alcott.  He produces colorful fused glass art pieces that are durable enough to be functional.  These striking works will be treasured for years to come.
Other Gifts
We also carry bathrobes, Buckhorn Inn cookbooks and shirts.  Our supplier promises our mugs will be back in stock soon!  Many of our local partners have gift cards as well–you can check out Anakeesta http://www.anakeesta.centeredgeonline.com and Ober Gatlinburg http://www.obergatlinburg.com.
We look forward to helping you with your holiday shopping this year!
November 9, 2020
For those who plan to travel to Buckhorn Inn in the next few months, I wanted to remind you of the precautions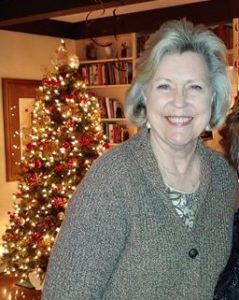 we are taking ensure your health as well as that of our staff.
All hard and soft furnishings in your room are thoroughly cleaned and sanitized before your arrival. We have removed bedspreads, decorative quilts, and decorative throw pillows to speed our sanitation procedures. You may use contactless check-in. Upon your arrival, we will not enter your room again until after you check out. We have eliminated our hard copy guest directories in favor of an electronic version which you may download to your phone. We will send the link to it in your confirmation letter. In it you will find much information—including the location of the supply of extra towels and toiletries stored for you in your room!
All staff members undergo a temperature and health check daily and must stay home if they, or a family member, are ill. Our housekeeping members are masked and gloved when they are preparing your room for you. All kitchen and serving staff are masked and gloved as well. We reservation times for breakfast, so that we can manage social distancing in our dining room in the morning. We utilize the library for additional dining space. We clean and sanitize dining tables, chairs, and condiment holders between guests. We keep as much air flowing in the dining room as possible. We have limited the number of dinner reservations we will accept so that we can maintain social distancing in the evenings as well. Our afternoon treats are individually wrapped in plastic. Our team sanitizes all high-touch surfaces in the Inn's public areas several times each day. We have large, well-marked dispensers for hand sanitizers in several places in the public areas.
If we have an active credit card for you on file, we will email you the final bill the day before you check out. Then you will not need to come into the office as you can simply leave your key in your room. If you do enter the office or gift shop, you will see that we have installed a large plexiglass window as a barrier between our guests and the office staff.
Thank you for placing your trust in us.  We look forward to seeing you soon.  And we look forward to a future where we can greet you with a hug and you can see our welcoming smiles!
From Sharon Mellor
Flaky Parmesan Pinwheels
One thing I learned from my mother is to always have something on hand to offer unexpected guests. She called it her "social security"! A roll of these pinwheels can remain in your freezer for several months. Simply remove, slice and bake and you have a very delicious appetizer! Serve them with a fresh and acidic white wine. A pinot grigio or a sauvignon blanc would do nicely.
Flaky Parmesan Pinwheels
12 ounces cream cheese at room temperature
1 cup grated parmesan cheese
2 green onion tops, chopped
¼ cup pesto (purchased or your favorite recipe)
1 lb. frozen puff pastry, thawed but still cold
Blend cream cheese and parmesan. Add green onions and pesto and mix until well incorporated. On a lightly floured board, roll 1 sheet of the puff pastry into a 10 x 6 inch rectangle. Spread half of the cheese mixture over the pastry. Roll lengthwise. Wrap tightly in plastic wrap. Repeat with remaining pastry and filling. Freeze until solid. Remove from freezer about 15 minutes before baking. Preheat oven to 375 and place rack in upper third of oven. Slice logs into ¼ inch thick rounds. Place on ungreased cookie sheet about 1 ½ inches apart. Bake for 10 to 13 minutes or until lightly browned. This recipe makes about 50 pinwheels. Serve warm or at room temperature.
We are very ready to bid adieu to 2020 and to usher in a New Year. We look forward to ringing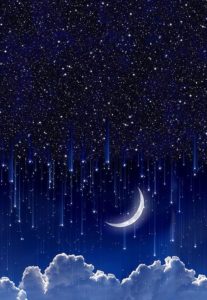 in 2021 with those of you who are participating in our package. We hope you will be joining us for an evening of Pearls and Moonlight! The dining room will be dressed in snowy white and the dress code is winter white. Chef Frank has devised an elegant white menu for our enjoyment:
Dîner en Blanc
Course #1
Scallop and Fennel Risotto
Course #2
Cauliflower and Gruyere Soup
Course #3
White Asparagus and Prosciutto Salad
Main Course
Beef Tenderloin enrobed in Horseradish Sauce
White Truffle Mashed Potatoes
White Corn in a Tomato Cup
Dessert
White Chocolate Pots de Crème with Pistachio, Cranberry and White Chocolate Biscotti
Thanksgiving is more than a harvest festival.  It is the beginning of the fall-winter holiday season!  Each year we pay homage to the first Thanksgiving—a feast shared by the Pilgrims who settled the Plymouth Colony and the Wampanoag natives.  Our Buckhorn Inn tradi has been to serve a Thanksgiving buffet with everyone's favorite dishes.  To comply with the current knowledge about Covid-19 prevention, we will not be offering a buffet this year.  But the feast will be bountiful nonetheless!  Chef Frank has developed a fantastic menu for a plated dinner which will be served at 5:00 p.m.  If you are joining us for our three-day Thanksgiving package, please know that families and groups travelling together will be seated with their own groups for the holiday meal.  All couples will have their own tables.  We will be removing furniture from the dining room and library to ensure adequate social distancing between tables.  So that you may start looking forward to it, here is the menu:
Course #1 
Root Vegetable Soup with Crema and Dried Apples
Course #2 
Shrimp Martini
Main Course 
Roast Tom Turkey with Giblet Gravy
Sausage, Sage, and Cornbread Stuffing
Mashed Yukon Gold Potatoes
Green Beans Almandine
Roasted Butternut Squash
Dup of Black-Bottom Mascarpone Tart
and
Brandy Pumpkin Cake with Pumpkin Mousse
We look forward to celebrating a delicious harvest meals and counting our blessings with you, our wonderful guests.