June 13, 2021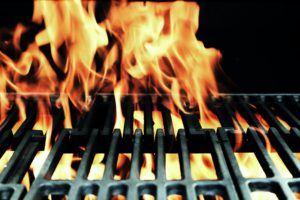 Grilling dinner is one of life's greatest pleasures—surpassed only by eating the grilled dinner! Marinating a chuck roast and basting it with maple barbecue sauce will turn the inexpensive meat into a tender, flavorful dish.
A nice big Zinfandel will stand up to the smoky flavors of this barbecue delight. Another option might be a peppery Australian Shiraz. And if you are grilling on a hot summer day, try a fruity, refreshing red wine sangria!
See recipe below.
Marinated Chuck Roast
1 onion, chopped
2 T. vegetable oil
4 cloves garlic, minced
1/3 c. soy sauce
¼ c. red wine vinegar
2 T. fresh rosemary, chopped
2 T. honey
1 ¼ c. beef broth
1 blade chuck roast, about 3 lb.
Maple barbecue sauce
Stir together onion, oil, garlic, soy sauce, vinegar, rosemary, honey and broth. Place the roast in a glass dish and pour the marinade over. Turn. Cover and refrigerate 36 hours, turning once. Bring to room temperature in marinade about 2 hours before cooking.
Preheat grill. Remove roast from marinade and grill 4 to 6 inches over hot coals. Baste with barbecue sauce and turn as needed. Cook about 30 minutes, or until a thermometer reads 130 for medium rare or 145 for medium. Remove from grill and let rest before serving. Slice thinly and serve with additional barbecue sauce. Serves 4 to 6.
Maple Barbecue Sauce
2 T. vegetable oil
1 onion, chopped
½ c. white distilled vinegar
¼ c. sugar
3 c. ketchup
¼ c. dark brown sugar
1 c. maple syrup
1 c. water
½ c. red wine vinegar
10 garlic cloves, minced
4 t. Worcestershire sauce
4 t. A-1 sauce
1 t. black pepper
½ t. paprika
¼ t. cayenne pepper
¼ t. salt
Heat oil and sauté onion until soft. Add white vinegar and sugar, bring to a boil. Stir until the sugar dissolves. Stir in ketchup, brown sugar, maple syrup, water, red wine vinegar and seasonings. Simmer for about an hour. It will thicken slightly. Cool to room temperature and use immediately or store in the refrigerator.