July 19, 2022
We tried two new recipes out on Lee and our friends Sam and Lucy over the Fourth of July weekend.  They were both hits, so I am passing them along to you.  Both can be prepped early and held, so that you can spend more time with your guests.  The Greenbrier House Grillmaster, Jack, rounded out the main course with roasted potatoes.  For a red, white and blue dessert, I served vanilla bean ice cream with wild blueberry sauce and strawberries that had marinated in limoncello.  A bottle of Spanish Cava added some sparkle to our evening!
Summer Supper Recipes
Zucchini and Tomato Packets
3 medium zucchini and/or summer squash, sliced
1 pint cherry tomatoes
2 t olive oil
1 t dried oregano
1/2 t dried basil
1/2 t sea salt
1/4 t black pepper
1/2 c crumbled feta cheese
Combine zucchini, tomatoes, olive oil, herbs, salt and pepper in a large bowl.  Pour onto a sheet of heavy duty foil.  Fold top and ends to form a packet.  Grill for 12 minutes on a medium-high grill.  Sprinkle with cheese before serving.  Makes six servings.  Note:  This recipe also works well in the oven.  Place the foil packet on a cookie sheet and bake for 20 minutes in a 450 degree oven.
Grilled Tilapia with Zesty Mustard Sauce
2 T olive oil
2 T butter at room temperature
1 t Dijon mustard
1/2 t grated lemon peel
1/2 t Worcestershire sauce
1/4 t black pepper
4 fish fillets (about 4 oz each)
1 1/2 t paprika
1/4 t salt
1/2 lemon
2 T minced fresh parsley
Lightly oil a grill basket. Combine butter, mustard, lemon peel, Worcestershire sauce, and pepper.  Stir until blended and set aside.  Sprinkle both sides of fish with paprika and salt.  Grill fish, in oiled basket, over high heat.  Cook about 6 minutes, turning halfway through.  The fish will flake easily when done.  Remove to a serving platter.  Squeeze lemon over hot fish and top each fillet with butter mixture.  Garnish with Parsley.  Makes four servings.
July 4, 2022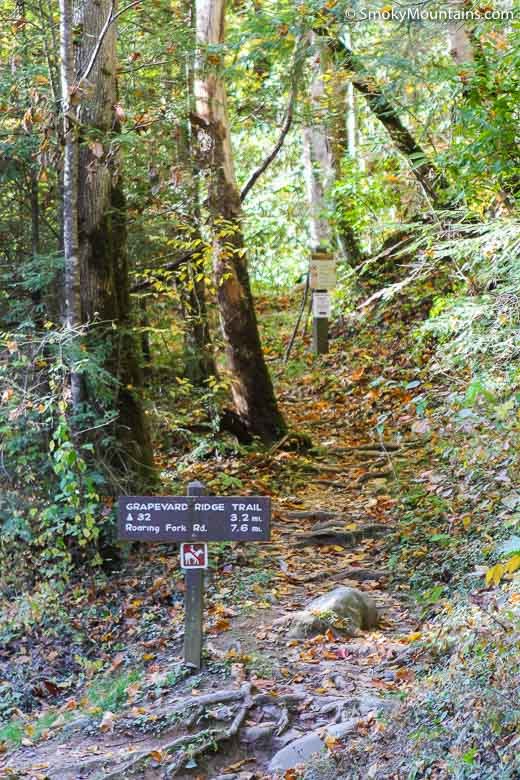 Grapeyard Ridge
The trailhead for Grapeyard Ridge is about 1.5 miles from Buckhorn.   Delightfully quiet,  the Grapeyard Ridge Trail links Greenbrier Cove with the Roaring Fork Motor Nature Trail. Many opt to hike the trail from Greenbrier to the ruins of an old steam engine partway along, which makes for a 5.8-mile round-trip undertaking. However, you can extend your adventure by going the full way to Roaring Fork, crossing Grapeyard Ridge—named for prolific grapevines strung through its forests—in the process.
The steam engine—used to haul logs and wrecked in the 1920s—is only one of the historical leavings along the trail. There's much evidence of bygone settlements, including the Whaley Cemetery not far from the Greenbrier trailhead.
Mount Sterling
The 60-foot fire tower atop 5,842-foot Mount Sterling is one of the hidden gems of the Great Smokies, tucked in the far northeastern corner of the national park. It's said this structure, no longer staffed, is the highest-situated fire lookout tower in the eastern U.S., and it certainly delivers some amazing views. The shortest way to get there is from Mount Sterling Gap to the east, a roughly 5.5-mile round-trip climb with close to 2,000 feet of elevation gain. The vistas from the Mount Sterling summit include such important landmarks as Mount Guyot (the second-highest peak in the Great Smokies), Mount Cammerer (with its own fire tower), and Max Patch (a famous bald along the Appalachian Trail offering its own eye-popping views).
Smokemont Loop 
Starting in Smokemont Campground and close to the Oconaluftee entrance and visitor center, the Smokemont Loop still manages to be a pretty sure bet for some peace and quiet. This 6.5-mile route, which incorporates both the Smokemont Loop Trail proper and the Bradley Fork Trail, delivers great looks at spring wildflowers as well as plentiful signs of early settlers, including the mostly unmarked gravestones of the Bradley Cemetery.
Lumber Rich Trail
Full of history but rarely full of fellow hikers, the Lumber Ridge Trail is a great ramble in the Little River watershed. It begins and ends in Walker Fields in the Tremont area, host to the Great Smoky Mountains Institute, with a turnaround point at Buckhorn Gap. The "Walker" in Walker Fields comes from homesteaders Will and Nancy Walker, while the name of Lumber Ridge itself reflects the area's logging heritage. The Little River Lumber Company worked these woods, hauling out timber via rail lines installed up the drainage. The Walkers held out against selling to the lumber company a long time, so their old spread was one of the last parts of the Great Smokies to be logged.
It's an 8.1-mile hike between Walker Fields and Buckhorn Gap, but the latter is a significant crossroads, and you can make an extended shuttle hike of it instead by continuing on the Meigs Creek or Meigs Mountain trails. Alternatively, you can drop down a manway from Buckhorn Gap to the picturesque Spruce Flat Falls, then follow a user path back to Walker Fields.