Blog




August 17, 2020
At Buckhorn Inn we have two wild turkeys who frequent the area below one of our bird feeders.  We were interested to learn more about them, and thought you might be, too.
According to the Tennessee Wildlife Resources Agency, http://www.tn.gov/twra/wildlife/birds, wild turkeys are the largest birds nesting in Tennessee.  These birds were a very important food source to Native Americans and early settlers.  Unfortunately, over-hunting and land clearing reduced the numbers of this species.  Wildlife management techniques have reestablished the birds through their historic range.
The birds are found in mature woodlands or fields.  They eat acorns, nuts, seeds, fruits, insects, buds, fern fronds, and salamanders.  The males begin strutting to attract females in late winter and early spring.  The female, with no help from the male it should be noted, makes a ground nest and lines it with with leaves and grass.  The nest is usually at the base of a tree or bush and hidden by thick vegetation.  The female lays anywhere from 7 to 14 eggs and incubates them for about 28 days.  The young leave the nest soon after hatching.  The male young stay with the female until fall while the females remain with their mother until spring.
Fun Facts about Tennessee Wild Turkeys
 There are approximately 300,000 of the birds in Tennessee.
The average male weighs 16.2 pounds and the female weighs 9.2 pounds.
The male provides no care to the young.
Several females and their broods may form flocks of 30 or more birds.
The birds can be seen throughout the Great Smoky Mountains National Park, most often in the lower elevations.  They roost in trees, so you are less likely to see them in the evening.  Good places to spot them are the open fields near the Sugarlands Visitor Center and the Cades Cove Loop Road.  Or you may just see them hanging around Buckhorn Inn!
January 23, 2018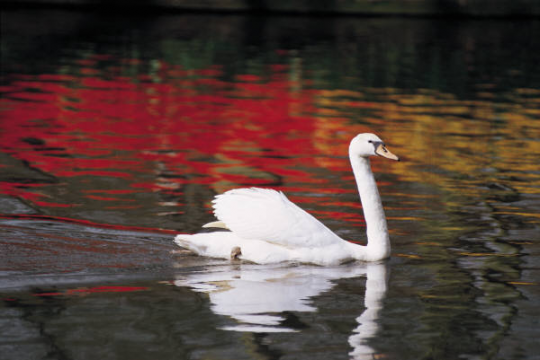 Many of you shared our heartbreak at losing Teller and his mates. But we are delighted to announce that two new swans will be joining us as soon as it is warm enough for them to be flown from Chicago.
Mute swans are at their most vulnerable during the nesting season. While our swans had a nesting box in a safe location in the pond, they insisted on nesting on the shore where they could become prey to coyotes and bears. When defending a nest they do not swim to safety. We knew that swans are happiest in pairs, and we could not face losing more swans and their cygnets. What we recently learned, however, is that same-sex swans form strong partnerships with each other. Therefor our new swans are two brothers who, our vendor assures us, are already bonded. Minimal sibling rivalry here!
Guests sometimes ask us why the swans are called "mute" swans. The answer is that they are much less vocal than other swans. That does not mean they are silent thought! Mute swans make a variety of sounds that could be called grunting, snorting, whistling, chirping, squawking, and hissing.
Swans are beautiful and graceful birds. In England, swans are considered royal birds and all swans in open waters belong to the crown. For many centuries, mute swans were raised for food with individual birds being marked on their feet or beaks to indicated ownership. These marks were registered with the Crown and a Royal Swanherd was appointed. Any birds not marked became property of the crown, thus leading them to be called royal birds. Mute swans were introduced to North America in the late 19th century. In the United States, swans were nearing extinction as recently as the 1930's. Thankfully preservation efforts have allowed their population to grow again.
If you are not familiar with swans, here are some fast facts to "pre-introduce" you to our new guests!
• Mute swan fossils 6,000 years old have been found in post-glacial peat beds in Great Britain.
• Adult mute swans typically range from 55 to 63 inches long with a 79 to 94 inch wingspan.
• Mute swans are the second largest waterfowl after the trumpeter swan.
• The mute swan is one of the heaviest flying birds with a weight range of 20 to 32 pounds.
• They feed on a wide range of vegetation, both underwater plants and land plants.
• The swans' threat display is called "busking". A busking swan curves its neck back and half-raises his wings. Swans also use this pose to "windsurf" across bodies of water.
• The fairy tale "The Ugly Duckling" by Hans Christian Anderson is the story of a cygnet who is perceived to be ugly by his fellow fowl. Eventually he matures into a graceful swan, the most beautiful bird of all.
• In the ballet "Swan Lake", the main character and her companions are turned into swans by a wicked spell.
• The mute swans in the moat at the Bishops Palace at Wells Cathedral in England have been trained to ring bells to beg for food. Swans have been trained there in this way for centuries.
The swans will have a beautiful home. Over the winter we have installed a fountain to help the pond stay healthy and to provide soothing sound; removed fallen trees and brush; and installed many new plantings. The plantings include evergreens to screen the pond from Buckhorn Road, flowering trees and bushes, and perennials to provide season-long color. Our spring-fed pond will be one of your favorite places on our property!
Watch future newsletters and ou to be among the first to know when our swans arrive! We also will provide instructions for accessing our "Swan Cam" so you can keep abreast of their activities from wherever you happen to be.
April 12, 2014
Where:  Right here at Buckhorn Inn.  This is bird heaven.  Please see our publication about bird life on this property. 
When:  Thursdays and Saturdays at either 7:30 (before breakfast)  am or 8:30 am (after an early breakfast).  Must reserve in advance. 
Length of Birding Adventure:  1½  Hours 
Cost:  $15 per person or $25 for two (minimum of three persons required) 
How to Register:  Inn Office; 24 hour cancelation required. 
Rain:  Significant rain will result in cancellation 
Expert Birder Keith Watson will lead the adventure
May 23, 2013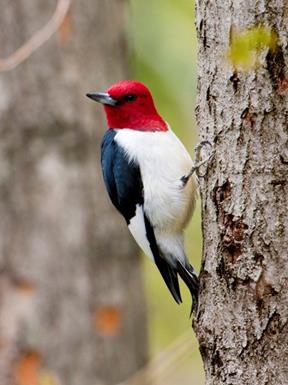 Come see our great photo exhibition of the work of David Kelch entitled "A Room Full of Birds." David is a nationally recognized photographer with oodles of talent. This photo of a red-headed woodpecker is his latest. This exhibit is one of the many activities we are sponsoring as a part of our 75th Anniversary Celebration.
February 24, 2011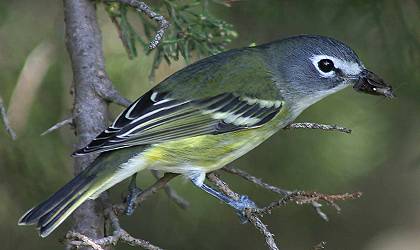 What's that song I hear?  According to the Great Smoky Mountains Association, it may be the Louisiana Waterthrush, the Blue-Gray gnatcatcher, the Yellow-throated Warbler or the Blue-headed Vireo (pictured here).  These are among the Smokies' early spring arrivals whose songs can fill the air in late February and March.   The next time you visit Buckhorn, check out our list of birds which inhabit our grounds.  If you would like to have a "bird tour," we can arrange for a naturalist to take you out for a bit of bird spotting.  Or stop in the kitchen for a visit with Chef Robert Neisler who is our resident bird expert.