Blog




April 23, 2018
Have you been lucky enough to come upon a rosebay rhododendron on the Buckhorn Inn Nature Trail while it is in full bloom?  You can see several beautiful specimens toward Cottage 1 and also growing along the edge of Buckhorn Pond.  They reach their blooming peak in June.
The Spring 2018 issue of Smokies Life Magazine http://www.smokiesinformation.org/smokies-life-magazine celebrates this beautiful shrub.  There are four native species of this wonderful plant in this area.
The rosebay grows at lower levels and can be found throughout the Great Smoky Mountains National Park.  The small-leafed variety also grows at lower levels.  The Carolina and the Catawba can me found at mid- to high-levels.
The word "rhododendron" means rose tree.  The Smokies Life article by Courtney Nix contains this marvelous description, written in 1799 by explorer John Fraser, Jr.:  "We had been traveling among the mountains, and one morning we were ascending to the summit of Bald Mountain in the midst of a fog so dense that we could not see farther than a yard before us.  As we reached the top the fog began to clear away, and the sun to shine out brightly.  The first objects that attracted our eye, growing among the long grass was rhododendron catawbiense in full bloom.  There was no other plant there but itself and the grass, and the scene was beautiful."  Indeed, it must have been spectacular!
Growing Rhododendron Shrubs
These evergreen bushes prefer moist, acidic soil.  They do well in light shade.  High winds can harm the plants, so be sure they are planted near wind-breaks.  Pine needles are good used as a mulch as they add acid to the soil and keep the ground moist.  
Rosebays, such as ours, do not bloom every year.  They have an irregular bloom cycle.  Some years, perhaps due to good weather, lack of a late frost, or good patterns of rainfall, more shrubs than usual bloom.  Count yourself lucky if you happen to be in the Great Smoky Mountains during one of these "Big Bloom" years!
January 29, 2018
Have you stopped to notice the many different trees on the Buckhorn Inn Nature Trail?  If you are here in the spring, you will be sure to notice our redbud trees with their striking magenta flowers.  They contrast beautifully with the white-flowered dogwoods.  
You also will find several specimens of American hornbeam, also know as ironwood or blue beech.  It is called "ironwood because of the strong appearance of the bark.  The saw-toothed leaves are very distinctive and turn orange to red in the fall.
Our trail features a southern red oak–an important contributor to our fall parade of colors.  Nearby you will find an eastern hemlock.  It has long horizontal branches, very small cones, and graceful foliage that nearly touches the ground.  Hemlock was once extensively logged, and the bark was used to make tannic acid for tanning animal hides.  We treat our hemlocks to prevent the wooly adelgid.  This pest has decimated hemlocks in many other areas.
Perhaps no other tree is a s beautiful as the red maple.  In the fall ours turns brilliant shades of red, yellow and orange–spectacular against the blue sky!
We have only one native pine on our property.  It is an eastern white pine with five needles to a bundle.
While you are walking the trail, do not miss our two fragrant cloud dogwoods.  Douglas Bebb discovered these trees on the Buckhorn property and patented them.  You can see documents relating to this on display in our library.  This rare mutation produces scented blossoms.  Like the many types of dogwood found in the Smokies, the fragrant cloud is noted for its showy blossoms and scarlet berries.  In the fall, these berries become an important source of food for wildlife.  Native Americans used the rough bark to obtain red dye.  
Trees are not the only highlight of the trail
If you have never walked our nature trail, we highly recommend you do so.  The walk takes about an hour and covers about a mile.  If you decide to only walk part of the trail, there are several points which make for an easy return.  Be sure to wear proper footwear and to watch your step.  Please stop by the Buckhorn Inn office to pick up a map that shows the route and the locations of numbered informational stakes.
November 28, 2017
Have you admired the holly bushes on the Buckhorn Inn Nature Trail?  We have two American specimens of this beautiful evergreen.  
The thick, spiny leaves provide color in the landscape year round.  And wildlife, including many different bird species, feed on the bright red berries.  Interestingly, the berries are hard and inedible during the fall and early winter months.  It takes several frosts, or freezes, for the fruit to become softer.
Symbolism of Holly
To the ancient Druids, the leaves  offered protection against evil spirts.  In those days holly was often worn, sometimes as a wreath around the head.  It was viewed as being a sacred plant because it remained green all winter.
In some traditions of Wicca, the Holly King is one of the faces of the Sun God.  He was born at midsummer and rules from the autumnal equinox to the vernal equinox.
In the Christian faith, the sharp leaves harken to the crown of thorns worn by Jesus and the red berries symbolize drops of his blood.  
The evergreen is often used in decorations for the Chinese New Year.
Growing Holly
Whether evergreen or deciduous, the plant prefers a moist location, and partial to full shade.  It grows well planted under, or around, large trees.  This plant can grow up to 50 feet in height, if not kept pruned to size.  Therefore it can be grown as a tree, bush, or hedge.  Both male and female plants of American holly are necessary to produce the bright red berries.  It begins to produce small white spring flowers and then berries when the plant is four to five years old.  You can find a wealth of information on growing this favorite from the Holly Society of America http://www.hollysocam.org
You can cut your own branches to fashion wreaths and centerpieces.  Just be sure to wear protective gloves when working with holly–the leaves are sharp!
May 12, 2011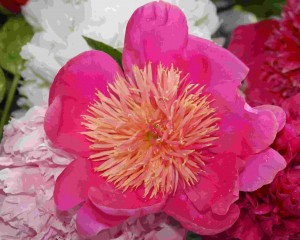 Peonies are my favorite cultivated flower.  And thanks to Buckhorn Inn regulars Kitty and Neil Taylor who suggested them we have several beautiful varieties–all in bloom right now.  Photograph courtesy of Buckhorn Inn regulars Billie Bethel and Walter Sina.