Blog




November 9, 2021
We are delighted to let you know that we have added a new white wine to our wine list.  We have added one of our favorite wines from the Marlborough Region of New Zealand.   Oyster Bay Sauvignon Blanc is a crisp, elegant, and refreshing wine.  This zesty wine features aromas of tropical fruits and bright citrus notes with a hint of herbs.  This wine receives consistently high ratings from Wine Enthusiast and was awarded 4 out of 4 stars from acclaimed wine writer Michael Cooper.
The refreshing zest of Oyster Bay makes it a delightful aperitif.  It also enables the wine to pair with many foods, including:  raw and grilled seafood, goat cheese, green vegetables, salads, crab cakes, pasta with tomato sauce, spicy dishes such as Asian and Cajun, and pesto.
White Wine from the Marlborough Region
The Marlborough wine region is New Zealand's largest.  This area accounts for about 75% of New Zealand's wine production.  The most well-known wine in this region is Sauvignon Blanc which prominent wine writers have described as the best in the world.  Other varieties grown here include pinot noir, pinot gris, and chardonnay.  There are also lovely sparkling wines from this region.  http://Www.nzwine.com
Vines were being cultivated in this region as far back as the 1870s.  However, commercial wine-making did not begin until the 1970s.  By the mid 1980s the wines from this region were garnering international attention.
What makes this such a wonderful region for growing grapes?  The climate is sunny and warm summer through autumn which results in a long growing season.  Also, the cool night-time breeze from the ocean provide the variations in temperature which add to the wines' character.  The soil is free-draining and the area typically has low rainfall.  In short, the region is perfect for white wines with a mouth-watering acidity.
Please let us know how you are enjoying this new addition!
September 3, 2019
You may have noticed that our online dinner menu now carries suggestions for wines that will pair especially well with the selections.  Guests routinely ask us for pairing recommendations, so our suggestions will help you take out some of the guesswork.  A member of our team is taking a certificate program at Napa Valley Wine Academy http://www.napavalleywineacademy.com so we all will benefit from what she learns.
A really good food and wine pairing creates a balance between the flavors of the dish and the characteristics of the wine.  Here are some basic rules of thumb:
 The wine should have about the same  intensity or "weight" as the food.  A robust wine might overwhelm a light dish, while a delicate wine might be overwhelmed by a hearty dish.
  Acidic wines work well with rich dishes.  For example, a zesty Sauvignon Blanc would complement the richness of macaroni in a creamy béchamel sauce.
 Rather than simply matching a wine with the protein in the entrée, match it with the sauce.
Off-dry wines, like a Riesling,  balance spice and are delicious with dishes featuring ginger, chutney, or barbecue sauce.
Wines that may seem lean or tannic when sipped by themselves may taste very different when paired with boldly-flavored food.  Don't be scared away!
Remember that taste is a subjective sense and what might be a "textbook perfect" pairing for one diner might not be perfect for another.  This subjective nature makes it possible to drink any kind of wine with any kind of food and have an enjoyable experience.  So feel free to experiment!
Taste Profiles for Wines Featured at Buckhorn Inn
In general, if you are looking for a pairing for a light seafood dish, try a light-bodied wine with a higher acidity, like Pinot Grigio.  Chardonnays have more body and are not as acidic and go well with fatty fish or a rich sauce..  Pinot Noir doesn't have a lot of tannin and is a light-bodied red.  Pair it with dishes featuring mushrooms or truffles.  If you are looking for full-body and high tannin, look for Cabernet Sauvignons.  Cabs go well with steaks and chops as the tannins refresh the palate.  Try a Malbec with sweet, spicy sauces as it is bold enough to hold its own.
Sparkling wines like Champagne, Prosecco, and Cava have a faint touch of sweetness, even when they are dry.  This makes them especially good with salty foods.  
Please let us know some of your favorite food and wine pairings.  Happy sipping!
April 29, 2019
Pairing wine and food does not have to be intimidating.  A good pairing is one that tastes good to you!  If you have a favorite wine, don't be afraid to drink it with whatever you are eating.  But it can be fun to experiment with flavors.  It is possible for a wine and a food to taste better together than either does alone.
Food has more of an impact on the taste of wine than the other way around.  This is because our taste buds adapt to food, so when we drink wine the taste is altered.  A classic example is the bitter flavor of orange juice when you drink it immediately after eating chocolate.  It works the same way with wine.  That is why a good rule of thumb is to drink sweet wines with dessert.  Salty foods can soften the tannins in wines and make them more enjoyable.  Wines high in acidity can be delicious when paired with rich foods.  And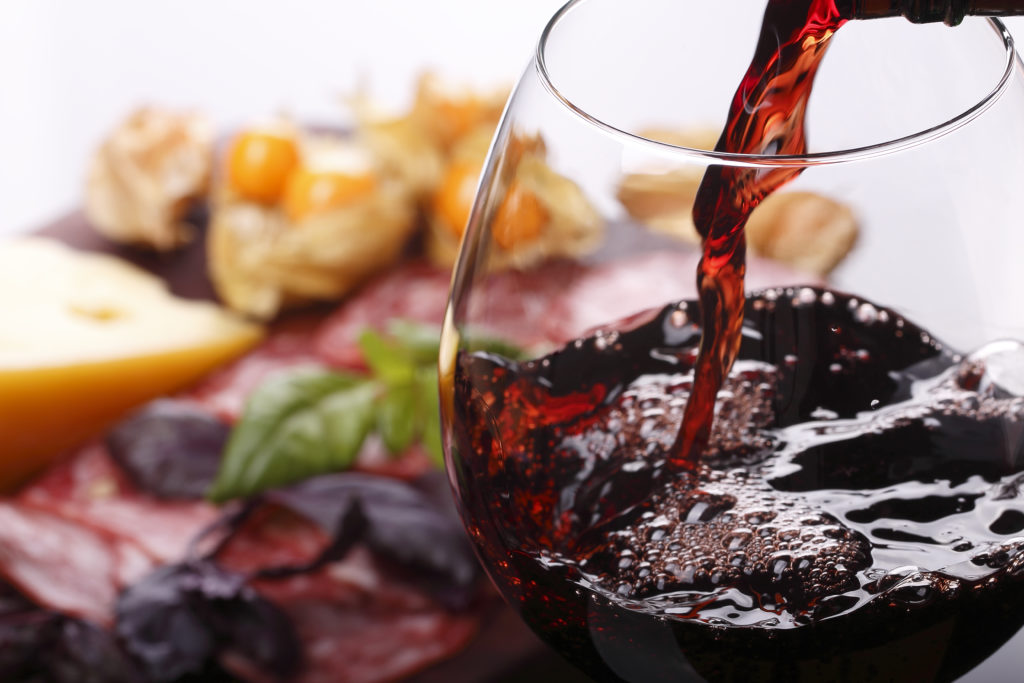 fruity wines with a touch of sweetness seem to be made to pair with hot, spicy dishes. 
Here are some of our favorite Buckhorn Inn food and wine pairings. 
Our loin of pork with mushroom demi glace is lovely with the La Crema pinot noir.  The umami flavor of the pork and mushrooms balances the bright and juicy fruits in the wine.
The Josh Cellars Craftsman's cabernet sauvignon is a good choice on prime rib night.  The soft tannins can stand up to the horseradish cream sauce.
Shrimp and crab cakes with garlic butter go well with the Meiomi Chardonnay.  The flavors of lemon peel, honey and stone fruit do not overwhelm the delicate shellfish.
The salty notes in our chicken breast with prosciutto and fontina make wines a little less dry and smoother and richer.  We like to pair this dish with our Placido pinot grigio which is dry and has a full, fresh, and lively flavor.  Another good pairing for this entrée would be the Michelle sparkling brut.  The balanced citrus flavors match nicely with both the prosciutto and the fontina.
Please let us know the wines you love to pair with Buckhorn Inn dishes.
July 30, 2018
In 2018 Buckhorn Inn is celebrating our 80th anniversary with Throwback Thursday!  Each Thursday in August our talented chef, Matthew Poole, will incorporate into the menu his modern take on some historical recipes.  Innkeeper Lee Mellor is in possession of the original hand-written recipes used by our cooks in the 1930's!  
Desserts figured prominently in these early recipes.  We found recipes for Fluffy Banana Cake, Texas Pecan Pralines, and Heavenly "Goo" topping for shortcake.  
Savory recipes from 1938 include stuffed pork chops, roasted turkey and porcupine meatballs.  Don't worry– there is no porcupine meat in these meatballs!  The name comes from the way rice grains poke out of the meatballs when they are done.  The rice resembles the quills of these little animals, common in Israel.  In Hebrew these meatballs are called Ktzizot Kipod.
Throwback Thursday Honors Long Culinary Tradition
The Buckhorn Inn opened its doors for business in August 1938.  Many Knoxville residents visited this new Inn for lunch.  Yes–in those days the Inn served three meals a day.  Leisurely, plentiful lunches were a hallmark of the times.  Douglas Bebb was passionate about the meals served at the Inn.  He raised his own chickens to provide the very freshest eggs and his garden produced an abundance of fresh vegetables.  He was an excellent cook and prepared all the meat dishes served at the Inn.  
The guests especially looked forward to the Sunday luncheon buffet.  It was Mrs. Branam's  (the cook) day off, so Mr. Bebb cooked the meal in its entirety.  He was rightfully famous for his corn pudding.  In fact, his recipe was featured in the book Ford Times published by the Ford Motor Company to encourage driving vacations.
In those early days, a staff of four served the three meals a day.  Tennessee was dry in those days, yet the pre-dinner cocktail hour was an honored tradition.  The guests would simply bring their wine and spirits with them.  Ellen Bebb, daughter of Douglas, reports that some of the guests would take turns hosting cocktail hours in the cottages.  But the greatest honor was bestowed when guests were invited to Bebb House to share cocktails with their hosts.
Join us for a taste of history during dinners this August.  Visit our website https://www.buckhorninn.com/dining/weekly-dining-menu to review our upcoming menus.
July 16, 2018
If you have stayed at the Buckhorn Inn, you know that breakfast is truly a highlight.  Each morning we offer fresh coffee, biscuits and coffee cake right from the oven, fresh fruit, and a choice of a sweet or savory hot entrée.  One of our newest breakfast dishes is chicken and waffles! 
Not Just for Breakfast
Chicken and waffles is truly an American dish that draws both on soul food and Pennsylvania Dutch cuisine traditions.  
There are several theories about the origins of this dish.  We do know that European colonists brought waffles to America in the 1600's.  When Thomas Jefferson bought a waffle iron in France in 1789, the popularity of the dish soared.  One origin theory says that in the early 1800's Philadelphia restaurants served waffles with fried catfish.  Chicken gradually became more popular than catfish because it was available year round.  The Pennsylvania Dutch enjoyed Sunday dinners of waffles, chicken and gravy.  So much so that the dish became a symbol of Pennsylvania Dutch country by the end of the 19th century.
In the early 20th century Harlem, New York, chicken and waffles was served by such restaurants as Tillie's Chicken Shack, Dickie Wells' jazz nightclub, and the Wells Supper Club.  In 1935 Bunny Berigan composed a jazz instrumental called "Chicken and Waffles".  https://en.wikipedia.org/wike/Chicken_and_waffles
Fried chicken and waffles came to Los Angeles by 1940's.  The dish was served at The Maryland and marketed as a Southern specialty.  Interestingly, the combination of chicken and waffles does not appear in early Southern cookbooks.  
Whatever the origins of the dish, chicken and waffles has become a popular breakfast item at Buckhorn Inn.  We make a light, fluffy waffle, top it with crispy fried chicken, drizzle it with a bit of Tennessee honey, and serve warm maple syrup on the side.  What could make a better breakfast?
July 2, 2017
In 1984 President Reagan declared July the official National Ice Cream Month.  At the Buckhorn Inn we are going further by celebrating this delicious treat all summer long!  
The International Dairy Foods Association reports that ice cream was enjoyed as far back as the 2nd century B.C.  The "ice cream" of the time was snow and ice flavored with honey and nectar.  Marco Polo brought a recipe for a frozen treat from the Far East back to Italy about a thousand years later.  In the 16th century, Charles I of England was a fan of "cream ice".  Lore has it that he provided the royal maker with a life pension in return for keeping the recipe a secret.  In fact, royals around the world kept this delicacy to themselves.  However in 1660 a café in Paris made a frozen blend of cream, milk, butter and eggs available to the general public for the first time.  
The Oxford English Dictionary reports that one of the first recipes for a frozen cream and sugar dessert in North America appeared in Hannah Glasse's The Art of Cookery Made Plain and Easy in the late 1700s.  http://www.archive.org/details/artcookerymade02glasgood  Later records show that George Washington spent roughly $200 on ice cream during the summer of 1790.  That was a large sum at the time–and most of us would agree that was a good expenditure!  The invention of insulated ice houses around 1800 enabled the industrial production of ice cream.  Today the United States produces more than 1.6 billion gallons of frozen dairy desserts a year!
Special Ice Cream Desserts at the Buckhorn Inn
July 4 dinner guests at the Buckhorn will enjoy Chef Bob's special creation, Strawberry Smoothie Cake!  Upcoming menus will feature more delicious and decadent ice cream desserts like Mud Pie, Grasshopper Pie, and Peach Melba Pie.  Keep an eye on our ever-changing menus to see the special desserts we are featuring all summer long!  https://www.buckhorninn.com/dining  We look forward to welcoming you to celebrate with us!
June 26, 2017
Dinner guests at the Buckhorn Inn on June 28 have a real treat in store–bumbleberry cobbler for dessert!
You may ask how many bumbleberries it takes to make one cobbler?  The answer is that there is no actual fruit called a "bumbleberry".  Rather, the word describes a mix of berries, or a  "jumble" of berries.  The delicious combination most commonly is used in a pie or in preserves.  Typically the mix includes both sweet and tart flavors that burst into juicy goodness in your mouth.  We bake ours into a cobbler that features a tender crust.  Wikipedia credits Western Massachusetts as the home of the bumbleberry.  Lore has it that the name came from a waitress who was asked what kind of pie was being served.   Bumbleberry recipes have appeared in print since the late 1950's, and we argue that ours is one of the best.
Bumbleberry Cobbler Recipe
Preheat oven to 375 F.
1/2 cup cold butter
1 cup sugar
1 cup self-rising flour
3/4 cup milk
1 teaspoon vanilla
1 tart apple, cored, peeled and sliced
1/2 cup diced rhubarb
1 cup fresh sliced strawberries
1/2 cup blueberries
1/2 cup raspberries
1/2 cup blackberries
Cut cold butter into pats and line the bottom of a 6″x 9″x 2″ pan.  Blend the flour and sugar.  Add the milk and vanilla and stir to make a batter.  Pour the batter into the prepared pan.  Mix fruit together and pour on top of the batter.  (Optional:  if the berries are not sweet you may add 1/2 cup sugar to them.)  Bake for 30-40 minutes until golden brown.  The batter will rise to the top as it bakes.  This recipe makes 10-12 delicious servings.
For a preview of other delightful menus coming up at the Buckhorn Inn, please visit our website https://www.buckhorninn.com/dining
May 24, 2017
Dinner guests at the Buckhorn Inn on May 30 will enjoy Red Velvet Cake for dessert.  My personal history with this treat began when I was a child.  Then it was known as "$200 Cake".  As the story I heard goes, a guest at the Waldorf-Astoria in New York City enjoyed her dessert so much that she asked the chef for the recipe.  She received the formula and instructions,  and $200 was added to her bill.  She protested, but the chef replied that since she had seen the recipe, she must pay for it.  She paid the bill, but exacted revenge by printing cards and passing out  "the secret recipe" on New York City buses.   This story may or may not be true, but we do know a bit of the history of Red Velvet.  Velvet cakes, so called because cocoa powder or cornstarch was used with the flour  to create a fine-textured product, had been around since the 1800's.  But it was during the 1940's  that the Adams Extract company from Texas used point-of-sale recipe cards featuring their butter flavoring and red food coloring.  The recipe spread from Texas throughout the South.  During the era of WWII food rationing, boiled beet juice was used to give the cake its brilliant coloring and help retain moisture.  The dessert was popular at state fair baking contests and other bake-offs.   A cameo role in the 1989 film "Steel Magnolias" put this treat firmly in the modern spotlight.
Frosting on the Cake
The  Red Velvet Cake  I remember from my childhood featured a boiled milk and flour frosting, called an ermine.  It was very light and fluffy, but also very time-consuming to prepare.  That may be one of the reasons that cream cheese frosting is the current favorite go-with.  Whatever its origins, Red Velvet Cake truly is a delight!  For a peek at our ever-changing menu, please visit https://www.buckhorninn.com/DINING/WEEKLY-MENU.