Blog




February 15, 2021
Officials at the Great Smoky Mountains National Park have announced that the pilot program for vehicle-free Wednesdays in Cades Cove will continue from May 5 through September 1, 2021.  What a great opportunity to enjoy this beautiful area on foot or by bicycle.  Please know that mobility-assisted devices will be welcome on the vehicle-free days.
Park officials say that up to 1,100 pedestrians and cyclists enjoy Cades Cove without car congestion on the vehicle-free days.  
Cades Cove Is A Beautiful Area of the Park
Visitors to this area can enjoy amazing views.  They can also imagine life in an earlier time as they observe historic buildings dating from the first settlers to the area.  And its one of the most popular places to spot wildlife!  You may see black bears, white-tailed deer, wild turkeys, and many other birds and animals.
If you are driving to Cades Cove from Buckhorn Inn, it is easy to find.  From Gatlinburg you follow the Parkway to the Great Smoky Mountains National Park.  After you pass the Sugarlands Visitor Center, turn right onto Little River Road.  You will follow Little River Road about 25 miles until you arrive at the Cades Cove Loop Road.
The Loop Road is paved and one-way.  It follows an old logging track.  To the left of the entrance you will find an orientation shelter staffed with park rangers who will answer all your questions.  
As you walk travel the Loop Road you will see the John Oliver Cabin.  No pegs or nails keep this building standing–only the notched corners.  
You will see the trailhead for the Cooper Road Trail.  This trail is about an 11-mile round trip hike.  It is considered a moderately easy hike.  You also will see the trailhead for Abrams Falls trail.  The waterfall is about 20 feet high and the water rushing over the rocks is an impressive sight.  This trail is about five miles round trip and is a little more difficult.  
The Cable Mill historic area includes a working gristmill.  You also will find a barn, a smokehouse, and a blacksmith shop.
These highlights are only a small sampling of the wonders to be found on the Cades Cove Loop Road.  We hope you take advantage of vehicle-free Wednesdays this season to enjoy the area in a new way.  http://www.nps.gov.grsm.planyourvisit
February 12, 2021
Even regular visitors don't always know about the special spot called House of the Fairies.  The House is actually the springhouse at what was once the Voorheis estate.  The Voorheis estate is a 38-acre site located about a mile from Gatlinburg.  Louis Voorheis bought the land in 1928.  Desiring a mountain retreat, he developed the land accordingly.  Mr. Voorheis wanted to offer people a place to retreat from big city life and find the peace of the Smoky Mountains.  He utilized the two creeks that ran across the property for a water-powered mill.  He experimented with water power and built a hydroelectric dam.   Many of the flower and vegetable gardens include water features.   In 1933 Mr. Voorheis deeded the property to the National Park Service, which took over full management of the property in 1952.
Much of the original estate survives today.  The structures include the main house, two guest cabins, a horse barn, and an apple barn.  The stone springhouse is called the House of the Fairies and is in the Twin Creeks area of the park.
How to Find House of the Fairies
To get there you should hike the Twin Creeks Trail, a moderate trail of about 4.5 miles round trip.  There is a small pull off at the trailhead, but you may find it more convenient to park at the Ogle Place Parking Area and walk up the road a bit.  The trail goes along the creek.  You will see many buildings from the Estate, including the mill.  As you walk you can imagine what it must have been like living in a log cabin.
After you pass the Resource Center, you will see a small path.  Follow this path to get to the quaint Fairy House.  You will see an arched wall with an open door and stairs leading to the top.  You are welcome to enter the springhouse.  The stone walls, covered in moss, do look like the place where a fairy or water sprite might reside!  It looks like a magical building from some other time.  For more information, visit http://www.thesmokies.com
If you are staying at Buckhorn Inn, don't forget to order one of our hearty sack lunches for the hike.  Who knows, you might be sharing your lunch with a fairy!
September 14, 2020
Have you travelled along the Foothills Parkway yet?  This is a national parkway that traverses the foothills of the northern Great Smoky Mountains.  The completed parkway will be more than 72 miles long and will connect U.S. Route 129 with Interstate 40. Today the parkway is 38.6 miles long with the remainder to be completed in the future.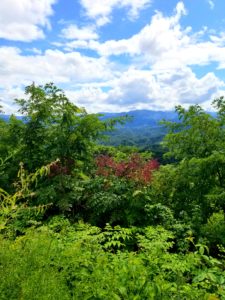 The views from the Foothills Parkway are magnificent.
Portions of the parkway run through parts of Blount, Sevier, and Cocke Counties in Tennessee.  Sections cross a series of high ridges running parallel to the Tennessee boundary of the Great Smoky Mountains National Park.  The road offers unobstructed views of the Smokies to the south and the Tennessee Valley to the north.
Many of our guests like to drive the section known as the "missing link".  This 16-mile drive features magnificent views with many overlooks from which you can take photos and enjoy the scenery.
History of the Foothills Parkway
Congress authorized the parkway in 1944 as a scenic road that would provide magnificent views.  http://www.nps.gov/articles/foothillsparkway  The first few sections of the parkway were finished in the late 1960s.  The 5.6 mile section between I-40 and Cosby was the first to be completed.  Crews worked for several decades on a 16-mile segment from Walland to Wears Valley.  They nearly finished it.  But the construction hit rugged peaks and valleys.  The walls they built crumbled and the soil was filled with minerals with the potential for environmental damage.  Because of these issues, the project was placed on the backburner in 1989.  The 16.5 mile gap in the road left behind became known as the "missing link".
In 2009 federal stimulus money got construction started again.  The Missing Link of the Foothills Parkway opened to the public in November 2018.
The parkway entrance is off of Wears Valley Road.
As always when you are visiting the mountains, be sure your brakes and tires are in good shape.  Be sure to have a plenty of fuel as gas is not available in the park.  Using a lower gear on steep downhill terrain can avoid hot brakes.  And be extra careful if the conditions include precipitation or low visibility.
August 31, 2020
September 3, 2020 marks the reopening day for campgrounds and picnic areas in the Great Smoky Mountains National Park (GSMNP).  The reopening follows guidance from the White House, Centers for Disease Control and Prevention (CDC), and state and local public health authorities.  The National Park Service is closely monitoring the covid-19 pandemic.  They have developed a phased approach to increasing park access.
Campgrounds and Picnic Areas
The following areas will be accessible beginning on September 3: 
Abrams Creek, Balsam Mountain, Big Creek, Cataloochee, and Cosby Campgrounds
Big Creek, Cataloochee, Round Bottom, and Tow String Horse Camps
Heintooga and Look Rock Picnic Areas
Little Greenbrier Road
Please remember that the following areas continue to be open:
All Park trails, backcountry campsites, and shelters
All visitor centers and restrooms
Cable Mill in Cades Cove and Mingus Mill near Oconaluftee
Cades Cove, Elkmont, Deep Creek, and Smokemont Campgrounds
Anthony Creek Horse Camp
Big Creek, Cades Cove, Chimney Tops, Collins Creek, Cosby, Deep Creek, Greenbrier, and Metcalf Bottoms Picnic Areas
Spence Cabin and all Picnic Pavilions for day-use rental
Concession operations:  LeConte Lodge, Sugarlands Riding Stables, Cades Cove Riding Stables, Cades Cove Campstore, and Smokemont Riding Stables
The Appalachian Clubhouse remains closed.
According to Park Superintendent Cassius Cash, "We are pleased to be able to offer more opportunities for visitors to disperse and recreate in the park in time for the Labor Day holiday and our busy fall season.  The Park has experienced record visitation this summer and we want to remind everyone that we need your help more than ever to keep the Park protected and clean."
Park officials suggest you choose trails and overlooks without congested parking areas.  Visiting early in the morning will help you view the Park in less crowded conditions.  Remember to maintain distance from other visitors and wear a face covering when you cannot maintain physical distance.
Buckhorn Inn guests may ask staff to recommend some of our favorite hiking trails.  We also can pack you a hearty sack lunch for $10 to enjoy at one of the picnic areas.
July 27, 2020
Have you seen elk in the Great Smoky Mountains National Park?  Our area is home to nearly 200 of the magnificent animals.
Elks are awe-inspiring creatures.  The males can weigh up to 700 pounds.  The females fiercely defend their offspring and may charge challengers.  For a few weeks during the fall mating season, the males, with fully developed racks, bugle and fight to get the attention of the females.  The females gather in groups, called harems, on the edge of the fighting fields.
Large herds of elk once roamed along the Appalachian Mountain Range from George to Canada.  But, due to overhunting and habitat destruction, the species disappeared from the region in the 1800's.  The National Park Service determined it was appropriate to bring back a native species that had been eliminated from park lands.  A small herd of  25 of the animals was reintroduced to the park in 2001.  As part of the experiment, the animals were outfitted with radio collars.  In 2002 another 27 animals were brought to the area.  This reintroduction has been very successful and today the population flourishes.
Best Places to View Elk
The elks have become celebrities, attracting many visitors each year.  Most of the elk can be found in the Cataloochee area in the southeastern area of the park.  They may be active on cloudy summer days and before or after storms.  But the best time to spot them is early morning or late evening.  The Park Service reminds you to enjoy the animals from a distance and use binoculars for close-up views.  In fact, approaching within 150 feet, or any distance that disturbs the animals, is illegal in the park.  To avoid fines and arrest, do not enter the field.  Remain by the roadside, please. http://www.nps.gov
Please send your pictures to [email protected]  We would love to share them with other guests!
May 29, 2020
The Great Smoky Mountains contain a myriad of flora and fauna.  Some of you may have seen this little critter we photographed and posted on our Facebook page.  We were eager to learn more about it.  And just in time, the May issue of Smokies Live hit our inbox.  This is a publication of the Great Smoky Mountains Association and contains well-researched articles on a myriad of topics.  One such article is "Permanent Camp:  Land Snails"  http://www.smokiesinformation.org.  Thanks to George Ellison for this interesting article.  And we appreciate the beautiful illustration by Elizabeth Ellison.
The article identifies land snails as terrestrial gastropods in the phylum Mollusca.  Worldwide, there are more than 100,000 members of the land snail species.  About 150 of these can be found in our very own National Park!  Land snails are fascinating to watch.  They move by muscular contraction.  The taller of their two sets of tentacles have eyes on their tips.  The shorter set enables the snail to smell.
Where Can You Find Snails in the Great Smoky Mountains?
Just about everywhere, according to the article.  They prefer moist, shady conditions.  The article quotes Dan and Judy Dourson (authors of Land Snails of the Great Smoky Mountains).  "The base of large diameter tree species such as black and butternut walnut can sometimes yield high numbers of land snails."  
The Great Smoky Mountains Association (GSMA) is a nonprofit that supports the preservation of the Park.  They offer many resources to enhance public understanding and appreciation of the Park through education, interpretation and research.  Membership in the GSMA includes subscriptions to their print magazine and electronic newsletters.  Members also are entitled to shopping discounts at visitor center stores.  We encourage you to consider membership in the GSMA and join us in becoming stewards of the Great Smoky Mountains National Park.
May 11, 2020
Saturday, May 9, 2020 marked the first phase of the reopening of the Great Smoky Mountains National Park.  This phase, expected to last about two weeks, includes some popular destinations.  The Park will open Newfound Gap, Little River, Cherokee Orchard, Laurel Creek, Cades Cove Loop, Lakeview Drive, and Deep Creek Roads.  The restrooms and picnic areas along the roads will be open as well.  However, visitor centers and campgrounds will remain closed for this period.  The phased-in reopening follows guidance from the White House, Centers for Disease Control and Prevention, and local public health authorities.
We understand that the LeConte Lodge and Cades Cove Riding Stables will open on May 18.  The Cades Cove Campstore and Smokemont Riding Stables are set to open on May 23.
National Park Encourages Safety
The foremost priority in the reopening is the health and safety of employees, partners, volunteers, visitors, and local residents.  Park managers will monitor all activities to ensure that they comply with public health guidance.  Park authorities stress that visitors must practice social distancing.  Saturday's reopening drew visitors from far and wide.  Park spokesperson Dana Soehn reports that she saw license plates from 24 states in one parking lot.  Soehn asks that visitors make choices to keep themselves, and Park staff, safe.
After the two-week period, Park management will decide whether to reopen secondary roads and campgrounds, and later, to lift all restrictions.
We view the Park as our treasure, and we are so glad that visitors may once again seek comfort and solace by viewing the wonders of nature.  We encourage our guests to hike early in the morning, before other hikers arrive.  The Park Service website http://www.nps.gov/grsm is a wonderful source for information.  The site has the most current information about facility openings, service hours, and access.  They also have released a new video highlighting tips for a safe Smokies visit.
If you haven't been hiking for a few weeks, a walk around the Buckhorn Inn nature trail is a good way to get back in shape.  We look forward to seeing you outdoors!
February 24, 2020
More than 12.5 million visitors came to the Great Smoky Mountains National Park in 2019, an increase of more than 1 million over 2018.  The three main entrances, which accounted for more than two thirds of all park visitation, are near Gatlinburg, Townsend, and Cherokee.
Monthly visitation records were set during January, March, April, June, and May.  Park Superintendent Cassius Cash said in a recent issue of the Great Smoky Mountains Association newsletter, "I am very proud of our employees who work hard each day, along with our volunteers and partners, to help provide outstanding visitor experiences and to protect the resources that people come here to enjoy."
Chief Ranger Lisa Hendy is intent on ensuring that visitors enjoy the park safely.  Her focus is on Preventive Search and Rescue.  You can find out more about her plans in the Spring 2020 issue of Smokies Life Magazine http://www.smokiesinformation.org.  
Tips for Avoiding Crowds
The Park reports that most people tour the park between 10 am and 6 pm.  By visiting earlier, or later, you will find the trails less crowded.  The most heavily used areas of the Park are the Cades Cove Loop Road and the Newfound Gap Road.  Lesser-used places include Abrams Creek, Balsam Mountain, Cosby, Fontana Lake, and Heintooga Ridge Road.
The peak seasons in the Smokies are the months of June and July and October.  Visiting at other times mean fewer other guests.
Luckily for our guests, Buckhorn Inn is located out of the crowds in Gatlinburg and Pigeon Forge.  We are only a mile and a half from the Greenbrier entrance to the Park, which is one of the lesser used.  And finally, our Great Winter Escape and Great Summer Escape packages coincide with the quieter times in the Park!  We look forward to seeing you soon.
October 22, 2019
Have you ever heard of Grandma Gatewood?  She was the first woman to hike the Appalachian Trail by herself.  She also was the first person to walk it three times.  Even more surprising is that she did all of this after age 65!
Ben Montgomery's book "Grandma Gatewood's Walk:  The Inspiring Story of the Woman Who Saved the Appalachian Trail" http://www.amazon.com was published by Chicago Review Press in 2016.  This is the story of a great-grandmother who left her small Ohio town with a change of clothes, a pair of thin-soled sneakers, and less than $200.  She did not have a tent nor any professional hiking gear.  By September 1955 she was standing atop Maine's Mount Katahdin proclaiming "I said I'll do it, and I've done it."  Emma Gatewood had lived through poverty, an abusive husband, and raised 11 children before she began her walk.  
On the trail she faced fierce storms and saw the beauty of nature.  She walked up steep ridges and down treacherous ravines.  She often relied
on the kindness of other hikers or community members to keep going.  It is not only a tale of grit and determination, but also of the healing power of nature.
The author interviewed family members and others that Gatewood met along her journey.  He also had access to her trail journals and diaries as well as media coverage of her amazing journey.  
Grandma Gatewood Benefitted the Trail
Gatewood became a celebrated hiker.  She appeared on television programs with Groucho Marx and Art Linkletter.  Her celebrity brought public attention to the Appalachian Trail.  She was not shy about voicing criticism of parts of the trail which were not well-maintained and hence difficult.  This public spotlight led to enhanced trail maintenance.  Many believe that this attention very likely saved the trail from extinction.
At age seventy-one she hiked the 2,000 mile Oregon Trail.  By the time she passed away at age 85, she likely had hiked more than 10,000 miles!
April 1, 2019
Did you know that 20% of the 2,900 miles of streams in the Great Smoky Mountains National Park are large enough to support trout populations?  The Park offers a variety of fishing experiences, from going after trout in remote, headwater streams to angling for smallmouth bass in large, coolwater streams.  Most of these streams remain at or near their carrying capacity of fish, according to the Park.  Therefore, you have a great opportunity to catch these beauties throughout the year!
The Park permits fishing year-round, from 30 minutes before sunrise to 30 minutes after sunset in all streams.  Tennessee residents and nonresidents age 13 and older must have a valid fishing license.  The daily possession limits are five brook, rainbow, or brown trout or smallmouth bass.  Twenty rock bass may be kept in addition to the above limit.  Fishermen may use only artificial flies or lures and a single hand-held rod.  Additional information is available from the park at http://www.nps.gov/grsm/planyourvisit/fishing.htm  To trout fish in Gatlinburg, you must purchase a special license.  The city does not allow fishing on Thursdays.
There are 67 different species of fish in the park.  Brooks are the only trout native to the Smokies, although rainbows and browns have been introduced and are found in most large streams.  Long-term monitoring indicates that fishermen play practically no role in the fish population changes.  Major spring floods and summer droughts have much more effect both inside, and outside, the park.
Local Trout Fishing Guides Available
Local outfitters provide everything from rods and reels to professional guides.  These local experts can offer tips and insights for any skill level.  They know on what the fish are biting on any given day!  Spending a day with a local guide can speed up the learning curve.  You can research guides on your own, or ask advice from a local fishing shop.  
If you are new to fishing, many experts recommend the East Prong and the West Prong of the Little Pigeon River.  Both areas are easily accessible and offer medium to large fish.
And if fishing is not your thing, just watch our online menu and make a reservation for trout night at Buckhorn Inn!