November 30, 2020
Stumped about holiday gift ideas?  You members of the Buckhorn INNer circle have some options just a phone call away!  Here are some of the goodies available from the Buckhorn Inn gift shop.
Gift Certificates
Buckhorn Inn gift certificates are available in any denomination from $25.  You can gift a stay at the Inn, a dinner, or a special occasion package.  Hard copy certificates are delivered in a beautiful card featuring a watercolor of the Inn by famed painter G. Webb.  We can also email gift certificates.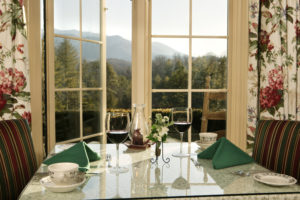 Buckhorn Inn Memories Captured in Watercolors
Long-time guest Tanya Young has created a set of special vignettes created in watercolors.  The matted prints are $25 each and measure 8.5″ x 11″, including matting.  The vignettes feature the meditation labyrinth, Cottage #1, a window table in the dining room, and the book case lamps in the dining room.  What a special way to remember your stay!
Holiday Gift Ornaments
Each year we introduce a new collectible ornament crafted by Tim Weberding Woodworking.  The 2020 ornament features the front of the Inn.  Supplies of these beautiful pieces are limited!
Works by Local Artists and Artisans
We have beautiful hand-crafted hiking sticks priced from $35 to $125.  They would make a lovely gift along with a copy of the book "Hiking Trails of the Smokies" for $19.95.
We also carry some beautiful glass pieces by local artist Pete Alcott.  He produces colorful fused glass art pieces that are durable enough to be functional.  These striking works will be treasured for years to come.
Other Gifts
We also carry bathrobes, Buckhorn Inn cookbooks and shirts.  Our supplier promises our mugs will be back in stock soon!  Many of our local partners have gift cards as well–you can check out Anakeesta http://www.anakeesta.centeredgeonline.com and Ober Gatlinburg http://www.obergatlinburg.com.
We look forward to helping you with your holiday shopping this year!
September 28, 2020
Dear Neighbors,
I am writing to tell you a bit about myself and to ask for your vote for Pittman Center Alderman.  My late husband, John, and I lived in many different places.  But nowhere felt as much like "home" to us as Pittman Center http://www.pittmancentertn.gov.  Over the last 30 years of living in this area, I have been fortunate to call many of you friends.  The rest of you are friends that I have not met yet!  For the last 22 years John and I have owned and operated Buckhorn Inn.  As many of you know, the hallmark of our time at the Inn has been to embrace and maintain the Inn's historic charm while providing modern conveniences.  This is the same sensibility I want to bring to leadership decisions in our town.
Locally, I have been involved in two projects that are very near and dear to my heart.  Both  were satisfying to me because of my love for heritage.  I assisted in fundraising for the new Pittman Center Elementary School and the Glenn Cardwell Heritage Museum, as well as making a donation.  I have served as treasurer on the Museum Board since its inception.  I view the Museum as a means of preserving and communicating our community's heritage and as a way of promoting appropriate tourism.  I was also chairman of the Gatlinburg library for many years and was chairman of the fundraising campaign that raised $1,000,000 for constructing its new facility.
While a university student, I organized a campaign to save beautiful oak trees which were scheduled to be removed to make way for a new building.  It wasn't a successful campaign, but I learned a lot about community action.   It has always been important to me to ensure my voice, and that of others, is heard. 
I grew up on a ranch in Texas and rode the bus to school 14 miles away every day and I rode my horse whenever I could.  Education has always been important to me.  I graduated with bachelor's and master's degrees from Texas A&M University-Commerce.  For most of my long professional career, I was a senior administrator in higher education in this country and overseas.  I have had the opportunity to serve on many boards and committees.  I have three children, two grandchildren, and five great-grandchildren.
My Vision of Pittman Center
As your alderman I would want to
balance environmental protection and economic well-being as contained in the FutureScape report of the 1990s which took place under the leadership of Mayor Judy Perryman and supported by Glenn Cardwell
ensure that enforceable zoning ordinances and building codes reflect the values of our community
protect our ridgetops
help the Glenn Cardwell Heritage Museum develop and expand
look into petitioning the postal service to enable our residents to use the town's name, Pittman Center, as our official address
encourage more community participation in developing the town's policies and strategic vision
work toward ensuring that all residents can access broadband internet without excessive access fees
I love Pittman Center. Thank you for your consideration.  I look forward to receiving your vote.
Sincerely,
Lee Mellor
June 6, 2017
We are thrilled that Knoxville's Cityview magazine included the Buckhorn Inn in their May-June Best of the Smokies roundup.  The article references one of our many famous guests, Walt Disney.  Mr. Disney stayed in Cottage 2 at the Buckhorn while filming the television series Davy Crockett.  Some scenes from the five-part series were filmed in color at the Great Smoky Mountains National Park in the Mountain Farm Museum.  Mr. Disney enjoyed his stays at the inn so much that every year until his death in 1966 he sent Christmas presents to the innkeepers' children.  Watch this blog for future articles detailing other famous guests at the Buckhorn Inn!  We are especially pleased that "Hidden in Plain Sight:  Treasures of Sevier County" by Hannah Overton describes us as "keeping the art of slowing down and enjoying the beauty of the mountains alive since 1938".   To read the entire article, please visit http://www.cityviewmag.com/hidden-in-plain-sight/.  
Other Sevier County Treasures in Addition to Buckhorn Inn
We are in good company, the article highlights many other "hidden-in-plain-sight" treasures in Sevier County, including Gatlinburg, Pigeon Forge, and Sevierville, and the Great Smoky Mountains.  The author points out that in Sevier County "you are not limited to the boundaries of one theme park or resort destination–you are in the driver's seat for a
day or weeks' long vacation of endless possibility".  Truly, this area has something for everyone.  Among the best:  The Track classic wooden go-kart track in Pigeon Forge; The Apple Barn for all things apple; The Outdoor Gravity Park adventure course where you get into your own giant transparent sphere; Sugarlands Distilling Company which has a connection to traditional moonshine distilling; and Chubby's Deli inside the New Center Market & Grill.  
The Buckhorn Inn is the perfect calm, restful place with easy access to the wonders of nature and to the excitement that our towns have to offer.