Blog




October 29, 2019
Have you stayed in The Tower?  In the early days of Buckhorn Inn, the water tower actually was a water tower!  The tower held an enormous wooden bucket which stored water!   The height was sufficient to pressurize a water distribution system.  When electricity came to the Inn, this system was no longer needed.   Rachael Young, the second mistress of the Inn, had converted the space to a bedroom in the late 1970s for use by her and her husband Robert.
Guests have loved this unique accommodation.  Their reviews have often cited the "cool factor" of the space.  They especially have noted the third level with windows looking in all directions.  This floor has many times been described as a "tree house"!
New Tower Has Kept Charm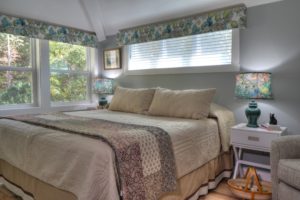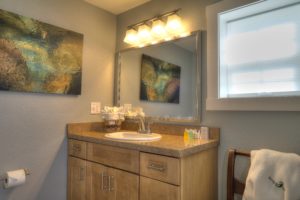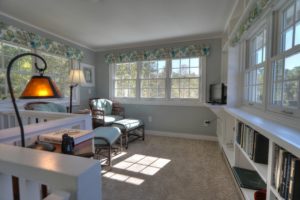 Innkeepers John and Lee Mellor wanted to keep all of the historic charm of this room, but to make it more spacious and convenient.  The renovation has done just that!
Guests enter the new room from their own entrance from their private parking space in front of the Inn.  On the ground floor they find a light and airy bedroom with a king-size bed.  High windows on two walls flood the room with sunshine and look out upon a leafy skyscape.  A kitchenette, smart TV, sitting space and roomy closet provide for coffee and morning news while getting ready for the day.  The room is decorated with original art throughout.  One of our favorite pieces is a painting by local artist Susan Edwards.  The stairway has been transformed into a work of modern art with a cut-out and new railings.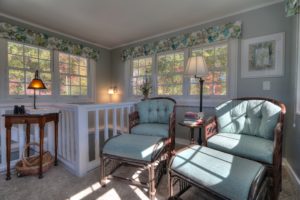 The bathroom on the second floor features a new tiled corner shower and lots of natural light.  We call the top floor The Lookout.  Here guests can relax in comfy chairs and admire the 360 degree views.  We have provided binoculars for bird and wildlife watching.  This is a breathtaking spot to read and relax.  There also is a TV in this room–but we suspect the views will be more captivating than anything on television!
We welcomed the first guests to this room in October 2019.  The response has been overwhelming!  Here are some of the comments from the guest book:  "We are very honored to be the first to stay in The Tower at Buckhorn Inn.  I like the amazing design and the upper room with a good view of the sunset.  Service at Buckhorn Inn is excellent–friendly staff and helpful!  Yummy breakfast and dinner!  I enjoyed the natural splendor and peaceful atmosphere!!  If you are looking for a place/vacation to reflect and relax, this is it!  Thank you Buckhorn Staff!  The Chong Family, Phoenix, AZ"
April 17, 2018
Are you familiar with St. George's Day?  As the website http://www.st.georgesday.com points out, the Irish celebrate St. Patrick's Day and the Scottish have St. Andrew's Day.  All English people should come together on April 23 to celebrate England's own patron saint.  Traditionally one flies the St. George flag and wears a red lapel rose.
The history of St. George's Day is a long one.  The Council of Oxford declared April 23 to be the day of recognition in 1222.  In 1348 St. George became the Patron Saint of England and the protector of the royal family.  In 1552, during the English Reformation, banners for all saints, except Saint George, were banned.  The April 23 holiday remembering St. George's death, was a major one, on a par with Christmas, until the 18th century when England and Scotland united.  Recently many societies, including the English Heritage and the Royal Society of St. George, are working to reinstate the major holiday.
Who Do We Celebrate on St. George's Day?
Saint George was a Roman soldier.  He was put to death in AD 303 for refusing to recant his Christian faith.  He was especially venerated as a Christian martyr by the Crusaders.  In medieval romance stories, St. George slew a dragon with a lance called Ascalon.  Interestingly, centuries later Winston Churchill used the name Ascalon for his personal aircraft during World War II.  He is often depicted seated upon a white horse, slaying a dragon.  
George is regarded as a protective saint.  His cross forms the national flag of England and is featured on the union flag of the United Kingdom.  
One of our favorite local places to hoist a pint in honor of St. George is the Fox and Parrot Tavern located on Glades Road.  Perhaps we will see you there!
June 22, 2010
 BUCKHORN INN EARNS FODOR'S CHOICE 2010 DISTINCTIONFROM FODOR'S TRAVEL:   Buckhorn Inn has been recognized by Fodor's Travel, the foremost name in travel publishing, as a 2010 Fodor's Choice selection. This distinction represents a remarkable achievement and recognizes Buckhorn Inn as a leader in its field for service, quality, and value in the 2010 year.
 Since 1988, Fodor's Travel has been awarding the Fodor's Choice distinction to only the very best hotels, restaurants and attractions around the world. Every year, Fodor's writers experience, examine and evaluate thousands of hotels, restaurants and attractions in their travels across the globe. While every business included in a Fodor's guide is deemed worth a traveler's time, only fifteen percent of those selections are awarded the very highest, Fodor's Choice designation by Fodor's editors.
 "From hidden-away restaurants to can't-miss museums, Fodor's Choice selections recognize the top sights, properties, and experiences our editors and updaters have found in their travels," says Fodor's publisher Tim Jarrell. "These places are the best of the best, providing a remarkable experience in their price range or category."
 As a 2010 Fodor's Choice recipient Buckhorn Inn receives special recognition in the current Fodor's guidebook to this region and on Fodors.com.  Buckhorn Inn was previously recognized by Fodors in 2001 as one of the most unique lodging establishments in the United States.
 Innkeeper Lee Mellor said she and her husband John were delighted to be recognized by Fodor's Travel again.  "While many of us like to use the Internet as a source of travel reviews and information, there is nothing more trustworthy than the unbiased information and reviews in Fodor's travel books and on their website."
 Established in 1938, Buckhorn Inn offers fine accommodation in traditional rooms, suites, cottages and guesthouses on its 30 acre site overlooking the Great Smoky Mountains.  It also offers dinner each evening to inn guests, tourists and locals.  Served by soft lamplight in the dining room which overlooks the mountains, this sumptuous repeast contains only the freshest and best quality ingredients, all carefully selected by our chefs.