Blog




November 9, 2020
For those who plan to travel to Buckhorn Inn in the next few months, I wanted to remind you of the precautions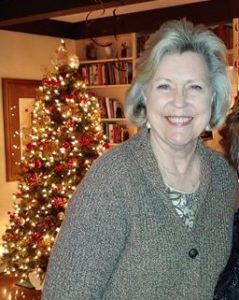 we are taking ensure your health as well as that of our staff.
All hard and soft furnishings in your room are thoroughly cleaned and sanitized before your arrival. We have removed bedspreads, decorative quilts, and decorative throw pillows to speed our sanitation procedures. You may use contactless check-in. Upon your arrival, we will not enter your room again until after you check out. We have eliminated our hard copy guest directories in favor of an electronic version which you may download to your phone. We will send the link to it in your confirmation letter. In it you will find much information—including the location of the supply of extra towels and toiletries stored for you in your room!
All staff members undergo a temperature and health check daily and must stay home if they, or a family member, are ill. Our housekeeping members are masked and gloved when they are preparing your room for you. All kitchen and serving staff are masked and gloved as well. We reservation times for breakfast, so that we can manage social distancing in our dining room in the morning. We utilize the library for additional dining space. We clean and sanitize dining tables, chairs, and condiment holders between guests. We keep as much air flowing in the dining room as possible. We have limited the number of dinner reservations we will accept so that we can maintain social distancing in the evenings as well. Our afternoon treats are individually wrapped in plastic. Our team sanitizes all high-touch surfaces in the Inn's public areas several times each day. We have large, well-marked dispensers for hand sanitizers in several places in the public areas.
If we have an active credit card for you on file, we will email you the final bill the day before you check out. Then you will not need to come into the office as you can simply leave your key in your room. If you do enter the office or gift shop, you will see that we have installed a large plexiglass window as a barrier between our guests and the office staff.
Thank you for placing your trust in us.  We look forward to seeing you soon.  And we look forward to a future where we can greet you with a hug and you can see our welcoming smiles!
September 28, 2020
Dear Neighbors,
I am writing to tell you a bit about myself and to ask for your vote for Pittman Center Alderman.  My late husband, John, and I lived in many different places.  But nowhere felt as much like "home" to us as Pittman Center http://www.pittmancentertn.gov.  Over the last 30 years of living in this area, I have been fortunate to call many of you friends.  The rest of you are friends that I have not met yet!  For the last 22 years John and I have owned and operated Buckhorn Inn.  As many of you know, the hallmark of our time at the Inn has been to embrace and maintain the Inn's historic charm while providing modern conveniences.  This is the same sensibility I want to bring to leadership decisions in our town.
Locally, I have been involved in two projects that are very near and dear to my heart.  Both  were satisfying to me because of my love for heritage.  I assisted in fundraising for the new Pittman Center Elementary School and the Glenn Cardwell Heritage Museum, as well as making a donation.  I have served as treasurer on the Museum Board since its inception.  I view the Museum as a means of preserving and communicating our community's heritage and as a way of promoting appropriate tourism.  I was also chairman of the Gatlinburg library for many years and was chairman of the fundraising campaign that raised $1,000,000 for constructing its new facility.
While a university student, I organized a campaign to save beautiful oak trees which were scheduled to be removed to make way for a new building.  It wasn't a successful campaign, but I learned a lot about community action.   It has always been important to me to ensure my voice, and that of others, is heard. 
I grew up on a ranch in Texas and rode the bus to school 14 miles away every day and I rode my horse whenever I could.  Education has always been important to me.  I graduated with bachelor's and master's degrees from Texas A&M University-Commerce.  For most of my long professional career, I was a senior administrator in higher education in this country and overseas.  I have had the opportunity to serve on many boards and committees.  I have three children, two grandchildren, and five great-grandchildren.
My Vision of Pittman Center
As your alderman I would want to
balance environmental protection and economic well-being as contained in the FutureScape report of the 1990s which took place under the leadership of Mayor Judy Perryman and supported by Glenn Cardwell
ensure that enforceable zoning ordinances and building codes reflect the values of our community
protect our ridgetops
help the Glenn Cardwell Heritage Museum develop and expand
look into petitioning the postal service to enable our residents to use the town's name, Pittman Center, as our official address
encourage more community participation in developing the town's policies and strategic vision
work toward ensuring that all residents can access broadband internet without excessive access fees
I love Pittman Center. Thank you for your consideration.  I look forward to receiving your vote.
Sincerely,
Lee Mellor
April 23, 2020
So many of our guests tell us that Buckhorn is their "happy place," a place where they feel safe. We intend to do all that we can to insure that never changes.
We have always taken cleanliness seriously at Buckhorn Inn, but we established additional measures to protect our guests and our employees as soon as the threat of Covid-19 became apparent. During the time we have been closed, we have institutionalized these changes following guidelines established by the CDC.   All accommodation and public areas have been meticulously cleaned and sanitized.
Re-opening  We re-opened on Friday, May 1.  Although lodging establishments like Buckhorn are considered essential services and were not required to cease operations, we did so because we thought it was the socially responsible thing to do.  We have been so touched by the many phone calls asking us when we will re-open and expressing concern about the inn and about John and me and our staff.  We are lucky to have such kind and loyal guests.  None of us or our families have been affected directly by the virus in terms of our health.  Our county has not been so nearly affected as have others for which we are so grateful.
Social Distancing  Social distancing will probably be with us for some time.   We are learning to refrain from our usual hugs and handshakes and we have even had to give up elbow bumping.  There are differing opinions about the effectiveness of masks, but if you want to wear one please feel comfortable doing so.  We think we can recognize most of our guests even if they are in disguise!   
Buckhorn is a big place with 30 acres of beautiful property for you to explore.  We have gardens, a nature trail, labyrinth, and a pond for you to enjoy.  We have set up a badminton net for two.  At this time, we are only making available accommodation that offers private entrances, decks, views of the grounds and the mountains, and  a self-contained heating/air conditioning system.
Food Service  All personnel engaged in the preparation and service of food at Buckhorn are accustomed to employing professional levels of hygiene, including handwashing and health and safety standards as mandated by the State of Tennessee.  Our food service operation and our accommodation are inspected regularly by the Sevier County Health Department. Our record is exemplary.  However, management will monitor these procedures even more closely in the days to come.
Dining We have a large dining room which can be combined with our library, so that social distancing can be maintained at mealtimes.  Staff serving in the dining room wear masks and gloves. Breakfast is included in all accommodation rates and can be taken in the dining room between 8:00 and 9:30 am or delivered to your accommodation at no extra charge.  Hearty picnic lunches are available every day at $10 per person.  On June 18, we returned to our nightly dinner service, although seating is now limited to 24 guests to accommodate social distancing.  Guests can also pick-up their dinner "to-go." 
Housekeeping Services  Through the foreseeable future we will modify our daily housekeeping service.  Instead of our customary full service, we will provide clean towels daily, remove trash and replenish amenities like coffee, shampoo, soap, toilet paper, etc.   On departure, we will clean and sanitize each accommodation.  Soft furnishings, for instance bedspreads, comforters, blankets, mattress pads, linens, will be washed and sanitized as each guest departs.  In this way, each arriving guest will be assured of perfectly clean accommodation.
General Cleaning  We use products with the components necessary to clean and sanitize to the standards recommended by the CDC.  Public areas will be cleaned and re-cleaned throughout the day, paying particular attention to areas such as doors, door handles, counter tops, stair railings.  
Health of Our Staff   We will monitor the health of our staff closely.  Should any staff member show any signs of illness, he or she will be asked to remain at home and receive paid time off for that period.
We will adjust our protocols as the situation in regard to Covid-19 develops, following guidance from our local, state and federal authorities and relevant health organizations.
Reservations and Cancellations  Debbie is in the office from 8:00 am until 3:00 pm and eagerly awaits your phone calls–even if it is only to chat–but she is also happy to take reservations (865 436 4668).  You can also reserve online and you can send an email to [email protected].   
Questions?  We are here for you.  When you are ready to return to these mountains and to experience their healing power, Buckhorn will be ready for you.  Until then, stay safe.
Lee and John and the Buckhorn Team
October 29, 2019
Have you stayed in The Tower?  In the early days of Buckhorn Inn, the water tower actually was a water tower!  The tower held an enormous wooden bucket which stored water!   The height was sufficient to pressurize a water distribution system.  When electricity came to the Inn, this system was no longer needed.   Rachael Young, the second mistress of the Inn, had converted the space to a bedroom in the late 1970s for use by her and her husband Robert.
Guests have loved this unique accommodation.  Their reviews have often cited the "cool factor" of the space.  They especially have noted the third level with windows looking in all directions.  This floor has many times been described as a "tree house"!
New Tower Has Kept Charm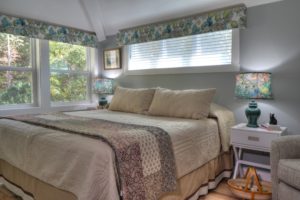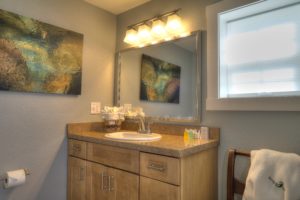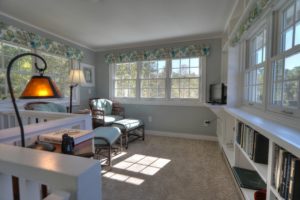 Innkeepers John and Lee Mellor wanted to keep all of the historic charm of this room, but to make it more spacious and convenient.  The renovation has done just that!
Guests enter the new room from their own entrance from their private parking space in front of the Inn.  On the ground floor they find a light and airy bedroom with a king-size bed.  High windows on two walls flood the room with sunshine and look out upon a leafy skyscape.  A kitchenette, smart TV, sitting space and roomy closet provide for coffee and morning news while getting ready for the day.  The room is decorated with original art throughout.  One of our favorite pieces is a painting by local artist Susan Edwards.  The stairway has been transformed into a work of modern art with a cut-out and new railings.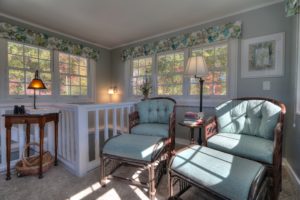 The bathroom on the second floor features a new tiled corner shower and lots of natural light.  We call the top floor The Lookout.  Here guests can relax in comfy chairs and admire the 360 degree views.  We have provided binoculars for bird and wildlife watching.  This is a breathtaking spot to read and relax.  There also is a TV in this room–but we suspect the views will be more captivating than anything on television!
We welcomed the first guests to this room in October 2019.  The response has been overwhelming!  Here are some of the comments from the guest book:  "We are very honored to be the first to stay in The Tower at Buckhorn Inn.  I like the amazing design and the upper room with a good view of the sunset.  Service at Buckhorn Inn is excellent–friendly staff and helpful!  Yummy breakfast and dinner!  I enjoyed the natural splendor and peaceful atmosphere!!  If you are looking for a place/vacation to reflect and relax, this is it!  Thank you Buckhorn Staff!  The Chong Family, Phoenix, AZ"
April 17, 2018
Are you familiar with St. George's Day?  As the website http://www.st.georgesday.com points out, the Irish celebrate St. Patrick's Day and the Scottish have St. Andrew's Day.  All English people should come together on April 23 to celebrate England's own patron saint.  Traditionally one flies the St. George flag and wears a red lapel rose.
The history of St. George's Day is a long one.  The Council of Oxford declared April 23 to be the day of recognition in 1222.  In 1348 St. George became the Patron Saint of England and the protector of the royal family.  In 1552, during the English Reformation, banners for all saints, except Saint George, were banned.  The April 23 holiday remembering St. George's death, was a major one, on a par with Christmas, until the 18th century when England and Scotland united.  Recently many societies, including the English Heritage and the Royal Society of St. George, are working to reinstate the major holiday.
Who Do We Celebrate on St. George's Day?
Saint George was a Roman soldier.  He was put to death in AD 303 for refusing to recant his Christian faith.  He was especially venerated as a Christian martyr by the Crusaders.  In medieval romance stories, St. George slew a dragon with a lance called Ascalon.  Interestingly, centuries later Winston Churchill used the name Ascalon for his personal aircraft during World War II.  He is often depicted seated upon a white horse, slaying a dragon.  
George is regarded as a protective saint.  His cross forms the national flag of England and is featured on the union flag of the United Kingdom.  
One of our favorite local places to hoist a pint in honor of St. George is the Fox and Parrot Tavern located on Glades Road.  Perhaps we will see you there!
June 22, 2010
 BUCKHORN INN EARNS FODOR'S CHOICE 2010 DISTINCTIONFROM FODOR'S TRAVEL:   Buckhorn Inn has been recognized by Fodor's Travel, the foremost name in travel publishing, as a 2010 Fodor's Choice selection. This distinction represents a remarkable achievement and recognizes Buckhorn Inn as a leader in its field for service, quality, and value in the 2010 year.
 Since 1988, Fodor's Travel has been awarding the Fodor's Choice distinction to only the very best hotels, restaurants and attractions around the world. Every year, Fodor's writers experience, examine and evaluate thousands of hotels, restaurants and attractions in their travels across the globe. While every business included in a Fodor's guide is deemed worth a traveler's time, only fifteen percent of those selections are awarded the very highest, Fodor's Choice designation by Fodor's editors.
 "From hidden-away restaurants to can't-miss museums, Fodor's Choice selections recognize the top sights, properties, and experiences our editors and updaters have found in their travels," says Fodor's publisher Tim Jarrell. "These places are the best of the best, providing a remarkable experience in their price range or category."
 As a 2010 Fodor's Choice recipient Buckhorn Inn receives special recognition in the current Fodor's guidebook to this region and on Fodors.com.  Buckhorn Inn was previously recognized by Fodors in 2001 as one of the most unique lodging establishments in the United States.
 Innkeeper Lee Mellor said she and her husband John were delighted to be recognized by Fodor's Travel again.  "While many of us like to use the Internet as a source of travel reviews and information, there is nothing more trustworthy than the unbiased information and reviews in Fodor's travel books and on their website."
 Established in 1938, Buckhorn Inn offers fine accommodation in traditional rooms, suites, cottages and guesthouses on its 30 acre site overlooking the Great Smoky Mountains.  It also offers dinner each evening to inn guests, tourists and locals.  Served by soft lamplight in the dining room which overlooks the mountains, this sumptuous repeast contains only the freshest and best quality ingredients, all carefully selected by our chefs.