Blog




October 29, 2019
Have you stayed in The Tower?  In the early days of Buckhorn Inn, the water tower actually was a water tower!  The tower held an enormous wooden bucket which stored water!   The height was sufficient to pressurize a water distribution system.  When electricity came to the Inn, this system was no longer needed.   Rachael Young, the second mistress of the Inn, had converted the space to a bedroom in the late 1970s for use by her and her husband Robert.
Guests have loved this unique accommodation.  Their reviews have often cited the "cool factor" of the space.  They especially have noted the third level with windows looking in all directions.  This floor has many times been described as a "tree house"!
New Tower Has Kept Charm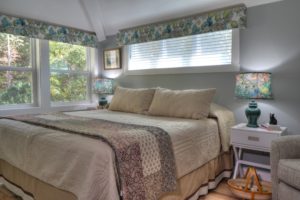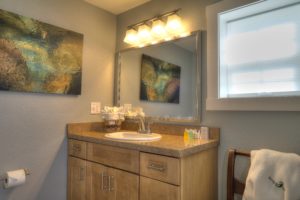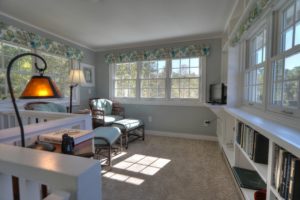 Innkeepers John and Lee Mellor wanted to keep all of the historic charm of this room, but to make it more spacious and convenient.  The renovation has done just that!
Guests enter the new room from their own entrance from their private parking space in front of the Inn.  On the ground floor they find a light and airy bedroom with a king-size bed.  High windows on two walls flood the room with sunshine and look out upon a leafy skyscape.  A kitchenette, smart TV, sitting space and roomy closet provide for coffee and morning news while getting ready for the day.  The room is decorated with original art throughout.  One of our favorite pieces is a painting by local artist Susan Edwards.  The stairway has been transformed into a work of modern art with a cut-out and new railings.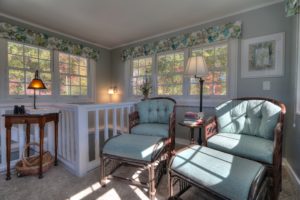 The bathroom on the second floor features a new tiled corner shower and lots of natural light.  We call the top floor The Lookout.  Here guests can relax in comfy chairs and admire the 360 degree views.  We have provided binoculars for bird and wildlife watching.  This is a breathtaking spot to read and relax.  There also is a TV in this room–but we suspect the views will be more captivating than anything on television!
We welcomed the first guests to this room in October 2019.  The response has been overwhelming!  Here are some of the comments from the guest book:  "We are very honored to be the first to stay in The Tower at Buckhorn Inn.  I like the amazing design and the upper room with a good view of the sunset.  Service at Buckhorn Inn is excellent–friendly staff and helpful!  Yummy breakfast and dinner!  I enjoyed the natural splendor and peaceful atmosphere!!  If you are looking for a place/vacation to reflect and relax, this is it!  Thank you Buckhorn Staff!  The Chong Family, Phoenix, AZ"
November 5, 2018
Today's guest blogger http://www.trip101.com shares five of the best activities to enjoy in the Great Smoky Mountains.  
Perhaps the most renowned mountain range in North America, the Great Smoky Mountains border North Carolina and parts of Tennessee, and offer a virtually unlimited selection of world class outdoor activities.  Opportunities abound across the "Smokies," an iconic portion of the Appalachian Mountains, where diversified forest ecosystems thrive among untouched and protected spaces alike. From spruce-fir forests to river valleys, the Great Smoky Mountains offers a proven solution for outdoor adventure in the American southeast. Check out our top five activities worth pursuing in the Smoky Mountains, to fill your travel itinerary with easy, lifelong memories.
1. Clingmans Dome
Dedicated hikers and lovers of awe-inspiring sights and sounds will fall easily in love with Clingmans Dome. Welcome to the highest mountain peak in all of the Smoky Mountains, with an elevation of more than 6,600 feet. Venture to the peak of this coniferous environment, for sweeping, uninterrupted
panoramas of the surrounding landscapes, together with a simply unmatched sense of accomplishment.
Clingmans Dome is halfway in North Carolina and halfway in Tennessee, and provides hours of hiking enjoyment to dedicated travelers. Drive Clingmans Dome Road, and then take to a rather steep pathway up to the summit itself, fitted with an observation tower for extended viewing enjoyment. When visibility is at its best from the top of Clingmans Dome, you can see for more than one hundred miles in all directions, and into seven individual states. Take in a picture-perfect sunrise or sunset from the peak, and cross-country ski to the destination come wintertime.
2. Cades Cove
Located in Tennessee, well within the confines of the Great Smoky Mountains National Park, Cades Cove qualifies as a staple site in the southeastern portion of the United States. The original home to decades-old settlers, Cades Cove is today beloved for its easy access and scenic wildlife surroundings. The historical element of the site alone is enough to satisfy qualifications for the National Register of Historic Places.
A geological "limestone window" defined by dated erosion, Cades Cove is home to rock formations that are more than 400 million years old. Take note of the fact that you must plan ahead if you plan on visiting Cades Cove, given the fact that it is the single-most visited location within the confines of the National Park itself. Home to Cherokee natives, European settlers and now generations of satisfied travelers, Cades Cove offers the unique synthesis of panoramic landscapes and educational immersion alike.
3. Mount Le Conte
For a truly unique Smoky Mountains experience, you need to stop by Mount Le Conte. The pride of Sevier County, Mount Le Conte offers you access to the highest peak housed entirely within the state of Tennessee. Better yet, on the way to the summit you will have ample opportunities to experience more than 5,000 feet worth of forest. The sandstone and the shale that comprise large portions of the
mountain are easily 450 million years old, if not more.
Annual snowfall at Mount Le Conte totals nearly forty inches per year, so if you plan on visiting this site during the winter you would be advised to dress accordingly. Interestingly, Mount Le Conte is also renowned for its lodge near the summit itself, so if you're looking for some award-winning hospitality along your way to the mountain's peak, that's an opportunity worth pursuing. If you spot a train of llamas trekking alongside of you, don't be alarmed: llamas deliver supplies to the lodge three times a week during peak operational months. Intermediate hiking conditions and frequent opportunities for photos make the hike up Mount Le Conte worth every second of your investment.
4. Andrews Bald
From the bottom of the mountain to the summit, you can expect an elevation gain of nearly 900 feet, coupled with lasting opportunities for photos and fresh, outdoor air alike. If you're looking to reach Andrews Bald, you're going to want to embark on the nearby Forney Ridge Trail, which eventually delivers you to your destination. Well-maintained hiking endeavors and stone steps pave the way to the summit itself, part of a park-wide manicured effort to keep this location easily accessible to all guests.
Andrews Bald is the destination for you if you're looking to bring the entire family along for the ride. Again, this hike is an all-time favorite among dedicated Smoky Mountains hikers, so you're going to want to get an early start, and prepare to accommodate other hikers en route to Andrews Bald itself. All in all, the hike's popularity witnesses to its worth, as a family-friendly, worthwhile endeavor in the Great Smoky Mountains.
5. Roaring Fork
With a name like Roaring Fork, you know the experience is worth your investment. A stream that cuts through the Great Smoky Mountains in the Volunteer State, Roaring Fork today is the home of both a historic district and a nature trail of the same name. Straight from the Little Pigeon River, the Roaring Fork stream is a must-see in the Great Smoky Mountains. Take the trail direct to the stream, along the way experiencing waterfall background, ample opportunities for relaxation and the chance to take life at a pace comfortable for you. Activities include touring historic sites.  Historically preserved cabins, mills and more will greet satisfied hikers upon arrival, making Roaring Fork an ideal outing, especially for those individuals looking for a quick immersion into local lore.
The Great Smoky Mountains Abound with Family-Friendly Activities
No matter the corner of the Great Smoky Mountains in which you elect to spend your time, the massive acreage allows you to capitalize on authentic outdoor adventure, at a moment's notice. From the waterfalls of the Andrews Bald trek to the limestone structures of Cades Cove, There's an outdoor endeavor at the Great Smoky Mountains that can comfortably accommodate anyone's individual preferences. Provide the entire family with the outing at the Great Smoky Mountains that they deserve, with any one of these five activities virtually guaranteed to deliver lifelong memories outdoors in Tennessee and North Carolina! If you are looking for more destination guides and accommodation reviews, hotels and vacation rentals, check out http://www.trip101.com
June 4, 2018
Many of our guests are fishing enthusiasts.  They find the Buckhorn Inn makes a great base of operations for spending the day on the water and returning home to pampered comfort.  Reports are that the fishing is good this spring.  Today we welcome guest blogger, CJ Stancil, to give us the latest.
This time of year is a beautiful time to fish in the Great Smoky Mountains National Park.  Not only are the trout biting but the scenery is amazing.  The Park has abundant species of wild flowers and plant life that are just now coming into peak.  Wildlife that call the Smokies home in its half-million acre wilderness are black bear, whitetail deer, turkey and elk.
Area Known for Good Fishing
The Park has nearly 800 miles of fishable waters that hold trout.  Wild brown trout, rainbow trout, and native brook trout are the species you will find here.
The trout here make the Great Smoky Mountains National Park one of the country's most popular fishing destinations.  Even a beginner can expect to catch these wild trout.  Heavy rain has made the waters rise recently but the forecast is looking better.  Cooler temperatures and sunny weather should last most of the week.  Dry flies are getting a lot of action.  Try running a dry dropper setup.  If the water is high and stained, throw an indicator rig.  Work combinations like a pheasant tail, pats rubber let, or a squirmy worm.  Make sure you are getting the flies down deep and fast.  Good luck and tight lines!  CJ Stancil
Many of our guests have fished with CJ and report a great experience.  You may contact him to book a trip through the Smoky Mountain Angler http://www.smokymountainangler.com or by email [email protected].  CJ also has offered his phone number 931-801-4204.  To see some photos of beautiful trout, be sure to follow him on Instagram at @dancewithtrout. 
May 21, 2018
Thank you to all our guests who take the time to write reviews about their Buckhorn Inn experience on TripAdvisor.  Travel websites are trusted advisors for so many vacationers.  Your first-hand experience helps them know exactly what to expect.
slkratz1 wrote on May 21, 2018:  "Great food, wonderful service.  I had dinner two nights during my stay at Buckhorn.  Great wine list as well as menu."  5 stars.
Renee B wrote on May 20, 2018:  "This was the first time for my husband and I, staying at a B&B inn and it was incredible!  From the beautiful views from our room, the Premier 1, to the incredible breakfast every morning.  We also booked a dinner our first evening there and it was also fantastic!  The staff made sure they waited on our every need and we could not have asked for anything more!  We will be back!"  5 stars.
Claire O wrote on May 18, 2018:  "We stayed in the Lindsey House which was perfect for the three sisters.  We had a lovely deck with wooded scenery and lots of birds.  Lee and John are the perfect hosts and the food was excellent as always.  The Inn is close to the Greenbrier with great hikes and historical information."  5 stars
bdcook wrote on May 15, 2018:  "We spent two nights in one of the cabins at the Buckhorn Inn while we hiked and visited the sights in the Smoky Mountains.  We'd definitely stay there again when we visit the area.  Good value in a comfortable cabin with living room and small kitchen.  Wonderful, quiet property and such nice people.  Loved our glass of wine while sitting in the rocking chairs with a view of the mountains while meeting interesting people staying there.  We hadn't planned on meals there, but had a wonderful dinner there in the end.  Wish we had a fluffier pillow is the only idea for improving on the experience."  5 stars
Three weeks ago Eric V wrote:  "The Buckhorn Inn has long been our favorite place for celebrating special occasions.  The food is excellent.  The setting is peaceful and relaxing.  The staff is friendly and welcoming.  An added bonus:  The spring wildflowers are breathtakingly gorgeous right now, so short easy hikes in this part of the Smokies are rewarding."
Thank you to all those who take the time to share their reviews of the Buckhorn Inn.  We look forward to welcoming you back!
April 30, 2018
We love gardening at Buckhorn Inn!  Our guests from other parts of the country often are curious about our growing season.  So we thought we would give you a peek into what we are doing this April.  
Our display of spring bulbs was beautiful this year.  We are marking their locations so we will know where to fertilize this fall.  We are diligent about removing the faded flowers to make everything look better and to keep seeds from forming.  Our Siberian irises are blooming now.  After they finish we will divide them and replant.  
We have pruned the perennials that have not yet started to grow, and renewed our mulch so that is about 3″ deep.  We pruned our trees, removing dead and diseased limbs, before they began to leaf out.  
The annual flowers we have set out bring color now, and throughout the entire summer.  Even though some early balmy temperatures and sunny days were seductive, we waited until we were sure spring had arrived for good before we put them out!  
Gardening for Edibles
This month we filled our new raised-bed vegetable gardens with seeds for early and late lettuce mixes, kaleidoscope carrots and okra.  Last week we planted tomatoes and a mix of sweet and hot peppers.  We are especially pleased with our new kitchen herb garden.  It is planted right outside the kitchen door for easy access by our chefs.  
Our selections include dill, cilantro, basil, curry, rosemary, majoram, oregano, thyme, and sage.  We look forward to seeing how the supply of fresh herbs and vegetables will inspire our chefs!
The school of agriculture at the University of Tennessee is a wonderful source of information and inspiration.  Check out their website http://www.agt.tennessee.edu/utg for information and inspiration!  They also have information on upcoming events, such as their May 6 Plantapalooza and hosta sale!
We wish you a wonderful spring and hope that your gardens grow and flourish!
April 17, 2018
Are you familiar with St. George's Day?  As the website http://www.st.georgesday.com points out, the Irish celebrate St. Patrick's Day and the Scottish have St. Andrew's Day.  All English people should come together on April 23 to celebrate England's own patron saint.  Traditionally one flies the St. George flag and wears a red lapel rose.
The history of St. George's Day is a long one.  The Council of Oxford declared April 23 to be the day of recognition in 1222.  In 1348 St. George became the Patron Saint of England and the protector of the royal family.  In 1552, during the English Reformation, banners for all saints, except Saint George, were banned.  The April 23 holiday remembering St. George's death, was a major one, on a par with Christmas, until the 18th century when England and Scotland united.  Recently many societies, including the English Heritage and the Royal Society of St. George, are working to reinstate the major holiday.
Who Do We Celebrate on St. George's Day?
Saint George was a Roman soldier.  He was put to death in AD 303 for refusing to recant his Christian faith.  He was especially venerated as a Christian martyr by the Crusaders.  In medieval romance stories, St. George slew a dragon with a lance called Ascalon.  Interestingly, centuries later Winston Churchill used the name Ascalon for his personal aircraft during World War II.  He is often depicted seated upon a white horse, slaying a dragon.  
George is regarded as a protective saint.  His cross forms the national flag of England and is featured on the union flag of the United Kingdom.  
One of our favorite local places to hoist a pint in honor of St. George is the Fox and Parrot Tavern located on Glades Road.  Perhaps we will see you there!
April 9, 2018
Honeybees pollinate numerous crops.  In Tennessee the value of crops benefiting from their pollination exceeds $119 million annually.  Unfortunately, diseases and pests have caused annual losses of bees, in some years as many as 50%.  
We are pleased to be telling you that Buckhorn Inn is doing its part to protect and support these important pollinators.  Thanks to our son Jack, two new hives have been put up and two colonies of bees installed.  Queen Bee Elizabeth and her minions are on the left, while Queen Bee Victoria has her kingdom in the hive on the right.  Our immediate goal is to increase the population of honeybees.  But ultimately we hope to produce enough delicious honey to supply the Buckhorn Inn kitchen and to offer some to guests.  We thought you might want to learn about honey bees along with us!
Facts about Honeybees
 1.  Honeybees have six legs, two compound eyes, three simple eyes, two pairs of wings, a nectar pouch, and a stomach.  http://www.benefits-of-honey.com
2.  Honeybees can fly as fast as 15 miles per hour and can travel as far as six miles.  Their wings beat about 200 strokes per second.
3.  In order to collect one kilogram of honey, a hive of bees will fly the equivalent of three orbits around the earth.
 4.  The queen bee can live up to five years.  Her colony consists of 20,000 to 60,000 bees.
A forager bee visits 50 to 100 flowers on each flight from the hive.  She repeats these trips all day, averaging as many as 2,000 flowers per day.
It takes six to eight pounds of honey ingested for bees to produce one pound of beeswax.
The only bees that sting are the worker bees.  They will only sting if they feel threatened, and will die once they sting.
In the lifetime of a worker bee, she produces about 1/12th teaspoon of honey.
Bees overwinter by clustering in their hives to keep the queen and themselves warm.  They feed on the honey collected during warmer months and on syrup provided by the beekeeper.  
Forager bees find flowers then return to the hive and share detailed directions.  In 1973 Karl von Frisch received the Nobel Prize in Medicine for cracking the code of the bees–the waggle dance.
Watch our blog and Facebook and Instagram posts for more information about our bees.  We are proud members of the beekeeping associations of Sevier County and Tennessee.  You may visit http://www.tnbeekeepers.org for information on the resources they offer.
April 3, 2018
Visitors to the Great Smoky Mountains National Park look forward to spotting our large wildlife–namely bear and elk.  We are fortunate indeed to be located near such splendor.  
Did you know that once large numbers of elk freely roamed the Appalachian Mountains and eastern United States?  Unfortunately, overhunting and destruction of habitat severely lowered their numbers.  Conservation groups became concerned that the animals would eventually become extinct.  The last of the magnificent beasts disappeared from Tennessee in the mid 1800's.  
In 2001 the National Park Service reintroduced elk to the Great Smoky Mountains National Park.  Twenty-five of the animals were moved to the park then, and 27 more were placed here in 2002.  The elk (or wapiti) wear radio collars and ear tags to aid conservationists in tracking their range and movements.  The herd now numbers as many as 200 animals.
These are the largest animals in the Smokies.  The bulls weigh 600 to 700 pounds, measure 7 to 10 feet long, and sport antlers that can measure 5 feet from tip to tip.
Safe Viewing of Elk in the Park
The best times to view these animals are early in the morning and late in the evening.  They also are more active after storms or on cloudy days.  Most of them are located in the Cataloochee area in the southeastern section of the park, easily accessible from the Buckhorn Inn.  This is a lovely area to hike and picnic as well.  Always view these wild animals from a safe distance, using binoculars or a camera for close-ups.  Be especially careful of  calves as there likely is an anxious mother nearby.  The males may perceive you as a challenger and charge.  The National Park Service offers a short video about safely viewing elk.  You may find a link to it at http://www.nps.gov/grsm/learn/nature/elk.htm 
During March and April the animals begin to shed their antlers.  Please note that it is not legal to remove antlers from the park.  The discarded antlers are a rich source of calcium for other wildlife in the park.  
March 12, 2018
Have you visited Ripley's Aquarium of the Smokies in Gatlinburg?  Currently it is the top-rated aquarium in the United States.  If you had planned to hike, but Mother Nature did not cooperate, then this is the place to spend a rainy day!
More than 100,000 exotic sea creatures live in the 1.4 million gallons of water.  
Buckhorn Inn guest Kathy Cuppy visited the Aquarium and shared her spectacular photos with us.  
Underwater Tunnel is Highlight of Aquarium
One of the most unique features of the facility is the 340-foot-long underwater tunnel.  It is one of the longest underwater tunnels in the world.  A motorized sidewalk carries you through the watery home of many unique fish and several species of shark.  They are swimming within inches of you!  
Another unique opportunity is the splash-with-stingrays!  You will be able to get into the water at Touch-a-Ray Bay and swim with the stingrays.  
For an up-close-and-personal tour of Shark Lagoon, you can take a glass bottom boat ride.  You will be surrounded by the colorful and fascinating forms of marine life that call the Atlantic and Caribbean reefs home.  Three inches of glass will separate you from a giant green sea turtle, 12-foot sharks, and 75 types of other colorful sea creatures.
You also have the opportunity to take a behind-the-scenes tour of the facility.  A guide will take you through the "staff-only" doors to see the control room, life support rooms, and the many ways the staff ensure the sea life remains happy and healthy.  
It takes about two hours to tour the facility, which is easily navigable for wheelchairs and strollers.  The city-owned parking garage behind the aquarium makes parking very convenient.  This is a very popular local attraction.  For that reason, we recommend visiting on weekdays when their are fewer visitors.  For more information or to buy tickets, go to http://www.ripleyaquariums.com/gatlinburg.
March 5, 2018
Although it's roots are Irish, St. Patrick's Day is celebrated the world over.  The day is marked with parades, green beer, and huge corned beef and cabbage dinners.  Contrary to popular belief, however, corned beef is not a traditional dish from Ireland.  According to http://www.history.com/news/hungry-history/corned-beef-as -irish-as-spaghetti- and-meatballs,, corned beef and cabbage was a dish developed by Irish immigrants to the United States.  Many working-class Irish struggled economically in the New World.  "Corning" beef was a way to preserve  meat.  The taste reminded the Irish newcomers of their beloved boiled bacon from back home.  Cabbage was one of the cheapest vegetables in the markets and paired well with the salty spiced beef.  When cooked in the same pot, the dish was easy-to-prepare, inexpensive, and delicious!  Its roots are so American that the dish was served at President Lincoln's inauguration dinner in 1862.
Our guests love our corned beef soup, and so will you, whether or not you serve it on St. Patrick's Day!
Corned Beef Soup for St. Patrick's Day or Not
2-3 lbs Corned beef
1 cube Beef bouillon
2 cloves Garlic, diced
2 Cloves
3 Carrots, sliced thickly
6 Potatoes, peeled and diced
7 cups Water
1/2 cup Onion, chopped
6 Peppercorns
2 Bay leafs
6 cups Cabbage, coarsely chopped
Cover corned beef with water in large soup pot.  Bring to boil and reduce heat.  Simmer for 15 minutes and skim.  Add bouillon cube, onion, garlic, peppercorns, cloves and bay leafs.  Simmer for 3 to 4 hours until meat is tender.  Remove meat from broth and cool.  Skim fat from broth.
Cut meat into bite-size pieces and return to broth.  Add carrots and potatoes; bring to a boil.  Reduce heat and simmer for 15 minutes.  Add cabbage and cook for 15 more minutes or until all the vegetables are tender.  Remove the peppercorns, cloves and bay leaf before serving.  This recipe pairs nicely with soda bread or other rustic bread.