Blog




September 28, 2011
Letters like this one from a recent visitor from the Northwest makes innkeeping such a pleasure! As I said today, I had a most pleasurable time at Buckhorn Inn.  Your type of business is rare.  Your hospitality and that of all the staff was  such a memorable experience that it will stay with me for decades.  The meals and service at the Inn  are of exceptional quality.  My mind could truly wander here and create my travel log with a sense of intimacy and feeling.  I enjoyed the Smokies, the beauty, tranquility, and attachment to nature.  Having reached the Appalachian Trail fulfilled a desire from many years ago.  I will never forget the experience.  My experience at the Cosby Campground and annex to four hiking trails was a wonderful and lasting experience.  Thank you again to you, John, Bob (or does he prefer Robert), Libby, Nina, Electa, Heidi, Gloria, Frank, and Gary.
Leigh wrote to us recently and her compliments made Chef Bob blush.  She wrote: I was at  Buckhorn Inn this past Saturday for dinner.  I want to say that it was an incredible meal.  The bread  was delicious and the roast pork was fantastic.  The absolutely best part of the meal was the salad and lentil soup.  I wonder if it would be possible to have the recipe for the salad dressing and the lentil soup?  I was visiting the area with friends and as we left dinner we could not say enough about the salad and soup.  Once again, I found our dinner to be superb and will encourage anyone I know visiting the area to go to Buckhorn Inn for dinner.
September 13, 2011
Location, location, location. This lovely Gatlinburg inn is so close to the activity of town, yet set in a lovely wooded enclave of peace and quiet. The views of the Great Smoky Mountains are stunning and the wonderful food can't be beat. It's innovative and comforting "homestyle" at the same time. Marvelous. My wife and I thoroughly enjoyed our stay in one of the premier rooms and loved strolling the grounds and walking through the Labyrinth. Don't miss the chance to stay here on your travels through Gatlinburg.
September 8, 2011
We would like to thank you and your entire staff for a great anniversary getaway for us this past week.  We were able to make a last minute reservation to celebrate our belated anniversary after we were able to finalize child care arrangements for our three little ones. Since it was last minute, we had a list of questions that we wanted to ask.  We want to thank you for answering those questions both via email and on the phone at 9:45pm in the evening when we called to finalize the reservation. This was our first stay at the Buckhorn Inn and we had an incredible experience.  We loved the atmosphere, the accommodations and the great meals.  Our entire stay was filled with great memories.  The two dinners and all three breakfasts were incredible.  We appreciate your willingness to answer our questions about the meals prior to our reservation.  Additionally, we would also like to bring our experience with Libby to your attention.  It's our understanding that Libby joined the Buckhorn a few months ago.  From our experience, she is terrific!  She not only took care of us during breakfast but she provided some great history about the inn, provided great recommendations about attractions in the area and even made a special trip to deliver two champagne flutes to our room.  I'm sure that you realize the asset you have with Libby; however, we want to make special mention of our experience.  Please pass along our gratitude to her.  We are already trying to determine the next time we can visit the Buckhorn for a few days.  With it being located only 4.5 hours from our home, we hope to be frequent visitors to allow us some time to rest as a couple.  We think that perhaps sometime over the winter would be another great time to get away for a few days to relax.   Again, thank you and your staff for enabling us to have such a great anniversary and memories that will last a lifetime.  We hope to see you all very soon!
September 7, 2011
We recommend this down-home, family-friendly event to all our guests each year.  The music is terrific, auction items at a bargain and the dog contest show is not to be missed.  The event is just about 5 miles of easy driving from Buckhorn Inn.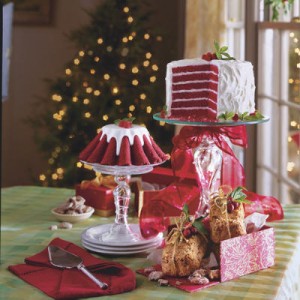 Preheat oven to 350F.  Serves 12.
Cake
2 1/2 cups all-purpose flour
1 1/2  cups granulated sugar
1 tbl cocoa powder
1 tsp baking soda
1 tsp salt
1 1/2 cups vegetable oil
1 cup buttermilk
2 large eggs
2 tbl red food coloring
1 tsp distilled white vinegar
1 tsp pure vanilla extract
Pinch of Salt
Butter and flour two 8-inch round cake pans.  In a bowl, whisk the 2 ½ cups of flour with the granulated sugar, cocoa, baking soda and salt.  In a medium bowl, whisk the oil with the buttermilk, eggs, food coloring, vinegar and vanilla. Whisk the liquid ingredients into the flour mixture.  Pour the batter into the prepared pan and bake for 40 minutes or until a toothpick comes out clean.  Transfer the cake to a rack and let it cool completely in the pan—about 2 hours.
Frosting
4 cups powdered sugar
2 8-ounce packages cream cheese, room temperature
1/2 cup (1 stick) unsalted butter, room temperature
4 teaspoons vanilla extract
Using electric mixer, beat all ingredients in medium bowl until smooth and creamy.  Place one cake layer on platter. Spread with about half the frosting.  Top with remaining cake layer. Using icing spatula, spread remaining frosting in decorative swirls over sides and top of cake. (Can be prepared 2 days ahead. Cover with cake dome and refrigerate.