Blog
Red Velvet Cake with Cream Cheese Frosting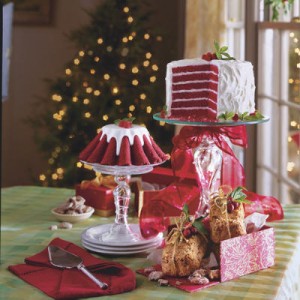 Preheat oven to 350F.  Serves 12.
Cake
2 1/2 cups all-purpose flour
1 1/2  cups granulated sugar
1 tbl cocoa powder
1 tsp baking soda
1 tsp salt
1 1/2 cups vegetable oil
1 cup buttermilk
2 large eggs
2 tbl red food coloring
1 tsp distilled white vinegar
1 tsp pure vanilla extract
Pinch of Salt
Butter and flour two 8-inch round cake pans.  In a bowl, whisk the 2 ½ cups of flour with the granulated sugar, cocoa, baking soda and salt.  In a medium bowl, whisk the oil with the buttermilk, eggs, food coloring, vinegar and vanilla. Whisk the liquid ingredients into the flour mixture.  Pour the batter into the prepared pan and bake for 40 minutes or until a toothpick comes out clean.  Transfer the cake to a rack and let it cool completely in the pan—about 2 hours.
Frosting
4 cups powdered sugar
2 8-ounce packages cream cheese, room temperature
1/2 cup (1 stick) unsalted butter, room temperature
4 teaspoons vanilla extract
Using electric mixer, beat all ingredients in medium bowl until smooth and creamy.  Place one cake layer on platter. Spread with about half the frosting.  Top with remaining cake layer. Using icing spatula, spread remaining frosting in decorative swirls over sides and top of cake. (Can be prepared 2 days ahead. Cover with cake dome and refrigerate.