Blog




April 23, 2012
April guests Jan and Brad wrote that "the best memories are often made of good friends, good food and a little slice of time to be together. We enjoy our trips to Buckhorn so much. Thank you for making everything so special. We feel like all of you are old friends and we enjoying seeing all of you as much as we enjoy the mountains and the great food." Wow! That really made the day for these innkeepers. Thank you Jan and Brad (Nashville) and all our great guests!
April 20, 2012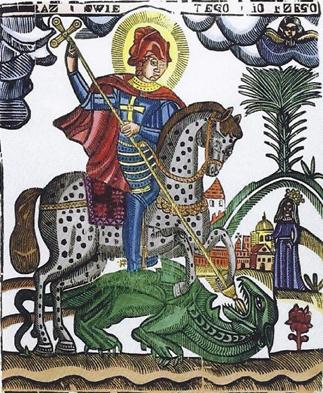 We will be celebrating St. George's Day on Monday, April 21st with a full English Breakfast. St. George is the patron saint of England and as John Mellor, Buckhorn Innkeeper is English, we like to celebrate this feast day.
St George was, according to tradition, a Roman soldier from Syria Palaestina and a soldier in the Guard of Diocletian, who is venerated as a Christian
martyr. In hagiography Saint George is one of the most venerated saints in the Catholic (Western and Eastern Rites), Anglican, Eastern Orthodox, and the Oriental Orthodox churches. He is immortalized in the tale of Saint George and the Dragon and is one of the Fourteen Holy Helpers.
The famous story of George and the Dragon became immensely popular in the West through the Golden Legend, translated and printed by Caxton. The dragon, a local pest which terrorized the whole country, poisoned with its breath all who approached it. Every day it was appeased with an offering of two sheep, but when these grew scarce, a human victim, chosen by lot, was to be substituted instead. The lot had fallen on the king's daughter, who went to her fate dressed as a bride. But George attacked the dragon, pierced it with his lance, and led it captive with the princess's girdle, as if it were completely tame. George told the people not to be afraid: if they would believe in Jesus Christ and be baptized, he would rid them of this monster. The king and people agreed; George killed the dragon and 15, 000 men were baptized. George would take no reward, but asked the king to maintain churches, honour priests, and show compassion to the poor.
April 9, 2012
Gulf Flounder with Seafood Gumbo
This is essentially friend fish filets (flounder, cod or some other firm white fish will do) set atop Seafood Gumbo.
Gumbo Recipe
1/2 pound sliced bacon, diced
2 stalks celery, sliced (1 1/2 cups)
1 medium onion, sliced (1 cup)
1 green pepper, chopped (1 1/2 cups)
2 garlic cloves, minced
2 cups chicken broth
1 14-ounce can diced tomatoes
2 tablespoons Worcestershire sauce
2 teaspoons kosher salt
1 teaspoon dried thyme leaves
1 pound large raw shrimp, cleaned
1 pound fresh or frozen crabmeat
1 10-ounce box frozen okra, thawed and sliced crosswise into 1/2-inch pieces
Preparation
Cook the bacon over medium heat in a heavy saucepan until crisp, stirring frequently. Remove with a slotted spoon and drain on a paper towel. Discard all but 2 tablespoons of the fat, then add the vegetables (except the okra), 4 cups of broth, Worcestershire, salt, and thyme. Cover and simmer over medium heat for 1 hour, stirring occasionally. Add the okra and cook 10 minutes longer. Stir in the shellfish and cook 5 minutes more, or until the shrimp curl and turn pink.
Fried Fish
Vegetable Oil for frying
2/3 cup All Purpose Flour
2/3 cup water
2 large eggs, lightly beaten
2 teaspoons baking powder
3/4 teaspoon salt
1/4 teaspoon onion powder
1/4 teaspoon cayenne pepper
6 (5-6 oz.) flounder or other firm white fish fillets
Preparation
Heat 2 to 3 inches oil in deep saucepan or deep fryer to 365ºF. Combine flour, water, eggs, baking powder, salt, onion powder and cayenne pepper in medium bowl. Mix until smooth. Dip fish fillets in batter. Let excess drip off.
Fry a few fillets at a time in hot oil 4 to 6 minutes or until golden brown. Turn as needed for even browning. Drain on paper towels. Serve atop Seafood Gumbo.
Ingredients:
3 pounds Breast of Lamb w/bone, or Stewing lamb
8 cups Cold water
1/2 cup Pearl barley
2 tablespoons Butter
2 Carrots, peeled and diced
1 White turnip, peeled and diced
2 Ribs celery, dced
1 Onion, diced
Salt & pepper to taste
Instructions:
In a large stockpot or Dutch oven, cover the lamb with cold water; bring to a boil. Add the barley, partially cover the pot, and simmer until the meat and barley is tender, about 1 1/2 hours. Add more water to adjust for any evaporation; skim the surface of the soup as necessary.
Remove meat from broth; cut meat from bone and cut in small pieces. Discard the bones and return the meat to the soup. Continue simmering.
In a skillet, melt the butter over medium heat. Add the carrots, turnip, celery, and onion and cook stirring often for 10 minutes.
Add the vegetables to the soup. Simmer for about 10 minutes, or until the vegetables are tender. Season with salt and pepper to taste.
Serves 8.