Blog
Celebrate St. George's Day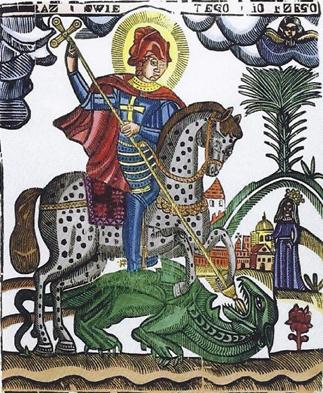 We will be celebrating St. George's Day on Monday, April 21st with a full English Breakfast. St. George is the patron saint of England and as John Mellor, Buckhorn Innkeeper is English, we like to celebrate this feast day.
St George was, according to tradition, a Roman soldier from Syria Palaestina and a soldier in the Guard of Diocletian, who is venerated as a Christian
martyr. In hagiography Saint George is one of the most venerated saints in the Catholic (Western and Eastern Rites), Anglican, Eastern Orthodox, and the Oriental Orthodox churches. He is immortalized in the tale of Saint George and the Dragon and is one of the Fourteen Holy Helpers.
The famous story of George and the Dragon became immensely popular in the West through the Golden Legend, translated and printed by Caxton. The dragon, a local pest which terrorized the whole country, poisoned with its breath all who approached it. Every day it was appeased with an offering of two sheep, but when these grew scarce, a human victim, chosen by lot, was to be substituted instead. The lot had fallen on the king's daughter, who went to her fate dressed as a bride. But George attacked the dragon, pierced it with his lance, and led it captive with the princess's girdle, as if it were completely tame. George told the people not to be afraid: if they would believe in Jesus Christ and be baptized, he would rid them of this monster. The king and people agreed; George killed the dragon and 15, 000 men were baptized. George would take no reward, but asked the king to maintain churches, honour priests, and show compassion to the poor.