Blog




March 29, 2013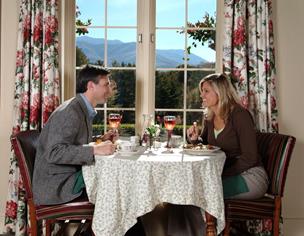 We can't promise you spring this Saturday night, but we can promise you great accommodation, a fabulous prime-rib dinner,  a leisurely breakfast– all at a great discount. Because a group has booked both Thursday and Fridy nights, we have the rare situation of openings this Saturday night only.   Come out for the night and get accommodation and dinner at a 15% discount.   Book online, email [email protected], or telephone our fabulous Debbie on 865 436 4668.
March 18, 2013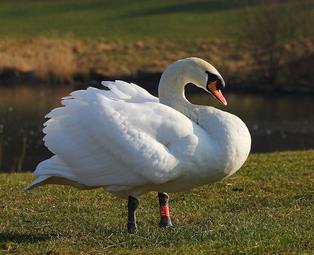 My two daughters, Lynne and Barbara, gave me an 85th birthday surprise of five days at the Bebb House! We've been coming to Buckhorn Inn almost from the beginning of Lee and John's ownership. We have so many wonderful, funny and factual notes about the history. This visit was a first "experience" with the swans. Not knowing how territorial the males are, Lynne ventured too close. Teller came over the fence, wings spread, and in very explicit body language, as she tried to back away, he made it very clear she was not welcome period. Barbara cheered Lynne from a safe distance, and eventually Lynne made it safely away. My very wise PhD daughter apparently was not given wisdom about swans. But being respectful of all species, a lesson was learned, and she will not be friending a male swan ever again. From Sarah in Cincinnati
March 15, 2013
April's Music of the Mountains   Sounds of a banjo and fiddle playing in unison echo through the history of the Smoky mountains.  In April, you can experience the sweetness and liveliness of traditional mountain music and bluegrass at Buckhorn on Tuesday, Thursday and Saturday evenings from 5:30 to 7:00 pm. 
May—The Past Becomes Present  Local historians, naturalists and storytellers engage guests in conversations about the cultural, historical and environmental history of the Great Smoky Mountains and the present and future challenges that face this area.  Discussions will be between 5:30 and 7:00 pm on Sundays, Tuesdays and Thursdays in May. 

May 18  Happy Birthday, Buckhorn Inn!  This birthday dinner is inspired by the 1950s and '60s when the outdoor patio and barbeque became a staple of American life.  Staff will dress in tee shirts and summer shorts, so please feel free to dress casually.   Still have a pair of peddlepushers?  A live band will play as you enjoy BBQ beef and pork, hamburgers, hotdogs, birthday cake and all the trimmings. Wine and beer will be available. $35 per person 

Buckhorn Memories Welcome  Guests are invited to write about  Buckhorn for a collection we plan to publish at the end of the year. Complete a Memory Card when you are a guest this year or you can send an email to [email protected].  We really want to hear from you!  Each month we will randomly select a memory from those submitted and award a prize—dinner for two.  At the end of the year, we will select a grand prize winner, awarding a complimentary two-night stay at Buckhorn.
March 12, 2013
Heading to the Smoky Mountains in March, April or May? You'll be just in time for the many family-friendly Spring Attractions Gatlinburg offers every year.
Looking for fun seasonal attractions? There's never a bad time to visit Gatlinburg and the Smoky Mountains.

Smoky Mountain SpringFest
March 12, 2013 – June 2, 2013

Birds are chirping, flowers are blooming, trees are full of new growth and leaves, frost has melted from the high country and waterfalls cascade onto rocks below. 


Discover Life In America Celebrates "15 Years Of Discovery"
March 21, 2013 – March 23, 2013 Celebration extolling efforts to catalog every living species in the Great Smoky Mountains National Park at a unique gathering in Gatlinburg March 21-23. 


Great Smoky Easter Arts & Crafts Show
March 28, 2013 – March 30, 2013 Unique handcrafted gifts and products produced by members of Great Smoky Arts & Crafts Community are placed on display and offered for sale as they host their annual Easter show at the Gatlinburg Convention Center.

Easter Egg Hunt
March 30, 2013 – March 30, 2013 Easter Egg Hunt for children between the ages of 1 and 12 sponsored by the Gatlinburg Community Police Programs. Saturday March 30, 2013 at Mynatt Park on Airport Road at noon.

Easter Sunrise At Ober
March 31, 2013 – March 31, 2013 Soak up Easter Sunday sunrise from the top of Mt. Harrison at Ober Gatlinburg Ski Resort during this service sponsored by the Gatlinburg Ministerial Association. 


Smoky Mountain Tunes & Tales
April 5, 2013 – August 10, 2013 Smoky Mountain Tunes & Tales is a summer-long street performance event featuring costumed musical performers, storytellers and artisans portraying time periods as far back as 1800.

Smoky Mountain Trout Tournament
April 6, 2013 – April 7, 2013 The 14th Annual Smoky Mountain Trout Tournament is open to adults or children – and equally challenging for both visitors and locals, with multiple categories to be contested in this largest trout tournament in the Smokies. 

Gatlinburg Gateway Triathlon

April 13, 2013 – April 13, 2013 The fifth annual triathlon at the Community Center starts at 8:15 a.m. and is open to anyone 15 years and older capable of swimming one-half mile, biking twenty kilometers, and running five kilometers consecutively. 


Smoky Mountain MABC Regional Bridge Tournament
April 15, 2013 – April 21, 2013 This large tournament of the Mid-Atlantic Bridge Conference takes place at the Gatlinburg Convention Center with thousands of players participating in Gold Point events and other programs. 


Food Ministry Fiesta
April 18, 2013 – April 18, 2013 Ripley's Aquarium of the Smokies hosts this third annual fundraiser benefiting Sevier County Food Ministries at 6 p.m. One hundred percent of the proceeds benefit SCFM's outreach programs and special projects.


Mountain Man Memorial March
April 19, 2013 – April 20, 2013 The Sixth Annual Mountain Man Memorial March is a 26.2-mile march in the Smoky Mountains of Tennessee which will be conducted Saturday, April 20 in Gatlinburg as a tribute to our men and women in uniform. 


Earth Week
April 21, 2013 – April 27, 2013 Celebrate Earth Week in Gatlinburg! Bring the entire family to Gatlinburg to learn about easy green practices, enjoy music, activities and games, craft stations, food and more! 


Spring Wildflower Pilgrimage
April 23, 2013 – April 27, 2013 As winter fades and the colors of spring begin to sparkle throughout the Smokies, Gatlinburg blossoms into the center of all things botanical during Great Smoky Mountain Association's 63rd Annual Wildflower Pilgrimage. 

Earth Day 5K
April 26, 2013 – April 26, 2013 Earth Day 5K Run/Walk in beautiful Gatlinburg. Funds raised will benefit the Chamber Foundation's initiatives in education and our green program.


Gatlinburg Smoky Mountain Winefest
April 27, 2013 – April 27, 2013 Sample wines from Tennessee wineries along with small dish fare from some of the best restaurants in the Smoky Mountains. 


Gatlinburg Farmers Market
May 11, 2013 – October 12, 2013
Pete and Mary Ruthenberg

Mary Ruthenberg's mother and father, Maynard and Martha Rogers, began visiting Buckhorn in the 1940's. Maynard, who was a petroleum geologist who graduated from OSU in 1937, first visited the Smokies as a college student even before Buckhorn was established. Through a cousin of Doug Bebb (the Inn's Founder) he discovered Buckhorn in the 1940's and began yearly visits to the Inn, introducing his children to the pleasures of being outdoors and hiking the mountains. Annual seven-day visits to Buckhorn Inn were a staple of Mary's family life. She remembers games of skittles by the fire and long, lazy days when she could read all afternoon. Sometimes she hopped on Doug's Jalopy when he gave rides to her and her brother and sister. Hiking the mountains on these visits was a family affair, taking along hearty lunches packed by Doug himself. Doug would also help out the family by spotting a car at the end of one way hikes. Mary also remembers the company of Doug's children, especially John, who could race up to the top of Mt. Le Conte and back in record time.
"My parents became good friends with Doug over the years. They were among those special few who were invited to Doug and June's home for the famous cocktail hours," Mary remembers. "My parents and my siblings really thought that Buckhorn was ours," she said, "ours and Doug's."
When Mary and her future husband Pete were conducting their six year courtship in the 1960's, Pete was included in the family trips to Buckhorn, although he ruefully points out that he and Mary were not allowed to be in a car by themselves. He remembers Doug as "a complex person, a big strong man who was light on his feet. He wasn't a back-slapper but when he warmed-up to people, his good-nature was apparent." When Mary and Pete married and settled in Indiana, they continued the tradition of annual visits to Buckhorn, bringing their three children, Meg, Matt and Peter, and continuing to enjoy the family tradition of hiking the mountains, including trips up Le Conte. "Matt was the first person to catch a fish in Buckhorn Pond after Doug dammed it up," Mary recounted proudly.
Mary and Pete still visit Buckhorn Inn, a 70-year family custom. They say that the changes to the Inn over the years which have brought it in line with the requirements of today's travelers haven't spoiled it for them. However, they still prefer to stay in "Doug's rooms," the traditional rooms on the second floor.
March 7, 2013
It was 3am and there was a loud rap at the door. My husband and I snapped out of sleep in a haze of confusion. We groggily looked at the time and then at each other wondering what was going on.  Then we heard it again… RAP RAP RAP. We jumped out of bed and went to the door, slowly opened it and peered outside. There was our daughter standing at the door with a big smile on her face. She had driven down for 8 hours from Virginia to surprise us. The days that followed were amazing. We hiked, enjoyed some amazing wine, talked for hours laughing and crying about our lives, and dined on some amazing food. We were able to share with her the place we had been coming to for years to escape the craziness and stress of the "real world". The views from our cabin alone were the most restorative aspect of the entire trip. The three of us would sit out on the balcony and look over the valleys and trees and listen to the restorative quiet. Sipping on wine we would talk about past memories and what was going on in our lives. The peacefulness of Buckhorn brought us closer together as we were able to share such a special place with our daughter. Submitted by Virginia O. from Florida
We congratulate Buckhorn Inn on its 75th anniversary. We have a special memory of how well we were treated and made to feel special when we booked six rooms four our Army " Vicenza Gang" reunion in 2011. As usual the service was outstanding and the meals exceptional. We have been having these reunions for over 30 years all over the country, and our "gang" all said this was by far the best one ever. We appreciated that we were all seated at two tables together in the library where we shared lots of stories and laughter. There is NO place like the Buckhorn Inn and we hope we can get back again soon.

Sondra and Larry, Toledo, Ohio