Blog




April 24, 2014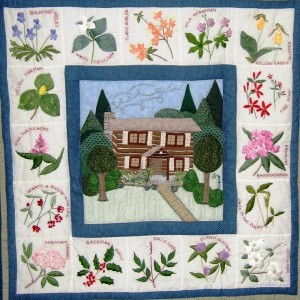 Buckhorn Inn and five other inns are opening their gardens to the public on Wednesday, May 7 as a part of the Gatlinburg Garden Club's Spring Garden Celebration.  You can purchase the $10 tickets for the tour at the Sevier County Bank in Gatlinburg, phoning 865 453 6101, extension 481.  Tickets may also be purchased at participating inns on the day of the event.  All proceeds benefit the Lucinda Ogle Historic Cabin Restoration Fund.  
Other inns participating in the tour are Foxtrot, Quail Ridge, Tudor Inn, Laurel Springs and Blue Mountain Mist.  
You can also purchase tickets for a wine and cheese party at Buckhorn Inn on Tuesday, May 6 from 5:30 until 7:00 pm and a Meet the Author Luncheon at Foxtrot Inn on May 6 at 11:30 am.
April 22, 2014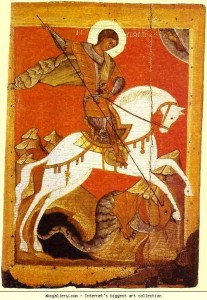 St. George is the patron saint of England.  Tomorrow is his saint's day and England's national day–the equivalent of our Fourth of July but without the fireworks.  Felicitations to all of us on this side of the pond with some English ancestry, our English friends on the other side of the pond, and to everyone else as well.  
To celebrate, we will serve a "full English breakfast."  That includes basted eggs, grilled tomato, bacon, pork bangers, mushrooms and baked beans.  Couldn't find any kippers this year.
April 16, 2014
We recently stayed at Buckhorn Inn  near Gatlinburg. We were blown away with our experience. The inn is outside of Gatlinburg on about 25 acres with its own pond and swans. The inn has an an incredible unobstructed view of Mt. LeConte. The main building has about 7 rooms but there are also 7 cabins and 3 houses. The rooms are very tastefully decorated. Several rooms  have views of Mt. LeConte.   The Inn is super clean and comfortable. We purchased the breakfast and dinner package which included a gourmet breakfast and dinner. Both were wonderful. For breakfast there are 3 choices and dinner has one choice, though they will accommodate dietary restrictions. Our dinner the first night consisted of a wonderful turkey soup, nice salad, roasted pork loin with a great chutney followed by chocolate cake and vanilla ice cream. The next night was even better. Wine is extra but very reasonable. You can view their weekly menu online in advance. The proprietor Mr. Mellor greets you each morning at breakfast and is a delightful person. If you are planning to spend time in Gatlinburg you should consider the Buckhorn Inn. BTW you can also just come for dinner if they have capacity.
I spent some time at the Buckhorn in with my parents, Phoebe and Neil Montgomery, when I was very young.  While you might not know that name, my mother's sister was Liz Strehlow, which really will say it all!  My dad wasn't much of a traveler, but when Liz and Bob invited them down to visit them at the Buckhorn Inn, there was no hesitating, and I got to come along.  It must have been in the late 50's and early 60's that I accompanied my parents.  I remember playing with the Bebb's children, as I was often alone and left to my own devices, which was wonderful as I could explore the Inn's grounds.
I must say the comment in the history section about Bob driving up and honking his horn upon reaching the Buckhorn's driveway is really funny as he was the worst driver ever.  My parents and the Strehlow's loved playing bridge and pitch over some of that Jim Beam.
This all came up as my nephews are hiking the Appalachian Trail and I remembered my wonderful times in the area and I have told my own children of my memories of the coming down to the Buckhorn Inn and thought I would see if it still existed.  What a surprise to see your wonderful website.  It is on the bucket list to come to that area in the spring, and I know we will be in contact. Thanks for a wonderful 75th review, and I hope your 75th year is successful.  Best regards,  Liz Neumann, Iowa
April 12, 2014
Where:  Right here at Buckhorn Inn.  This is bird heaven.  Please see our publication about bird life on this property. 
When:  Thursdays and Saturdays at either 7:30 (before breakfast)  am or 8:30 am (after an early breakfast).  Must reserve in advance. 
Length of Birding Adventure:  1½  Hours 
Cost:  $15 per person or $25 for two (minimum of three persons required) 
How to Register:  Inn Office; 24 hour cancelation required. 
Rain:  Significant rain will result in cancellation 
Expert Birder Keith Watson will lead the adventure
April 4, 2014
Yellow Lady's Slipper 
The following walks are especially good for viewing spring wildflowers. Download a park trail map to find the location of these trails.
Oconaluftee River Trail
This easy, three mile roundtrip, riverside walk begins at Oconaluftee Visitor Center located two miles north of Cherokee, NC on US-441.
Deep Creek Trail
An easy walk that begins at the end of the Deep Creek Road, 1⁄2 mile beyond the Deep Creek Campground turnoff. The Deep Creek area is located north of Bryson City (follow the signs through downtown Bryson). You can see two waterfalls, Indian Creek and Tom Branch, by walking about two miles round trip on this route.
Gregory Ridge Trail
The first two miles of this trail offer good wildflower viewing. To get there, take Cades Cove Loop Road just past the Cable Mill area. Turn onto Forge Creek Road and follow it to the end.
Kanati Fork Trail
The Kanati Fork Trail climbs for three miles to intersect with the Thomas Divide Trail on Thomas Ridge. You don't need to walk the whole way to see good wildflowers. The first mile or two have the best displays, especially in early spring.
The Kanati Fork Trail begins about 1⁄8 mile north of the Kephart Prong footbridge on the Newfound Gap Road (US-441), eight miles north of Oconaluftee Visitor Center.
Schoolhouse Gap Trail
An easy trail that gently climbs 2.2 miles from Laurel Creek Road to School House Gap. This route includes a wide array of spring and summer flowers, including some unusual species. The trailhead is 3.9 miles west of the Townsend "Y" on the road to Cades Cove.
Little River Trail
The Little River Trail is a relatively wide and level footpath which follows the scenic Little River toward its headwaters. The trailhead is located on a side road which begins just before you enter Elkmont Campground.  The first two miles of the Little River Trail provide good wildflower viewing from mid-March through April. By adding the Cucumber Gap and Jakes Creek trails, you can make a pleasant 5.1 mile loop hike.
Middle Prong Trail
A walk on this old road will reward the hiker with flowers as well as waterfalls. In the first two miles you may see foamflower, toothwort, violets, wood sorrel, and trilliums. The trail starts at the end of Tremont Road, which begins just west of the Townsend "Y."
Cove Hardwood Self-guiding Nature Trail
This 3⁄4 mile loop trail offers some of the best spring wildflower viewing in the park. It begins at Chimneys Picnic Area, 4.4 miles south of Sugarlands Visitor Center on the Newfound Gap Road (US-441).
Porters Creek Trail
This trail often has spectacular wildflowers from late March through April. The trailhead is located in the Greenbrier area (follow highway US-321 about six miles east of Gatlinburg). The first 1.5 miles of trail offer good wildflower viewing.
Appalachian Trail
The two-mile section between Newfound Gap and Road Prong Trail has good flowers from mid-April through May. Park at Newfound Gap and cross the road to the trail sign.