Blog




November 23, 2014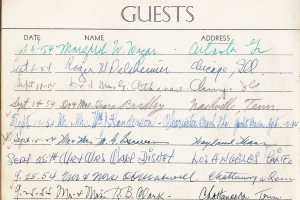 Well, not recently.  But he and his wife Lillian stayed for about a month in 1954 when he was preparing the Davy Crockett series. All reports say he and Mrs. Disney were charming guests who sent all the Bebb children special Christmas gifts each year thereafter.  His signature from one of our guest books is third from the bottom. 
November 19, 2014

Feast of Thanksgiving
Presented by Chef Robert Neisler 
Served by Heidi Gary, Clayton Suttles, Kelli Nash and Diane Lanoye
Herb-Roasted Turkey with Cornbread Stuffing and Giblet Gravy
Baked Southern Ham with Sorghum-Mustard Glaze
 Hot Vegetables 
Mashed Yukon Gold Potatoes 
Green Beans Almondine 
Mixed Southern Greens 
Roasted Brussels Sprouts and Bacon 
Butterbeans with Corn and Pearl Onions 
Root Vegetables Gratinée 
Baked Corn Pudding
Cold Salads and Relishes 
Fresh Cranberry Sauce 
Deviled Eggs 
Chilled Shrimp 
Smoked Salmon 
Cranberry-Whipped Cream Salad 
Black-eyed Pea Salad 
Marinated Vegetables 
Assorted Pickles and Relishes
Desserts 
Traditional Pumpkin Pie 
Maple Pecan Pie 
Fudge Truffle-Hazelnut Tart 
Red Velvet Cake 
Sweet Potato Cheesecake 
Apple-Cranberry Crisp
November 18, 2014
Tuesday, November 17, 2014 was a joyful day for Teller whose mate Pen passed away last May.  His as yet unnamed bride arrived on a flight from Chicago. This three-year old beauty made herself at home immediately with Teller escorting her very courteously around the main points of the pond.  
Please help us name this gorgeous creature.  Names we like include Pentrey, Mrs. Cob, and Penagin.  (Pen is the generic name for female swans and cob is the generic name for males.)  Let us know which of these suggestions you like best or send us your own suggestion to: [email protected].
November 3, 2014
eThis is not only a beautiful and charming inn, in a beautiful location, but they seem to have perfected the art of innkeeping. Everything from check-in to ordering a sack lunch which was large and tasty to housekeeping was smooth as silk. The Buckhorn Inn is about 6 miles outside of Gatlinburg so it is a good thing that they have a very good restaurant on the premises. Food is served at dinner as a prix fix meal and everything we had on the two nights we stayed was very good. It's a very quiet place – away from the hub bub of downtown thank goodness – that's a zoo with rocking chairs on the back "porch" to enjoy the beautiful view toward the Smokys. Children are allowed only in the cabins so it is a place that attracts an older, quieter crowd. Everything is done with care – even housekeeping is in and out of your room while you have breakfast so you never see them. Peace and rest are the best ways to describe this place.