Blog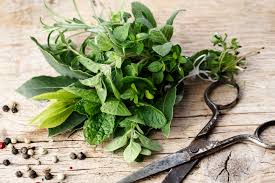 Our kitchen-door herb garden at Buckhorn Inn has provided us with the freshest basil, savory, cilantro, oregano, dill, marjoram, curry and others. This profusion of tastes and aromas has inspired our kitchen staff to develop even more ways to use these herbs.
Compound Butter
What could add more flavor to a dish than a pat of herb butter? Simply mix softened butter with minced fresh herbs like chives, cilantro, tarragon or chervil and chill. Use with your next grilled meat or vegetables. Compound butters also are lovely on baked potatoes. Some combinations to try are dill with salmon, rosemary with steaks, oregano for bread—let your imagination go wild!
Basting Brush
A large sprig of rosemary can be used as a basting brush the next time you barbeque. The sprigs add an extra hint of flavor to the foods on the grill.
Salad Greens
You probably often use minced fresh herbs in your salad dressings. But why not roughly tear them and add them directly to the salad greens? Herbs like parsley and cilantro are perfect for this purpose.
Herb Sauce
We serve this bright green sauce as a salad dressing or as a sauce over grilled salmon.
2 tablespoons almond oil
¼ cup safflower oil
1 tablespoon fresh lemon juice
1 tablespoon Dijon mustard
2 tablespoons heavy cream
¼ cup chopped fresh cilantro
Salt and pepper
Whisk the ingredients together. Makes about ¾ cup.
Summertime Coolers
Herbs like lavender, mint, basil and thyme are delicious in sparkling water, iced tea and lemonade.
Flavored Sugars or Salts
Dry your favorite herbs in the oven. Then mix with salt to provide lovely flavor when finishing a dish. Herb salt can even take popcorn to the next level! The same works with sugar. Mint sugar is perfect for sprinkling on fresh summer berries.
At  Buckhorn  we sometimes offer a chutney as an accompaniment to meat dishes.  To those unfamiliar with chutney, it is a lovely taste treat.  Chutney originated in India as long ago as 500 BC and usually refers to a relish made from fresh fruits and spices.  It comes from the Indian word "chatni" which means "crushed".  British colonials took chutney home with them and made it their own.  They also brought the condiment to outposts in South Africa and the Caribbean where chutneys were made from local fruits.  In England commercially-made cooked chutneys are readily available these days.  They are typically made of fruit, often apples or pears, onions and raisins.  These ingredients are simmered with vinegar, brown sugar and spices for several hours.  The most famous commercial chutney in England is Major Grey's Chutney.  The name is based on a mythical colonial British officer who made his own chutney to accompany curry.  Chutneys can be sweet or sour, spicy or mild, thin or chunky and can include such seasonings as garlic, ginger, mint, turmeric, cinnamon, cilantro or hot chilies.
Chutney typically is used as a flavorful topping for meat dishes or curry.  But you might want to experiment by using chutney:
With cream cheese on crackers for an appetizer
Mixing it with mayonnaise as a spread for ham or turkey sandwiches
Over steamed carrots or other vegetables
Ingredients
¼ cup red wine vinegar
2 tablespoons honey
2 tablespoons light brown sugar
¼ teaspoon ground coriander
1 2-inch cinnamon stick
1 bay leaf
1 ½ cups finely diced mango
1 ½ cup finely diced papaya
1 finely minced garlic clove
½ Scotch bonnet or habanero chili finely chopped
Pinch of ground cloves
Salt and freshly ground white pepper
In a large saucepan combine the vinegar, honey, brown sugar, coriander, cinnamon stick, cloves and bay leaf and bring to a simmer. Add the pineapple, mango, papaya, garlic, ginger and pepper and season lightly with salt and white pepper. Simmer over low heat for 30 minutes. Let cool. Discard the cinnamon and bay leaf. Serve at room temperature or chilled. The chutney can be refrigerated for up to 2 weeks. This recipe yields about 3 cups.
The recipe that appears below is the original Buckhorn Inn recipe. Adding a tablespoon or so of fresh, chopped thyme adds a modern spin to this classic.
Corn Pudding
2 ½ cups cream-style corn
3 eggs, slightly beaten
2 cups whole milk
1 teaspoon salt
½ teaspoon pepper
1 tablespoon minced onion
½ green pepper, chopped
2 tablespoons melted butter
Mix ingredients together and bake in a 325 degree oven for an hour. This makes an interesting and colorful way to serve part of the vegetable course for either holiday meals or party fare.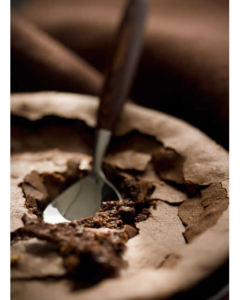 Cake:
½ cup room temperature unsalted butter, cut into one inch pieces plus more for pan
¾ cup plus 2 tablespoons sugar, divided, plus more for pan
10 oz. good quality bittersweet chocolate, coarsely chopped
2 tablespoons vegetable oil
6 large eggs
2 tablespoons unsweetened cocoa powder
1 tablespoon vanilla extract
¾ teaspoon kosher salt
Topping:
1 cup chilled heavy cream
½ cup mascarpone cheese
3 tablespoons powdered sugar
Preheat oven to 350 F. Lightly butter 9 " springform pan and dust with sugar, tapping out any excess. Combine chocolate, oil and ½ cup butter in a large heatproof bowl. Set over a saucepan of simmering water and heat, stirring often, until melted. Remove bowl from saucepan.
Separate 4 eggs, placing whites and yolks in separate medium bowls. Add cocoa powder, vanilla, salt, ¼ cup sugar and remaining 2 eggs to bowl with yolks and whisk until mixture is smooth. Gradually whisk yolk mixture into chocolate mixture, blending well.
Using an electric mixer on high speed, beat egg whites until frothy. With mixer running, gradually beat in ½ cup sugar; beat until firm peaks form. Gently fold egg whites into chocolate mixture in two additions. Scrape batter into prepared pan, smooth top and sprinkle with remaining 2 tablespoons sugar. Bake until top is puffed and starting to crack, 35 to 45 minutes.
Transfer to a wire rack and let cake cool completely in pan. Cake will fall as it cools. Whip the topping ingredients until fluffy and pile on the cake.
September 3, 2018
Did you know that according to culinary history the word "succotash" is derived from the Narragansett Indian word msickquatash meaning boiled corn kernels?  This simple and delicious dish featuring corn, beans and other vegetables is a nourishing dish of Native American origin.  While we don't know for sure what was on the menu at the first Thanksgiving, many food historians agree that a version of succotash likely was on the table.  This dish has been adapted throughout the United States.  Many versions have corn, pole or lima beans, green or red peppers, tomatoes, okra and fresh herbs.  The ingredients are based on what is fresh and bountiful, so you are not likely to have exactly the same recipe twice.
Chef Frank has succotash on the menu this week, featuring our garden-fresh okra, pole beans, and
herbs.  In the Buckhorn Inn garden we are growing Perkins Mammoth Long Pod okra from Burpee Seed Co.  The 7″ long pods are tender and delicious.  The towering 10′ tall plants are quite a sight in our raised garden beds!  We are not certain what ingredients will inspire Chef Frank on Wednesday night, but here is an easy recipe that serves 6.  It was adapted from a recipe on http://www.thespruceeats.com.
A Taste of History Succotash
4 cups okra pods, sliced into 1/2″ rounds
3 large tomatoes, seeded and diced
2 teaspoons chopped fresh thyme
1 teaspoon kosher salt
1/4 teaspoon black pepper
1 cup sliced pole beans
1 cup corn kernels
1 tablespoon of butter
Combine the okra and tomatoes in a large non-reactive saucepan.  Add the salt and pepper and 1/2 cup water or vegetable broth.  Cover the pot and bring to a boil.  Reduce heat to low and simmer for 15 minutes.  Add the beans and simmer for another 20 minutes.  Add the corn kernels and cook for 20 minutes longer.  Add the butter and blend.  This makes a delicious hot side dish!